Manage
Learn to apply best practices and optimize your operations.
Technology Overhaul Unites a Global Enterprise
Sunrise Medical bought more than two dozen businesses worldwide, then embarked on a path to unify them.
A medical equipment business, once a conglomeration of two dozen-plus acquisitions, becomes a synchronized international machine.
Sunrise Medical CIO Geoff Cooper had just arrived home in Boulder, Colo., after a tiring trip to Europe when he got a call from the night shift at the IT department. The company's Australian subsidiary had mistakenly posted confidential customer pricing information on Sunrisemedical.com and wanted to shut down the company's Web site just as the business day was starting in Europe.

Download this free guide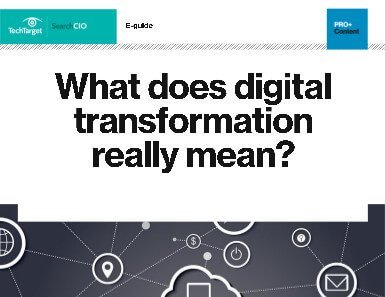 PDF: What does "digital transformation" really mean?
What exactly is digital transformation? You may hear the term often, but everyone seems to have a different definition. See how our experts define digitization, and how you can get started in this free guide.

By submitting your personal information, you agree that TechTarget and its partners may contact you regarding relevant content, products and special offers.

You also agree that your personal information may be transferred and processed in the United States, and that you have read and agree to the Terms of Use and the Privacy Policy.

Cooper got on the phone to Australia. Although the problem was solved without having to take down the website, the potential outage highlighted the flip side of global integration: As more and more midmarket businesses expand around the world, the need for tightly integrated IT systems becomes greater -- but so does the potential for business disruptions.

Sunrise has been grappling with this paradox for several years. Since 2001, new management has been methodically transforming the company from a loosely organized collection of medical equipment businesses in different countries into a truly unified midmarket multinational. By the time Sunrise finishes the last phase of its technology overhaul, which is expected to take place in 2008, the company will have turned 17 autonomous IT fiefdoms into a single entity that powers the sale of products from wheelchairs to hospital beds that are designed globally but sold locally.

"We're on a journey," says Cooper. "A criticism could be that we're going too damn slow, but we wanted to minimize risk to the business, and we've been on a learning path on how to make this happen for a midsized company. In larger companies, we'd have tens of millions [of dollars] for change management. Here we don't have that kind of funding."

@pb

A cautionary case in point: In December, Sunrise's biggest competitor, Invacare Corp., warned that a botched Oracle enterprise resource planning (ERP) rollout cost it $30 million in lost sales for the quarter. Invacare, with revenue of $1.5 billion last year, went live with Oracle's order-to-cash system in the fall and, when it didn't work, suffered months of lost calls, delayed orders and a high number of product returns. Instead of growing revenue for the quarter at the expected 2%, sales declined more than 3% for the Elyria, Ohio, company, according to its Securities and Exchange Commission (SEC) filings. Invacare, which had been turning on various Oracle 11i applications over four years, blamed its specific configuration of the order-to-cash piece rather than the vendor itself, according to press reports.

That's the kind of debacle Sunrise has tried to avoid as it's embarked on a carefully calibrated restructuring plan to standardize tools and processes.

"The risk to the business would be huge if we tried a big-bang approach," says John Kirkpatrick, vice president of global business systems. "It would be a disaster, no question. Others have tried to do it faster and failed, which had a big impact on how our management wanted to proceed."

Sunrise began its odyssey by redrawing the org chart so that IT management in different countries reported to the CIO instead of the local executive. Then the company moved to a centralized IT infrastructure, followed by an implementation of an enterprise product information management (EPIM) system so that engineers around the world could collaborate on designs. Next came a new e-commerce platform, which gave a unified look and feel to all the company's Web sites, and a data warehouse that serves as a single repository for a tightly focused product catalog.

Today -- five years after the company set about transforming itself -- the process continues with an ERP rollout that started in Mexico in 2004, hits the U.S. next summer and finishes up in Europe the year after.

"We're probably 75% to 80% there," says CEO Michael Hammes. "It takes a godawful long time, but the tough part is over. The tough part is the culture. The engineer sitting in Germany and the product manager in England have to understand that they are part of a global team."

"You don't flip a switch," adds Cooper, "and suddenly you're a global business."

@pb

Turning the Ship

In 1983, Richard H. Chandler was thinking big. A former Sara Lee Corp. executive, Chandler had also been the CEO of Abbey Medical, a health care equipment retailer that he and a group of investors had acquired from Sara Lee and had recently sold to American Hospital Supply Corp., which later became Baxter International Inc.

Chandler decided to create a new company. With venture capital financing and his own money, he snapped up five medical equipment makers, which he combined into Sunrise Medical. Before the end of the year, Sunrise picked up a European subsidiary and went public as a $50-million company. With these units, Sunrise made everything from crutches to respiratory equipment; operating in North America and Europe, it was selling its equipment in 85 countries under such brands as Quickie and DeVilbiss. Sunrise eventually acquired more than two dozen other companies. Revenue grew to $675 million.

Then something hit the fan. In 1995 an accounting scandal at the company's Bio Clinic unit forced Sunrise to restate earnings. The result: Several executives' careers ended, and an SEC investigation was triggered. In 1999 the Sunrise board forced Chandler out, replacing him the next year with Michael Hammes, a board member and former executive at Ford Motor Co. and Black & Decker who had helped turn both companies into global brands. The new CEO put together an investment group that took the company private in a $365-million buyout deal.

Hammes then set out to reinvent the company, starting with IT. "When we took over the company, it was not an international company," Hammes says. "It had operations overseas, but it was not psychologically or physically an international company. I thought we should make a truly international company. You've got to have the organization set up to do it. The second thing I did was get information systems on the road to being international. If you change the company without changing the ability to communicate -- meaning IT -- you're dead in the water."

This was good news for Geoff Cooper, who had joined Sunrise as CIO in 1998. Born in the U.K., Cooper has spent most of his career in the U.S. but still speaks with a brogue (and was spotted at a CIO conference over the summer in a kilt). A veteran of large multinationals such as Unisys as well as startups, Cooper was frustrated with the tangled structure at Sunrise, which was divided into 17 divisions. IT directors in different countries had dotted-line reporting to Cooper. He wanted direct reports.

"We'd have meetings about standardizing," Cooper recalls. "But I didn't have a strong fist. We'd have 12 months of meetings and make very little progress. There wasn't any strong structure to get things done. When the new CEO came in, he very rapidly made changes. He thought there was a fair amount of waste in the way we were structured."

Cooper got his direct reports.

"I really felt strongly that the right approach for IT was to have direct lines," he says. "I became passionate about change. It's something I believed in for a long time. It's been exciting to see all the technology and architecture make that possible for a midsized company."

The number of divisions shrank to two -- with IT leading the way in consolidation.

"In the steering committee, IT was held up as an example of how to make these global enterprises work," says Cooper. "It wasn't any brilliance on my part. We couldn't accommodate the new business architecture with the silo systems. We needed to make dramatic changes to support that. In IT you have to look ahead a little bit. Your customer base doesn't appreciate how hard it is to turn the ship."

@pb

Bandwidth on the Cheap

Drive west from Denver, and the Rocky Mountains loom across the horizon, a pleasant distraction from the dull office parks fringing the outskirts of towns such as Longmont, the headquarters for most of Sunrise's back-office operations. Although corporate headquarters is officially in Carlsbad, Calif., IT and other support units are housed in Colorado, the administrative hub for 3,500 employees spread across 11 manufacturing sites in Europe and North America.

"We might be located in Longmont, Colorado, but we try to think globally," says Cooper.

It wasn't always that way. Cooper inherited 17 data centers, some linked with 56k connections. But in the wake of the dot-com bust, Sunrise was able to upgrade its network on the cheap.

"Before there was a datacom barrier for a midsized company to manage IT from a central location," says Cooper. "After the e-business crash, we were positioned great."

Moving to Voice over Internet Protocol (VoIP), Sunrise was able to host its own communications, eliminating 50-cent-per-minute phone calls and $5,000 videoconferences.

"The stars aligned," Cooper says. "The business strategy that evolved here was the catalyst, coming together with the cost of bandwidth and hardware savings."

Cooper spent two years standardizing the company's network. Each country had its own vendors and gear. Sunrise was running more than 500 IT systems and 13 ERP systems, each with its own database. Just figuring out how to centrally pay for IT services from headquarters was a chore.

"Our finance department didn't know how to handle that," Kirkpatrick says. "How do you approve a global project? Who signs for it? Does every single country have to approve? There was no process."

Fact-finding helped.

@pb

A Global Culture

In 2000, Kirkpatrick and a small team toured all the company's locations, interviewing colleagues about their business requirements -- the first of many intelligence-gathering missions abroad.

"Everyone did things differently in every country," says Kirkpatrick. "There were no global processes. No one at Sunrise knew everything that was going on. The different groups didn't share information. Most important was to get their buy-in, to get them to think that maybe their process wasn't the best possible process. People were skeptical at first."

Travel and videoconferencing were important in building relationships, especially since IT staffers in one country might report to someone in Longmont.

"People in Germany are working on projects outside the country," says Kirkpatrick. "It's really hard for the German managers to understand that they have someone working on a project in a different country."

Cooper sent team members to different countries to fill in for vacationing staffers. The result was a greater travel budget but a declining overall IT budget as workers gained experience and formed a stronger transnational team. Yet not everyone was able to make the leap to the new culture.

"Especially at a midmarket company, some people are more comfortable working within their four walls," says Cooper. "We had to lose some of those people. Flexibility of hours is implicit in IT. We used to have a lot more options for downtime."

Developing global relationships with partners was also a challenge. Some consulting firms did business on a country-by-country basis. Cooper wanted a single point of contact -- which he eventually got.

"It was really difficult to get these companies to think on this basis, even really big companies," says Cooper. "Maybe we fell into a midmarket account, and the person dealing with us was only interested in a Rocky Mountain-region revenue, not our rollout in Australia. It took time to get partners to support us in a global way."

@pb

Restructuring Infrastructure

Other parts of the business needed restructuring as well. One of the most obvious needs was to coordinate engineering teams around the world. Sunrise deployed Enovia MatrixOne collaboration software to manage product lifecycles -- or what the company calls EPIM. Getting teams to use it was another matter. But after two teams designed the same part twice, the head of engineering put out the word that it wasn't going to happen again.

"We didn't have change management leaders," Cooper says. "We had to do it on a budget."

In 2003 the company's IT steering committee asked for a report evaluating whether business processes were best done at the local or global level. Commercial processes such as sales and marketing were deemed best handled locally, while most operations and financial processes were found to be global.

"The U.K. had a certain way to do shipping; the U.S. another," says Cooper. "Their differences weren't necessary." So Sunrise replaced nine different shipping systems with a single one from Irish vendor Precision Software.

At the same time, Sunrise needed to get on the Web. In 2000 a survey found that only one-third of the company's customers used email. Sunrise itself wasn't much more advanced. Only its U.S. and German operations had any sort of e-commerce platforms. Every country handled its own product launches and Web sites, all of which looked different.

"If you look at who were our worst customers, it was ourselves," Cooper says.

In 2001, Sunrise relaunched its Web presence, emphasizing its global brand but offering local customizing, such as pricing and language.

Turning the company into a single global enterprise also involved building a data warehouse. A single product, for example, might have 13 different SKUs -- a different one in every country. Cleaning up and standardizing the data was a huge project, but the results were clear: In Canada alone, the number of SKUs shrank from 200,000 to 60,000.

The data warehouse also gave management a new window on operations. For the first time, reports could be generated daily.

"Corporate headquarters didn't have a view of everything, just profit and loss and the margins," Cooper says. "We were never able to capitalize on products that were doing well in one particular country and optimizing the volume of supply chain."

That has since changed.

@pb

Product Momentum

The Longmont lobby is something of a wheelchair showroom. An antique wicker model that looks like a deck chair sits in a corner. Nearby is a sporty wheelchair with slanted tires, which make it hard to tip over and popular for basketball games or tennis matches. Then there's the Quickie Shark, a sleek $15,000 hand-cranked bicycle, or "handcycle," as Sunrise calls it, for people who've lost the use of their legs but still want to ride.

"We make stuff you never want to use," notes Cooper. "Yet you really appreciate the product when you need it. The things we make really help people."

Not yet on view are the Quickie Rhythm and Groove, the company's latest power wheelchair models, which are just hitting the market. The wheelchairs were designed by engineers in the U.S., the U.K. and Germany and feature a modular base that can be reconfigured with front, mid- or rear-wheel drive, depending on local sidewalk conditions.

"It's the first real product designed from the ground up with this vision," Cooper says. "That's the way to success in this market, we think. It can be easily reconfigured for the markets we're going into. We've tried to design our business systems the same way."

The modular approach is key to the company's mantra: Design globally; execute locally. Over the past two years, that has meant that Sunrise has shifted from being vertically to horizontally integrated, moving its supply chain and manufacturing to Asia. Low-margin items such as crutches and walkers are made in China, and parts for virtually everything else come from there as well for assembly in various regional factories.

"In the mid-'90s, when Sunrise manufactured almost everything it sold, you could flex your shifts, add more people, react more efficiently to the marketplace," says Cooper. "Now you have to think three to six months out."

Integrating suppliers into the company's IT solutions is the company's next challenge. Sunrise's ERP rollout, which is scheduled to finish in 2008, should help. A single ERP system will replace 13 different systems. One measure of the deployment's pace is the fact that the original vendor has changed from JD Edwards to PeopleSoft to Oracle as each company was acquired by the next.

Ray Wang, an ERP analyst at Forrester Research Inc., says that Sunrise's approach is not without pitfalls, noting that it can be difficult to manage integration and data synchronization efforts back to the central system during software upgrades and patching.

"The biggest challenge is understanding the business processes and having change management in place," he says. "You can never underestimate change management. Especially in health care, the regulatory requirements will create a lot of customization in the apps. The regulations by different countries will kill you. You can't run a single instance. It's a big project, a difficult challenge, but it's not insurmountable."

But Cooper says Sunrise has already seen benefits from its consolidation strategy. The percentage of revenue spent on IT has declined by .4% in four years. In absolute terms, Cooper says the budget is 80% of its size seven years ago and has been flat for four years, while the department's head count has also declined and company revenue has reached almost $1 billion.

"It's a more demanding environment than it was previously, and we're doing it with less dollars and fewer people," says Cooper. "Most of our people were programmers or system administrators. Now we're moving more people into business analysis or client services."

Cooper says that the JD Edwards EnterpriseOne system will build a foundation for order management and lean manufacturing that will finally allow the company to leverage its far-flung operations into a true global enterprise.

"We thought globalization was inevitable for us as a business," says Cooper. "There are very few manufacturing/distribution businesses that are geographically limited to the U.S. anymore. All manufacturing companies are facing the same type of challenges we are: Is it the right thing to do to organize yourself as a global business? Are there companies out there taking other approaches, being insular with your business systems? We didn't feel that was the right approach. We're competing in a global market."

Michael Ybarra was a senior features writer for CIO Decisions. To comment on this story, email editor@ciodecisions.com.
Dig Deeper on Small-business infrastructure and operations