Manage
Learn to apply best practices and optimize your operations.
Tech Touchdown
Brute strength may rule on the football field, but the Miami Dolphins' IT makeover is revising the club's business playbook.
Starting linebacker Zach Thomas walks out of the locker room at the Miami Dolphins training camp and bumps into Joe Curbelo, the team's network manager. Biceps bulge from his sleeveless T-shirt; but instead of football, Thomas wants to talk tech.

Download this free guide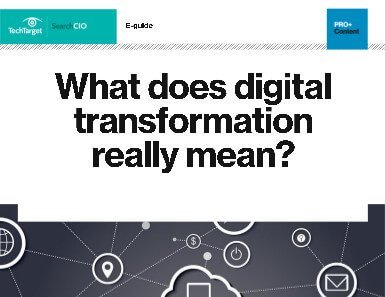 PDF: What does "digital transformation" really mean?
What exactly is digital transformation? You may hear the term often, but everyone seems to have a different definition. See how our experts define digitization, and how you can get started in this free guide.
"How's your laptop?" Curbelo asks.
"It's done, fried," Thomas says. "I need a new one."
"Well, if you need help loading software or anything, we're here."
"Great," the linebacker replies.
"Some clubs give out laptops, but we don't," Curbelo explains as he walks through the locker room and onto one of the team's two scrimmage fields.
"The players move around a lot, and the computers are delicate. But we'll help them if they need anything" -- even if it means dealing with multiple notebook brands and operating systems. In other words, when the team's star linebacker wants tech support, he gets tech support.
But while the Dolphins aren't providing players with laptops (which some clubs use instead of paper playbooks), the team still leads the league in aligning technology and pig-skin. Over the past six years, the Dolphins have more than doubled the team's IT spending with Director of IT Tery Howard calling the plays. Now IT is changing virtually every aspect of the club's business practices, from recruiting players to selling tickets. In football parlance, Howard is driving technology down the field.
"You think of football, and you don't exactly think of IT ... [but] we're very progressive," says Howard, a daughter of Cuban immigrants (see The Making of a Miami Dolphins Technology Leader).
Ramping I.T. Up a Notch
Before she arrived in 1999, the Dolphins' IT department consisted of two staff members and three servers. Its job was to keep the phones ringing and the back-office software from crashing. Howard won't say how much the team spends on IT, but the New York-based National Football League (NFL) isn't known for being at the vanguard of technology. "Team management in the NFL is much less important than in other sports," notes Andrew Zimbalist, an economics professor at Smith College in Northampton, Mass., and a professional sports consultant. "The NFL is so popular that teams don't have to work that hard in marketing, and the league is more centralized. In terms of technology, baseball has pushed the envelope more than any other sport. The NFL is in the middle."
But today, technology suffuses the entire Dolphins operation. The team's IT department has beefed up considerably. There are now three staffers, two assistants and two consultants, and the data center has grown to 11 servers. New customer relationship management (CRM) software, a Voice over Internet Protocol (VoIP) pilot program and a marketing deal with Verizon in exchange for telephones are all part of the package. "We place great value on the IT department," says Joseph A. Bailey iii, CEO of Dolphins Enterprises LLC. "Tery is the quarterback for us."
Howard's game plan wasn't simply to throw more money at IT, although that was part of it. The real challenge was conceptualizing how to leverage the Dolphins' key assets, primarily the Dolphins brand. "We needed more hardware and better vendor relationships," she explains. "I asked myself, 'What resources are underutilized?' The answer was the NFL and vendors. We needed to build a foundation. We needed to spend some money. We needed another server. I figured vendors would love to come out here."
If the road to the Super Bowl is a long one, so has been Howard's effort to make technology a strategic asset in an industry where brute strength usually reigns. But her experience is also an example of what can happen when management gives the ball to a technology chief who wants to run with it. "The old focus was just on making the operation run," Howard says. "Changing that focus was a great challenge."
Behind the Scenes
In midsummer, the Dolphins training camp comes alive as returning players crash into one another under the sultry South Florida sky and prepare for the start of the season in September. The team works out of a 93,000 square-foot training facility on the campus of Nova Southeastern University in Fort Lauderdale-Davie, Fla., north of Miami. There's no grand stadium, just a modest two-story office building, but the clues to its position in the NFL pantheon are there. The lobby is flanked by sea-blue championship banners emblazoned with the team logo -- a dolphin wearing a helmet and jumping through a hoop -- and the club's Super Bowl trophies from 1972 and 1973 shimmer from a shelf above the reception desk. Across the room, display cases feature five championship rings and other memorabilia. According to Forbes, the Dolphins rank 12th out of the 32 teams in the league in terms of valuation, which the magazine put at $856 million, with estimated revenue of $190 million in 2004; the NFL as a whole generated $5.3 billion in revenue last year, with an operating margin of 16%.
Technology has always played a behind-the-scenes role in the Dolphins' success. Analytical software has been used in football since the 1960s, mostly in scouting departments to evaluate players, and the Dolphins organization is no exception. It's also used to analyze opponents, scheduling and quality control, and to evaluate signage for sponsors. "There are something like 1,500 kinds of pass defenses, ways in which to line up," says Bailey. "Now you use information technology to find an opponent's tendencies. Some teams analyze officiating, when referees call a penalty or not. Everything is analyzed."
The only place technology wasn't used was to help run the business.
When Howard showed up on her first day, she was shocked to learn that each NFL franchise licensed software individually instead of buying it centrally at a discounted rate. In addition, although the NFL handles e-mail for all the franchises, individual clubs run their own IT shops. Further, competition on the playing field had made its way to IT departments. That is, there was little sharing of best practices. "I was dumbfounded," Howard says. "Every club was doing its own thing. But I believe we should share our views. It's good to understand what brings success."
Howard believed that pro football CIOs should work together whenever they shared common interests, and so she joined the NFL's Technology Advisory Committee, which is CIOs and IT directors of different teams who hold a monthly conference call to discuss challenges and initiatives. She formed personal relationships with many of these CIOs at the league's annual conference for club IT leaders. And, of course, she carried the ball for central software purchasing, which the league has adopted. As a result, "we were able to save a lot of money," she says.
With momentum behind her, Howard tackled additional IT initiatives. In 2001, the Dolphins became the first NFL team to equip its scouts with wireless laptops, running Verizon's new 3G Express Network via Sierra Wireless AirCards. The team's eight scouts live on the road, looking for talent, watching players and writing reports. "The wireless card was great," Howard says. "Scouts used to have to wait to get back to the hotel and use dial-up. It was a mess. As soon as the wireless cards were available in the marketplace, we immediately had the scouts use them. Also, we configured thin and light laptops to enable them to work from anywhere at any time without being restricted to connectivity and weight."
Next, Howard upgraded the scouting software to reduce the team's dependence on paper. "We spent two and a half months interviewing users trying to understand every piece of paper that crossed their desks," she says. "That gave us a lot of ideas. We documented their business needs."
The Dolphins worked with Hyperion Solutions Corp. in Santa Clara, Calif., to create a scouting program, which the club began using last year. The recruiting staff has its own SQL server database that stores information on player statistics and activities, tracks all potential college drafts and charts their performance into their professional careers. (Future performance is predicted by comparing new players with veterans who have similar characteristics.) Even the process of potential draft picks filling out paperwork is automated.
The Making of a Miami Dolphins Technology Leader
Tery Howard was born only 200 miles from the Miami Dolphins Stadium, but it might as well have been a world away. Her birthplace was the postrevolutionary Cuba of 1960. When she was 4 years old, her family moved to Spain. Her father had been an accountant before Fidel Castro's war, and her mother a teacher. When they left Cuba, they had to start over. In Spain, her father drove a cab.

After a few years there, the family moved to New Jersey and eventually to Florida. Howard went to Florida International University in Miami and planned on becoming a teacher like her mother. A counselor suggested that she take a computer science course. "I loved it," she says. "The details, the ability to create and see results; that was it. I never thought about teaching again."

After graduation, Howard was hired by the Miami-based cruise line Carnival Corp., which was switching from a mainframe system to a PC network and installing computers throughout its fleet. Howard developed solutions for beaming boarding manifests to customs officials before docking, which replaced paper lists. Another of her projects was creating an online debit card system to replace vouchers and allow real-time sales reporting. She also automated the ship's dinner-seating system, which had previously been scrawled in pencil by someone who manually sorted smokers, newlyweds and the like and placed them at compatible tables. After 15 years at Carnival, Howard had 150 people reporting to her.

In 1999, she jumped ship and joined the Dolphins, drawn by a mandate from management to reinvent how the team used technology. "Senior management said, 'We need to invest in technology,'" she recalls. "This was a great challenge, starting from scratch and building my team."

--M.Y.
Assisting the Business End
But recruiting and taking care of players is only part of the team's challenge. Dolphins Enterprises also owns the stadium where the team plays eight regular-season games a year (it is also the home of the Florida Marlins). Filling those seats is a major priority and a major source of revenue. Ticketmaster handles most of the sales, and for years the Dolphins cobbled together data from up to half a dozen weekly reports, creating a spreadsheet for management to track sales. Howard decided that applying business intelligence (BI) software would be a better idea; she wanted a program that would automatically aggregate all the disparate sales data, creating daily reports that would be e-mailed to management. She picked Hyperion's BI software tools, which were installed by a consulting partner and went live in time for the 2002-2003 season. Now, when sales slacken, the marketing department uses purchasing history to target fan clubs and other groups.
"We introduced a lot of automation for the financial side and migrated our legacy systems," says Howard. "We try to make the software fit the business needs. The less we customize, the better for upgrades. There's a team that developed its own ticketing system. What advantage can you get from it? The intellectual asset is our data. Our focus is on the core. Everything is critical, but the core element is what gives us a competitive advantage. The NFL has very sophisticated analytics. The key to our competitiveness is what we do with that data."
This year the Dolphins went live with Hyperion's CRM product. Though this is standard software fare in many industries, fewer than half the teams in the NFL have implemented such systems. Together, the various deployments have streamlined operations and freed up several employees for other tasks. Now sales and marketing folks no longer spend their time gathering numbers and manually plugging them into spreadsheets. Still, Howard adds that the sales team, whose job is to fill seats, did not rush to embrace the CRM system. "It's been tough for sales, but you can't force it. The challenge is to educate [sales and marketing people] to understand the potential for technology. Communicating in a language that your team can understand is key."
Down the Field
While the team tries to battle its way back to victory this season, Howard's IT department is quietly working on back-office strategy. Her current projects include developing a scorecard portal so management can look at the pulse of the organization at a glance and testing a VoIP prototype to replace the team's aging PBX telephone system. "I prototype everything," she says. "We try to have a structured approach. We're small, but we follow a methodology."
Howard's boss expects her to keep pushing the bounds of technology as well, especially since the company recently announced that it will spend $425 million to transform its aging stadium into a year-round entertainment hub with restaurants, retail space, offices and a hotel. In addition, the corporate office will be relocated to the 268-acre site. "Technology hasn't even scratched the surface," Bailey observes.
The director of IT sums up her challenges this way: "It's a small organization, but our needs are the same as a larger enterprise."
Dig Deeper on Small-business IT strategy