Manage
Learn to apply best practices and optimize your operations.
Start a New Job Right With 'The New Leader's 100-Day Action Plan'
CIOs and other leaders can make a splash with tips from 'The New Leader's 100-Day Action Plan.'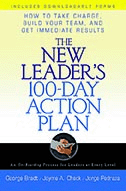 Success in a new job often depends on what you do before you actually start. Studies suggest that approximately 40% of leaders fail within 18 months of taking on a new assignment.
The New Leader's 100-Day Action Plan: How to Take Charge, Build Your Team, and Get Immediate Results, by George Bradt, Jayme Check and Jorge Pedraza, shows you how to make an impact from the get-go.
The authors are consultants at PrimeGenesis, an executive coaching firm, and have field tested their ad-vice on clients at a wide array of companies. The result, they write, has been to cut the failure rate to 10%.
The book sets out a weekly timeline for the first three months, including milestones that need to be met. The key is to dive into the job well before the official start date. Take control of what they awkwardly call the on-boarding process (the way you move into the job) and develop relationships with important stakeholders as soon as possible. (Wiley, $25.95, 240 pages)
Michael Ybarra is a contributing writer for SearchCIO-Midmarket.com. Write to him at editor@ciodecisions.com.