Evaluate
Weigh the pros and cons of technologies, products and projects you are considering.
Sources of IT Dysfunction: How People, Politics, and Personal Relationships Come into Play
Experts reveal signs of distress plus the secrets to achieving synergy.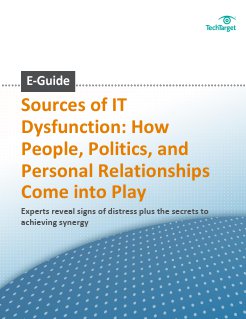 Sources of IT dysfunction: What comes into play
If your IT team is showing symptoms of dysfunction, don't throw in the towel just yet – it's not too late to turn things around.
Obtaining detailed information on how effective leadership, a mastery of the language-of-business, and a collaborative, creative technology team can ensure future efficiency and success in meeting technology requirements and satisfying business demands.
Download this eGuide to figure out what your team dynamic says about your company. Plus, uncover how politics, poor time management, and confusion over priorities can sabotage even the smartest companies. Finally, find out why a willingness to take risks is part of a winning IT strategy and how controlled chaos actually enables technology innovation.
Dig Deeper on Leadership and strategic planning