Manage
Learn to apply best practices and optimize your operations.
Sounding the Alarm on RFID Technology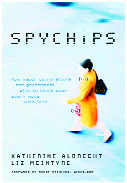 In their critique of radio frequency identification (RFID) technology, Spychips authors Katherine Albrecht and Liz McIntyre fire a shot across the bow. Retailers laud RFID -- trackable chips installed in consumer products -- as a means to improve service and gain consumer insight. And while the authors concede some benefits of RFID, they object to the use of such devices to track every aspect of consumer behavior as an encroachment on privacy.
Accordingly, Spychips depicts a future of Big Brother proportions in which the contents of your medicine cabinet serve as trackable data points and stores call up your customer profile as you cross the threshold.
The authors are anti-RFID activists, so the book reads like a bully pulpit of sorts, educating consumers about the secret RFID plans of firms like Proctor & Gamble while indicting the technology's dark side. So take heed: Spychips has a definitive point of view, but it also supplies ample supporting evidence gathered from three years of dogged investigation. ($25, 288 pages)
Lauren Horwitz, former managing editor, production, for CIO Decisions, is now managing editor for TechTarget's Data Center Media Group. Write to her at lhorwitz@techtarget.com.
Dig Deeper on Small-business infrastructure and operations