Manage
Learn to apply best practices and optimize your operations.
Software Development Industry Serves It Up With SaaS
With the increasing importance of both the Internet and industry consolidation, software development firms have become more nimble service providers with SaaS.
Focus On: Software Development
Top business challenge: To expand market presence by offering SaaS products, acquiring complementary technologies, or both
---
Solution: To work more closely with customers on product development; to integrate operations and product offerings
---
How IT can help: By implementing technologies such as portals and CRM systems to support interaction with customers and streamline operations

The software development industry is as varied as the companies that use its products. A search in Hoover's database yields more than 400 midsized, publicly traded companies in the business of developing software. They range from the nearly $2-billion Adobe Systems Inc., a publishing systems stalwart, to the $100-million security software vendor Webroot Software Inc. in Boulder, Colo.

Download this free guide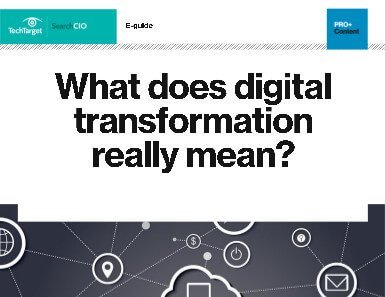 PDF: What does "digital transformation" really mean?
What exactly is digital transformation? You may hear the term often, but everyone seems to have a different definition. See how our experts define digitization, and how you can get started in this free guide.

Yet whether a vendor creates niche software for centralized scheduling applications or an integrated suite of enterprise resource planning (ERP) software, a common thread is the competitive and rapidly evolving nature of the industry. AMR Research analyst Eric Klein says that the overall state of today's software industry is healthy. In particular the markets for human capital management, ERP, customer relationship management (CRM) and supply chain management applications are growing at the double-digit pace of 12% to 15% annually. Vendors, say analysts, are shifting from selling software to providing services. The Internet and the rising use of Software as a Service (SaaS) are identified as central to the shift in the way software companies do business.

The transition toward services is occurring rapidly, says David Thomas, executive director of the software division at the Software Information & Industry Association trade group. "Traditional on-premise software companies are becoming services rather than product companies," he adds. According to Gartner Research Inc., in 2005, SaaS generated 5% of business software revenue; by 2011, 25% of new business software will be delivered as SaaS.

@pb

The Double Whammy
To successfully make the transition, software companies must fine-tune every aspect of operations, from sales and marketing to product support, Thomas says. Another factor shaping the software industry is consolidation. Firms typically turn to mergers and acquisition for three reasons: to expand market share, to fill gaps in existing product lines and to eliminate competition. Within the past three years, the number of enterprise software companies has dropped from 360 to 160 primarily because of consolidation, Thomas says. For industry CIOs, this dynamic creates a "double whammy," says Greg Carter, CTO of Metastorm Inc., a business process management software provider in Baltimore. "We have to assimilate both disparate business systems and our products."
PeopleCube, a privately held provider of resource management applications in Waltham, Mass., exemplifies the trend for medium-sized software firms. In the past four years, the company has made four acquisitions. Currently, about 21% of the vendor's revenue comes from SaaS products; by next year, PeopleCube aims to double that figure, says CEO John Anderson.
To grow the SaaS portion of its business, PeopleCube's IT is taking a leading role. "To get our revenue from SaaS up to a certain percentage of revenue over time, we have to have a CRM system that's integrated with accounting and billing," explains Terry Brosnan, the CFO who also holds CIO responsibilities. In the SaaS model, customers are typically billed monthly. Rather than collect an up-front fee and subsequent maintenance fees, software companies have to build systems that support recurring revenue collection.
In addition to monthly billing, PeopleCube upgrades its SaaS offers monthly, hence the need to interact more closely with customers. Matt Roca, director of enterprise systems, helped implement a CRM system from Sage Software Inc. in Irvine, Calif., to facilitate closer customer collaboration. Another key tool for customer communication is a portal, which enables PeopleCube to collect feedback on products.
"Through the portal, there's a self-service knowledge base, documentation and case tracking," says Roca. "Some key differentiators for us are the bug-tracking mechanism and feature request function that we've built."
A Changing Role for IT
At Informatica Corp., a $300-million data integration software company in Redwood City, Calif., the addition of SaaS products to traditional ones has created new IT responsibilities. CIO Tony Young says his 55-person staff has added strategic value by offering "the holy grail of IT": a single view of the customer. IT provides sales and marketing with an aggregate view of all customer interactions, from sales histories to support issues. "Sales reps are more effective," Young explains, because they can view which products customers purchase as well as how they use these products. In addition to this single view, Young has rolled out analytics to track marketing programs. As Informatica adds SaaS offerings, Young says his role will include more product development responsibilities, such as evaluating hosting options.
At Softscape Inc., a provider of human resources applications in Wayland, Mass., SaaS is changing Rick Watkins' role as CTO. With SaaS a growing part of its market, the company now works with customers who have varying levels of sophistication in their technology infrastructure. "Their internal networks aren't able to connect to external SaaS providers, so they look to us to help them," says Watkins. Accordingly, the CTO has brought on people experienced in external consulting. "The skill set of new hires is closer to professional services folks than support folks," he says.
According to Denis Goulet, vice president of IT at Progress Software Corp., the consolidation trend keeps the IT department plenty busy (in the past year, Progress has acquired Actional Corp. and Neon Systems). The $405-million company in Bedford, Mass., develops application infrastructure software and has been on the acquiring end of the consolidation trend, which requires "a lot of work to integrate new product lines quickly and gain efficiencies in SG&A [sales, general and administrative]," Goulet explains. The guiding principle of Goulet's day-to-day duties is to be "efficiently schizophrenic." He watches costs by standardizing technologies while also staying mindful of the value of the people and intellectual property that Progress acquires.
To streamline the acquisition process from an IT perspective, Goulet applies a standard approach to evaluating infrastructure and data center facilities. Yet the most pressing responsibility for IT is enhancing "various business strategies that will produce revenues," he adds. Case in point: Progress' acquisition of Neon. The IT organization partnered with a business manager to integrate the entire sales cycle in a CRM application from Salesforce.com; the integration was complete within three months of the acquisition.
CIOs at midsized software companies must contend with the do-more-with-less philosophy prevalent in other industries. But software providers have the advantage of giving customer-oriented feedback, as Goulet does on his company's products. The IT team is a beta tester of sorts, another example of being "efficiently schizophrenic," he says. Being early adopters of technology runs counter to being predictable, he says. "So we are always striking a balance between being a risk taker and being efficient."
Megan Santosus, a former senior editor at CIO Decisions, is now a features editor for SearchDataCenter.com. Write to her at msantosus@techtarget.com.
Dig Deeper on Small-business infrastructure and operations