Manage
Learn to apply best practices and optimize your operations.
Sharpening Your IT Decision-Making Skills
One thing is for sure: Midmarket CIOs are making more complex decisions than ever, and the results have broad implications for their companies.
In a European history class at the University of California, Berkeley, a professor shows his students a portrait of Holy Roman Emperor Charles V on horseback, suited up for battle. "Why would a king ruling in an age of gunpowder wear armor?" the professor asks. Class discussion ensues until one clever student finally gets it. "That's what leaders are supposed to look like. That's what leaders are supposed to wear."

Researchers at the IT Leadership Academy recalled this classroom scene as we pondered this month's CIO Habitat topic. What does IT decision making really look like? Is there a right way to make these decisions and to show this kind of leadership?

Here we examine the decision-making processes in a 100-company sample split evenly between large and midmarket businesses. We asked respondents how IT decision making has changed and what kind of decisions they're actually making. How are those decisions being made? Should that process be re-thought?

One thing that CIOs in both large and midmarket enterprises agree on is that IT decision making is undergoing dramatic change. As the amount of money involved in IT grows, so does the impact of IT on each company's financial health. As one veteran CIO at a major government contractor notes, "IT decision making has changed. It's a lot bigger now. I used to have a $300 million budget, and now I have a $1.2 billion budget."

Perhaps because of this overall increase in IT budgets in organizations of all sizes, we found that more people are involved and that decision processes have become more formalized and thus auditable.

Decision Making: It Takes a Village


"IT decisions used to be made in a much more siloed manner -- just IT and perhaps finance weighing in," says the CIO at a media and entertainment company. "Now decisions are made with much greater involvement with all areas of the business. There is a formal decision process for investments. Architectural decisions are often made with input from IT and business leaders. Everything is done much more collaboratively."

Indeed, everyone is getting on the "I make IT decisions" bandwagon. The CIO at a services company says that he involves his staff "not only in making key decisions, but in making sure they have 'skin in the game' [by] tying the success of the decision directly to their compensation."

Today, the focus of IT decisions is achieving a stated business outcome. And an ever-increasing level of business and technology complexity makes these decisions even more complex. The CIO at an aerospace conglomerate laments, "There are decisions on top of decisions on top of decisions. Everything is interrelated. That compounds to the point where you have 50 decisions to make simultaneously that you don't have the time to make." Decision complexity is further magnified by the global nature of so many businesses, while the windows of time during which to make these decisions are shrinking.

"The interdependence of multiple and more complex technical environments and the global nature of our IT business have made decision making more difficult," agrees the CIO at a technology manufacturer. "More variables need to be accounted for, the technical complexities and dependencies are greater, and more individuals are required to comprehend the totality and overall impact of a decision."

While this CIO believes his organization excels in gathering the right data to make informed decisions, the real struggle is doing it all fast enough. "We also do a good job at including the right ownership and content experts to ensure the impact of a decision is understood," he says, but adds that data gathering and consultative inclusion simply take too long.

Mapping Out Key Decision Zones

For CIOs, technology decision making has always been a critical skill. This year, ahead-of-the-curve CIOs are taking things a step further by sharpening the processes that form the basis of decision making. Our research shows that IT leaders at large and midmarket companies differ in their focus on the various segments of the decision-making map.

The Three R's
Larger companies tend to pay more attention to the transformational aspects of the three R's:
Roles and responsibilities of IT and the business
Relationships between IT and the business (such as mental models, metrics, financial models and chargebacks)
Risk management issues (such as risk identification, policy selection, policy implementation, security, privacy and auditing)
The Six S's
Midmarket companies tend to focus more heavily on the six S's:
Standardization of processes and platforms
Stabilization of legacy systems and ongoing strategy
Sourcing concerns ("Should we do captive offshoring? If not, whom should we partner with, and how should we manage the relationship?")
Software decisions that involve build-versus-buy-versus-download choices (such as striking a balance between off-the-shelf and custom-built software)
The structure of IT (whether IT should be centralized or decentralized; whether shared services should be established and data centers relocated, etc.)
Supplier and partner management issues
The Four D's
Finally, both large and midsized enterprises are paying close attention to the four D's:
Determining IT governance approaches (involving migrating homegrown portfolio management to off-the-shelf software, IT project prioritization, budgeting, crafting IT roadmaps, etc.)
Decisions about talent (such as, "What skills do we need? Where can we find and recruit talent? How can we train, retain and compensate staff?")
Disruptive, or game-changing, technologies (such as business intelligence, mobility/Wi-Fi, etc.)
Delivering on new models for IT initiatives, including on-demand service; service-based pricing; new architectures such as Web 2.0 and service-oriented architecture; as well as supply chain, portals, and bringing more customer-facing business processes to the Web.
-- T.M.
A Swinging Pendulum

Trust has a substantial impact on who and how IT decisions are made. A decade ago, CIOs weren't really trusted enough to make these decisions, recalls a CIO from the state of Texas. "Every business unit wanted to have their own IT shops. They were essentially practicing IT without a license. Today we don't have nearly the need or the desire for shadow IT organizations or lack of trust in IT."
This CIO's situation raises an important question: Is there such a thing as too much trust? "We don't have a lot of people second-guessing any decision we make," he acknowledges. His senior business colleagues "trust my guys so much that they do not feel the need to get other people involved."
A CIO of a company division that spends $250 million a year on IT was promoted to another executive role within the company. The division president left it to the CIO to handpick his IT replacement. That showed "a heck of a lot of trust," the CIO says. "Here is a guy running a $6.5-billion business [who] does not feel the need to meet this person because of the trust he has in me and my people."
Several other CIOs noted, however, that extensive business involvement in IT decision making -- independent of trust and track record -- is still considered prudent practice.
Respondents also indicate some notable differences in the decision-making practices and focus of large and midsized enterprises (see "Mapping Out Key Decision Zones," above). Large-enterprise CIOs are focusing on changing the game that's being played; midmarket CIOs, however, are still consumed with playing the current game.
For large-company CIOs, delegation of responsibility is increasingly a must. They generally hand off the day-to-day decisions of running IT to their trusted lieutenants; and in some cases, delegation is a survival technique. A CIO at a Fortune 100 company recognizes he can't do everything; he has to delegate some decision making. "I would be dead if I tried to dive into every decision. I worry about a few big ones and the overall process of decision making. When something goes wrong, the first thing I want to focus on is not how it went wrong, but what do we want to do differently going forward?"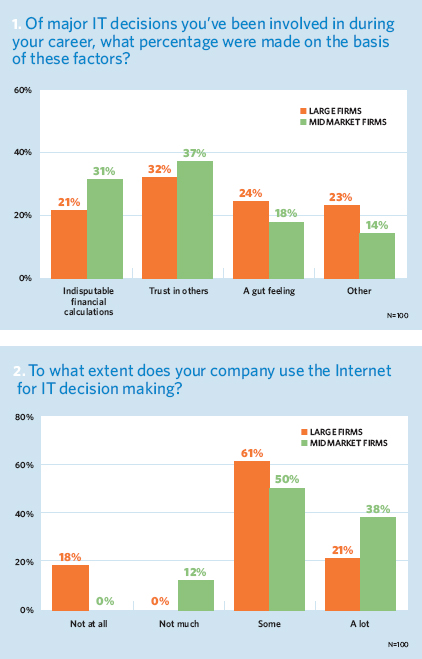 McDonaldizing IT Decision Making

To borrow a construct from social scientist George Ritzer in The McDonaldization of Society, some CIOs have "McDonaldized" the provision of basic computational functionality; they have used process to maximize efficiency, calculability, predictability and control. Efficiency creates the optimum method for getting from one point to another. Calculability tracks the time it takes to get products sold and services offered. Predictability ensures that products and services will be the same over time and in all locales.
A McDonaldized IT shop offers few surprises. Its employees behave in predictable ways. They follow rules and standards. What they do -- and to a certain extent what they say -- is predictable. McDonaldized IT organizations often have scripts for frequently occurring interactions with customers.
These IT shops are not democracies, although they can be quite collaborative, innovative and efficient. In McDonaldized IT departments, decision rights are managed. As the CIO at an engineering services firm explains, "There are many things that my staff wants to vote on. Everybody wants to have their opinion heard. At some point, you just have to say, 'Enough is enough.'"
"Get rid of the complexity, and stop arguing over it," he advises. "We need less input on decisions (about desktop service levels, for example) and more input on how can we use technology to grow the win rate on [our] proposals."
In these kinds of IT shops, control is exerted through fewer user options, leading customers where management wants them to be. Organizational structure reinforces this control; managers and inspectors make sure workers toe the line and adhere to certain IT standards.
Still, McDonaldization is by no means an all-or-nothing process; there is a spectrum. You choose what processes and activities you want standardized. Our data set shows that larger enterprises are further down the road toward McDonaldization than their midmarket brethren (see Figure 1). As Figures 2 and 3 indicate, however, midmarket firms are using some external sources to make decisions.
"IT is becoming -- over the past five years, anyhow -- more and more of a science [that now makes] repeatable, sustainable, cost-effective decisions," says the CIO at a pharmaceutical company. "IT has been an art during most of my 30 years in the business. Those in leadership positions made decisions -- some good, many bad -- depending on the individual's level of experience and expertise. Poor, expensive decisions are rarely tolerated for long anymore, regardless of the charisma and acceptance at the executive level of the senior IT person in charge."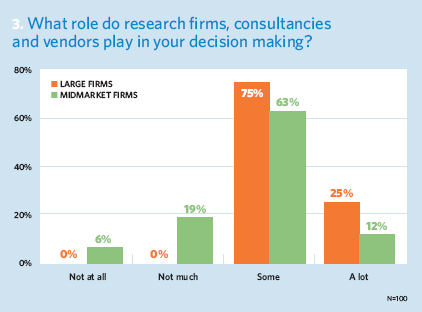 Thinking About IT Thinking

Another important result of McDonaldization is that it frees up time. And CIOs at larger enterprises are re-investing their McDonaldization "dividend" by spending more time thinking about IT thinking.
In midsized companies, however, thinking about IT thinking is not the norm; in some cases, it's not even a politically correct practice. As the CIO at a liberal arts college points out, "When I got here, each school, campus and administrative unit had its own IT support group. We centralized. [and] changed and redesigned the decision-making process. Yet I don't recall anyone (including myself) articulating the change of IT decision-making processes."
The CIO at one midsized nonprofit readily admits that "thinking about IT thinking" should consume some portion of his time, but finding that time is still "an unsolved mystery of the universe."
The CIO at the midsized Asian subsidiary of a global insurance company understands the need to improve IT decision making in his organization. "Generally, within the business context, the decision defect rate is 50-50, and the case for the decision is of poor quality," he says. "Coin tossing would be just as good and faster/cheaper."
Within this IT organization, he adds, the technical decisions are high quality and well documented but also costly. There is also a troublesome lack of a "big-picture view of which decisions are really important." This CIO is about to retire, however, so the job of changing the decision-making process will fall to his successor.
The CIO at a media company also has a decision-making environment undergoing improvement: "Some decisions seem to take a long time to reach," he notes. "We operate a shared-services environment, and consensus over a broad group is often needed. But the defect rate on decisions appears low once action is taken. We could do a better job of balancing the cost/value of the decision. In other words, avoid overanalyzing a decision."
The End Goal

"If wishes were horses," the old aphorism goes, "then beggars would ride." We wish all IT decisions were made rationally, yet we know that a majority aren't. Many IT decisions take too long, are based on inaccurate or incomplete information, and involve the wrong parties.
IT is entering a new era that requires precision, process and predictability. But the only way to get there is to re-engineer and re-think IT decision making. For your organization to realize the full value of its technology investments, you must pay attention to the decision-making processes underlying those decisions.
Herbert A. Simon, the Nobel prize-winning cognitive scientist, never lost track of the fact that "information consumes the attention of its recipients. ... A wealth of information creates a poverty of attention." CIOs today face an abundance of information and infinite choices. When IT decision makers have too many options to consider, they frequently strive to minimize the ordeal by finding a choice that is merely satisfactory. Yet as the CEO at an energy company points out, "Satisfactory decisions are no longer good enough."
---
SURVEY METHODOLOGY: Researchers contacted 100 companies (50 large firms; 50 midmarket companies) in 17 vertical markets, including banking, construction, consumer electronics, education, entertainment, fashion, food, government, insurance, manufacturing, pharmaceutical, philanthropic, publishing, retail, services, technology and telecom.

Thornton May is a respected futurist, adviser and educator whose insights on IT strategy have appeared in Harvard Business Review, The Wall Street Journal, BusinessWeek and numerous computer industry publications. To comment on this story, email editor@ciodecisions.com.