Manage
Learn to apply best practices and optimize your operations.
SANtastic: The Rise of IP SANs in the Midmarket
IP SANs today offer a real alternative to Fibre Channel (not to mention DAS). Just don't get bogged down by their slower performance.
Confronted with surging storage needs, midmarket CIOs are increasingly turning to networked storage, particularly IP SANs. Most execs give them rave reviews -- with the occasional performance caveat.
This is what it had come to: the IT director's personal hard drive.
That's what Bill Snow was using to create more storage space for electronic documents such as blueprints, drawings and legal forms at construction firm Moss & Associates. As he moved data from the company's direct-attached storage (DAS) system to his own computer to free up storage space, he knew there had to be a better way.

Download this free guide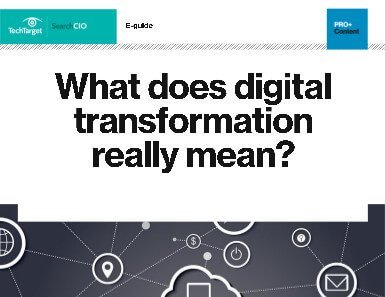 PDF: What does "digital transformation" really mean?
What exactly is digital transformation? You may hear the term often, but everyone seems to have a different definition. See how our experts define digitization, and how you can get started in this free guide.

By submitting your personal information, you agree that TechTarget and its partners may contact you regarding relevant content, products and special offers.

You also agree that your personal information may be transferred and processed in the United States, and that you have read and agree to the Terms of Use and the Privacy Policy.

"Each project has a ton of data," Snow explains. "Imagine 20 file boxes for each project." The Fort Lauderdale firm has lots of projects, too, with business this year expected to triple its 2005 level of $750 million.

To make room for this rapidly expanding document stockpile, Moss & Associates purchased a storage area network (SAN) in May. The technology behind it: a hybrid system using both the traditional networked storage technology (Fibre Channel) and the feisty newcomer, IP.

Indeed, as many midmarket companies look to network their storage or add a lower-cost option, IP SAN technology seems the obvious choice. IP SANs are data networks that combine the Internet Protocol with the SCSI storage protocol to carry data traffic over standard Ethernet networks. In storage parlance, the technology is known as iSCSI (pronounced i-SKUH-zee).

Using common network hardware and standards-based components, as well as a protocol familiar to every network engineer today, IP SANs boast some advantages in terms of cost, ease of use and scalability -- to a point. And the ubiquity of IP networks makes it possible to extend or connect IP SANs worldwide.

"ISCSI is definitely ready for prime time," says James Tarala, CIO of Schenck Business Solutions, a 500-person accounting firm based in Appleton, Wis., that replaced a Fibre Channel system with iSCSI in 2003. "We've used and abused it for several years, and it's been flawless. Anyone that knows Ethernet can manage this storage."

@pb

Some Drawbacks to IP SAN Technology

CIOs considering the IP SAN route should not make the decision on cost alone and need to be aware of performance, management and security issues.

Though IP SANs are less expensive than Fibre Channel SANs, there is often cost involved beyond the price of storage out of the box. For speed in accessing documents, for example, many users report having to add special network interface cards.

IP SANs also lack management software and robust security features, notes Robert Passmore, an analyst at Gartner Inc. Most IP SAN products provide an administration password, but few currently support IPsec, the common IP security protocol. To avoid security breaches, vendors recommend deploying IP SANs in isolation, not on the corporate local area network or across a public network. For those who must provide access to data on an IP SAN over a public network, it's best to use encryption or a virtual private network, Passmore says.

IP SANs also pose scalability limitations. Passmore says the largest IP SAN he knows of connects about 250 servers, but few encompass more than 60. That means there are only a few examples to reference for implementations larger than that.

Still, at the end of the day, networked storage using IP is the way for many midmarket CIOs to meet their business' needs for document storage and retention. "The fact is that the SAN serves a business need, and an ROI measurement is less important than fulfilling our requirements for continued stability and available capacity for now and the future," says Chad Adams, director of IT at the Chicago marketing firm Upshot.

-- J.M.

Yet despite such praise, Tarala and others are quick to acknowledge the greatest shortcoming of IP SANs: speed. Their performance doesn't hold a candle to that of the more sophisticated Fibre Channel. Fibre Channel delivers 4 gigabits per second (Gbps) of throughput, versus IP SANs' 1 Gbps -- the typical Ethernet transmission speed. That's why Bill Snow's construction company went with a hybrid approach and why Tarala augments his with a special network card. (For other considerations, see "Some Drawbacks to IP SAN Technology," above.)

Still, IP SAN technology has come a long way since it hit the market with a thud in 2001. It was a much-anticipated competitor to Fibre Channel, which was the first technology to connect servers to shared storage. Fibre Channel SANs were a huge leap forward from DAS systems, in which each server had its own separately managed storage. But Fibre Channel SANs were considered expensive and complex, often saddling IT with interoperability issues.

Initially IP SANs weren't much better. Between 2001 and 2004, sales limped along; performance failed to meet expectations and early products were overpriced (although still cheaper than Fibre Channel). Companies that had bought into Fibre Channel certainly didn't bite; they continued to move as many applications as possible from DAS systems to their Fibre Channel SANs to squeeze value out of this initial investment.

But today the IP SAN market is on the upswing as the technology has become more reliable and prices have come down: An IP SAN that previously cost $50,000 now goes for $10,000 to $20,000.

Gartner Inc. research shows that the market for networked storage increased 8.6% in the first quarter of 2006 compared with the same period last year, and the research firm expects IP SANs to overtake Fibre Channel in 2009. IDC estimates a sixfold increase in IP SANs by 2010, up from an estimated $746 million this year to $5.1 billion.

For midmarket companies, the combination of improved reliability and lower price has made IP SAN products a real alternative to Fibre Channel, analysts say. Indeed, many firms now deem iSCSI "good enough" for a host of their applications, says IDC analyst Brad Nisbet.

Thus, as midmarket CIOs look to network their storage, IP SANs often take a leading role. Here we show how four organizations addressed their storage challenge using the technology and the downsides each found.

@pb

Ditching Direct for a Network

For many organizations, networked storage is the approach of choice because of its added redundancy, shared resources and improved performance compared with DAS. Its centralized administration is certainly simpler than having a technician visit every DAS box to provision storage. And today a midmarket company's first experience with a SAN is often an iSCSI.

The Chicago-based marketing firm Upshot, a subsidiary of Emak Worldwide Inc., took the plunge from direct-attached storage to an IP SAN this year to accommodate growing file sizes among client projects.

"Storage is becoming a more significant part of our budget since most of what we do is digitally based and file sizes continue to grow rapidly," says Chad Adams, Upshot's director of IT.

Upshot's IT infrastructure includes 20 servers running Microsoft Windows 2000, as well as servers for Exchange and SQL. Prior to the IP SAN implementation, each of these servers had its own direct-attached storage. "[DAS] is great as long as you are buying new servers every year. Otherwise, your reliability decreases," Adams says, because older servers can't keep pace with application performance.

In addition, physically rearranging DAS technology is troublesome. When a server goes down, moving storage cages and re-attaching them to a new server can take Adams' shop hours or even days. "With the SAN, we just point the storage at the new server, and we're back up in 20 minutes," he says.

Upshot bought a product from EMC, which it chose for support reasons. "We picked a startup before, and tech support was one guy in his bedroom," Adams says. "[When you're] investing in a SAN to store everything, you need to be prudent about what you choose." For $60,000, it got 6 terabytes (TB) of storage, with capacity for up to 29 TB, which Adams says should meet the firm's needs until 2008.

Adams hasn't found speed to be an issue, because Upshot serves only flat files from its SAN, not transactional data. "Speed doesn't matter that much to us," he says.

@pb

Starting Small

The University of Portland also swapped out direct-attached storage for an IP SAN. With 4,500 users on campus and an IT staff of 33, Bryon Fessler, CIO and vice president of information services, had his work cut out for him re-architecting the university's storage. The campus IT department's 80 servers all had direct-attached storage. Some servers were mirrored across campus to clustered hard drives from Western Digital. There was no central management console, nor were there shared resources. Backup was a decidedly old-fashioned affair involving a systems administrator who ran from one computer to the next, transferring data using removable storage media.

IP SAN Best Practices

To get the most out of an IP-based storage area network, Gartner Inc. recommends these practices:
Consider an IP SAN for remote offices and departmental applications, especially where low-cost disks meet requirements.
Use special network interface cards to improve performance.
To avoid security breaches, use isolated switches, encryption or virtual private networks.
Review security support carefully.
Make apples-to-apples configuration comparisons for estimates of cost savings between iSCSI and Fibre Channel.
Specify and explore management tool requirements before deploying the technology.
-- J.M.

Fessler reached a turning point when he realized his IT staff was spending its entire time running around campus allocating storage rather than looking at the university's bigger IT goals.

Initially he evaluated Fibre Channel SANs but became frustrated with the vendors; they wanted to see huge growth projections before they would sell him anything, he says. Then Fessler spoke with an IP SAN vendor, LeftHand Networks, whose product scales up in 4 TB increments. "They just asked us, 'What do you need to get into the game?'" Fessler recalls.

The university paid approximately $50,000 for 8 TB of storage from LeftHand and now has about 16 TB in total. The price covered all hardware, software and consulting fees. In comparison, Fessler says he was looking at $100,000 for 8 TB to 10 TB of Fibre Channel storage.

But making the move to an IP SAN isn't always seamless. The university lost power recently, and its IP SAN shut down, causing data loss "as the connection was severed abruptly," says Fessler. "We had to deal with corrupt data after the fact for several days."

Support for a "graceful" shutdown, which will give the SAN 20 minutes to complete I/O transfers and replication jobs after the power goes out, is forthcoming in the next LeftHand release. After more than a decade on the market, Fibre Channel SANs have this issue figured out already, but it's still a problem for some IP SANs. Most IP SAN vendors either already support graceful shutdowns or are working on a solution.

@pb

The Accounting Firm

Just as some IP SAN users are new to networked storage, others are migrating from the Fibre Channel world. Accounting firm Schenck had been using a Fibre Channel-based system from EMC that was getting long in the tooth, says Tarala. And with organic growth as well as a series of mergers and acquisitions that doubled the company's size in five years, the demand for storage wasn't letting up.

Upgrading its Fibre Channel system was cost-prohibitive, so Tarala went with an IP SAN from EqualLogic in 2003. "For 1 terabyte of [Fibre Channel], we could get 2.2 terabytes of iSCSI storage and still have money left over," Tarala says.

Moreover, the IP-based system fit into Schenck's newly standardized IT architecture, which is based on an IP network. The firm now uses Voice over IP for its telephones and Citrix for a majority of its business applications. "Everything on the network is IP: the servers, client machines, VoIP," says Tarala.

That has meant huge efficiencies in training staff. "We have the same people monitoring our regular wide area network and network traffic as well as the storage side," says Tarala. "It costs me almost nothing to maintain and manage [storage] compared to where we were back in the Fibre Channel days. In the past, every time we wanted to make a change, we had to call in an EMC technician. It was insane."

Today Schenck has moved all its applications to the IP SAN except its billing application, which runs on an IBM iSeries server. According to Tarala, IBM's iSeries will support only IBM's iSCSI storage. "IBM's doesn't want to play nicely in a heterogeneous storage world," he says, a problem that IBM acknowledges. "I can live with leaving it by itself."

Tarala also acknowledges that IP SANs can have performance issues, but he has found a fix: a special network interface card known as a TCP/IP offload, or TOE card. TOE cards plug into the server and perform the TCP/IP processing; without them, the server can get bogged down processing TCP/IP packets, starving both application and I/O performance. This was a problem for early iSCSI users and turned a lot of people off the technology, but today a TOE card is a cost-effective fix. "For $300 to $400, it definitely reduces any headaches with performance," Tarala says.

@pb

The Hybrid Approach

At construction firm Moss & Associates, IT director Snow wasn't going to risk performance issues or look for workarounds with IP-based storage.

The company hedged its bets and went with a SAN that supports both iSCSI and Fibre Channel. It gets the performance it needs for mission-critical applications using Fibre Channel but saves costs when attaching less important devices using iSCSI.

Snow opted for the hybrid approach from Compellent Inc. because his end users usually need to access the system from remote project sites, and he couldn't take a chance that they might have problems, which was possible if he used iSCSI alone. Company sales managers, engineers and designers constantly access the company's SQL Server-based project tracking and workflow system for information on all the activities associated with a construction project.

"If you want to dip your toe into iSCSI but not risk everything on it, this is a great bet," he says of the hybrid approach. While Snow notes that there's an additional cost in the fiber switch when using Fibre Channel -- these switches run at about $1,000 per port -- he says it's worth it for the superior performance compared with iSCSI. Moss, for example, found that engineering drawings in computer-aided design files could be accessed up to 30% faster using Fibre Channel than iSCSI.
Dig Deeper on Small-business infrastructure and operations