Manage
Learn to apply best practices and optimize your operations.
Public-Sector CIOs Find Self-Service Applications Serve All
Local governments are turning to self-serve technologies to combat Medicaid costs and decreasing tax revenues.
State and Local Government
Top business challenge: Provide an increasing level of service to more constituents within the confines of tight budgets
---
Solution: Operate more efficiently and allow residents to receive information and services unassisted
---
How IT can help: By consolidating systems or creating a shared-services environment; by implementing Web-based applications that enable resident self-help

As Bob Hendricks, CIO of the city of Fresno, Calif., says, government "is all about doing more with less."
Unlike private-sector organizations, state and local governments don't have to worry about attracting customers or introducing new services in the marketplace. A growing total population means that demand for myriad government services -- education, health care and law enforcement as well as recreation, public safety and transportation -- will increase too. But like many businesses, governments are beset by rising costs and legislative requirements that constantly put pressure on operations.

Download this free guide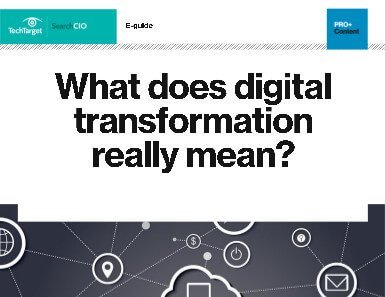 PDF: What does "digital transformation" really mean?
What exactly is digital transformation? You may hear the term often, but everyone seems to have a different definition. See how our experts define digitization, and how you can get started in this free guide.

By submitting your personal information, you agree that TechTarget and its partners may contact you regarding relevant content, products and special offers.

You also agree that your personal information may be transferred and processed in the United States, and that you have read and agree to the Terms of Use and the Privacy Policy.

That's only going to get tougher. While fiscal conditions vary widely among state and local governments, revenue (generated predominately through property taxes) isn't keeping pace with the cost of government health care programs like Medicaid, which require state and local contributions. Nationwide, state tax revenue in 2005 grew at an estimated 4.9%, while Medicaid spending increased 7.5%, according to the Kaiser Commission on Medicaid and the Uninsured.

The Toll of Rising Costs

Alan Ehrenhalt, editor in chief of Governing Magazine, sees funding Medicaid -- the federal health care program for low-income residents -- as one of the most significant challenges that these governments will face. Another top concern is rising pension and health care costs for employees. As baby boomers retire and the population ages, retirement and long-term care will hit state and local governments hard. "It's a challenge that's only going to get worse," Ehrenhalt says.

There are also legislative mandates to comply with, such as the Real ID Act, which takes effect in 2008 and requires that driver's licenses adhere to federally mandated standards, including machine-readable driver information and tamper-resistant physical security features. Even states whose licenses already satisfy the act must create driver information databases and link them to the databases of the 49 other states. The implementation cost is expected to far exceed the $40 million in federal funds appropriated for the effort.

These challenges mean that at a minimum, state and local government IT executives must use technology to make operations more efficient. Wisconsin CIO Matt Miszewski recently saved America's Dairyland more than $90 million by putting out for rebid the contract for the Medicaid Management Information System -- something that hadn't been done in 15 years. He saved the state another $40 million by building an enterprise architecture and consolidating thousands of servers. In Westchester County, N.Y., CIO Norman Jacknis is also targeting Medicaid for cost savings, but in the area of fraud detection. Data collection is now automated; the next step is data analysis. "By doing an analysis on the outliers in Medicaid transactions, we can find fraud," Jacknis says.

@pb

The Gateway to Better Service
State and local governments are also increasingly looking to IT to improve service rather than simply streamline operations. "It's my job to examine how we can use technology to improve service and drive operational efficiency," says Jon Fullinwider, CIO of Los Angeles County.
With its mission to "enrich lives through effective and caring service," the county must attend to 10 million residents in 88 cities across 4,000 square miles and with an IT budget of $670 million. Chief among Fullinwider's projects are resident-facing, Web-based services offering a triple benefit: to improve service, cut costs and free up county employees' time spent responding to information requests. Self-service applications are also important, Fullinwider says, because residents have come to expect them, from paying traffic tickets to requesting birth certificates. "People can get all their account information and conduct transactions at a bank's Web site," he says. "That has raised the bar for us."
The county is implementing a number of initiatives to streamline service, including electronic content management, enterprise resource management and wireless technology. The goal of such initiatives, says Fullinwider, is reducing costs without compromising -- and in some cases, while enhancing -- the level of service provided.
Hendricks shares that philosophy in Fresno, where city residents can use the Web to reserve parks, pay bills -- even set up a meeting with the mayor. "The constituent base always expects more in the way of services and convenience," he says. One project on tap is a data warehouse that residents can access to check on city finances. Now rolled out internally, the system "will tell people what we spend on overtime, the cost of road repairs and the like," Hendricks says.
In Wisconsin, Miszewski is turning his attention to expanding Web-based information services. One major area he's investigating is electronic medical records, an effort designed to reduce medical errors and costs. Miszewski is working to drum up support for e-records in the public and private sectors -- a challenging task. "Bringing technology to the table is the least difficult part," he says. "There's politics, and then there's just getting the right people involved."
Robert Greenless, CIO of the L.A. County Department of Mental Health, is further along in terms of implementing electronic medical records and hopes to have the system up and running by the summer of 2007. "Our clients often don't return to the same facility, so it's important to make their records available wherever and whenever they show up for treatment," he says. Planning for a new records system began in 2004, but Greenless says that progress was slow because of complex requirements; the department wanted functionality that would allow clinicians to do trending and analysis. Greenless hopes to complete a request for proposal by the end of this year.
The medical records project in L.A. County is emblematic of IT's changing role. When Greenless first arrived as CIO in 2004, the 140-person mental health IT group was organized to provide support for mainframe-based applications and was therefore inward-focused; with a move to Web-based applications, IT is taking an external view. "We are shifting our gaze to how we can use IT to help our organization succeed," he says. In 2004, California passed the Mental Health Services Act, which provides funding and personnel resources necessary for providing a continuum of care for residents. In response the department created new programs for clients to encompass all services they need to live independently: medical care, job training, housing assistance. "Our role in IT is to provide qualified clients with access to the wide range of services they need," he says.
This unity between IT and organizational mission is a common thread among state and local government CIOs and their private-sector peers. Another common point: providing value-added service that exceeds expectations. In Westchester County, residents can access a Web-based system or dial into an interactive voice-response system to find an area service station with the lowest priced gas. According to Jacknis, even a relatively modest service is another way IT can help improve life for residents.
Megan Santosus, a former senior editor at CIO Decisions, is now a features editor for SearchDataCenter.com. Write to her at msantosus@techtarget.com.
Dig Deeper on Small-business IT strategy