Manage
Learn to apply best practices and optimize your operations.
Portfolio Management: The Future Temple of IT Value?
Done right, portfolio management gives IT leaders a powerful tool to reduce complexity and improve decision making. How do you measure up?
We live in a demanding world that requires public- and private-sector executives to deliver value to meet ever-rising client expectations. When expectations aren't met, customers want to know why the future they got wasn't the future they wanted.
The ancient Greeks were similarly obsessed with ensuring that present investments generated the desired future results. They attempted to manage future risk via the Oracle at Delphi, and people came from around the globe to have questions about the future answered. The Oracle's responses were usually cryptic and subject to multiple interpretations. Despite this ambiguity, Delphi became a focal point for intellectual inquiry as well as an occasional meeting place where rivals could negotiate.
For this month's CIO Habitat research report, we gathered data and held discussions with 250 IT thought leaders and practitioners. The central finding is that IT portfolio management appears to be emerging as the Delphi of the contemporary high-performance organization.
Defining Portfolio Management
Portfolio management is a highly flexible concept. While it can be used to plan distant futures, it has practical near-term application as well. There are three dimensions to portfolio analysis:
What data elements are collected and analyzed?


Who makes decisions based on the collected data?


What kinds of decisions are being made?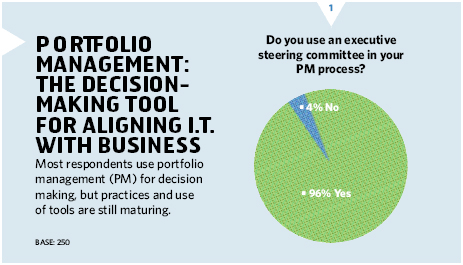 "We define IT portfolio management as planning, designing and executing multiple IT projects during a 12-month period," explains Mike Hugos, the bottom-line-focused CIO at Network Services Co., a Chicago-area distribution supply firm. "These projects range from upgrading IT infrastructure to enhancing existing systems and building entirely new systems. Each project has an ROI that is calculated by the finance department, and the steering committee picks a group of proposed projects for funding each year."
Portfolio management ranges from record-keeping to sophisticated risk reduction and from cost control to new value creation. Some form of portfolio management is practiced by both behind-the-curve CIOs (who are merely trying to stay on top of major initiatives) to those IT executives striving to transform business culture and create sustaining new value from IT. The majority of our survey respondents (67%) employ homegrown rather than purchased software tools for portfolio management tracking, and 66% describe those tools as "very basic," which means they mainly use Excel spreadsheets (see Figures 4 and 5 below).
Still others on the leading edge use portfolio management to create a "new language" for discussing IT and business investment and even to "economically re-platform the entire industry." So organizations employ a broad range of portfolio management behaviors and practices. Most programs are capped off by some form of interaction with a senior-executive steering committee.
Portfolio management done right gives next-generation IT leaders a powerful tool to reduce complexity and improve decision making. Many CIOs use portfolio management to manage the total lifecycle of IT projects. "Within the IT organization, all new projects are scored against criteria of risk, benefits and investment," says the CTO at a major apparel retailer. "This score is used to define start date and to define which resources are used for projects. When resource contention occurs, the higher-score project gets the best resources."
Mykolas Rambus, the CIO at W.P. Carey, a midsized investment management firm in New York, adds, "For us, portfolio management is project portfolio management: the rigorous planning and execution of nonoperational initiatives that are prioritized against business objectives, vetted by the IT steering committee, and whose successful delivery is part of the IS report card [i.e., the balanced scorecard]."

Dividing, Measuring and Conquering?
Our survey reveals six different levels of portfolio management practice:
Level 1: Basic IT asset record-keeping (13%). The focus here is on what the portfolio contains (i.e., what is out there, and what do we have in terms of hardware, software and people resources?).
The primary challenges facing IT leaders operating at Level 1 is time management (there is no time to count the stuff), data management (there is no standard process or mechanism for aggregating the data) and political management (there is no structured forum for informed resource allocation discussions to take place).
Levels 2, 3 and 4: Demand management (67%). Practitioners at these levels generate reports detailing where and how IT spending takes place as well as how staff time is allocated and whether resources are kept or retired. They use these reports for the following activities:
To control costs (Level 2). These practitioners are trying to get the portfolio under control. Here portfolio management manifests as the IT budget process.


To enable and empower the business (Level 3). The focus is on giving the lines of business what they want. For Level 3 organizations, the most common words to describe activities are "empowering" or "enabling" the business. Portfolio management manifests as the IT strategic planning process.


To redesign business processes (Level 4). These practitioners focus on giving the lines of business what they need, so at this level portfolio management is all about data- and fact-driven economic redesign of entire business processes. The most common words to describe activities here are "optimization" and "consolidation."
The massive complexity of contemporary IT can be radically simplified by focusing on these three E's:
Entry: how and which technology enters the organization.
Extraction: how technology operates to create value for the enterprise.
Exit: how technology exits the enterprise.
CIOs who empower and enable their businesses through Level 3 portfolio management can measure how they allocated time and/or resources to the three E's. Insightful CIOs recognize that one of the great benefits of portfolio management is that it helps identify what organizations should stop doing.
As André Mendes, chief integration technology officer at PBS in Alexandria, Va., explains, "Portfolio management for us includes a substantial focus on the elimination of separate databases, orphan programs and individual data islands. It also means the elimination ... of legacy applications running on nonsupported systems. Continuous culling of the deciduous trees in our software assets."
Level 5: Enterprise-wide resource optimization (16%). While comprising less than one-fifth of the sample population, Level 5 companies report the largest number of experiments or new practices. As one CIO put it, "We are still learning how to do it."
Portfolio management at Level 5 companies includes not just IT-based initiatives but all corporate initiatives. Enterprises at this level confront decisions such as choosing between funding a day care center for employee children at headquarters or a network upgrade for Latin American manufacturing. To make such decisions rationally requires that everyone from IT and business is aligned concerning goals. Thus, Level 5 enterprises are evolving a common language and method for representing the anticipated future-period value, risks, resources required, interdependencies and timing associated with all major initiatives.
Bankruptcy judges offer a surprisingly robust source of data on Level 5 portfolio management. In bankruptcy situations, all spending is analyzed, sequenced and prioritized centrally under the watchful eye of the bankruptcy judge. Bill Seltzer, now retired as the CIO of Office Depot Inc., credits his work with bankruptcy judges during the 1990s-era turnaround of Revco drug stores (now CVS) for his world-class feel for portfolio management. The sensitivity to resource allocation enterprise-wide is what Level 5 is all about.
Level 6: Ecosystem-wide optimization of nondifferentiating activities (4%). Enterprises at the top level turn their attention to driving costs out of not just their own operations but the operation of the entire industry. Level 6 behavior is present in portions of the financial services industry (e.g., credit card companies), and Wal-Mart is probably the best-known Level 6 player.
Evolving Portfolio Management Practices
Our industry has migrated through three major eras of portfolio management behavior. In the first, the vendor-driven era, vendors constructed and determined the IT portfolio. CIOs were essentially told what to buy and when to do so.
In the second, the analyst/media/consultant-driven era, control over the portfolio still resided outside of organizations and within high-prestige subscription research firms, the ad revenue-engorged trade press and the consulting industry, which had a self-interest in conspiring to convince companies to buy into larger and ever more grandiose projects.
Next came the CFO/regulator era, which served as a palliative to the excesses of the previous two. Control shifted from outside the enterprise (people telling you what you should buy) to within it (people telling you what you can buy). And in fact, some enterprises may never evolve beyond this stage.
Those that do, however, will find themselves in a critical, exciting era of portfolio management: the IT leader-driven era, which will be characterized by a range of portfolio management-related practices and procedures.
The vast majority of midmarket IT executives responding to our survey (85%) consider themselves at Level 2, 3 or 4 regarding their portfolio management practices. One entertainment industry CIO follows a well-thought-out approach in which portfolio management is organized around three levels of business processes cross-referenced with application investments. "We analyze the results, seeking leverage and opportunities to eliminate duplicity," he said. "It started by looking primarily at the application portfolio. We then performed an exercise of categorizing applications by a quadrant defined by unique and differentiating [activities] and their contras. This was informative but did not reveal the opportunities. The epiphany was the cross-reference of apps by business process. The first crack with OPEX [operating expenditures] was revelatory and led to numerous efforts to seek leverage and guide future investment."
For midmarket CIOs, moving forward with portfolio management is the most important and dangerous initiative on the immediate horizon. One does not wake up one day and just jump into portfolio management. The worst thing an IT leader can do is attempt to install automated portfolio management tools before establishing and road-testing decision-making policies, practices and procedures with business stakeholders. Transitioning an organization from Level 2 to Level 3 or 4 and beyond requires a form of cultural surgery, where the CIO transplants a new behavior into a political body. This new behavior must be integrated with and linked to existing management rituals such as strategic planning, financial planning and resource planning.
This is not an impossible task, but it is a difficult one. Further, it is part of a longer-term trend toward improved IT decision making. Enterprises will be at a significant competitive and service-level disadvantage if they don't have Level 4 or higher portfolio management practices in place by 2009.
Portfolio management is to IT what the microscope was to medicine or the telescope was to physics: the tool that enables us to move forward. Wrapped around the tool is the need for fundamental rethinking of how we manage technology. High-performance organizations are adopting a management version of the scientific method. Science depends on organized skepticism: that is, continual and methodological doubting. Portfolio management is a way to identify and discuss those doubts and then move forward without fear.
SURVEY METHODOLOGY: In a series of open-ended questions, 250 CIO Habitat e-mail survey participants were asked their opinions about IT portfolio management. The CIO Habitat Report research team then conducted phone interviews with approximately 100 survey respondents, who were asked to expand upon their responses. Approximately 85% of the respondents were IT practitioners, and 15% were senior decision makers in the vendor, outsourcer and consulting sectors. The sample for this survey was evenly split between midsized and large enterprises.