Manage
Learn to apply best practices and optimize your operations.
Podium: Lessons Learned in Contract Negotiations for Telecom Services
Negotiate telecom contracts to get the services you want at the right price.
At NCI Building Systems, a $2-billion manufacturer of construction products, we are in the process of overhauling data and voice communications to support expanding bandwidth demands as we grow both organically and through acquisitions. Under our previous contracts, we couldn't leverage our size, so we put our telecom services out to bid. Here are some lessons we have learned in the process of developing and negotiating our contracts.

Download this free guide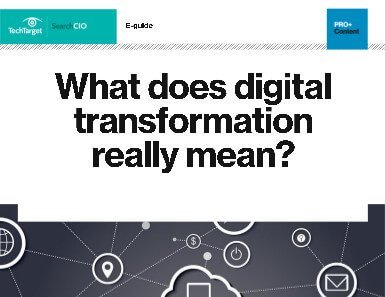 PDF: What does "digital transformation" really mean?
What exactly is digital transformation? You may hear the term often, but everyone seems to have a different definition. See how our experts define digitization, and how you can get started in this free guide.
Control the request-for-proposal (RFP) process. Insist that the bidders use your format to provide costs and service-level specifications. Otherwise it is difficult to compare one bidder's proposal with that of another. Bidders may assume a higher or lower level of service or may not include all costs. Also, don't assume that the RFP or a verbal agreement will carry over to the contract. Only the written contract counts.
Put the right clauses in your contract. Do not accept multiple minimum-volume commitments. By agreeing to a minimum for each service -- Multiprotocol Label Switching (MPLS), toll free, interstate, intrastate -- you risk exceeding it, which results in a net charge. We use a single commitment that is 70% of the total of what we expect to pay for all services.
Don't neglect clauses that relate to costs. Normally, a contract spans three years, so negotiate rate stability. You should also ensure that technology upgrades are cost-neutral for your company. For example, if a technology superior to MPLS comes along, we should be able to upgrade without penalty so long as the upgrade comes from the same provider.
Include a business downturn clause. If NCI closes a plant, for example, we want the related volume commitment removed from our corporate-wide commitment. Include interest reimbursement for overbilling, along with reimbursements for taxes and other fees. Another crucial clause: Make all contracts coterminous so you can spend less time managing them.
Aggressively pursue service-level guarantees. By outlining service levels in various areas, you can get a contract that meets your needs. For services such as T1, T3, frame relay and MPLS, set a reasonable standard installation time. If installation is delayed, get service credits, such as a half-month rebate.
Understand how the average availability percentages are calculated. Suppliers typically include off-peak hours in their calculations. That tilts the numbers in their favor, so demand a higher availability percentage.
Define latency and packet-loss parameters. What matters is the time between when the user hits "Enter" and the screen returns a result. Don't accept an average round trip of more than 60 milliseconds. Packet loss should consistently be less than 1%.
Establish a reasonable time frame in which to restore service levels based on business requirements. Typically it's reasonable to request a time frame of four hours in which to make repairs.
At NCI, the entire process -- RFP creation, bid comparison and contract negotiation -- was time-consuming but worth it. We expect significantly better service levels than those promised in previous agreements. The only way to get the best services and costs from providers is to negotiate line by line so that you fully understand what you are getting and how you're being charged for it.
Eric J. Brown is vice president and CIO of NCI Building Systems. William A. Yarberry Jr., CPA, is a consultant specializing in Sarbanes-Oxley compliance for IT.
Dig Deeper on Small-business IT strategy