Manage
Learn to apply best practices and optimize your operations.
Podium: A Four-Layer Approach to Manage the Business of IT
Complex enterprise architecture models bog you down; here's a simple one that moves you forward.
SENIOR IT MANAGERS are constantly looking for new methodologies and frameworks to manage the business of IT. It's easy to get confused by the myriad options and choices espoused by analysts and affinity groups. The alternatives are abundant, and everyone seems to have an opinion about which one is best. You can end up believing the fiction that you need to shell out $100,000 just to get an answer.

Like you, I consistently look for the best models to follow. But at the same time, I try to avoid the overly complex scenarios advocated by various "experts." Instead, I gravitate toward simple models that are easy to communicate and follow for both IT and the executive team. I believe that one of the best ways to manage the business of IT is to build a simple model based on four concentric circles or layers. Here's how I picture them.

Download this free guide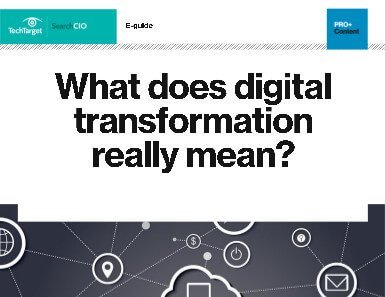 PDF: What does "digital transformation" really mean?
What exactly is digital transformation? You may hear the term often, but everyone seems to have a different definition. See how our experts define digitization, and how you can get started in this free guide.
Layer 1: enterprise architecture. The innermost circle for the business of IT is enterprise architecture (EA). This is the core foundation for IT decisions; it provides a framework for defining and describing applications, data and technology -- and for ensuring long-term IT viability. Just as a project management methodology helps deliver projects, an EA delivers IT. In "Growing the Business With an Enterprise Architecture" [Podium, November issue], I outlined a four-step model to build an EA. If you're aggressive, you can build an architecture in a month.
Layer 2: IT governance. Once the EA is established, governance is built around it. Most organizations have some process in place whereby the executive team (including the CEO and senior managers) meets to vet IT investments. I host such a meeting at my company every six months, coinciding with budget planning. To get on the agenda for this meeting, a business case must be approved by me and another executive, such as the head of sales. A business case can involve anything from upgrading a system to implementing a new version of Voice over Internet Protocol (VoIP). So why isn't IT governance the first layer? Because EA should be directly linked to the overall corporate strategy. No business case should be approved if it doesn't fit within the overall enterprise architecture.
Layer 3: project management methodology. The IT governance process gives us a funded set of priorities to execute. Next, we need a consistent way to manage all our projects: that is, a well-entrenched project management methodology. In our organization, we have a complete methodology for large projects and a "methodology lite" version for smaller initiatives. You don't need to pay tens of thousands of dollars for an outside integrator to build a methodology. Build one with the knowledge and experience you have within your team so that the methodology is repeatable, ingrained within the organization and possible to improve over time.
Layer 4: service-level agreements (SLAs). Once you've implemented a project, you need an agreement with your business partners on how to operate the system. An SLA establishes how you will support systems in production. Like business cases and project management methodologies, an SLA should be based on a standard organizational template and reviewed annually for consistency.
Although some of these ideas may appear self-evident, I've found that simpler models tend to move organizations forward, while more complex scenarios bog them down. As a next step, you can present this four-layer approach to your staff and see how it resonates. If it makes sense, get an action plan in place to build out each layer. This is a great way for you and your team to ensure a successful 2006.
Tony Young is CIO at Informatica Corp. To comment on this story, email Podium@ciodecisions.com.
Dig Deeper on Small-business infrastructure and operations