Manage
Learn to apply best practices and optimize your operations.
On the Frontier of an Evolving IT Workscape: What's Ahead for IT Work
The future IT "workscape" means new roles and new ways of doing IT work. Will you be better off?
Workscape is the term futurists use to encapsulate work, workers and work processes. Of all disciplines, the IT workscape is heading into its most radical transformation yet in the coming years.

The career trajectories of doctors, lawyers and plumbers are relatively predictable. We are fairly confident that we know what their futures will look like.

Yet when it comes to the future of IT management, the short-, middle- and longer-term prognoses are fuzzy. To bring some clarity to the uncertainty of IT career destiny, we queried 300 respondents in large (30%) and midsized enterprises (50%), in the analyst and academic community (10%) and among staffing firms/procurement professionals (10%). We looked at several dimensions of the future workscape:
What is the work to be done?
Who will do the work and how?
How will IT work be procured?
Where and how will the necessary skills to do this work be developed?
What is the pricing/cost associated with doing the work?
What are the risks associated with IT work?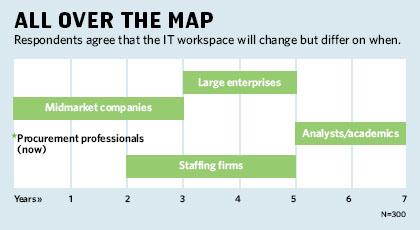 Respondents say that the future will feature more IT work (i.e., more information used in more ways by more people). Everyone will be an information worker, surrounded and connected by IT. Both large and midsized organizations are "professionalizing" their IT buying behavior via portfolio management and through "oversight of procurement" (the new phrase for purchasing professionals). We will cease buying inputs (i.e., technology pieces and parts) and start buying business outcomes enabled by the efficient operation of technology. Vendors that deliver on their promises will make more money than those that don't.
The range of opinion on the nature of the future IT workscape is quite broad. While just about everyone agrees that IT work will undergo a transformation, no one knows when that future will arrive (see Figure 1, above). Yet it's very likely to be led by mobile, articulate and mission-obsessed individuals committed to delivering results.
Further, the future IT workscape will be defined by two fundamental realities:
There will be no surprises; IT will deliver as promised.
There will be no excuses; the days of accepting ineffective IT are over.
@pb

Awareness Levels Rising

Some in IT recognize that big change is coming but are uncertain about when it will arrive and what it will look like. In many ways, CIOs working extensively with Indian service providers are living in the future. They live in a world of disciplined demand management and no-surprises delivery. As one IT strategic planner at a Wall Street firm says, "In the future, a lot of the nonbusiness-facing stuff will be outsourced. What's left will be managers, operations techs and a few key technical people."

But regardless of when the workscape changes, readers are cautioned to question certain assumptions:
The people with the right skills will always be willing to work for you at affordable prices.
Only young people will have new skills.
Business-side people can't learn technical skills and won't bother to understand technology.
Vendors will be unwilling to guarantee delivery of outcomes.
Only large companies will outsource IT work.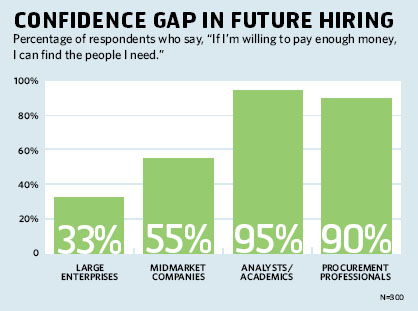 Stocking the Human Capital Pipeline

People involved in the buying and selling of IT skills are skeptical that the talent pool emerging from four-year universities, business schools and community colleges will provide the skills that enterprises need to prosper. Only 16% of our respondents in large enterprises and 20% of those in midmarket enterprises believe they'll find the necessary skills from these graduates. And only a third of Habitat respondents in large enterprises and half of those in midmarket organizations believe that paying staff well will enable them to acquire the necessary IT expertise (see Figure 2, at right).

Damien Bean, a former corporate IT vice president at Hilton Hotels Corp. and founder of CareerCurrency LLC, envisions service providers, not educators, playing an expanded role in getting IT work done. "My hypothesis is that the bottom half of the entire portfolio will move to a service model in the next 10 years," he says. "The hidden parts of this equation are demographics and outsourcing. A lot of the newest and most challenging projects are being built partly or solely offshore."

In truth, the data on who makes up the IT workforce and what these workers do is a jumble of industrial-age job buckets. Successful midmarket CIOs will have to develop their own feel for the IT labor market (see "Survival Preparations for the New IT Workscape".)

Staking Out Common Ground

Everyone agrees that IT work isn't going away and that you can deliver the current workload -- via consolidation, standardization and appropriate work sourcing arrangements -- at a much lower price than you pay today. Angelo Mazzocco, CIO of the Dispatch Printing Company in Columbus, Ohio, observes that "the key IT roles that are left in-house deal with strategy and design. Configuration, implementation and maintenance are quickly becoming outsourced components."

@pb

Survival Preparations for the New IT Workscape
Map out the desired major objectives and in-house skill sets of your IT organization for the short, medium and long term.



Hire or commandeer time from an IT HR professional to help you develop a manpower strategy. Provide individual development plans for each IT manager.



Make a human capital management boot camp requisite for all the CIO's direct reports. This training should give guidance in both performance and compensation management. Establish a change management communication function within your company.



Begin an aggressive IT talent export program to move tech managers into key roles outside IT. Balance that with an aggressive business talent import program to shift high-potential business managers into key roles within IT.



Create specialty teams for hot-button topics, such as managing sensitive customer information, and develop multidimensional players. Provide employees with additional training to develop skills outside their specific roles.



Invite senior sales representatives from leading outsourcing providers to brief your senior managers on the state of their offerings.



Invite the dean of a business school or a college president to brief your management team on the IT skills of his or her graduates.


--T.M.
But the workload won't stay the same. Technology innovation is accelerating, and we have 3 billion potential new members of the global workforce (from the "BRIC" populations of Brazil, Russia, India and China).

Job functions, as well as the work methods with which IT services are delivered, are changing, requiring more architects and business analysts. As the director of public-sector professional services at a major hardware vendor explains, "Companies will no longer need lots of maintenance programmers, which is where 70% to 80% of the IT budget and head count sits today. They will ... need architects."

As a CIO at a services supplier explains, "We are definitely looking at building more skill sets around customer service, project managing and understanding the business." One tactic for building these skills is to import talent from the business into IT. The conventional wisdom is that the work to be done in-house by full-time employees will require IT to continue moving toward the business, while activities associated with maintenance will be done by contracted partners. One CIO at a midsized hospital agrees, observing that "the value-add will be in working with customers to solve their business problems using IT, not in doing IT."

Battle of the Alpha Techs?
But if IT becomes all business all the time, will highly technical people inevitably end up working for IT vendors? What will become of your own technology rock stars?

One technically gifted midmarket CIO respondent is conflicted. "I have to admit that I think about going to a vendor periodically," he says. "I do think more IT guys will assume the role of sales support at the vendors. Bottom line: If you're a top tech performer and can manage as well, you'll ... probably have an ascending career [with vendors]."

Another midmarket executive at a boutique finance firm counsels us not to confuse business-facing with business case. "Darwinian forces have created an IT leadership cadre that now thinks and speaks business better than ever before, but they are not business-facing." This executive argues that the future will require access to more technology support, not less.

"Five years ago, I had network access generally on premises and a cell phone," he says. "Today, I have ... VPNs [virtual private networks] for transiting from hot spots or other off-site data, a BlackBerry and [so forth]. Does supporting this kind of infrastructure require more or less manpower?"

@pb

One question that vexes midmarket CIOs is how to create a support infrastructure that assumes "smart" business users. Do you assume that technology literacy will stay the same and that IT will have to provide technology handholding for execs in the future? One-third of our sample was dubious about the prospect of improving tech literacy (with 30% saying the business side would never be technologically self-supporting), but most (40%) see increased business tech savvy within the next seven years.

While it's true that some jobs that were traditionally in the IT realm have "leaked" into the business sphere, we are a long way from the day when the business can run its own IT. The director of security at an insurance company, who has seen business units struggle and fail at managing complex IT projects, says business units have "shown in the past that they are inadequately prepared to manage technical staff."

Conclusion
One cannot help but be struck by the lack of specificity that characterizes most IT leaders' vision of the future. This stems from the fact that most CIOs are totally involved in the present. But when pressed about what the future will look like, the majority of respondents agree that it will be different, because the current system has reached its breaking point. The future will be defined by the following shifts:
From a world of political/operational silos to a web of interdependencies and collaborations.
From a multi-project jumble of IT activities to a focused, high-strategy way of doing IT.
From a world of unknown costs and little-understood benefits to one of precise cost and benefit estimates.
From a world of singular career paths to one of many skills.
From a world where vendors make pieces and parts for IT leaders to assemble to one where vendors are accountable for components' business benefits.
The rules are changing. Winning used to entail having the best technology pieces and parts. Now it is measured by the benefits those pieces deliver. In the past, IT needed lots of staff to get the pieces to work together. In the future, vendors won't be paid until the benefits materialize. The future of IT work will indeed be different -- and so much more rewarding.
SURVEY METHODOLOGY: In a series of open-ended questions, 300 CIO Habitat e-mail survey participants we re asked about the future of IT work. The CIO Habitat Report research team then conducted phone interviews with respondents, who were asked to expand on their responses. Among respondents, 30% were from large enterprises, 50% were from midsized firms, 10% from the analyst/academic community, and 10% from staffing and procurement firms.
Dig Deeper on Small-business IT strategy