Manage
Learn to apply best practices and optimize your operations.
New Media World Means Big Changes for Ad Agency
At Arnold Worldwide, the shift online has had major implications for how the ad agency does business.
The Internet has turned the advertising world on its head. As the media has changed, so too has IT at the $144 million agency.
A few years ago, Greg Folsom, vice president and director of IT at ad agency Arnold Worldwide Partners, decided to test the company's Internet monitoring software by blocking access to porn sites. About five minutes later, his phone rang: Someone was complaining that he couldn't view X-rated material on his browser -- apparently necessary research for the creative process. Folsom turned the porn back on.

Download this free guide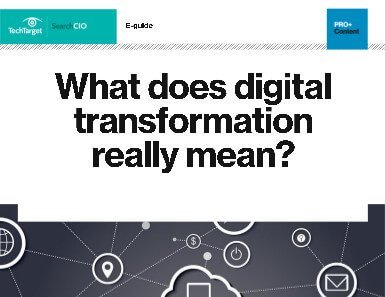 PDF: What does "digital transformation" really mean?
What exactly is digital transformation? You may hear the term often, but everyone seems to have a different definition. See how our experts define digitization, and how you can get started in this free guide.

By submitting your personal information, you agree that TechTarget and its partners may contact you regarding relevant content, products and special offers.

You also agree that your personal information may be transferred and processed in the United States, and that you have read and agree to the Terms of Use and the Privacy Policy.

"It's a great place to work," Folsom laughs. "You can justify anything."

Boston-based Arnold is one of the top 20 ad agencies in the U.S., known for its innovative campaigns for clients such as Volkswagen and Jack Daniel's. But Arnold is also a midmarket company in a highly competitive sector beset by whirlwind change as technology upends traditional advertising channels.

"Advertising technologies and operations are trailing pretty far behind the evolution of media and consumer habits," notes Andrew Frank, an advertising analyst at Gartner Inc. "You're still seeing a lot of legacy advertising practices. Agencies are struggling to adapt to the new media world."

A recent survey by Forrester Research Inc. found that ad agencies and their clients have far different views of the ad industry's effectiveness. Ninety percent of agencies rate themselves as well-prepared to deal with changes in online advertising, for instance, while only 50% of marketing executives had the same opinion of advertisers.

"That tells me ad agencies are really behind the curve," says Forrester Research analyst Elana Anderson. "Marketers need to be a heck of a lot more savvy than they were 10 years ago. Marketers are caught in a vise grip of technology. Technology is changing how consumers behave. Consumers aren't glued to a TV anymore. At the same time, new technologies are emerging, like analytics, that enable marketers to communicate with their audience in a new way."

Arnold is trying to adapt to this new world. Last year the agency reinvented its creative model by replacing separate departments, such as direct marketing, with cross-disciplinary teams -- or "tribes" in Arnold-speak -- that are meant to break down barriers and foster creativity and out-of-the-box thinking.

"Results are our results," says Pam Hamlin, president of the agency's Boston office. "Measurability is the second most important thing on the minds of our clients. The quality of the idea is No. 1. People are really asking what the return is."

Folsom and his 16-person IT department are trying to help the business evolve by introducing more standardized processes -- such as rolling out a new workflow system this year -- that a maturing company requires. It's a challenge familiar to many midmarket CIOs. "What does the company want IT to be?" Folsom asks. "What are the tools of tomorrow that will help us to get to the next level?"

@pb

Birth of a Creative Giant

There's a small advertising museum in a hallway at Arnold's headquarters in Boston, where the company fills eight floors of pricey real estate in the Back Bay. A battered green lounge chair sits against one wall. A black body bag lies near another. The green chair was last seen in one of the agency's iconic Volkswagen television ads: Two guys pick up a chair on the curb, drive around until they realize it smells and then dump it on another curb. The body bag appeared in an anti-smoking spot.

"Our industry is about where business and creativity meet," says Hamlin. "We're idea oriented. It's all about finding the core idea and being able to express it."

In 1946, Arnold Z. Rosoff founded an advertising agency in Boston and named it after himself: Arnold & Co. In 1988, Rosoff sold the company, which went through several ownership changes until it was acquired in 1990 by current CEO Ed Eskandarian, who sold control to a French holding company called Havas.

The agency became known for amusing commercials, such as its "Drivers wanted" Volkswagen ad campaign. (In 2005, Volkswagen abruptly ended its decade-long relationship with Arnold and took its business to rival Crispin Porter + Bogusky.) Arnold also won an Emmy for its 2004 Super Bowl ad that mocked the tobacco industry for marketing dangerous products -- a campaign that was followed by a 22% decline in smoking among young people. In 2005 Advertising Age magazine ranked Arnold, which has revenue of $114 million, as the 19th-largest U.S. ad agency.

But with the proliferation of social networking sites and blogs over the past few years, the advertising game has changed rapidly, expanding the challenges and opportunities. "Technology has had the most profound impact on marketing," Hamlin says. "You used to express a brand's message six or seven ways when I got into this business. Today there are thousands of ways. We use technology to analyze the results of our marketing. Clients are really looking for ROI marketing."

The Technology Lag

When Folsom was offered a job by Arnold in 1996 as a network administrator, he unexpectedly found out that his current employer wanted him to continue working for several months. Folsom explained the problem to his new boss at Arnold, who told him to come in one day a week until he finished his obligation.

"That's just the way the company works," Folsom says.

Arnold might have had a cutting-edge, creative and flexible culture, but Folsom soon discovered that its technology infrastructure was decidedly lacking. "It was laughable," he recalls. "We had a dozen dial-up connections. There wasn't any tape backup or alerting features. When a server went down, no one knew until a phone rang at the help desk. The meat and potatoes that the company needed were missing."

Folsom became data center manager, responsible for all back-end systems, including email, file storage, backups, Internet access, information security, connectivity to partners and vendors. He worked with Arnold's first CIO, Jorge Abellas-Martin (whose business card read "Head Geek"), to upgrade the agency's infrastructure.

When the company renewed its lease and a lengthy telecom contract expired, the duo seized the opportunity to replace Arnold's creaky networking gear with a state-of-the-art data center that had a multiple-gigabyte backbone as well as a new Voice over Internet Protocol phone system.

In 2005, Abellas-Martin left the company and Folsom, now director of IT, took over as acting CIO. Folsom finished bringing Arnold up to enterprise-class standards by creating a robust business continuity plan to preserve the agency's 12 terabytes of data.

With VMware, the IT shop cut its number of servers from 45 to 12, making it easier to replicate its Boston storage area network at its New York office with 12-to-1 compression and tapeless backups. Arnold also added a server in New York to mirror 2.5 terabytes of ad work. "It's been a huge investment," says Folsom, adding that he's now looking at tools to bring to the business. "Our goal is to be proactive. I think we could do a lot better job at that."

@pb

Arnold 2.0

In March 2006, Pam Hamlin was appointed president of Arnold's Boston headquarters office, while Pete Favat was named chief creative officer. Within three months, they had reorganized the company, which they dubbed "Arnold 2.0."

"We've started to define the vision and the organizational principles behind it," Hamlin says, "but it's still a work in progress."

Actually, the agency had been rethinking the way it does business for several years. In 2003, Arnold became one of the first agencies to eliminate separate bottom lines for its different divisions (design, direct, interactive and promotions) in favor of a single profit and loss statement.

The new Arnold took this a step further and merged the different creative departments into four cross-disciplinary teams, or "tribes." Formerly, the agency was divided into departments; now the staff is split into teams, with experts from various groups sitting together to spur creativity. One such team is the Department of Human Nature, which includes anthropologists, psychologists and cognitive scientists who work with other groups to understand how people behave and respond to media.

"Many [other] agencies are very siloed, each with a division president and P&L," Hamlin explains. "That creates internal barriers. Now all of our creative people are moved into tribes to solve problems holistically. We're trying to approach client challenges from a 360-degree view. It's about getting to a better idea faster. Arnold 2.0 is about what a modern communications company looks like."

Likewise, Folsom is trying to bring the IT department up to the next level. The infrastructure is there, he says, but the processes aren't. "The former CIO didn't communicate well with the business leaders of the company," Folsom says. "That was a problem. I needed to do things differently, so it's not me force-feeding technology. It's listening, finding out what tools people need and filling that gap. You need to be a people person, not just a technology person. People don't care about bits and bytes; they care if it's up."

At Arnold 2.0, Folsom reports to a managing partner who is the director of operations instead of the company's CFO, as he previously did. "The CFO didn't stand in the way of stuff, but a lot of times we delayed a project because of a financial impact," Folsom says. "From a people-being-productive standpoint, we couldn't push it out."

Arnold recently formed its first technology committee to help with IT planning. Folsom asked company executives who had expressed an interest in technology for their input on what sorts of tools would be helpful. "We talk to people about projects for the budget," he says. "We find out what technology we can do. We don't have a crystal ball, but we have a pretty good idea what we need. We also put something in the budget called the 'wow factor' for tools that make us better than the competition."

Last year, for example, the new analytics group invested in statistical analysis and data visualization tools -- SPSS and Xcelcisus -- that weren't originally in the budget. Folsom worked with the group to secure funding for the coming year.

"They [the analytics group] arranged a meeting one day over lunch to explain to my group what they did, how they did it and what value they were bringing to a client," Folsom notes. "It was well received, and I'm hoping to arrange the same type of informational meetings with other groups."

@pb

New Tools, Mediums and Culture

A TV screen shows a tight shot of an ice climber desperately swinging an ax into frozen water and trying to pull himself up.

"I'm done," he gasps to his partner. "Go on, leave me."

"I'm not leaving you, man," his partner replies.

"If you guys don't quit it," says a woman's voice, "I'm going to miss my massage."

The camera pulls back to reveal that the two climbers are leaning over an ice bulge a few feet off the ground. Cut to a long shot of a cruise ship, followed by scenes of dog sledding, kayaking and a climbing wall -- all to the tune of Iggy Pop's "Lust for Life." "This is way more than a cruise," a narrator says. "Get out there." The ad is part of Arnold's campaign for Royal Caribbean International.

IT suffuses the entire ad lifecycle, from workflow and digital asset management software that lets people in different offices collaborate to analytics that measure the spot's effectiveness. In 2001, Arnold became one of the first big agencies to deploy Xinet Inc.'s WebNative asset management system, which, Folsom says, has since become the industry standard. Arnold uses the software to catalog its library of digital content and track usage issues.

But Evan Shore, creative manager who handles technology that enables ad design, says it took Arnold years to fully utilize the technology. "We're working across mediums," he says. "The challenge has been to get tools that allow us to break down walls. We had all this talent we had not been utilizing. Asset management was used by studio artists only. The key thing has been to get more people on board."

Now account execs use the software to get client approvals and deliver the images to print vendors, while the Web portal allows different offices to work together. "We can view each other's work," Shore says. "Previously, that was done by email. It's hard to collaborate if everyone isn't using the same tools."

Another new tool this year is Spinnaker's workflow software, which will eventually replace a heavily customized version of FileMaker Pro. Arnold expects the software to streamline production and approvals, although the agency's creative types will have to get used to more formalized processes. "This makes everyone work in one uniform fashion," Shore says, "but it's much more efficient."

Efficiency has become something of a grail at Arnold, whose Analytics Department has grown from two people to 12 in the two years. The department uses technology to measure the effectiveness of the agency's campaigns. "The old saying is, 'I know half my advertising works, I just don't know which,'" says Brian Kastelein, director of integrated analytics. "That's not acceptable anymore. My group tries to draw the line from marketing activity to results. We attempt to measure our work for marketing effectiveness."

Consider the Royal Caribbean campaign, which was designed to dispel the idea that cruises were for retirees. Since the spots started airing during 2000, Royal Caribbean's brand awareness has jumped 33% and online bookings have more than tripled.

With social networking sites such as YouTube and MySpace, advertising platforms have exploded. Not long ago, Arnold's anti-smoking campaign reported a big spike in traffic on its thetruth.com Web site -- but there was no new advertising. It turned out that old ads had been posted on some well-read blogs, and people were clicking.

"New media channels are forcing us to evolve our analytics tools," Kastelein says. "Eighteen months ago, we didn't have to talk about measuring blogs or social networking. All of a sudden, those new media channels are part of a client's go-to-market strategy."

It's a period of dizzying change in the advertising industry, often pitting free-wheeling creative types against rigid technology processes.

Arnold has a tradition of attracting artistic types and giving them reign to explore their creativity. The CEO, for instance, recently encouraged employees to express themselves by writing books or making movies; and Shore took up the challenge by spending his three-week holiday vacation touring Europe with his band Muck and the Mires. At the same time, Folsom is introducing a new generation of business tools that requires the agency's creative types to work in a formalized manner.

Folsom, though, seems confident that Arnold can continue to balance innovation and maturation. "Nobody likes change," he says. "But once people work in the new systems, they see the improvements. The key is making that learning curve as small as possible and being super-responsive so any negative experiences can be resolved quickly."

Michael Ybarra was a senior features writer for CIO Decisions. Write to him at editor@ciodecisions.com.
Dig Deeper on Small-business IT strategy