Manage
Learn to apply best practices and optimize your operations.
Midmarket Salary and Careers Survey: How Does Your Career Path Compare
From tenure and time management to business relationships and bonuses, learn how your career stacks up.
Strategy. Earnings. One leads to the next, as this year's survey shows. The bigger your company, the more time you spend on strategy and the more you earn. Yet there's plenty of opportunity and compensation at smaller companies, too -- and a good amount of job hopping, with median tenure for IT executives now at four years.

Inside you'll find more on these trends in interviews with IT executives, analysts and recruiters and as much data as we could fit, including compensation by title and company size.

So turn the page, and see how your career path, salary and relationships with the C suite compare with the benchmarks of your peers.
---
Sit Down, Stay Awhile
CIOs who can quickly earn the trust of execs and make technology pay off for the business will be rewarded with longer stints.

By Tom Kaneshige
For a time, it looked as though CIO tenure was on the upswing, steadily stretching longer than the 18 months that Meta Group (now Gartner Inc.) reported in 2000. Unfortunately, the 2007 CIO Decisions Midmarket Salary and Careers Survey tells a different story: Job churn appears to be growing, with 66% of our CIO respondents on the job less than five years, compared with 50% last year.
That gap is even wider among IT executives with other titles: 70% of vice presidents of IT have held their job for five years or less, compared with 34% last year, for example (see chart, below).
For CIOs at midsized companies, the median time on the job is four years: Half have been in their current position for more than four years, and half for less (see chart). And similar to a Forrester Research Inc. survey that found that 41% of CIOs have been on the job for one to three years, our survey shows 46% have been on the job that long.
So what's the problem? "The thing that would drive people out of jobs is a disconnect in expectations between themselves and the CEO," says Laurie Orlov, an analyst at Forrester. That's particularly true with so many CIOs now reporting to the CEO: 48%, as our survey shows.
On the upside, visibility in the C suite and the dynamic nature of midsized companies give these CIOs the opportunity to make more of a difference in their business than their large-enterprise counterparts. That can lead to the desire to stay and grow with one company, as 70% of survey respondents indicate they hope to do in the next few years.
CIO Jim Thome was one such executive when he joined Shaughnessy Kniep Hawe, a St. Louis-based provider of graphic design materials, 16 years ago. He quickly showed his business value. "I was able to show [executives] the technology's ability to increase our business," he explains.
Thome helped move the company from an enterprise resource planning (ERP) system running on proprietary hardware, software and a fixed-index file system to a package from Infor Global Solutions that's based on an integrated relational database running on a cheaper RISC-based server. The new ERP system allows customers to connect securely to Shaughnessy's Web site, which in turn helps the company better serve customers with little to no additional support. As Shaughnessy expanded into additional locations, Thome partnered with SBC/AT&T to move from dial-up lines to frame relay and, eventually, to meshed Multiprotocol Label Switching circuits. He implemented PPTP IPsec encrypted DSL tunnels for rapid growth into new regions. "These were the main decisions that have supported our growth," Thome says.
Along with introducing a new data network, Thome ushered in a hybrid telephone system from Tadiran Telecom Inc. to cut costs. The new system routes calls to a call center that can handle the volume and also sends calls to sales folks, simultaneously ringing on office, home-office and cell phones. "Much of our business is call driven, and not being able to have a flexible voice solution to maximize our internal sales staff adds additional cost or lost revenue from missed calls," he says.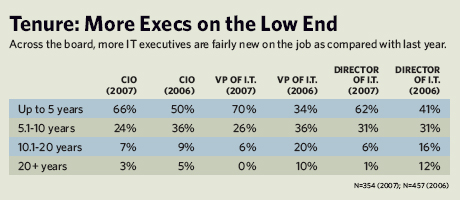 Sit Down, Stay Awhile (Continued)
Thome also credits his bosses with understanding technology's strategic importance and committing resources. "They knew that to survive in our business -- which was becoming more competitive -- it was going to be done with technology," Thome says. "They knew we were building tools, not toys."
CIOs like Thome build long tenure by getting to know the business and finding ways to add value through IT, not just fulfilling projects at the behest of a unit leader. "There's a very strong interest on the part of IT executives to get more engaged in the business," Forrester's Orlov says. "If the IT executive understands how to run IT itself like a business and get more engaged in the firm, to the degree they are successful, then why quit?"
Short tenure can often be traced to a dysfunctional CEO-CIO relationship. CIO Spencer Hamons of San Luis Valley Regional Medical Center (SLVRMC) in Alamosa, Colo., says the newness of the CIO position relative to that of the CEO or CFO has created a learning curve for executive teams that have to learn how to interact with CIOs. Early on many top IT performers who lacked business acumen were promoted to a "level of incompetence," as he puts it.
As technology becomes more important to company success, executives have had to adapt. Because more midmarket CIOs report directly to CEOs, CIOs have had to become business savvy or risk losing their job. CEOs, too, have adjusted by bringing IT executives into the C suite, placing greater trust in the IT department. An impressive 74% of CIOs in our survey report having a seat on an executive committee.
Despite shorter tenure statistics this past year, Hamons believes CIOs have come a long way. "We've finally turned that corner where the CIO has been in a position long enough that their peers see the CIO as a benefit." CEO Russ Johnson of SLVRMC agrees: "[IT] has gone from an adversarial, uncooperative relationship with other departments to a collaborative, responsive and appreciative one. This led to successful system implementations in critical areas, including laboratory, pharmacy, radiology, business office and others."
Yet pulling off successful IT implementations while looking over your shoulder isn't easy. CIO Steve Fishman of manufacturer Ultrasonic Precisions Inc. has watched his IT peers struggle to balance decision making and short tenure. "There's too much of an ROI among younger CIOs," he says. "Their entire careers are based on a six-month, nine-month or one-year projection. You have to measure [technology] based on the level of productivity that will work over a five-year period, for example."
Fishman has been at Ultrasonic since 1973 and became CIO in 1989. The C-level title has given him ample opportunity to build on the CIO-CEO relationship. For instance, he recently introduced Microsoft Dynamics CRM to the CEO's desktop and asked that she use -- and enjoy -- it. The goal is to make her a champion of the technology. "By making the CEO and CFO part of IT, I've guaranteed my tenure," Fishman says.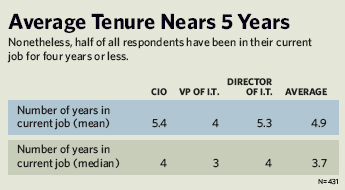 Profile: Spencer Hamon's Comfort Zone
After leaving the big city for a job at a rural hospital, a CIO finds new challenges and aspirations and a place to hang his hat.
By Tom Kaneshige
Three years ago, CIO Spencer Hamons took a $30,000 pay cut when he moved from bustling Houston to the rural San Luis Valley in southern Colorado, a massive alpine valley where he and his wife vacationed regularly -- and he's lovin' it.
But his professional satisfaction doesn't hinge on sweeping views of nearby mountains; it's his relationship with the CEO and their mutual understanding of technology's strategic role at San Luis Valley Regional Medical Center that Hamons says will "absolutely" keep him there for at least another three to five years. (Hamons is among the 40% of respondents who say that they'd like to continue in their current role three to five years from now.)
Hamons covets the opportunity to make a difference by bringing big-city know-how to a countryside community. "I want to be the shining example of what you can do if you put the resources toward IT, put the right people in place," says Hamons. "I want to be an advocate for rural health."
Curiously, Hamons almost didn't take the job. The 79-bed, two-hospital medical center had just undergone an executive shakeup. A cost-conscious materials manager was running IT and had spent only $80,000 in two years. Network uptime was 65%, and data hadn't been backed up for more than a year. "We probably didn't know how vulnerable we were to system failure," says CEO Russ Johnson. Meanwhile, Hamons, then director of network facility operations at Houston's Methodist Hospital System, had helped build a state-of-the-art hospital equipped with redundant OC-3 network backbones and power coming from two grids.
Hamons spent three days interviewing with Johnson. "I had a very direct conversation," Hamons recalls. "I said, 'These are the issues I've found in three days, and I know I'm going to find a ton more. The only way I'm going to accept this job is if I have a commitment from you that you are going to give me the money to do the things I need to do. You also need to trust me that I'm not going to come to you and ask for $5 million but will probably ask for a million.'"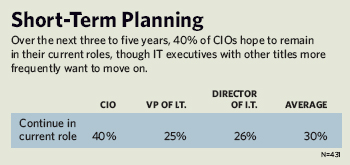 Profile: Spencer Hamon's Comfort Zone (Continued)
Luring a top IT executive to a tumultuous setting isn't easy, but Johnson convinced Hamons that the hospital would change its perspective on technology. "It begins with honesty in recruitment," Johnson says. "A match with our mission, culture and style of teamwork is critical. Having fun and a great sense of humor is a must. I have found that people at all levels of the organization are drawn to these qualities in a work environment. When they finally find them, they tend to stay."
Russ Johnson followed through on his promises. He freed up $866,000 over the next 18 months for IT infrastructural improvements and promoted Hamons, then director of IT, to the hospital's first CIO position. Today, the hospital has bar-coded patient armbands, electronic billing and partial electronic patient records. In the past three years, revenue has more than tripled to nearly $90 million. Roughly $20 million of the increase is attributable to back-end improvements: process changes in the business office, improved productivity and increased system effectiveness. The remainder has come from a clinic acquisition.
"Spencer holds the key leadership role to incredibly important strategies for our organization -- strategies that cut across business operations, service, quality, growth and workforce support," Johnson says. "We plan to spend significant capital dollars in this area over the next five years ... perhaps more than any other single department of our hospital."
Running an IT shop in a rural area does pose special challenges, such as a lack of IT talent and infrastructure. A T-1 line in San Luis Valley, for instance, costs almost as much as an OC-3 in Houston. As CIO sitting on the executive board, Hamons also has to deny requests from other executives. "A chief nursing officer wanted to get electronic nursing documentation, but I can't do that because that's No. 7 in the line," he says.
Hamons looks forward to the strategic challenges ahead. One goal is to make his organization a repository of patient data so providers can access patients' complete records anytime. "This is a long-term goal, but one that takes considerable focus to ensure we do not do something that will jeopardize our ability to implement this in a proper way," he says.
And Hamons contributes time to the Colorado Regional Health Information Organization to effect change in the way hospitals are run. At these meetings, his CIO title gives him some cachet. "You show up at meetings with a director title, and you weren't quite as welcome," he says.
"Once you have the CIO title, you're a strategic thinker and have the ear of the CEO. And so you can represent your organization in a different manner."
Tom Kaneshige was a senior features editor at CIO Decisions. To comment on this story, email editor@ciodecisions.com.
Making Time for Strategy
Finding the time to think and act on strategic initiatives -- let alone win approval for them -- is still a huge challenge for midmarket IT executives.
By Michael Ybarra
When Tim Buffo, the IT director at First Morris Bank and Trust, realized he needed to think further ahead than the next server hiccup, he went to management and made the case for doubling the size of the company's IT department: that is, hiring a second person. His time could be better spent on enterprise-focused projects, Buffo explained, rather than mundane custodial tasks. He wanted to be more strategic.
"I needed to take the everyday support issues off my plate so that I could focus on a wide area network and phone system upgrade," he says. "Not to mention that the additional help would lend itself to my giving even more time to being proactive. They went hand in hand."
No time to be strategic: It's a common lament of technology executives at midsized companies. Nearly 60% of respondents to the 2007 CIO Decisions Midmarket Salary and Careers Survey say they need more time for strategic activities. The majority of respondents at all but the largest midmarket companies report that they spend less than 50% of their time on them.
The challenge is twofold: finding the time to think about the big picture and then convincing business executives that the vision is worth the investment it requires. "The more strategic-thinking the CIO is, the better off they're going to be," says Kirsten Smith, a partner in the technology practice at the Battalia Winston International recruiting firm in New York. "The first thing a client asks for is a strategic business thinker. It doesn't matter what the industry is. They want the CIO to understand the marketplace, the industry, how to sell to customers, how to do it efficiently. Instead of having a CIO who understands just tech, they need a strategist who understands process."
For Buffo, finding time first meant getting a grip on infrastructure problems. A front-end client application that accessed data from a mainframe was difficult to set up, full of memory leaks and other software-related issues, and prone to freezing up user operating systems. It required a complete power-off to recover.
"What was key for us was trimming back the mundane things, taking care of those, migrating away from systems that were causing the most problems," he says. "What were the most time-consuming distractions? We fixed [them] or created workarounds. Before, I spent all day long trouble-shooting legacy problems. Now I can spend 70% of my time trying to increase the bottom line of the company."
Some of these projects include building an intranet and installing Microsoft's SharePoint as well as creating workflow processes that lend themselves to improved business productivity and operational efficiency. He's also been able to get a better handle on security.
Making Time for Strategy (Continued)
For Paul Padilla, VP of IT at New Mexico Student Loans, damage control has a way of highjacking his time. "It's a major problem for us," he says. "When production problems or service disruptions occur, I find myself getting more involved than I'd like, explaining what happened and what prevention measures will be implemented."
IT executives such as Padilla find themselves pulled in different directions. Trying to orient his IT staff in basic service management principles and practices devours a lot of his time, while management expects high-level thinking. "Our CEO has been emphasizing the need for the top leadership team to become more strategic," he says.
Yet finding that time is elusive. Padilla says that there are numerous areas to which he would like to devote more strategic time, such as IT Infrastructure Library service management, service-oriented architecture for technology development, research practices for emerging technologies and infrastructure management, as well as project portfolio management and strategic-plan execution.
Brian Gould, the CIO at Classic Homes, is in the same boat. Every now and then, Gould will suggest that the Colorado Springs, Colo., company invest in some technology that promises a strategic advantage. And usually the executive response is that the money could be better spent on something else.
"We're looking at a limited capital pool," he says. "For $200,000 they say, 'We could buy a piece of property.' What has a better ROI? Our executives are getting better at understanding IT, but we have a ways to go. At this point, the company views technology as technology."
One way Gould deals with that is by delegating as much work as he can to his staff of five.
"The more things I can hand off frees up time for me to spend on analysis," he says. "There are very few things that can't be delegated. You want to give people stretch projects without burying them, projects that will help their career growth as well."
But with 300 users in two different business units, Gould still finds that there are too few hours in the day. "What suffers is time to think about what technology means to the company and where we're going to be in five years," he says. "The ERP fixes come first. I try to set aside some time every day -- an hour or two -- and think about where are we going and how we are helping to contribute to the growth."
Often that means multitasking by reading tech material and industry trades while working out on a stationary bike at the gym. "A lot of it happens on the weekend," he adds.
Profile: John Dunbar's Steps to a Satisfying Career
How John Dunbar's 20-year career in IT landed him a CIO role.

By Michael Ybarra
While studying finance at college in Florida, John Dunbar put himself through school tending bar and waiting tables at a hotel. One day a colleague told him about a job as a programmer at a point-of-sale (POS) systems integration firm, Postec Inc., in Marietta, Ga.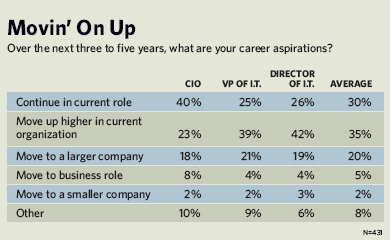 "They said, 'We need someone who knows the business; we can teach you the technology,'" recalls Dunbar, who joined the company in 1987 and stayed there for nine years before eventually becoming CIO at EMS Technologies Inc., a fast-growing midmarket company. "I got pretty good at technology."
Dunbar's path to becoming a midmarket technology executive has involved one small step after another. While he made many smart moves -- gaining wide business and technology experience and credentials -- Dunbar's career is less the story of calculated résumé-building moves than that of a technologist who positioned himself to take advantage of the opportunities that he happened upon.
"I think I've found just about every position through colleagues," he says (as have more than one-quarter of survey respondents to this year's survey).
For CIOs who want to change jobs, as roughly 60% of CIOs responding to our survey say they do in the next three to five years, it's important to take the right path. In many cases, incremental moves will bring you toward your ultimate career goal, says Kirsten Smith, a partner in the technology practice at New York-based recruitment firm Battalia Winston International.
"It's good to move your career in small steps," she says. "A lot of times, people who try to move in one fell swoop fail. Take smaller steps, and be solid."
While at Postec, for example, Dunbar earned a master's degree in computer information systems at Georgia State University. "I knew my first position was too narrow and focused, and I made a decision to branch out," he says.
Then, in 1996, he jumped to BTG Americas Inc., where he was IT manager for the American unit of a Swiss company that makes machinery for the pulp and paper industry. In 2000, Dunbar became the company's global IT director while still based in Norcross, Ga.
"Bringing all these islands of IT together was a challenge to get everyone to act as one global company," he says. "Global experience is very important today for anyone."
But while Dunbar worked closely with all aspects of the business, his role was strictly IT support, and he wanted a more strategic position. That chance came in 2003, when Dunbar became CIO at EMS Technologies, a $300-million maker of wireless and satellite systems in Norcross, Ga.
"I have an opportunity to work with finance, operations and drive competitive advantage for the business," he says. "You've got to prove to the other business managers that you understand the business. You're not just a technologist, but you can help them achieve their business goals. You've got to be a communicator. The title might get your foot in the door, but you've got to prove yourself."
Dunbar's ultimate career goal is to work for a bigger company, and Dunbar thinks EMS will be that company.
In the meantime, Dunbar maintains an active networking schedule. He's treasurer of the Atlanta chapter of the Society for Information Management, a board member of the Georgia CIO Leadership Association and a member of the Atlanta CEO Council.
"We talk about up-and-coming talent," he says. "I send opportunities out and try to do what I can to help."
Michael Ybarra is a contributing writer for SearchCIO-Midmarket.com. Write to him at editor@ciodecisions.com.
By the Numbers: The Data

Bigger Is Better On all counts, bigger companies pay more, and a C-level title takes the cake.
Click here to see the numbers (PDF).
METHODOLOGY: CIO Decisions conducted its 2007 Midmarket Salary and Careers Survey among qualified subscribers in February 2007. Respondents completed an electronic questionnaire comprising 29 multiple-choice and short-answer questions. Unless otherwise noted, the 479 responses for which data was analyzed come from respondents at companies, divisions, or organizations with revenue or operating budgets of $50 million to $1 billion with the title of CIO, vice president of IT, IT director or other senior IT titles who report directly to the CEO, CFO or another C-level business executive. Respondents with multiple titles (such as CIO and vice president or senior vice president) were grouped into the CIO category. Where noted, data was also analyzed according to company size as defined by number of employees (between 100 and 5,000). The margin of error for data with 479 respondents is + or – 4.4% with a 95% confidence level. The margin of error for data with 591 respondents is + or - 4% with a 95% confidence level. Some figures may not total 100% due to rounding.

Note: Respondents to the 2006 survey worked at companies with up to $2 billion in annual revenue; last year's questionnaire used ranges for compensation.

Credits: This section was reported and written by Tom Kaneshige and Michael Ybarra. Data analysis by Anne McCrory. To comment on this story, write to us at editor@ciodecisions.com.