Manage
Learn to apply best practices and optimize your operations.
Midmarket Outpaces Larger Companies in Software Spending
Application spending in the midmarket outpaces larger companies -- but why?
Midmarket companies move cautiously in taking on major data warehousing or integration efforts, but they leap ahead...
Continue Reading This Article
Enjoy this article as well as all of our content, including E-Guides, news, tips and more.
of their larger peers when it comes to spending on a major new application. Jeff Gould, president of San Francisco-based Peerstone Research, explains what's going on: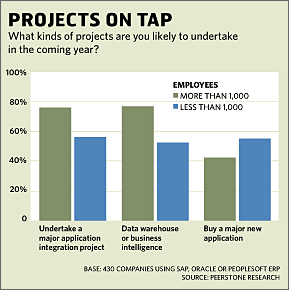 Growth spurts. Midmarket companies are still building out their enterprise application portfolios. Hence, they are significantly more likely to be contemplating the purchase of a major new application this year than their larger peers.

Less complexity. Because their application portfolios are often less mature, midmarket companies are less likely to have reached the stage where they require complex integration between applications. Also, the match between business processes and off-the-shelf features of major software packages may be better for midmarket than for large enterprise customers.

Rising interest levels. Though the midmarket firms surveyed are somewhat less likely to embark this year on a major data warehouse or business intelligence project, the level of interest for this type of project -- 52% -- is still high in absolute terms. It may only appear low in comparison to the 76% figure for large companies.