Manage
Learn to apply best practices and optimize your operations.
Mastering the skills of change management
CIOs adept at change management know that these initiatives take time and that staff need to be coaxed into change along the way.
Great CIOs are not just good at change; they are masters of it. Great CIOs anticipate and drive change. Organizing the perpetual journey from the status quo to the desired state is central to every CIO's job. Like it or not, if you are an IT leader, you are in the change business.
"Being successful at change management is the most important leadership skill in any organization," says the CIO at a midmarket transportation company, where he created a shared IT service organization for six different business units. "Business is constantly changing, and IT is constantly changing."
Over the past 12 years, this CIO has moved through four leadership positions, reassessing and changing various organizations. During his stint at a retailer, for example, he led an effort to transform IT from an internally focused team to a business-facing one. At a services firm, he oversaw an IT transformation that enabled growth in business strategy, sales, marketing, operations, application development and service delivery. Then, at a conglomerate, his group reorganized disparate teams to create a centralized, business-focused IT approach. Throughout this IT leader's career, changing the natural state of things has been a common thread.
But we all know that not every CIO is a change master. In this month's CIO Habitat, we asked respondents (45 from large companies, 55 from midmarket firms) to share their understanding of the lifecycle of change and to dissect the change management process. Ultimately, we wanted to learn why change is so hard.
The Dynamics of Change
The concept of punctuated equilibrium tells us that change is not evenly distributed. There are times of calm and times of frenzy. Whether it takes place in organizations, society or biology, change does not advance through steady progress. Instead the status quo moves through a series of peaceful interludes punctuated by violent revolutions in which one world view is replaced by another.
Our research indicates that several industries are now in periods of disruptive change, particularly retail, media, quick-service restaurants, services and transportation. Several CIOs in the quick-service restaurant industry say their business is constantly changing on several fronts: in technology (evolving point-of-sale [POS] systems, for example), in culture (such as changing tastes and use of leisure time) and in the economy (such as plant closings). Other industries, however, are more static, such as education, the federal government and insurance.
But no matter which industry they occupy, most organizations struggle with change. John P. Kotter, a leading change management scholar, observes that "people who have been through failed change efforts are suspicious of the motives of those pushing change." He adds that many veterans of failed efforts "are convinced that change is not possible without carnage."
Change Masters at Work
What fuels the notion that change is so devastating? Respondents cite several factors, the first of which is the poor management of change. The CIO at a major restaurant chain says poor management virtually guarantees failure because stakeholders aren't on board.
In a past project this CIO worked on, poor management gave way to revolt. "There were countless forms of resistance, depending on the impacted constituency," he says. "People manifested their concern by not being prepared, [through] passive resistance, [by] active lobbying to close down the effort and [by] using any issue to discount the benefits of the entire program," he says.
Past experience with failure can also undermine a current change initiative. The CIO at a troubled retailer recalls taking on an important project designed to improve the information flow from corporate headquarters to more than 1,000 stores. The project had been "attempted before and had failed quite visibly and dramatically," the CIO says. "Having failed in its first attempt, the company started this program already three-plus years behind the original."
Past change management failures also shape stakeholder expectations. The CIO at a quick-service restaurant says that an entire change process took four years, though it was divided into smaller projects, each with its own reasoning, business case and funding. "Since we were working under the cloud of the prior negative experience, expectations were initially low," he explains. But as the team began to deliver, objections switched from "You'll never get it done" to "You're going too fast," he says. "The entire cost was originally estimated at around $80 million," he says, "but it was completed in just over $60 million."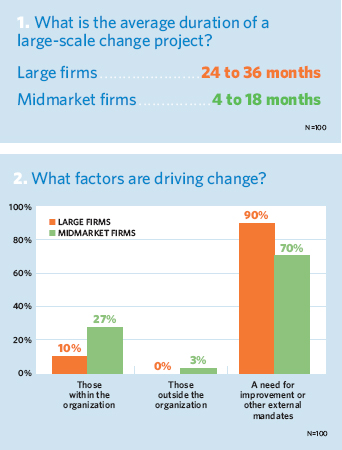 In this case, challenging expectations yielded real savings. But a project can easily fall under the weight of stakeholder reservations as well. That's why smart CIOs prepare for large-scale change and carve projects into deliverable chunks. Midmarket technologists seem to understand this approach, as indicated by the average duration of big-change projects (see Figure 1).
Respondents also say change can be initiated by many sources (see "How Change Happens"). Sometimes change is induced by external factors, and sometimes it is self-generated. Change can also stem from "big ideas," or it can come from more practical origins, such as a need for process improvement.
For the majority of respondents, big-change initiatives emanate more often from practical needs (see Figure 2). As organizations evolve operationally, however, we expect this to change, with more organizational change emanating from planning and brainstorming rather than incremental improvement or firefighting.
In some cases, the natural lifecycle of technology forces change. Many quick-service restaurant chains, for example, have aging point-of-sale systems that need to be replaced. Deploying a new POS, in turn, begets other changes, such as ensuring connectivity for all stores, training staff in the new system, and deploying software to manage material and product inventory.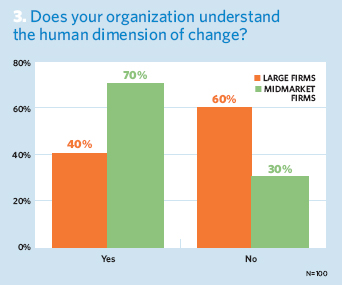 The Human Dimension
But change masters know true transformation is not about technology or economic factors. It's all about what sociologists call "the collective action dilemma" -- that is, how to get self-interested individuals to work together.
We asked respondents whether their organizations understand the human dimension of change. Interestingly, and possibly because of their size, midmarket firms fare better in understanding the human dimension than do large firms (see Figure 3).
The CIO at a transportation company says understanding the human element really involves managing the human resource-related costs of change. "Usually what gets under-budgeted in change initiatives are the people-related costs. For all business-IT projects, I budget supplemental bandwidth for the business. I need the A players in the business to have the bandwidth to leave their 'day jobs' so that they can become the champions for the new way of doing business."
Change masters also understand what makes new ways of doing things so difficult. A consultant who specializes in guiding midmarket companies through major transformation observes, "It is a complete myth that people don't like change. They love it. Transition is what sucks. If you don't help people through transition, they resist the change whether it is good for them, good for the company or good for nothing." Change masters know this: People don't dislike change; they dislike changing. Getting from the as-is to the desired state is what is so painful.
The CIO at a California-based retailer breaks down the stages of resistance throughout the change lifecycle: "During the design phase, user resistance came in the form of naysaying new ideas and operational processes," he explains. "During the training phase, it was user resistance to managing as effectively. During the implementation and rollout, it was denial about the accuracy of the reports. In all these phases, there was also resistance from senior management, who needed to be 'trained' on how to effectively participate in the project and support the process."
This executive goes on to say that instituting successful change may involve changing people's jobs. "The model of one person knowing and then sharing information is being replaced by the availability of information to anyone on the project. Of course, automating work processes and the perceived greater reliance on technology -- rather than the individual -- had to be dealt with. Also, the fact that analysis was going to be a bigger component of a person's job was new. Many folks had come to believe that their true value was in gathering and processing data rather than providing information. We are changing people's jobs."
The CIO of a high-performance airline says that, inevitably, organizational transformation creates winners and losers. "Before embarking on the change, you have to be willing to part company with those who do not get on board with the new way," says this CIO. "I have never been through a change exercise where everyone made it to the other side. I try to get as many as possible into the boat by really focusing the approach on what's in it for them."
The chief architect at a global philanthropy organization says serious organizational change doesn't allow for the luxury of democracy; those at the top can't brook dissent. "No quibbling was accepted. For those who had trouble buying in, we brought in a new guard."
The Rules of the Road
As difficult as transition can be, our data indicates that change can be accomplished without ruined careers, missed deadlines and broken promises. Success requires leadership, managed process and some rules of the road.
Rule No. 1: Never institute change alone. The CIO at a midmarket transportation company says that change is a collaborative project. "I view change as a team sport. To successfully accomplish [it], you need buy-in and involvement from all areas. The vision is coming from me, but I need to enroll executives, business leaders ... and IT leaders," he says.
To determine which change projects warrant investment, this IT leader relies on the business to provide guidance and then creates "a specialized team within IT to find projects within the business that will have most impact," he says.
Rule No. 2: Never introduce sudden change. Those who are new to change or, alternatively, those blindsided by its arrival often complain about having it thrust upon them. Change masters know this and work transformation into the normal course of business.
As the CIO at a midmarket services firm explains, "I try to always act with a sense of urgency, but I really approach all change initiatives in a similar way: assessment, then strategy, then execution and monitoring. At a level below that, I am looking at vision, actions, resources needed, timelines and milestones. I do not want to be in a 'Ready, fire, aim' approach to any change initiative."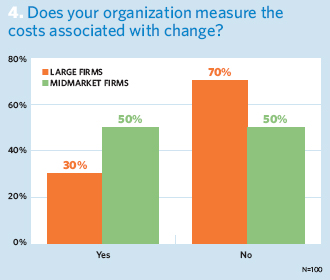 Rule No. 3: Don't obsess over metrics, but do measure change. We were surprised to learn that despite a focus on cost in other areas of IT, many organizations don't collect cost data on big-change initiatives (see Figure 4).
A CIO at a quick-service restaurant says that while costs include internal and external resources, software, hardware, training and efficiency loss during initial implementation, "I don't have a good idea of all of these costs." Not everyone uses a precise spreadsheet to spell out each dollar and cent; there are many legitimate ways to measure.
The CIO at a midmarket transportation company explains that "metrics are required before any change, and you have to have some idea of your current baseline." For IT change, this CIO likes to use "business surveys to establish baselines," he says. "For business-change projects, I want to establish a 'before' baseline, and this is dependent on the goals for the project."
Making Change Happen
In addition to these rules of the road, our research reveals two key suggestions and one absolute truth. First, as you institute change, give people choice. People are more willing to change if they have some control over the terms. Second, be more proactive in preparing for change. If you can get in front of major technological, societal and political trends, your path will be easier to navigate.
And finally, the bottom line is that IT leaders must make change personal for all stakeholders. Everyone has to see the merits of the new system, even if people also need to be guided toward acceptance of that system. The CIO for a midmarket distributor of plumbing, heating and cooling equipment told us a story that sums it up nicely.
"[As a young puppy], my dog refused to go on a hike with my wife and myself. The puppy locked her feet and refused to move, even when my wife tugged on the leash. My wife thought we should take [the dog] back to the car. I put a leash on her -- the dog, that is -- and just pulled her down the path. After about 30 feet, she quit pushing against the grain and started walking. She now loves to go on walks. [This approach applies in IT as well.] Basically, we try to filter out complaints that represent things we can change. We fix or enhance those. When we can't, ... we politely move on. Those that resist too much change are left behind when the train pulls out of the station. We are sensitively firm."
SURVEY METHODOLOGY: Researchers contacted 100 companies (45 large companies; 55 midmarket organizations) in 17 vertical markets: banking, construction, consumer electronics, education, entertainment, fashion, food, government, insurance, manufacturing, pharmaceuticals, philanthropic, publishing, retail, services, technology and telecom.
Thornton May is a respected futurist, adviser and educator whose insights on IT strategy have appeared in Harvard Business Review, The Wall Street Journal, BusinessWeek and numerous computer industry publications. To comment on this story, email editor@ciodecisions.com.