Manage
Learn to apply best practices and optimize your operations.
Making Strides With VoIP Systems
Ready or not, here comes VoIP. As vendors push this latest telephony technology, businesses are, fortunately, finding cost savings and novel business applications.
New York City Real Estate Firm Coldwell Banker Hunt Kennedy spends 85% of its advertising budget on print ads. But 75% of home buyers begin their searches online. CEO David Michonski suspected for years that his firm was wasting ad dollars.

Last year, Michonski confirmed his hunch. Through a phone system, of all things.

The busy Coldwell Banker franchise, which sells about $1 billion worth of pricey real estate a year, installed a voice over IP (VoIP) phone system. Its IT director, Eric Bassa, with help from vendor M5 Networks Inc., developed an application that tracks inquiries from every ad. The firm use a different phone number on each ad, and because calls come in as converted IP data packets, software can tap into them.

"This is giving us the ability to really gauge how effective we are in a way we've never been able to," says Michonski, who expects to shift ad spending to the Internet now that he has hard data showing that buyers respond better to online ads. "This has always been a dream of mine."

Welcome to the age of Internet telephony, where businesses like the Coldwell Banker brokerage are discovering all kinds of functionality never available with phones before. In a January survey of 1,500 midsized businesses by London, Ontario-based Info-Tech Research Group, 23% said they were using VoIP. That number should rise to 50% by 2008, and by 2015, pretty much everyone will be using it, the firm says.

Yet while a host of benefits await -- cost savings, efficiencies, applications that can be tied into the system -- make no mistake: This is a vendor-driven upgrade. Leading telephony vendors have all but discontinued their traditional time division multiplexing (TDM) private branch exchanges (PBX), opting instead to make all of their products IP-enabled. That means that a business can move to an all-IP system at once, or phase it in slowly -- but once its old PBXs wear out, there's no choice but to enter the next generation.

"We talked to five vendors and everyone was pushing VoIP," says Dave Thompson, vice president of IT at Muzak LLC, the $218 million, Fort Mill, S.C.-based provider of audio for stores and restaurants.

The decision today, then, is not whether to choose VoIP but when to make the leap and how to best use the technology. There are options. Some vendors, including telco carriers such as Sprint Corp., offer hosted systems that allow businesses to take advantage of many of the benefits without having to manage the system themselves. At Avaya Inc., "Nearly every system we sell is IP-ready out of the box," says Jorge Blanco, vice president of strategic marketing at the Basking Ridge, N.J.-based firm. "I'm hard pressed to think of any leading vendor that does not offer IP as a standard capability."

The business value of these systems continues to be a moving target. Vendors often tout a Jetsons-style vision of a fully converged business where voice becomes integrated with everything from instant messaging to Word documents visible on a screen smaller than the size of a PDA. But the technology and standards still have a ways to go, and many midsized businesses just want VoIP telephones that work reliably well. On the upside, some businesses tout concrete cost savings, and others, like the Coldwell Banker franchise, unearth solutions to nagging business problems.

The New Reality

When VoIP first emerged in the late 1990s, people envisioned telephone calls coursing through the free Internet like data. Of course, that's not how it panned out. VoIP calls move only across a business' local- and wide-area networks as free data packets. When a person makes a call to someone outside the network, it is routed across the public switched telephone network, and phone bills arrive in the office. This reality was among the many factors that made the pull to VoIP wane. But the push factor was just getting started.

That push begins either when a business' old PBXs no longer do the job or when a company builds new facilities, says Irwin Lazar, a senior analyst with Midvale, Utah-based consultancy Burton Group. In new space, laying data cable serves both computers and phones when you have VoIP.

When Mountain View, Calif.-based law firm Fenwick & West LLP moved offices in 2002, it had to upgrade. "We had a traditional switch that was literally held together with duct tape and was cooled by an old Kenmore window air conditioner," says Matt Kesner, CTO of the $142 million firm.

Others have found that traditional systems don't scale well. Glorybee Natural Sweeteners Inc., a $9 million Eugene, Ore.-based honey refiner and packager, had a traditional phone system that could handle only 12 simultaneous calls. So when the company grew from 50 to nearly 100 employees, the system became chronically overloaded and customers were met with a busy signal when they called.

And some have simply tired of the headaches involved in managing large and complex traditional voice systems. Muzak has 50 offices spread across the U.S. and 46 separate phone systems, nearly all with their own receptionist. The company worked with multiple service providers. Getting even basic things accomplished like adding a new employee could take days. "Imagine the nightmare of managing all of these platforms," says Muzak's Thompson, who switched to VoIP.

There were also dollar savings.

Since installing a VoIP system in July 2002, Muzak has reduced the number of phone receptionists from 40 to a handful at the main office. VoIP allowed Thompson to centralize the entire system, discarding 35 maintenance contracts for PBXs that cost $2,500 each over two years, or almost $90,000. The entire VoIP system -- IP PBX, IP gateway to convert calls as they go out over traditional phone lines and phones -- cost between $200,000 and $300,000. "When I ran this past my CFO, it was like a light bulb went off," says Thompson.

A conference calling feature included in VoIP systems has also emerged as a major money saver for some. Privately held Amerindo Investment Advisors Inc., a New York-based investment firm, installed its VoIP system in February of 2003. At the time, it was spending $4,000 a month on conference calls -- money that now doesn't leave its pocket.

Anytime, Anywhere With Centralized Management

Another benefit of VoIP systems is that they can be managed from a central location, a boon for any IT department with a small staff. At Amerindo, CTO Alan Peterson is the IT department. He's found that turning phones on and off, moving employees or adding new ones is simple with VoIP. "The best thing about VoIP is that I can do virtually anything with this phone system from virtually anywhere," he says.

Indeed, the anytime, anywhere nature of VoIP is another area where businesses see unexpected benefits. Where traditional phone systems are based on a single location per telephone number, with VoIP, a user's location is irrelevant. As long as there's an Internet connection, users can make and receive calls and e-mails as if they're in the office.

That's worked out well for Kesner at Fenwick & West, which has outfitted its attorneys with wireless VoIP phones so they can take calls when away from their desks. Traveling attorneys have software on their laptops that enable them to make and receive calls -- even access the same directories -- from wireless hot spots as if they were in the office.

This mobility has also proved convenient and cost effective for teams of attorneys who need to work in a courthouse or client site for extended periods of time. Rather than pay for extensive cell phone use, CTO Kesner outfits a team with a call manager switch and 25 phones. Attorneys simply plug the switch into a broadband connection and -- voila! -- they get a remote version of the office phone system, replete with all features, including voicemail. "Our lawyers feel more confident setting up business anyplace in the world," says Kesner.

Cambridge Health Alliance, a $466 million Cambridge, Mass.-based health care organization, has also benefited from VoIP's location independence. The health care group, with three hospitals and 20 clinics, serves a community where people speak 40 languages. The hospital thus employs many interpreters, who could be at any facility at any time and hard to locate.

Robert Lewis, Cambridge's director of network and telecom services, thus created a virtual call center, grouping interpreters on the network. Now, if a doctor needs a Portuguese translator, he dials an extension to reach a dispatcher who can see which interpreter is available and where that person is. The call can then be routed appropriately. "Without question, we could not do this without VoIP," Lewis says.

Despite its growing presence, VoIP is not plug and play, and users need to beware its downsides. To accommodate voice, businesses often need to upgrade their computing networks. Standards are not yet mature, which has slowed competition and limited the choices of handsets. Handsets, which have numerous features, can be confusing for users, and the value of integrating applications can be questionable.

Then there is the quality of the call.

Voice traffic, while not particularly bandwidth-intensive, is sensitive, and for VoIP calls to sound good, IT organizations have to make some adjustments to their networks. Most businesses use a virtual LAN or VLAN to segregate voice traffic, and need switches with quality-of-service (QoS) features to ensure voice calls get priority over data traffic. If packets are delayed on the network, voice quality plummets.

Muzak's Thompson says he had to tinker with his system to get the voice quality right, especially for remote offices with lower bandwidth connections. Amerindo had to upgrade to switches that support Power over Ethernet in order to use its VoIP phones. And Cambridge Health, in the midst of a network upgrade when it deployed VoIP, made sure that all its new switches were QoS-enabled. Still, the organization hedged the VoIP bet and took a hybrid approach, deploying VoIP over its WAN while keeping traditional phone lines inside most of its offices. That way, voice quality is not an issue, and the network has some redundancy in case of a failure.

Lewis says he can't see moving to pure end-to-end VoIP in less than five or 10 years. "When you are involved in saving lives, that is a much different level of criticality," he says.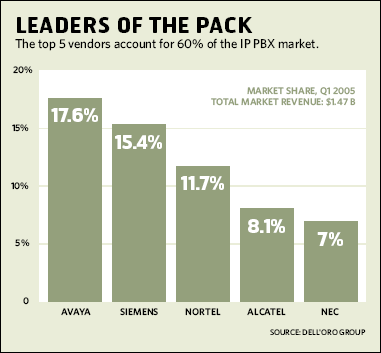 A Worm in the System
Yet for businesses with VoIP exclusively, one concern can be security. If a worm or attack takes the network down, with VoIP, the phone system goes with it. That simply behooves companies to implement the right level of security, monitoring their networks and treating IP phones like any network end point and requiring authentication, says Doug Goodall, vice president of security solutions for Getronics NV, a Netherlands-based IT security and services firm.
Also, standards remain in flux. A VoIP standard proposal called the Session Initiation Protocol (SIP) has the most momentum, says Info-Tech Research Group analyst George Goodall. It is also used for video and for presence-based applications such as instant messaging, which means that desktop IM programs can indicate whether or not someone is on the phone and voice can be integrated into IM-based video conferencing. But SIP lacks maturity, and many advanced call features still require vendors to create proprietary extensions to SIP, which limits a business' choice of phones.
It can be those end points -- the handsets -- that frustrate end users the most. Real estate CEO Michonski, for all his VoIP enthusiasm, has found the phones hard to use and often counterintuitive. He has trouble programming frequently called numbers and finding the company directory.
All of these shortcomings are burdening a technology that businesses are hoping for and that vendors continue to pitch. "My dream has not quite come true," sighs Fenwick & West's Kesner. He expected that by now, more than three years after deploying VoIP, he'd be able to better integrate customer information with voice calls so that when an attorney gets a call from a client, information about that client would pop up on the lawyer's computer screen. But Kesner has found that his CRM system doesn't integrate easily with voice.
Cambridge Health Alliance will wait a year before moving ahead with a $400,000 operating system upgrade that would allow it to take advantage of more advanced VoIP features such as videoconferencing and application integration. "We're going to skip a year," says Lewis. "We've been leading for a while; now I think it is time to slow down. There is no business case for integrating the enhancements they offer."
Nonetheless, each of these CIOs has high expectations for the technology. And they are chipping away at getting there.
Muzak has tied its phone directory into Microsoft Outlook so employees can click on a name in their directory to make a call. GloryBee tied voice into an instant messenger system so when someone picks up a phone, their buddy list icon indicates that they are on the phone. Fenwick & West is experimenting with linking voice to presence using Microsoft's Live Communications Server (LCS), so attorneys can better collaborate. "Having voice, video and presence all tied together is pretty exciting for us," says Kesner.
The vision, and perhaps the real value of VoIP, remains in the future, but that future is not far off.
Jim Rendon is a freelance writer based in New York. To comment on this story, email editor@ciodecisions.com.
Dig Deeper on Small-business infrastructure and operations