Manage
Learn to apply best practices and optimize your operations.
Linux Adoption Strongest in Midmarket
Midmarket companies are significantly more likely than their larger brethren to use Linux for critical business applications in the next few years, according to recent research by San Francisco-based Peerstone Research. Jeff Gould, Peerstone's president, explains why:
Cost. In the 1990s, enterprise resource planning (ERP) and customer relationship management (CRM) software typically required expensive servers running a proprietary flavor of Unix (or possibly IBM's equally proprietary OS/400). But Linux runs on less expensive, standard PC servers and isn't proprietary.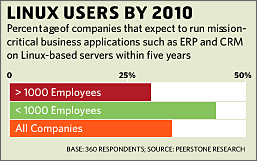 Employee skill sets. Big companies with large IT departments are more likely to have a core of IT veterans with the skills necessary to administer one of the traditional server operating systems -- Unix or Microsoft Windows Server. Midmarket firms, on the other hand, tend to rely more on outside consultants and value-added partners that have a market-driven incentive to embrace new technology such as Linux.
Dig Deeper on Small-business IT strategy