Manage
Learn to apply best practices and optimize your operations.
Inorganic Growth
At organic food conglomerate Hain Celestial, ongoing acquisitions have challenged IT on the integration front. One lesson: Bigger isn't always better.
Twelve acquisitions in six years could mean a recipe for disaster. But in the end, IT at natural products company Hain Celestial got systems blended smoothly.
Joe Thielen knew there was a problem when the phone system at a newly acquired company crashed for a couple of days. Then email went down for a week. Thielen, the director of IT operations at organic food conglomerate Hain Celestial Group Inc., flew to Southern California to check things out.

Download this free guide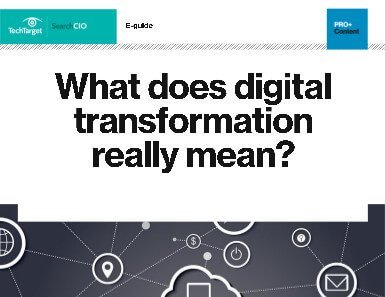 PDF: What does "digital transformation" really mean?
What exactly is digital transformation? You may hear the term often, but everyone seems to have a different definition. See how our experts define digitization, and how you can get started in this free guide.
Thielen found an IT train wreck. He toured the Los Angeles-area offices of Jason Natural Products, which Hain Celestial had bought a year before in 2004. At one site, a storage area had been turned into a ratty data center -- a nest of frazzled wiring. A wire shorted out while Thielen was there.
A Jason Natural Products HR person was in charge of IT, along with a consultant she had hired. "She was very happy for us to take over," Thielen recalls. "They were in a world of hurt. Nothing was documented. No one knew what the passwords were for routers."
Jason Natural Products had been making organic shampoo and lotions since 1959 and had grown into a $20-million business. The acquisition marked Hain Celestial's first foray into personal care products, though not into the challenges of IT post-merger integration. At Jason Natural Products, IT hadn't kept up. "The infrastructure was just terrible," says Hain Celestial CIO Michael Calderon. "It was a mess. They outgrew themselves and didn't keep up from an IT perspective."
Redundancy, for example, was a foreign concept. "If something went down, their backup was to fax or drive things around," says Hain Celestial network security administrator Ben Church. "Jason's been our most complex integration."
A Juggling Act
Hain Celestial is the biggest organic food producer in the country. Its 40 different brands, from Soy Dream soy milk to Celestial Seasonings tea, line shelves in health food stores and increasingly occupy space in the aisles of conventional grocery stores. Last year, sales jumped 20% to hit $739 million.
Celestial Seasonings is only one of Hain Celestial's 40 brands; but it's the individual labels, not the corporate parent, that consumers recognize. "We tried answering the phones, 'Hain Celestial,'" says call center manager Lisa Lehndorff. "People said, 'What's Hain Celestial?' Now we answer, 'Consumer relations.'"
The company's growth has been, and will continue to be, anything but organic. "Our next milestone will be the billion-dollar mark, and we'll get there through acquisitions," says CIO Calderon.
Since 2000, Hain Celestial has almost tripled in size through acquisitions. While large firms have merger-and-acquisition teams that plan how to integrate architecture, infrastructure and operations, midmarket companies such as Hain often don't have this luxury; they frequently learn while doing.
Or as Calderon puts it: "We're juggling acquisitions and integration at the same time." With Jason Natural Products, for example, Calderon had checked out the prospect's systems prior to the deal. But when the deal closed, Hain Celestial's IT department was too busy with other projects to do more than plug the new acquisition into the corporate LAN after the deal closed. Essentially, Hain Celestial left the new subsidiary alone for a year.
"Then things started dying," Thielen says. Hain Celestial had to react quickly. The IT team rewired Jason Natural Products' three sites, replaced phone systems, added routers, installed firewalls, took over server administration and, recently, virtualized servers. "I don't think anything is the same," Thielen says. "It's almost like [doing] three acquisitions."
"What we really learned with Jason is to look under a few more rocks," Calderon adds. "We could have gone in there quicker and helped them out sooner. There are certain things to add to the checklist if they're going to be kept standing alone so it doesn't become a fire alarm down the road."
M&A experts say Hain's experience with Jason is a common pitfall and warn that growth by acquisition is inherently more risky than organic expansion. According to a report by The Financial Times in 2006, 70% of mergers fail to achieve their growth or savings targets.
Nevertheless, Craig Wright, a senior associate at consultancy Pace Harmon in Vienna, Va., notes that there are still a series of best practices that M&A-minded firms can pursue to align business and technology in the combined organization.
"The biggest challenge is prioritizing the integration relative to everything else," says Wright. "You're layering change on change. The organization needs to evaluate the entire portfolio and place the emphasis on what's going to have the highest yield."
An M&A Checklist
Due Diligence Preparation: Gather Facts, Make Plans
Assess the target firm's systems, data, staff, organization and processes to determine hard costs and savings.
Define a systems integration strategy that supports synergies and estimates costs and timing.
Define the decision-making structure and the program management team.
Begin communication with staff.
Identify the merged IT management structure, and fill key staff positions.
Re-prioritize existing project and work queues, and free up key resources.
Determine key staff and develop retention plans.
Assess all vendor relationships and determine impacts.
Day 1: Deal Closes; Begin IT Integration
Establish basic connectivity, and consolidate key aspects of infrastructure.
Revalidate due diligence assessments and plans.
Begin vendor agreement consolidation.
Develop detailed plans for any key business capabilities with attention to the effects of plans on customers and suppliers.
Implement staffing and retention plans.
Communicate final organizational and decision processes and staff options.
Day 2: Conduct Basic Business Integration
Complete any needed data migrations and system integrations.
Retire "low hanging" redundant systems.
Define and validate Day N goals, strategies and plans.
Day N: Synergies Are Complete
Complete business process and system improvement.
Source: Forrester Research Inc., 2006
Major Merger
In his office, Joe Thielen has a picture of the Celestial Seasonings IT department when he joined it in 1999: eight people standing against the jutting slabs of Boulder, Colo.'s Flatiron mountains. A good-sized department for a $100-million company, Thielen says. Yet the looming mountains foreshadowed the not-so-distant future. In a matter of months, the company would quadruple in size.
At that time, Celestial Seasonings was almost 30 years old. In 1970 the company was founded by a teenager named Mo Siegel and some friends who foraged for wild herbs in the hills around Boulder to make their own herbal tea, which they sold to a local health food store. Before long, Celestial Seasonings was well known for its Sleepytime and Lemon Zinger blends.
Siegel built the company into the leading herbal tea maker in the country. In 1984 he sold the business to giant Kraft Foods Inc. and retired. Four years later, Kraft sold Celestial Seasonings back to its management. Siegel returned to run the company again in 1991. An IPO followed in 1993.
Six years later, when Thielen joined as a business system administrator, Celestial Seasonings was a $100-million business. The company had built up its data center during the dot-com boom in expectation of a big e-commerce play. But herbal tea never quite became a hot commodity on the Internet.
In 2000, Hain Food Group paid a premium to acquire Celestial Seasonings in a deal valued at about $390 million. The mastermind behind the merger was Irwin Simon, who had grown up working in his father's kosher market in Canada. After stints at Häagen-Dazs and the Slim-Fast Foods Co., Simon cashed in his savings and mortgaged his apartment to buy four struggling organic food businesses and combine them into a single company. Then, in 1992, Simon managed to borrow enough money to buy the Hain Pure Food Co., a $50-million concern that had been in business since 1926.
Simon's model was to get bigger rapidly by acquisition, leveraging the company to acquire leading brands in fast-growing segments of the health food market, such as Health Valley, and then consolidating or outsourcing manufacturing to wring efficiencies out of the subsidiaries.
Data Center Integration
Hain Food Group, based in Long Island, N.Y., was three times larger than Celestial Seasonings but had only three people handling IT. Michael Calderon, formerly the head of a two-person IT department at Health Valley, led Hain Food Group's team. "Hain didn't have a network," Calderon recalls. "They used AOL for email. No on-staff IT support."
Thielen adds, "Hain really didn't have a data center. They had a data closet." Inside it were two Windows servers -- "Long Island specials," as the techies in Boulder called them -- and a dial-up modem that handled remote access.
On the other hand, thanks to the dot-com buildup, Celestial Seasonings had just created a basic data center with raised floors and air conditioning. "The systems worked really well," Thielen says. "All the processes were in place. ... We had built up this data center, so when we merged, we became the corporate data center."
The trick was upgrading the data center to collect information from two enterprise resource planning (ERP) systems (which, thanks to additional acquisitions, later grew to five) and feed it into a data warehouse that would provide a snapshot of the overall business for executives. "New York wants a consistent view," Thielen says. "The hardest part of creating a data warehouse is normalizing the data for all the users. There are different definitions of gross dollars, believe it or not. You really have to get down into the nitty-gritty. And when you're merging with another company, that's the last thing on anyone's mind."
The data warehouse went from 20 users at Celestial Seasonings to more than 300 users company-wide. "The merger was very difficult," Thielen says. "We went from a little independent company to a much bigger company."
For a couple of years after the merger, Calderon commuted between his office in California and corporate headquarters on Long Island before finally moving to New York. The combined company had grown so quickly that people worked from desks squeezed into hallways. In 2001, Hain Celestial leased a floor in a new office building in Melville, N.Y. The company merged two call centers and based them in Boulder. The company expected to handle 100,000 calls that first year; instead, the call center fielded 250,000.
Growing Pains
Hain Celestial also had to beef up its infrastructure. When the Boulder facility was running low on bandwidth, Hain Celestial installed a DS3 sonic ring that widened the pipe from 3 megabytes to 45 megabytes. Server virtualization has reduced the number of boxes from 50 to 15.
"Virtualization will help with cost avoidance and extend server life for three years," Thielen says. "Before, the time line to add a server could have been a month. Now we can turn up one in half an hour. It's a huge benefit for the administration with acquisitions, and a huge productivity gain."
The data center jumped from a 40-gigabyte file server to 180 gigabytes after the merger with Celestial Seasonings. The company then deployed a 10-terabyte storage area network (SAN), which has already been maxed out. Multiple SANs currently hold about 40 terabytes of business information, including a vast database of ingredients used in all the company's products and health-related information. "We double about every 10 months," Thielen says. "If you had asked me three years ago if we could use 10 terabytes, I would have said, 'You're crazy.' In five years, the core system could be 160 terabytes, which seems absolutely ludicrous. I don't believe it when I say it. But based on our historic growth, that's where we could be."
Acquisitions continue to feed the data center. Since the Hain/Celestial merger, the conglomerate has swallowed up some dozen different companies in the U.S. and Europe, including Jason Natural Products. "It was company after company after company," Thielen says. "We grew quickly, from a $120-million company to one looking to be $900 million next year. Every division or location was at a different level. Some had nothing. I think one person had a computer at DeBoles [pasta]."
When Hain Celestial, for instance, bought Texas-based Arrowhead Mills, it turned out that the town's sheriff was moonlighting as the subsidiary's IT department. "It's a small town," Thielen says. "Everyone does everything. He did a good job."
Today, Hain sprawls across 18 locations in the U.S. and five in Europe. There are more than 700 IT users, served by a 19-person IT department, most of whom work in Boulder. The European operations run their own data centers. The company sells some 2,600 different products and runs five different ERP systems: Prism (JD Edwards) Manbase (MAI Systems), Macola (Exact Software), MAS200 (Sage Software), and, in Europe, Axapta (Microsoft). By next summer, Calderon wants to consolidate North American operations onto one or possibly two ERP platforms.
An M&A Recipe
On the outskirts of Boulder, new housing developments bump up against a prairie dog preserve, where the rodents pop out from their burrows like mascots for one of Celestial Seasonings' whimsically named teas.
The company's plant sprawls in the middle of the preserve, which Celestial agreed to set aside in order to build the factory. The site is a tourist attraction visited by 100,000 people a year. Inside, the cinnamon-like scent of milling cassia from Thailand fills the air as manufacturing lines thrum with activity: boxes of tea -- green, English breakfast, vanilla maple -- shoot along, packed, wrapped and stacked onto pallets.
While Hain nurtures the consumer identity of its brands, the company also has to fold its acquisitions into the corporate infrastructure. Each case is different. Templates often don't fit. "There's a basic template that happens in every acquisition," says Calderon. "The first question is, 'Do we integrate or let it run standalone? Do we share customers, distribution channels?' If it's a brand-new business we haven't done before, it doesn't make much sense to try to shove that into an existing platform.
"There's not a good decision tree on whether or not to integrate," he continues. "There are some politics involved. I can show the division operating chief the options and make suggestions. Sometimes they can convince executive management not to rock their boat."
This, of course, isn't a textbook approach to M&A integration, but it's typical for the midmarket. "Lack of documented processes and procedures delays -- probably doubles -- the time it takes to get people aboard and working," says Mike Tainter, IT service management practice manager at consulting firm Forsythe Technology Inc. "Companies that grow and grow have some processes in place. When they make an acquisition, the transition is easier. They spend less time transitioning people and operate at a higher level of maturity."
Alex Cullen, an analyst at Forrester Research Inc., says that a CIO should have made 90% of the IT decisions for the new acquisition by the time a deal closes. Integration should be complete six months after. "It seems like everyone finds their own unique recipe for having a failure, but one common problem is that they don't have a cookbook for integration," he says. "They make it up as they go along. But if you've already pre-made a lot of your decisions, the IT shop can become a smooth-running acquisition machine."
As Hain Celestial has become an acquisition machine, some integrations have gone more smoothly than others. In 2005, for instance, Hain Celestial acquired organic oil maker Spectrum. The deal closed on December 15, and by February 1, the subsidiary had switched over to Hain Celestial's ERP system.
"We're some of the first people who visit the site," says Thielen. "The companies are generally smaller, $40 [million] to $60 million, and generally not very advanced on IT. We show up, get them integrated, and they start seeing benefits right away."
Larger acquisitions are more difficult. "The bigger the company we acquire, the more challenging it is," says network security administrator Ben Church. "It's easy to acquire low-tech companies and roll out the services we already provide. It's much more challenging going to a company with their own IT staff and try[ing] to merge the two groups.
"What comes first?"asks Church. "Whatever they're complaining most about. We don't know about the acquisition much before the public does. There's usually a very short window to roll them into our network to get a base-level functionality. We don't know the first week if we're going to keep the location, close it, move it. We have to be ready at any given week to drop everything and integrate a new company."
For Calderon, templates can help, but necessity rules.
"Each acquisition is different, but there's an underlying methodology," Calderon says. "Sometimes it doesn't work as you expect. When things break one after another, you have to find someone to go out there and fix things. You end up having to do what you do to get the business going."
Michael Ybarra is a contributing writer for SearchCIO-Midmarket.com. Write to him at editor@ciodecisions.com.
Dig Deeper on Small-business IT strategy