Manage
Learn to apply best practices and optimize your operations.
Infrastructure Rebuild, New Website Turn Museum's IT Into Work of Art
When the Museum of Modern Art began renovation of its 53rd Street location, CIO Steven Peltzman got the chance of a lifetime: to overhaul IT with a clean slate.
When the Museum of Modern Art upgrades its infrastructure and makes over its website, the result is a working piece of art.
Steve Peltzman, the CIO at MoMA, the Museum of Modern Art, had a problem. The world's greatest repository of modern artwork had recently opened its renovated and expanded headquarters on West 53rd Street in Manhattan, and a record number of visitors were filling the galleries.

Download this free guide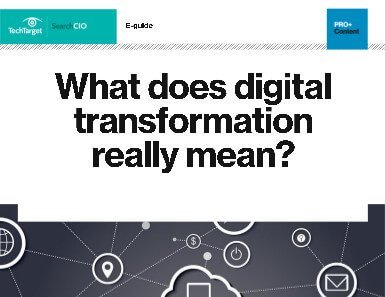 PDF: What does "digital transformation" really mean?
What exactly is digital transformation? You may hear the term often, but everyone seems to have a different definition. See how our experts define digitization, and how you can get started in this free guide.

By submitting your personal information, you agree that TechTarget and its partners may contact you regarding relevant content, products and special offers.

You also agree that your personal information may be transferred and processed in the United States, and that you have read and agree to the Terms of Use and the Privacy Policy.

As the museum's first CIO, Peltzman had been given the dream job of redesigning the way the organization used technology. One of his changes was to make it easier for art lovers to flow into the building -- and for the museum to track what kind of visitors were coming. Peltzman armed ticket takers with handheld scanners. Instead of ripping paper in half, they would zap a bar code, and the data would feed into the museum's database, recording how many were members and how many had purchased single admissions.

But now something was wrong. The scanners weren't beeping like they were supposed to. No one was being turned away, but the scanners still recorded flawed data. In the hopes of discovering the problem, Peltzman dispatched members of his team to work at the entrance scanning tickets.

As it turned out, some of the ticket takers were covering the scanner controls with their fingers, which was causing the problem. The IT staff tried training, but with ticket takers scanning hundreds of visitors an hour, Peltzman knew it would be unrealistic for people not to make mistakes. So he asked a consultant for a bid to redesign the devices. It would cost at least $15,000 and probably a lot more. Then Peltzman went to his dad, who owns a lighting shop. The two figured out that placing a strip of Lucite over the controls on the units would solve the problem. The total cost: $300.

"Sometimes the best technical solution is not a technical solution," Peltzman says. "If you throw money at something, you can make technology perfect, but that sucks a lot of resources from the budget."

For Peltzman, the museum's re-opening in fall 2004 was a watershed moment: the completion of a three-year building project and IT redesign. From deciding whether to upgrade the museum's core IBM iSeries mainframe computers or to migrate to newer systems to deploying crucial customer-facing applications, infrastructure concerns overwhelmed everything else.

At the same time, technology's role at the museum had evolved rapidly. "IT started out as data processing, back-office stuff in the basement, and now it's a partner in everything we do," says MoMA's COO, James Gara, who joined the museum 20 years ago. "A decade ago, no one would have known who the IS team was. Now they work with the curators, and technology is key to what we do."

More and more, the museum is looking to IT to enhance the museum experience for visitors and build its brand online.

"One of the goals of the museum is to figure out how to use technology to achieve the museum's mission better," Peltzman adds. "Our strategy should be reaching people no matter where they are. If we touch someone in Finland with the Web and they never come here, that accomplishes our mission. This is how we can expose the collection to everybody on the planet."

@pb

The Birth of the Modern

Steve Peltzman walks into a large gallery at MoMA, and a light goes on automatically. The walls are blank, the floor empty. The light going on, he explains, is the art. In another gallery, a work by Jeff Koons has three basketballs floating in a fish tank. "Why is this art?" Peltzman says. "Don't ask me."

MoMA has been confusing -- and delighting -- visitors for almost eight decades. Founded in 1929, the museum started in half a dozen rented rooms in Midtown, displaying works by Cézanne, Gauguin, Seurat and van Gogh. Three years later, the museum moved to its present location.

"The work of art is a symbol, a visible symbol of the human spirit in its search for truth, freedom and perfection," Alfred Barr, MoMA's founding director, once said.

Over the years, the museum became an icon of the art it championed, its galleries offering a walking-textbook tour through the canon of modernism. It has also become a highly successful midmarket business, complete with a global brand, large educational and publishing operations, and five retail outlets selling $40 million a year in merchandise.

In 2006 the nonprofit institution reported assets of more than $1.5 billion, with operating revenue of $133 million. That year the museum earned $21 million from ticket sales and $14 million from membership dues. About 2.5 million people visit the museum every year.

Today, the collection includes 150,000 paintings, sculptures, drawings, prints, photographs, architectural models and design objects, as well as 22,000 films and 4 million movie stills. A research library houses 300,000 books, and archives document the history of modern art.

When Steve Peltzman was hired as the museum's first CIO in early 2001, things were already getting crowded on 53rd Street. The museum was scheduled to close in little more than a year for a $425-million renovation.

For Peltzman, it was the ideal job. "Art has always been part of my life," he says. "This marries my two loves: art and technology. And this was such a grand opportunity. It was a total clean slate."

With an undergraduate degree from MIT and an MBA from Columbia University, Peltzman already knew something about big projects. During his seven years of service in the U.S. Air Force, Peltzman worked in the project management office for the B-2 bomber program before doing stints at a couple of companies in the private sector.

"I'm not a drill sergeant type," he says. "My military experience helped put things in perspective. You really get to learn management and leadership in a big environment. At 22, 23 years old, I had a bigger budget than I have now. I gave briefings to four-star generals and congressmen."

One general promised to shut down any meeting if even one stakeholder was absent. Peltzman applied that to IT planning at MoMA. "We don't make decisions without all the stakeholders being in the room," he says.

@pb

A Blank Canvas

At MoMA, IT had fallen a bit behind. When Peltzman took over the 50-person staff, he found a department that handled systems and apps, but little else. The website didn't even fall under IT. The museum's infrastructure centered on IBM iSeries mainframes.

"I think IT was necessary but not core to the mission of the museum," Peltzman says. "We had one-off solutions solving issues without big-picture thinking."

"We looked at IT as up-front cost that might have operational savings," COO Gara adds. "We thought we'd make a capital investment and squirrel away our pennies. But we had to support the technology, which required more of an investment."

Peltzman's first decision was whether to rip and replace the museum's aging iSeries mainframes with something else. He called up former colleagues to learn more about the platform and went to IBM for an in-depth briefing to get a sense of the system's flexibility and reliability. "There was a cloud over the iSeries," Peltzman says. "The platform has a green-screen reputation."

To be sure, Frank Gillett, an analyst at Forrester Research, says major infrastructure rebuilds like MoMA's require a tradeoff between the familiarity of a closed system and greater functionality with a more open one. "The thing to get right is having stuff that works well together," he says. "If you don't, you get into all the hassles and follow-ons."

That's exactly what Peltzman was thinking when he decided that with new rapid application development tools for the iSeries from Lansa Inc., the IBM system was worth keeping. The museum's IT staff could use the tools to create a membership application and other customer-facing systems. And since the staff was familiar with the IBM platform, Peltzman wouldn't need to hire outside help.

Peltzman was also able to work out a strategic partnership with IBM -- which COO Gara estimates saved the museum millions of dollars in consultant fees and hardware costs, such as desktops -- so Big Blue could use MoMA as a flagship customer.

But before long, Peltzman realized that the IT budget he had inherited wasn't enough. "You only get one chance to do this; you can't go back and build more infrastructure," he says. "The budget didn't match the opportunity."

After six months of planning and scoping, the CIO put together a "substantially" bigger budget and gave a presentation to every department head that explained how IT could help the museum accomplish its mission. He eventually won approval from senior management.

"Everyone wanted to jump to the glitzy technology of the moment; everyone was chomping at the bit for new technology," Gara recalls. "Steve was very adamant that we get the back office up and running. We don't have the resources to support 27 different systems. Steve understood that and then brought me on board, and I got everyone else on board."

For Peltzman it came down to aligning technology with the museum's mission. "It was a business decision to say, 'I need to prioritize infrastructure and flexibility over everything else,'" he says. "You have this temptation to do really flashy, glitzy museum technology that will blow people away. But this is not a museum of technology; it's a museum of art."

@pb

A Temporary Test Bed

On May 21, 2002, MoMA shut down its 53rd Street galleries for renovation and opened a temporary location in a former staple factory in Queens. The IT staff relocated to a small, temporary data center a block from the old Midtown museum.

Over the next two years, Peltzman and his team used the site in Queens as a proving ground for several new systems that the museum developed in-house: a membership application, a point-of-sale (POS) system and bar-code scanning.

"You never have a second chance at a first impression," Gara says. "The first thing you touch at the museum is [customer-facing] technology: getting tickets, buying something at the cash register. We have more than 2 million visitors a year, and the efficiency of getting people in and out depends on technology."

Recruiting and retaining members is crucial to the museum's business. Members pay $75 a year to join (versus $20 for a single visit) and get early access to exhibits and discounts in the gift shop. The new membership app allowed people to join instantly at kiosks in the lobby and print out a member card on the spot. The POS system linked five retail locations with the membership database. Windows-based PCs with bar-code scanners replaced a decade-old DOS system.

Rolling out the new systems in Queens meant that the museum could debug the apps before moving them to Midtown (although Peltzman says that the time frame allowed for less testing than he would have liked). In 2004 the IT staff moved into a state-of-the-art data center back at 53rd Street. It was the first department to return to the renovated museum.

In redesigning MoMA's infrastructure, Peltzman's benchmark was corporate America, not cultural America. "I don't pay that much attention to what other museums are doing," Peltzman says. "I couldn't care less what the Metropolitan Museum does. I care more what JP Morgan does. We run our network like a financial company, not like a museum. This museum is 24/7; the Web is more important than ever."

In November 2004, the museum re-opened. Twenty thousand visitors showed up the first day, along with media from around the world. The night before was a sleepless one for Peltzman. "The systems will never be as stressed as they were the day we opened," he says. "That kept me up at night. My heart was racing. If I had any hair before, I didn't after."

As it turned out, Operation Opening Day came off with military precision. IT staffers armed with radios and deployed around the building ensured that the average response time was about a minute, whether the problem was a jammed printer or a frozen scanner. @pb

A Museum Without Walls

Van Gogh's "Starry Night," one of MoMA's most iconic paintings, is often surrounded by a crowd. The canvas shows a swirling blue sky shot through with burning stars and punctured by a dark cypress tree rising like a flame in front of a village church.

MoMA's new website has a feature that lets young art lovers click on different parts of a painting to hear sound effects. The village clock, for instance, tolls boom-boom. One beta user -- Peltzman's 3-year-old daughter -- got positively giddy exploring the multimedia presentation.

"This piece of art means something to her now," Peltzman says. "This site did its job. Five years ago, the Web just provided opening hours and where to park. It was information. Now it's education and community."

Since the building renovation, MoMA's new challenge has been to expand its audience beyond the museum's physical confines. The Web is an obvious channel and important enough that MoMA recently hired an Indian company to monitor the site overnight.

When MoMA began quietly putting its collection online, Web traffic jumped 15%. Today, 40% of visitors to the site browse the digital galleries. Members can find previews of new exhibits online before the general public can view them. There's an archive of recorded events. The site's top download remains the museum's floor plan, and Peltzman hopes to give browsers the ability to create custom guides so folks can tailor a visit to their own desires.

"We're trying to mimic the experience of being here on the Web," Peltzman says. The museum also works to make sure that MoMA reaches as large an audience as possible via any avenue. On iTunes, for example, MoMA's podcast -- which offers audio tours of the museum and special commentary -- reached No. 21 in worldwide popularity one day. And when Wikipedia's entry on the museum didn't feature MoMA as its top link, Peltzman changed that so the official Web site became the next stop for anyone interested in modern art.

"Wikipedia, iTunes, Google -- it doesn't matter what channel it is that gets the museum exposed to people who might not have heard of it," Peltzman says.

With so many channels, one challenge was to make sure that the museum presented a consistent view of itself to the world. A central image database solved that problem by creating a single digital repository of the collection, with color-corrected images and information about the works. "Now we know that every piece of information about this art is consistent, wherever it is," Peltzman says.

@pb

Technology in Excess

Not all the museum's works are online, notes Allegra Burnette, creative director of digital media at MoMA. "We have a lot of relationships with living artists, and they have concerns about how we use their images," she says. "There are a lot of constraints. How do you make things available to the public and respect the wishes of the artists? It's a balance. [The public wonders], 'Why don't you just put it all online?' We're the caretakers of the rights, not the owners. We may own the work, but not the right to show the work."

When it comes to technology, digital images aren't the only consideration. When MoMA re-opened, the museum offered visitors PDAs that enable them to take a self-guided architectural tour of the building and download text as they strolled around.

Three months into the program, the museum tried to buy more devices from the vendor, only to discover that it wasn't selling the same model anymore. In the end, MoMA gave up on the idea. "Now we know how much time and effort it takes and the logistical challenges," says Peltzman. "We could make it successful if we wanted to. With limited resources, it wasn't that much bang for the buck."

The experiment persuaded MoMA to re-think its approach to bringing technology into the galleries. "How do we give them the material on a device they already have rather than adding devices?" wonders Burnette.

Too much technology can detract from the artistic experience. "You can ruin the experience of someone who comes a long way to the museum," adds Peltzman. "There's what you can do with technology and what you should do. It's a temptation. Every now and then, I succumb. You don't bank on hardware solutions. You bank on your data."

And Peltzman's data just happens to be a fantastic collection of art. "I love the fact," he says, "that it's part of my job to walk around the galleries."

Michael Ybarra was a senior features writer for CIO Decisions. Write to him at editor@ciodecisions.com.
Dig Deeper on Small-business infrastructure and operations