Manage
Learn to apply best practices and optimize your operations.
IT and Business Alignment Helps Carbonation Company Manage Growth
At NuCO2, which sells carbonation, two former Coca-Cola executives are modernizing IT.
NuCO2 Inc.
REVENUE: $115 million
IT CHIEF: Ron Maillette, senior VP, information services
BUSINESS COLLEAGUE: Jack Wilson, EVP and chief customer officer
WORKING TOGETHER Six weeks; previously, seven years
IT/BUSINESS CHALLENGE: Managing growth and deploying technology without adding staff
UPSHOT: IT and business are closely aligned.

NuCO2 makes soft drinks fizzle. Based in Stuart, Fla., the company puts the bubbles into millions of fountain drinks every day at fast-food chains, movie theaters and amusement parks. Order a soda at McDonald's, 7-Eleven or a Loews theater, and chances are that NuCO2 is supplying the carbonation.

Download this free guide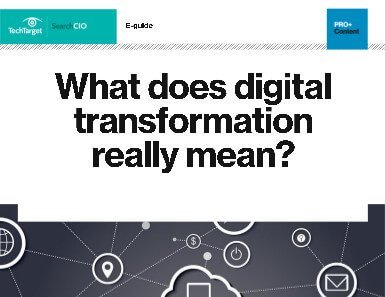 PDF: What does "digital transformation" really mean?
What exactly is digital transformation? You may hear the term often, but everyone seems to have a different definition. See how our experts define digitization, and how you can get started in this free guide.
For decades, soda fountains depended on high-pressure cylinders to carbonate soft drinks. Then, in the 1980s, companies began marketing bulk carbonation systems, which replaced individual cylinders with liquid Co2 tanks that create gas on demand. Bulk providers tout advantages such as uninterrupted service and ease of operation.
NuCO2 entered the fledgling market in 1990 with one service area and 19 customers; today it installs, maintains and services CO2 systems for more than 106,000 customers. After a series of acquisitions, the company estimates its market share at about 60% of the bulk CO2 market. NuCO2 went public in 1995 and projects that current fiscal year sales will hit $115 million. The company employs more than 600 people.
With three-quarters of the fountain-beverages market still carbonated by cylinders, the opportunity for bulk providers remains great, presenting NuCO2 with both the potential and the pitfalls of high growth. Facing these challenges are Jack Wilson, executive vice president and chief customer officer, and Ron Maillette, senior vice president of information services. The two executives sat down to discuss how they work together.
How long have you two been working together?
Ron Maillette: Since January, about six weeks. But we've worked together before.
Jack Wilson: I started here in June, and before that I was on the board for four years. Previously we worked together at the Coca-Cola Co., in the almost $4-billion fountain division. I was senior vice president of operations. Ron was CIO. Fountain was becoming more and more independent. Its operating platform was fundamentally different. It demanded dedicated IT.
Maillette: Fountain was a true operating division [of its own].
Wilson: IT had every functionality of a truly independent company.
What is your working relationship like?
Maillette: Acrimonious [laughs]. We worked together for seven years.
Wilson: Squabbling all the time [laughs]. He was much more behaved when he worked for me. Actually, fountain would have failed without an A-game IT department. When Ron came [to Coke], we were in the process of changing everything, cleaning up 120 apps that didn't talk to each other. It was the function of 25 years of ad hoc IT. People had become enamored of IT for the sake of IT. We had to change everything. We had to create one office of record for our data instead of 32 places. You could run different reports and produce dramatically different answers depending on the time of day or whose app you used. We really just had to call time out and press the reset button.
Maillette: We went from 120 to 52 apps. When I first got there, the IT budget was $50 million, and we took it down to $37 million. We took that cost out without impairing the business. We put handhelds into the salesforce and deployed Web portals. We did a lot to take cost out and empower the business.
What did you learn from your first experience working together?
Maillette: It was the need for getting IT absolutely in line with the business and really understanding the business. We took my IT folks and put them through sales training. It got them thinking about the business as business people and the processes.
What's the biggest challenge you face today?
Wilson: We're an operating and service company. We're not high tech or driven by technology, but IT is a key enabler of our success. You can grow in the early years by muscling through with brute force, but you reach a point where you have to have some IT breakthroughs. We expect to grow 15% top line each year. We'll double in size in five years.
Now this company needs to do what we did at Coca-Cola fountain more than a decade ago. That's getting more information into the hands of people who actually run the business and doing it in an effective and efficient manner. Everything needs to be looked at. There's a positive legacy system here. Financial elements, salesforce and operational enablers work well now. But we're adding 1,000 customers a month. Over time I see us moving to a new ERP [enterprise resource planning] system.
Maillette: You reach a point in the growth of any business where you can do only so much with more people. We're looking at using IT as a key component. You can't keep adding people. One of the biggest attractions coming here is really growing the business.
It's a small but good IT staff. Including myself, we have 11 people.
Wilson: Since I arrived, we've issued tablet PCs to everyone on the salesforce. And we've purchased an app from NetSuite: NetCRM. We send leads electronically, and they also track those customers and report performance. We're just in the early stages of figuring out the specs. NetCRM will last for multiple years, but we have to think about the next generation.
What role does IT play in the company's overall business?
Wilson: We have 106,000 customers. There's an opportunity for 650,000 customers. We have a lot of growth ahead of us. We're 1.5 times the size of all our competitors combined. We operate out of 120 depots. We have a 100-person sales and marketing force that makes 570 sales calls a day.
We track these things, but we have to do it better: manage drivers, deliveries, all the information, inputs, outputs, pricing structures, deliveries, sales calls made, successes, management reports about how well a person, region or zone is doing. We need that information online all the time so it's fluid. We need to have the pulse of the organization. We still engage in a lot of paper flow. We're working with Ron and his team to create an e-contact for our customers.
Maillette: We want to capture the information one time and use it many times. We are currently crafting a multiyear IT strategy that is in lockstep with the business. The focus of that is the information needed to operate the business. At the end of the day, IT is only of value if it enables the business, and information is at the heart of this.
A key component of this will be defining, planning and implementing an information layer/warehouse to serve up effective, accurate information consistently to all who need it and are authorized to see it. This ranges from our drivers all the way up through and including the executive committee of NuCO2. Building off of this will be a self-serve reporting capability that will provide the information more quickly and do so requiring little IT time, freeing up IT staff to work on even higher, value-add work to enable and sustain the company's growth.
To fully maximize the access to and use of this information, we are continuing to implement a very robust, very secure WAN [wide area network] environment. And integrated into this is enhanced voice capability utilizing VoIP [Voice over Internet Protocol] to enable our widely dispersed sales and depot operations.
And to ensure that all this operates 24/7/365, we are continually updating our entire business continuity processes and action plans, making appropriate investments to reduce, if not eliminate, any impact from severe weather events.
How is IT involved in mapping out the company's overall business strategy?
Wilson: Ron has a seat at the table with the executive committee. The priorities fall out of that dialogue. It's a small group, and we meet frequently. Ron participates regularly. What he brings to the table is experience with structure and process. He gives feedback where there are buckets of waste.
Maillette: I've been encouraged to bring ideas forward. You can make a lot of little investments or some big ones with better returns for the business. IT is one of the few groups that sees everything beginning to end. IT needs to be more consultative. Let's not wait to be asked something.
Wilson: IT is a core business unit. They should be proactive. They see the threads running across every functionality. They can do much more than just programming. Their power is geometric. They can be the seedpod of a lot of bright ideas.
Maillette: IT should not sit back, but our ideas have to be grounded in the core business.
What do you worry about in your respective domains?
Maillette: I worry about the learning curve of the salesforce. Technology changes have to be absorbed by human beings. Maybe a third of the organization is tech averse. I inherited an organization that has its share of tech averseness, and I worry about that. I want to build their skills.
Wilson: We have an opportunity to create a greater sense of team. I've worked in departments where the business folks wanted just enough functionality to get by. Sometimes it's the IT people saying, "Let me give you the solid-gold Cadillac version." One person is speaking German, one Swahili. They're not communicating. IT can help play a role in tearing down silos. IT can be that bridge builder across the functions.
We're a national footprint-company with people spread thinly, and we want IT to create a sense of team so people aren't islands. Laptops and software have done more than I could ever do as a leader to create collaboration and sharing. I see lots of traffic, sharing. We have an e-library where everyone has access to the best sales presentations. We have it in a book and binder. But everything is also in a laptop. That sense of team and collaboration across geographies and functions is a place where IT will play a great role.
Does the CIO spend any time with customers?
Maillette: I'll do rides with delivery drivers and installers, and so will my team.
Wilson: Ron should play a direct role with some key customers for our new EDI [electronic data interchange] system.
Maillette: In our fountain days, the IT team did some sales calls. I think we'll leverage that again.
Wilson: Calling on a large-chain customer, a senior IT person could go on the call and articulate how the technology creates better precision and accuracy. We have to turn IT into a marketing lever.
How often do you two meet?
Wilson: We've been meeting pretty much every day.
Maillette: I'm comfortable coming upstairs and poking my head into an office. Some of the best dialogue comes in unplanned meetings. It's all in the presale. I'm not a real proponent of surprises.
How do you align business and technology?
Maillette: Think like business people first, whose toolkit happens to be IT. I always try thinking like a general manager. I wasn't asked, but yesterday I sat down with [COO] Scott [Wade] and served up a monthly view of our IT spend. We'll scrutinize cost as much as the business side. Right now, we're looking at a project that's cost neutral [that is, doesn't cost anything]. When you can look at your CFO and say, "We'll be cost neutral," they'll listen.
Wilson: Ron's as much a core business person as a tech person. He volunteered to participate in the next sales training and embed his people in there as well. That creates a great bridge between IT and business.
For more on Ron Maillette's work at Coca-Cola and Pacer International, check out "M&A and Compliance: Call ahead for CIOs."
Michael Ybarra is a contributing writer for SearchCIO-Midmarket.com. To comment on this story, email editor@ciodecisions.com.
Dig Deeper on Small-business IT strategy