Manage
Learn to apply best practices and optimize your operations.
IT Human Capital Development: Delivering Value on the Human Side of IT
Midmarket firms differ from large enterprises when it comes to finding and keeping talent. Do you have a system in place for hiring and motivating the best IT pros?
Take the toughest technology challenge of your career. Remove all the training and experience you've amassed. Impose irrational deadlines. Turn up the heat, pump steam into the room and make things physically uncomfortable. Ensure that your only available help is accessible on an unpredictable, sporadic basis.

Welcome to the world of IT human resources management. This is where you'll discover the No. 1 differentiator between a great IT organization and a marginal one: how well it manages and develops technology people.

As society becomes more digitally aware and business executives more IT-literate, poor performance from IT becomes impossible to hide. This is especially true in the midmarket enterprise, with its smaller resource pool and limited staff. The only sustainable and affordable option for acquiring exceptional performers is to develop them.

Following up on our May CIO Habitat report ["Can the Broken IT/HR Relationship Be Fixed?"], we asked 125 executives (79 from midmarket companies, 46 from larger enterprises) how they find, nurture and develop IT talent.

IT human capital development has two primary components: performance measurement and performance management. Our research shows that many midmarket organizations aren't very good at the first and many don't even bother with the second (see Figures 2 and 4). The results also illuminate the magnitude of this struggle. Talent development resources are limited in firms of all sizes, but our research shows how differently midsized firms ration resources (see Figures 1, 2 and 3). A midsized company, for example, is far more likely to build skills internally; large firms approach skill building with a more structured process (see Figures 2 and 3).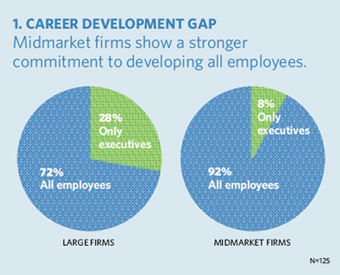 Some Assembly Required
One of the most dangerous beliefs floating in the corridors of power is that IT value delivery is just a signed check away. But just as George Steinbrenner can't buy a World Series win with his well-paid New York Yankees, your enterprise can't buy a world-class IT value delivery system. Some HR assembly is required. Great IT organizations develop their leaders from within.
Jerry Batt, vice president and chief information officer at $14.6-million Pulte Homes Inc. in Bloomfield Hills, Mich., underscores the importance of staff development and training. "I have always thought that he with the most 'wizards' wins the IS game. My career has been built around hiring, developing and utilizing them."
Indeed, if IT is to realize its full potential and deliver sustainable value, everyone, from the board of directors on down, must take a more active role in developing and managing the competencies of those in the technology trenches.
At one midmarket utility company, managers conduct biannual performance reviews and track key performance indicators at the individual and group level, says the CIO. "We also custom-develop training for each employee based on workload. Everyone is treated the same way, but the bell curve always applies," he notes. "The top 25% carry the load and exceed expectations; [the middle] 50% are the easiest group to improve; it's the bottom 25% that's the challenge."
Another midmarket respondent improves average employees with a structured training program. "Every IT employee is required to obtain new skills each year, and we offer a variety of methods to do so," the CIO of this $50-million health care organization says. "We have made it clear that this is the key to moving up."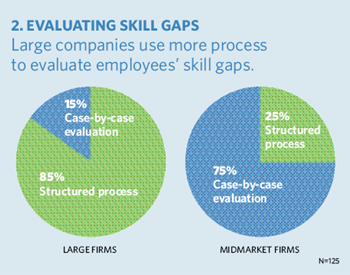 The Mandate to Measure Performance
High-performance IT organizations clearly articulate what they expect from and how they measure employees. Here are some examples:
"We have a talent review process that rates people against a set of 12 core characteristics," says a respondent at a health care distributor.
"We follow a disciplined process that includes the next level of potential based on company-defined job classifications," says an automotive after-market executive.
"We have a performance management process in place that starts at the CEO level and is trickled down to every employee," says a respondent at a global manufacturer.
"We have a tracking program that we refer to as our 'nine-box grid,' which we use to identify people ready for more responsibility," says a respondent in health care services.
"I took my direct reports and set up some common, agreed-upon definitions of what we mean by a 'high performer,'" says a respondent at a regional manufacturer.
Defining IT high performance should not be treated as a trivial exercise, but only 21% of midmarket companies do it at all, compared with 59% of large firms (see Figure 4). The dismissive attitude of one midmarket insurance CIO -- "It's like defining obscenity; you know [high performance] when you see it" -- is the rule, not the exception.
But at the risk of sounding like a Zen priest, I must ask, "Can you win a game where there is no scorekeeping?" The essential characteristic of an excellent IT organization is that it defines excellence and then applies these metrics to every employee.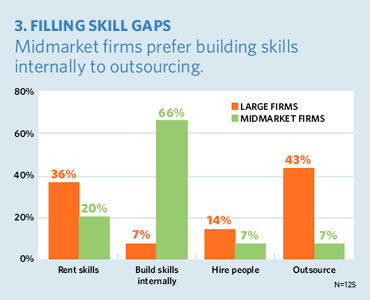 Can Average Players Become Exceptional Ones?
The starting point for a performance measurement system is to recognize that IT people are different from one another. As the top technology executive at a city in the Southeast explains, "I find that leader-type individuals have different goals and needs. Some want to manage and lead, some want prestige and external recognition, some want cash-type rewards."
"The thing that separates average from exceptional technology professionals is usually the soft skills, not the tech skills," adds the IT chief from a $150-million home health care company. "Project management, time management, people management -- all those are critical development areas for techies who want to exceed performance requirements and get promoted."
But many human resources departments are not flexible enough to tailor systems to truly meet the individual needs of high performers. We need to stop "batch processing" IT employees (i.e., doing an assessment of skills early on in their careers and then leaving them to their own devices) and start collecting more real-time information about what is actually happening in the workplace.
David Lewin, a professor of management at the UCLA Anderson School of Management, explains the danger of single-assessment performance measurement systems. Companies, he says, "tend to identify fast-trackers or high potentials early on." These fast-trackers are then offered targeted opportunities for development.
The downside, he adds, is that those not designated as fast-trackers are, by inference, on the slow track. "Once someone is labeled as 'nonfast track,' that label tends to stick." Lewin argues that development programs should enhance the capabilities of employees who can move into the exceptional category.
Yet some respondents argue that efforts to turn good employees into great ones are largely futile. "Contrary to popular belief, average performers never achieve the exceptional category," says one IT executive at a $500-million commercial transport business. "You can develop good employees through development programs, but not exceptional employees. Their habits and personality have been well formed."
But a CIO at a government agency looks at it differently. "Experience has demonstrated that most employees, when provided with clear, concise expectations, will rise to an acceptable level of performance," he notes.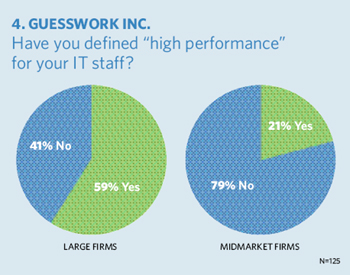 The Trouble With Performance Management
It is not enough to measure performance. You have to act on the information you collect. "It is critical to ensure that the top performers know that you are aware of their performance and [that they] are valued," says Tom Kasten, former vice president of IT at Levi Strauss & Co. and current mayor of Hillsborough, Calif.
"Top performers, like cream, tend to rise to the top of the visibility charts through the extra reach they exhibit, going beyond their job responsibilities and expanding their sphere of influence," Kasten says. "A smart leader will treat these comets differently. I made space and time for them, encouraging their efforts. I often loaded them with additional responsibilities, stretching them while ensuring they were gaining additional insights, skills and experiences."
Particularly in the public sector, where raises and promotions are few and far between, recognizing high performers is essential. The CIO at one midsized government agency says that her organization doesn't treat top performers differently "except in the area of recognition [for] their distinguished performance."
According to our survey respondents, here are some of the perks that come with being a top performer:
"Our high potentials are placed in a program of formal mentorship and special project opportunities," notes a respondent at a health care services firm.
Top performers are "put on a high-performer list and are tracked," says a respondent from an energy company.
"Top performers often end up with the tougher and hot assignments (while carrying more workload than the 'normals')," comments a respondent at an environmental services company.
"We treat them differently, but not in a legal- or HR-policy way. It tends to be in the subtle ways. True top performers have a bank of credibility, and that opens doors," says a respondent at a global logistics firm.
"[We use a] formal talent management program, exposing them to cross-business and out-of-the-box thinking," notes an executive at a retail financial services firm.
Of course, the flip side of managing the best performers is the issue of how to handle nonperformers. One executive candidly says, "To be really honest, I've probably only had one top performer in 10 years of managing programmers."
And the head of security at an environmental services firm places performance in a generational context. "Many younger workers don't seem to have the same work ethic and commitment as older workers," he says. The CIO at a medical services company admits that it's difficult to address this problem. "HR in my organization is very tentative on 'exiting' employees without full documentation of willful failure," he says.
Despite these concerns, solving the human resources management problem in IT is not insurmountable, and it doesn't have to be expensive. The ready availability of self-service technologies and Web portals makes assessment, measurement and information exchange affordable.
Improving the performance measurement and management systems is a project that midmarket CIOs should present to their direct reports and ask what they would change. Here's a six-step approach to getting started:
Define what high performance means in your company.
Measure all IT employees by commonly understood criteria.
Assign a ranking system and let employees know where they stand in relation to their peers.
Create a development plan to improve employees' ranking.
Remeasure.
Repeat.
---
SURVEY METHODOLOGY: We surveyed 125 thought leaders and practitioners on their companies' human resources practices as well as how their firms find, nurture and develop IT talent. The sample comprised large enterprises (37%) and midsized companies (63%). Researchers followed up with some respondents by e-mail.

Thornton May is a respected futurist, adviser and educator whose insights on IT strategy have appeared in Harvard Business Review, The Wall Street Journal, BusinessWeek and numerous computer industry publications. To comment on this story, email editor@ciodecisions.com.