Manage
Learn to apply best practices and optimize your operations.
IBM Sets Sights on Midmarket With Express Advantage
Big Blue is gunning for the midmarket with its Express Advantage program. But the world's largest IT company has a "huge" image problem.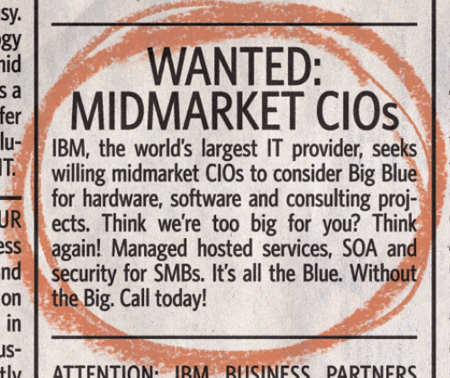 Brian Madison is a wanted man. As the director of information services at Metalwest LLC, Madison is at the center of a business that might not sound sexy: selling flat-rolled metal products such as stainless steel and aluminum. But its balance sheet is looking good, and the privately held company is predicting $370 million in sales this year. What IBM wants, and what Madison has, is a midmarket IT shop gearing up for strategic growth.
This year the Brighton, Colo., firm has an enterprise resource planning (ERP) upgrade and a data warehouse project on tap. IBM already has a foot in the Metalwest door with its pSeries and xSeries servers. But Madison isn't a true Big Blue fan, so he isn't rushing to do more business with the world's largest IT company right now.
For starters, Madison sees his pSeries servers sort of like family members: He lives with them, but it's not like he has a choice. "The only reason why we are using pSeries is because our ERP provider requires it. That whole line is priced out of our market," he says. "Every time we upgrade the pSeries server, we are looking at a $100,000 investment."
He also uses the IBM Tivoli backup solution, but only because he rents his storage area network (SAN) and backup from a company that uses Tivoli. "We wouldn't have bought Tivoli on our own," Madison says. "We would have bought [Symantec Corp.'s] Backup Exec because that's the midmarket product of choice."
Then again, Madison chose IBM's xSeries because it was competitively priced for smaller companies. He chose IBM's laptops because they are so darn durable. "They aren't the least expensive, but they provide a lot of value," he says.
All in all, this 38-year-old Colorado native -- who crushed rocks for a mining company before heading into IT -- represents IBM's challenge as it goes after midsized clients on every continent.
Getting these customers on board won't be easy. IBM is striving to build credibility in a market where everyone knows its name, but also where everyone associates those three famous letters with a century-old tradition of monolithic systems, heavy corporate hierarchies and high-priced consulting fees. Even ardent IBM fans say the company can be confusing, with dozens of product lines and strategies supported by a steady stream of press releases and a reputation for sending in the proverbial cast of thousands to do small jobs.
In order to get real traction in the speedily growing midmarket, the heavyweight will have to remake its image as a middleweight champ: powerful, fast, crisp and smart.
"IBM still has this image of being big," says Steve Solazzo, IBM's general manager of global midmarket business, which last year accounted for $16.4 billion in revenue. "Our overwhelming challenge is not that we don't understand what the midmarket needs; our overwhelming challenge is that we're not being considered," even by IT executives who, when surveyed, give high marks to IBM products.
"We recognize how hard it is to reposition a brand," Solazzo adds. "You just don't turn an aircraft carrier around in 100 yards."
Expressing a New Image
In the midmarket, the world's largest IT company is known for making machines you can't break and for building a durable foundation with its lovable AS/400 systems. But IBM would like small and midsized businesses (SMBs) to consider it more seriously as a full-service provider capable of turning around a hardware lease in 60 minutes or providing fixed-price consulting gigs that run their course in, say, six weeks.
To do so, it has packaged and priced its Express line of hardware, software, hosted services, consulting and financing options with the midmarket in mind.
In 2002, IBM launched the Express product line with DB2 Express software; the portfolio has grown methodically to include offerings from all IBM divisions. In March 2006, IBM announced the Express Advantage label as a way of bringing them all under one roof. At that time, the company also introduced its first consulting services aimed at the midmarket: short-term engagements that start at $50,000. The new program -- broken into three categories -- allows IBM's SMB partners to sell IBM front-end services for the first time. The three services address IT alignment, Web site effectiveness and security vulnerabilities.
"We're trying to send a signal with these offerings," IBM's Solazzo says. "We will be small. We will be agile. We will be local in terms of working with these partners. Nobody on earth thinks of IBM as doing a $50,000 engagement on Web site effectiveness or IT strategy. But we are doing just that."
Other midmarket offerings launched in March 2006 include Express Managed Services and the Express Advantage Concierge, a toll-free phone number intended to be a single point of contact for new customers who fear they could get the runaround from Big Blue.
"In many ways, these offerings are trying to modify the brand image that, frankly, keeps us out of many [midmarket] considerations," Solazzo admits.
The Express Advantage label and the marketing effort behind it targets midmarket CIOs like Madison -- a self-described "tough sell" who is suspicious of any company that can afford to send him glossy brochures.
"I started getting these flyers about two months ago," says Madison. Some of them looked like fast-food menus, he recalls, so he chucked them in the barrel without looking them over. "The phone calls started coming actively within the last four weeks. It was surprising to me, because it was a clear change in their market strategy," the IS director adds.
Madison knows IBM's reputation for being too bureaucratic to move quickly and so large that a midmarket company might feel pinned against the ropes by the vendor's enthusiastic embrace. For him, that's especially true when it comes to consulting services.
"When I hear 'IBM Global Services,' I think Fortune 500," Madison says. "It's still Big Blue."
Before busy IT execs get turned off by the slick new ad campaign ("IBM Express Advantage. It's that simple.") from New York agency Ogilvy & Mather or piles of new marketing material landing on their desks, let's look at the facts.
IBM's SMB division is already its fastest growing; the division grew at a rate of 6.5% in 2005. It counts 800,000 clients and contributed 20% of IBM's overall $91 billion in revenue last year. That translates to $16.4 billion.
Express Advantage components such as its concierge service make clear that the company "in an astute and somewhat out-of-character way has recognized that it's not always easy to do business with IBM," says an April 2006 report co-authored by Ray Boggs, vice president of SMB research at IDC who has tracked IBM for nearly two decades.
"The message is, 'We are beloved by the multitudes, but they think we are too expensive and complicated,'" says Boggs. "There's HP and Dell, sure. But it's the internal IBM stuff that keeps Solazzo and his team awake at night."
Concierges, catalogs and consulting services tailored for the midmarket can sound like a lot of malarkey, Boggs admits. "I was pretty skeptical at the start," he says. But it's not so easy for internal IBM projects to get the Express seal of approval, he says. "It's not a slam dunk. You can't say, 'I want the Express label on this.' They will send you back to the drawing board to make sure the implementation time is short enough; there are some set criteria."
Laurel Johnson, director of IT at Cole Harford, a $55-million supplier of disposable restaurant supplies in Overland Park, Kan., didn't realize she was about to become an IBM Express Managed Services showcase customer. All she'd done was ask her local business partner, ProActive Solutions, to scout out email management options.
Johnson had already heard good things about MessageLabs Ltd., and ProActive Solutions Inc. told her that IBM had recently joined forces with the email security company. "So IBM would be managing this hosted service," she says. "To us, that was wonderful. IBM gives us the best service and best machines." She's always had a special fondness for the AS/400. "The least babysitting you have to do is with an AS/400," the IT director says. "It's a great little box."

The sort of managed services that Johnson purchased are the type that Gordon Haff, a senior analyst at Illuminata Inc. in Nashua, N.H., believes are IBM's real future in the midmarket. "I think the most interesting long-term play for them is in managed hosting services," Haff says.
"In general -- especially midmarket -- companies do not get competitive advantage out of running most of their IT themselves," Haff says. "It makes a huge amount of sense for them to outsource the things that aren't core to their business. Because IBM is not coming to your shop, you don't have to worry about enlisting IBM Global Services for a custom engagement." That way, midmarket CIOs needn't be concerned about any surprise fees from IBM, he adds. "You're buying in most cases a fairly well-defined service [like MessageLabs], and you can compare the price to the alternatives."
IBM is also joining forces with some of the world's largest software companies, such as SAP AG, to appeal to midmarket customers. In August, IBM and SAP announced that Oneida Ltd. had chosen an IBM Express mySAP All-in-One package -- basically SAP software running on IBM hardware -- with IBM playing the part of implementation partner.
"We were looking for a solution that IBM had put together a model for," says Rob Hack, senior VP and CIO at the 125-year-old flatware company. "IBM really is leading us through the process. We were looking to do a global ERP project as quickly as possible, but as thoroughly as possible."
Was he worried about bringing two huge companies together to bear on a $350-million company? "There was the usual concern that goes along with choosing companies the size of SAP and IBM," Hack says.
Initially, the Oneida CIO was handed a boilerplate contract, which he summarily rejected. "It's almost insulting," says Hack. In hashing out the contract negotiations, the two vendors took about nine weeks, and Hack made sure Oneida got a fixed-price, fixed-scope implementation. "Our services agreement with IBM is very much based on a defined scope. We had a date we wanted to hit, and also our statement of work -- our contract of work -- with IBM is very detailed. It's right down to the business processes and functions. It ensures that we are all on the same page."
The Partner Push
Getting on the same page with its 90,000 global business partners is also key to IBM's midmarket push. About half of that $16.4 billion in SMB revenue is generated by partner sales from value-added resellers (VARs), independent software vendors, system integrators and channel partners. The other half is direct sales, and a new territory strategy places IBM sales teams in geographic regions, providing them with "community development" funds to build closer relationships with local partners and customers. These funds allow representatives to join local groups, such as volunteer YMCA boards, technology forums and educational partnerships, to make connections and represent IBM at the grass-roots level. That's especially important in the midmarket, where IT executives rely heavily on peer networking, word of mouth and local business partners.
Laura Ellis is one of 217 IBM territory managers who have received community development funds. Having worked for IBM over the past 23 years and the SMB division for the past five, the Tampa Bay resident used IBM seed money to join the Greater Tampa Chamber of Commerce, a local CEO council and the Tampa Bay Technology Forum. At one of these gatherings, she met the CIO of Advantec. "They had never done any business with IBM, and the CIO is an active member of the Tampa Bay Tech Forum," says Ellis. "We were able to develop a relationship, and we have just recently completed a disaster recovery solution for them."
Advantec CIO Linda Reid remembers meeting Ellis on the Tampa tech circuit, but her IBM customer story is about a lot more than professional networking. "To be honest, we didn't pick IBM initially," explains Reid, who sent a request for proposal to a local VAR as Advantec was starting a massive infrastructure upgrade project.
At the outset, she decided against IBM because of price but says Big Blue asked for another chance. "They said, 'We weren't understanding your budgetary requirements.' I think they had oversized the SAN requirements too."
But in the end, Reid wound up choosing IBM. "It was impressive to me that they showed us real facts on the differences when it comes to speed and reliability compared to HP. These were not just IBM-produced facts," says Reid, referring to independent analyst reports IBM presented to her.
"I think IBM has changed a lot," Reid adds. "They used to come in, and it seemed like, 'How dare you not think of going with us?' It's not like that anymore."
IBM recently announced that it had acquired its 500th Built on IBM Express Advantage customer. These are midsized companies whose business partners have helped them deploy technology built on Express hardware and software.
Pike Lumber, a $35-million Akron, Ind., company is one of them. It deployed a lumber management system built by Pacific Software Associates (PSA) on an i5 520 Express Edition and the TotalStorage Express model. One of the company's applications, called WoodManager, keeps a customer's inventory up to date with production and purchases. Users can define multiple units of measure to manage lumber, panel, millwork, posts and pilings. Inventory is maintained as ticketed or volume-only.
In the end, though, it was IBM's reputation for reliability that sold Samantha Howard, vice president of administration at Pike Lumber, on the package. She led the technology team that chose the PSA system -- and IBM platform -- over Microsoft. "A lot of the people involved in the decision had the opinion that IBM platforms were bulletproof," says Howard.
Muscle for the Midmarket
Like Howard, Steve Bolduc bought IBM for its muscle. But the senior manager of point-of-sale and technical support at Caribou Coffee Co., the second largest gourmet coffeehouse operator in the U.S., sees another fringe benefit: IBM's global experience. When he wanted to sell coffee in the Middle East, an IBM food service specialist led Bolduc to reliable technology providers in the region.
Caribou Coffee cuts IBM a check for about $2.5 million each year, and it's something of a textbook midsized IBM customer. Bolduc almost always lets his local business partner, Retail Data Systems (RDS), deal with Big Blue.
"I really utilize my third party," he explains. "They are my eyes and ears to new technology." His business partner at RDS also picks up the phone for him, he says. "It can be a big place to navigate," Bolduc says of IBM. "But our third party does not have a problem getting someone on the inside."
The bottom line, Bolduc says, is that he chose IBM not so much for its reputation as for the stuff he can see: that is, 900 SurePOS point-of-sale systems and more than 100 IBM Anyplace Kiosk units. These high-end, touch-screen machines are used in the heavy-volume stores throughout Caribou's 416 coffeehouses in 15 states. From Denver to Dubai, that's a lot of drip brew -- as well as foam, steam and syrup spilling and splashing around at scalding temperatures.
Bolduc means it when he says that his IBM Anyplace kiosks work in the "harshest environment" -- which translates to a rookie cashier being able to drop a cup of bourbon blend on the hardware.
"In my business," Bolduc says, "you see a lot of spillage. The durability of the terminal is really what I based my decision on. They demo the kiosks with water running on it." He plans to install 300 additional units by 2008 -- no matter that headquarters runs on another company's servers.
"My CIO is actually a Dell guy," Bolduc says.
And that's OK with IBM and Steve Solazzo. "We've got enough challenges breaking into this marketplace," he says. "Being vendor-proprietary isn't one of them."
As for Madison, he's been on the phone with IBM and Hitachi Ltd. lately, comparing SAN pricing and requirements. "Whether they sell through channels or resellers--or whatever marketing plan they choose -- I don't really care," says Madison. "I don't have any incentive to try the new stuff out if what I've got now is working."
Madison says he sees Microsoft as having a natural edge in the midmarket because of its ubiquitous desktop applications in offices, homes and college dorms -- places where many small businesses get their start.
"My sense is that for [IBM] to get into this marketplace, they are going to have to do something really profound and innovative," he notes, "because they are going to have to get into the hearts and minds of the average Joe. That's who's working at midmarket companies."
Ellen O'Brien, a former senior editor at CIO Decisions, is now a senior editor at Storage magazine. Write to her at eobrien@techtarget.com.
Dig Deeper on Small-business infrastructure and operations