Manage
Learn to apply best practices and optimize your operations.
How to build a project management office that helps IT
A strong project management office can take an IT shop to the top. But a weak PMO can sink it -- quick.
A project management office can boost the credibility of IT throughout the company -- or add another layer of bureaucracy. How you build it is key.

Download this free guide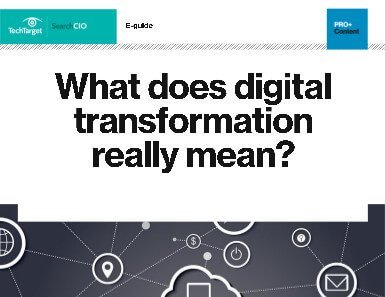 PDF: What does "digital transformation" really mean?
What exactly is digital transformation? You may hear the term often, but everyone seems to have a different definition. See how our experts define digitization, and how you can get started in this free guide.
Eight months into an 18-month, $2-million technology project, Robert Golden had a disturbing revelation: There was no way the project would meet its timetables. It was tracking toward failure.
And so Golden, director of project management and head of the project management office (PMO) at $110-million Insurance House of Marietta, Georgia, gathered his research materials and contingency proposals and trudged off to bear the bad news to top management, including his boss, COO Jacqueline Schaendorf.
It was something his predecessors would never have done, he said. They would have just tried harder to stay on schedule, only to disappoint everyone in the end by consuming resources and wasting time on an ill-fated project. Still, Golden wondered how his news would be received. He'd been on the job for less than a year, and in the company's history, no one had ever killed an IT project.
In the meeting, Schaendorf listened to Golden's dire project review and evaluated his proposal to extend the timeline. But, she said, market needs will have changed by the time Insurance House completes the project. Well then, said Golden, let's stop the hemorrhaging and kill the project. To his surprise, Schaendorf nodded her approval: Golden had just saved the company more than a million dollars. "It was the 'Bingo!' moment for the PMO," Golden said.
Though Insurance House had had a PMO for years, the experience of saying goodbye to sunk costs showed for the first time how valuable it could be. Run correctly, the PMO could be an early-warning system of failure.
And herein lies the great disconnect: Not all PMOs are created equal. Good ones -- given sufficient authority, supported by management and staffed by the right people -- can be a CIO's best friend in helping to deliver a track record of successful projects. They offer an encompassing, critical view of how projects relate to technology resources and business goals. But poorly executed PMOs that wield little power serve mostly as an added layer of bureaucracy and only reinforce the age-old stereotype that IT has tunnel vision.
At Insurance House, several factors were behind the sea change. "Previous PMO attempts did not achieve the same level of support from the business community," said Schaendorf. "This is the key differentiator in the approach we have taken under Robert's leadership. Additionally, our previous attempts did not incorporate holistic resource management views to get the complete view of capacity versus the view of project-only capacity of key resources."
Indeed, research shows that without the cross-business coordination and oversight of a PMO, projects often fail. Through 2008, 75% of $500,000-plus projects that fail will be planned without a PMO, while 75% that succeed will be guided under the watchful eye of a project office, according to a Gartner report. "In all the project recoveries we've done, none had a PMO," said Tim McCracken, vice chairman of Tatum LLC, a technology consultancy in Atlanta. "In fact, a project recovery often includes the installation of a PMO."
Most organizations with $1 billion in annual revenue have a PMO inside their IT departments to look at the resources, integration, strategic value and timetables of projects holistically. But smaller organizations are often on the fence, said McCracken.
Part of the problem is that the concept of a PMO, as well as the many forms a project office can take, vary greatly and thus add to the confusion about whether to establish one. "'So what's a PMO?' I hear that all the time," McCracken said. Such confusion often leads to inaction.
Zen and the art of the PMO
A PMO, which research firm Gartner Inc. dubs "the IT control tower," is usually a group of a few individuals. They should have top-notch project management skills, a deep understanding of the culture of the business side and enough political savvy to usher difficult decisions through the corporate hierarchy, such as killing projects, stopping scope creep and limiting resources. This PMO often reports to the CIO and provides project updates and proposals to an IT governance board or executive committee.
PMOs can also exist outside the IT department. Typically, they handle non-IT-related projects such as a marketing campaign for a certain product or a what-if scenario regarding a potential acquisition. This article focuses on IT-related PMOs within the IT department that manages IT projects.
An IT PMO's mission should have three objectives: to oversee multiple projects and project teams that may not talk to one another; to track projects; and to anticipate the impact and risk associated with those projects. So a PMO provides a picture of all the IT projects under way across the company via reporting that is standardized among business units. When problems and opportunities arise, a PMO analyzes the situation and makes recommendations. Most PMOs also engage in project portfolio management, which includes prioritization and perhaps budgeting. Thus, the purview of the PMO can begin at the earliest stage of a project's lifecycle.
"PMO can become a buzzword, so don't even call it a PMO," said CIO Mike Jackson of Rockwell Automation, a $5-billion global manufacturing automation supplier based in Milwaukee. "Instead, concentrate on results. We want four things from our PMO: project controls, competency for project managers, and metrics and processes for things like budget and schedule accuracy. If you start with resources to make this happen, you kind of back into what type of PMO is right for you."
The end game is a good starting point, followed by the resources to deliver the right results. "The CIO needs to agree with the PMO lead on how to measure progress toward these goals," said Matt Hotle, vice president and analyst at Gartner. "If progress can't be measured, the PMO is almost bound to fail. And these measures are how a CIO gets funding, because improving these measures should result in an improved organization."
Next, a CIO needs to choose a PMO structure. Midmarket companies use a range of models. The most basic and common structure offers administrative tracking and serves as a repository for standard project methodologies, tools and knowledge. This model creates a project office that functions as a kind of traffic cop, an administrator that monitors project schedules and other part-time supportive tasks but lacks real project oversight.
A PMO toolkit
With much to manage and so many people involved in projects, a project management office typically uses software tools for project scheduling and tracking, resource profiling and allocation, and time reporting.

Vendors cited in Gartner's "Magic Quadrant for IT Project and Portfolio Management" last year include the following:
---
Large vendors/products
Compuware
IBM Rational Portfolio Manager
Lawson Software
Mercury IT Governance Center
Microsoft Project EPM
Niku (acquired by CA last year)
Oracle Projects
Planview
Primavera
SAP xRPM
Smaller vendors
Artemis International
Atlantic Global
Augeo Software
Automation Centre
Business Engine
eProject
Genius Inside
Instantis
ITM Software
Pacific Edge Software
Planisware
PowerSteering Software
ProSight
Sciforma
Tenrox
UMT
From there, PMOs can have increasing levels of oversight, authority and resources. A more authoritative type of PMO features permanent staff members who document best practices and actively monitor project performance. This kind of PMO conducts a postmortem on projects, using results to improve methods and train project managers.
The most aggressive model is a PMO that directly manages major projects. It might have a cadre of project managers that it sends out as hired guns on projects throughout the company. According to Gartner, this model empowers the PMO to assess and alter a project's scope, funding, timetable and other factors. Large companies often use this model, whereas midmarket CIOs are more likely to have a basic or lightly staffed PMO.
So how much emphasis should you put on a PMO or on the decision about whether you need one? It depends on the number of IT projects under way and the impact they have on the company, not to mention the risk they impose. In theory, the higher the number and greater the impact, the more important a PMO becomes, since it should help to ensure a higher project success rate.
"For an organization of, say, 100 IT employees -- which would translate to about 10 project managers -- it's hard to see how an individual would have enough work to keep him or her busy as a PMO," said Gartner's Hotle. "Typically, when an IT organization approaches 200 people, there's enough work to keep at least one full-time PMO person busy. Some smaller organizations create what they call a PMO, though it's really a project management competency center where all project managers report."
Unfortunately, the decision to create a PMO (or improve an existing one) often comes on the heels of an IT project that didn't run smoothly.
A COO's take on PMOs
Nicole Chestang is COO of the Graduate Management Admission Council, which created its first project management office in 2004. The impetus: the decision to transition the development, administration and delivery of the GMAT to new vendors, which would affect all organizational operations.

What drove you to create a PMO?
Nicole Chestang: A number of parallel projects and initiatives had begun related to transitioning the development and administration of the GMAT to the new vendors, but with limited cross-departmental communication or coordination. A high level of interdependency was just beginning to be recognized by the organization; and managers were concerned that without a plan, GMAC risked not meeting its transition objectives.

What was the first step in building the PMO?
Chestang: Understanding that there were several PMO models that could be adopted. Our executive team decided to pilot a customized PMO structure in 2005. The pilot would be used as an opportunity to learn about the pros and cons of having a PMO: what support and resources would be needed, what capacity the organization [had] to work with in this framework. Two staff members from the IT department were moved to form the new function, reporting to me.

What concerns did you have?
Chestang: My greatest concern was ensuring that the organization supported the idea. We spent a great deal of time with our management team, listening and responding to their feedback. They were concerned that the PMO would be a roadblock, increase bureaucracy, go against the culture of GMAC, encroach on departmental authority, be an additional burden on the project manager, and be too much for GMAC with the GMAT transition.

Did the PMO meet your expectations?
Chestang: The PMO staff exceeded expectations. A process was established to monitor project progress through our PMO steering committee -- a group of department heads charged with reviewing project proposals and assisting the PMO in selecting, prioritizing and monitoring the council's entire portfolio of projects. Project managers were asked to report weekly on status and to identify and escalate issues.

In addition, both the PMO department head and analyst took on the role of project manager on two long-term, enterprise-wide projects that were in trouble and needed support. Both projects were successfully turned around to the satisfaction of the executive sponsors and key stakeholders. It is important to note that all critical launch dates for projects related to the GMAT transition were met.

--T.K.
All hands on deck
Andrea Fetsick, PMO director at the Graduate Management Admission Council, a $50-million nonprofit education association in McLean, Virginia, recalls a massive project three years ago to develop a system that supported GMAC's online products and services. Although GMAC completed the large project, "it didn't go as well as hoped," Fetsick said. Scope creep and untrained project managers were the main culprits. "It was the tipping point for us to think about project management in a more serious and formal way," Fetsick said.
So, GMAC hired a consultant to assess the project management skills of some 40 GMAC employees and propose a better organizational structure. Project Solutions Group Inc. (PSG) of Marlborough, Massachusetts, found that GMAC's troubles stemmed from not having a PMO.
Two years later, GMAC launched a PMO pilot; it eventually became a full-fledged department within IT. Led by Fetsick, a 10-year company veteran, this two-person unit centralized project management reporting and training. Now project managers on all active projects must submit a progress report to the PMO on a weekly basis.
Fetsick's PMO was put to the test last year, after GMAC struck a partnership with vendors to expand the global reach of its Graduate Management Admission Test (GMAT) exam and to strengthen test security. Pearson VUE now administers the exam through its worldwide network of test centers, and ACT Inc. develops the test. This new arrangement frees GMAC to take on more responsibility for building relationships with schools and test takers. And internally it sparked change in products and services and everything that is affected, Fetsick said. "For example, with the help of the PMO, the organization went through an extensive process to create a new set of data privacy policies that are required by each country that we test in."
GMAC's PMO delivered strong, early results. "We could show the tie-ins with other aspects of the business. We could take a broader view," Fetsick said. Out of the 20 or so active projects last year, 16 have been completed within their target dates and the others are tracking well. GMAC's PMO continues to develop its cost- and schedule-tracking metrics in order to better define a project's success. "Completion is not necessarily a good metric for a PMO," Fetsick said.
Fetsick's experience also shows that PMOs that arise out of crisis gain one key success factor out of the gate: senior management buy-in. When GMAC's challenged IT project concluded, four meetings with top executives and directors followed. "Everyone agreed something needed to be done," Fetsick said.
But maintaining that buy-in can be a challenge, no matter how strong your initial business case. Beverly Prohaska, IT director at WAI Global Associates, a $220-million manufacturer and distributor of after-market auto parts in Royersford, Pennsylvania, came to the company just over a year ago specifically to improve its project management practices.
Prohaska didn't have to sell the PMO concept to executives initially -- "they were starved for some type of framework" -- but she's had to sell it ever since. Keeping them engaged is part of her job.
The best way to keep stakeholders involved is to be smart about their time. Prohaska serves as the lone PMO employee and taps company executives to serve as her board. For these meetings, she invites the CFO, COO, vice president and general manager of domestic sales, vice president of international sales, vice president of global manufacturing, and representatives from a couple of primary business partners. Prior to every meeting, she sends out a detailed agenda that contains the information the board cares about, not technical jargon. For instance, one of WAI Global's projects is to replace a feature-deficient older release of Lotus Notes with a global email system standardized on Outlook and Exchange. "They want to know when we're going to get there," Prohaska said.
Before a meeting, committee members are expected to review proposed project charters so they can discuss them and make decisions. They are also responsible for knowing about and approving various project requests within their departments, as well as justifying and prioritizing those requests. Project milestones require formal presentations at the meetings.
"They have to be prepared with answers for anything their name is on," Prohaska said. Prohaska even follows up with people who miss a meeting with a phone call. "The biggest challenge is getting people to make the time," Prohaska said. "It's got to be worth it for people to show up every month. So be prepared with an agenda, and make sure the subject matter is important."
Leaders born and made
Executives aren't the only ones who need to buy into the PMO concept. Liza Luna, program manager of IT at $558-million Keystone Automotive Industries Inc., heads the PMO at the parts distributor in Pomona, California, She uses Mercury Interactive software to update projects and give the vice president of IT a bird's-eye view of the project portfolio. And while executives are on board, there are dissenters, and they're hardly the group Luna expected: IT developers.
"Getting the IT side of the house to champion this has been, surprisingly, a bit of a struggle," Luna said. Software developers are already up to their necks in documentation duties, she explains, and thus react negatively to a PMO they perceive as ordering them to duplicate efforts. So she has tried to show how the PMO makes IT employees' jobs easier. If a PMO seeks to warm IT folks to the concept, the worst thing it can do is become a watchdog for business execs. "Don't get a reputation among project managers that you're the auditor," Rockwell Automation's Jackson warned. "You'll end up in big trouble."
All of which points to the importance of having a multitalented person lead the PMO. The PMO leader must have strong IT project management and communication skills in order to converse with project managers and IT people. And the leader needs business skills as well as some chutzpah to work with business execs. Too often midmarket CIOs promote their top project manager to be the PMO leader, said Jose Marroig, an executive and consultant at PSG. And while that person may be good at delivering projects on time and on budget, "are they really politically savvy within an organization to make things happen?"
At Insurance House, Golden's unsuccessful predecessors may have lacked some of those qualities. "I'm not sure the individuals were comfortable enough or had the relationship with the business side to push back," Golden said. Success requires having enough "bully authority" to mandate practices, tool choices and procedures, he notes. WAI's Prohaska saw firsthand such toughness at a former employer, a $4-billion financial institution where the PMO leader kicked out a project manager from the PMO.
"The project manager was removed essentially because he wasn't able to manage [a multi-site] project and ensure that deliverables were being met on track with the plan," recalled Prohaska. "The resources assigned to the largest site were not competent to do the work. He did not address the problem until close to the deliverable date for that phase, which put the project behind schedule and had budget impacts."
Observation and intuition are also important. "The people reporting [to] the PMO only tell you the good stuff," she said. "But it has to feel right. If everyone is giving the green light and you're not seeing certain things happen, something should tell you that you're not getting full disclosure."
Training also has a place. Though GMAC's Fetsick had been with GMAC for more than a decade when she was promoted to PMO leader, she underwent some serious training in preparation for her new role. She earned a Project Management Professional (PMP) certificate from the well-known Project Management Institute and an MBA.
"Put someone in charge that you trust," said Nicole Chestang, GMAC's COO and Fetsick's boss. "The head of our PMO has been with the organization for 10 years, five of which were in IT. She has a broad understanding of our business."
Lastly, a PMO leader should know how to build on the momentum of a successful PMO -- perhaps even expanding its scope outside IT.
The next steps
Once the PMO establishes itself as a true IT control tower, managing flight plans throughout their many stages, it offers the opportunity to put a positive spotlight on IT. Luna and an associate have teamed up on a program they call Partnership Project: The PMO collects best practices for project management and disseminates them to other business units for projects outside of IT. "We're using the Partnership Project to show the PMO's effectiveness and payoff," Luna said.
For GMAC's PMO, Fetsick has a three-year growth plan. She recently hired a PMO coordinator and plans to hire a project manager soon. The plan may also call for hiring more project managers with PMP certificates. Eventually, GMAC's PMO will become a center of project management excellence, farming out project managers on various projects throughout the company.
But Rockwell Automation's Jackson advises against taking this approach. He contends that if an organization has project managers already dispersed throughout the company, their relationships should keep projects and business goals aligned and thus shouldn't be pooled into a central group. Of course, this assumes that a midmarket company has multiple business units with a widely dispersed army of project managers. Jackson's IT group handles 400 projects a year, such as process redesign using Hewlett-Packard's OpenView, so it doesn't make sense to centralize all these project managers.
Nevertheless, Jackson offers sound advice: PMO success should not always lead to more of a good thing. Once a PMO shows signs of success, a CIO may be tempted to expand its scope, but that may not be the right call. For instance, the leader of a PMO that tracks projects might decide he wants to be responsible for conducting the performance reviews of project managers, "but that might not fit," Jackson said. Other managers may be more appropriate for such tasks.
All of this underscores the fact that there isn't a one-size-fits-all approach for a PMO. Practicality and results should govern a PMO's development. "There is no one right way to approach a PMO," said GMAC's Chestang. (See "A COO's take on PMOs") "You have to consider your business drivers. What's your purpose behind formalizing project management in your organization? Is it to cut costs, build efficiencies, improve customer satisfaction?"
Such was the case for Robert Golden at Insurance House. Once he jettisoned the failing project, he won acclaim from the CEO and COO for saving more than $1 million and earned credibility for his PMO. Today, IT needs 40% fewer staff to complete the same number of projects, thanks to efficiencies gained from the PMO's ability to streamline processes; manage projects (using Clarity software); and reuse template project plans, charter documents and best practices. The PMO also revisited the killed project and decided to relaunch it. This time, Insurance House will outsource some of the application development work, accelerating deployment.
Most recently, Golden's PMO expanded its purview outside of IT, earning him the new title of director of strategic business services. It's currently overseeing two projects that should boost revenues. And in a nod to the importance of its role, the company is assuming that projects will be on time, on budget and within scope. "We're counting on those dollars in our 2006 projection and budget," said Golden. That's a long way from failure.
Tom Kaneshige and Ellen O'Brien were senior editors at SearchCIO. To comment on this story, email editor@searchcio.com.
Dig Deeper on Small-business IT strategy