Manage
Learn to apply best practices and optimize your operations.
Growth: The Secret Ingredient in CIO Success
Success means knowing how to run IT in a growing business, and even using IT to drive that growth. It requires both strategic and tactical capabilities.
At a recent gathering for CIOs, John Hofmeister, the president of Shell Oil Co., surprised the group when he noted that just 10 years ago the oil giant had no enterprise CIO. Some business units had CIOs, but the company as a whole did not. Then, in 2001, Shell concluded that it could go no further without the enterprise-wide leadership of a CIO. For Shell, sustainable, enterprise-wide growth was contingent on having an IT executive to lead IT for the entire company.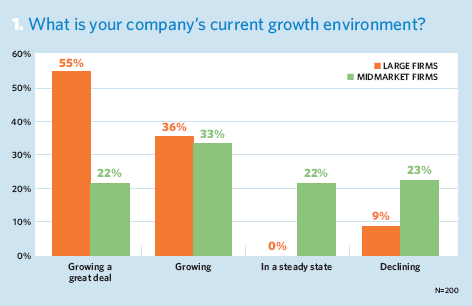 This month's CIO Habitat focuses on the under-the-radar but nonetheless integral relationship between CIO leadership and business growth. Our researchers contacted 200 companies in 17 vertical markets (100 large companies; 100 midmarket organizations). We sought IT executives' thoughts on growth and how IT not only enables but also drives it. We also learned about the careful balancing act between tactical and strategic considerations as these companies grow.
A Rising Tide Lifts Most Boats
The good news is that the majority of our respondents' companies are growing. On the surface, the growth scenario varies depending on enterprise size. Fully 91% of large-company respondents say they are either in high-growth or growth environments. Compare that with the 55% of midmarket enterprises that classify their companies as high-growth or growth environments (see Figure 1).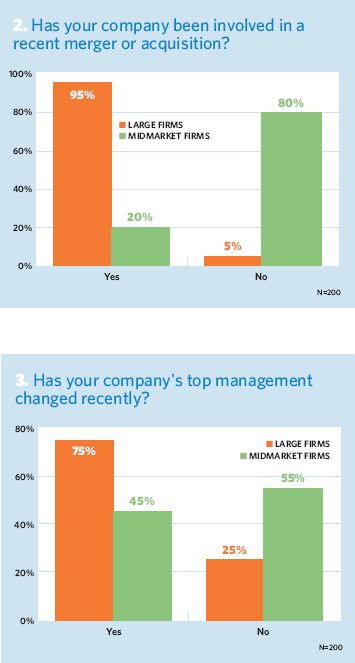 But large enterprises that aren't growing cannot tolerate such stagnation for long. They either get turned around by executive change agents or are bought by even larger entities seeking to take advantage of sagging stock prices (see Figure 2 and Figure 3).
In rare cases, IT helps to reverse a decline in the business. The CIO at a global financial services firm recalls how IT helped halt his company's decline by revamping its systems based on reviews of competitors and customer feedback. "The result was increased business as well as a reputation in the industry for having top-flight systems," he says.
Many CIOs are unfamiliar with growth environments after having achieved managerial maturity in slow-growth or no-growth environments where cutting costs was paramount. As a result, they often lack conceptual frameworks for dealing with growth.
There are several different kinds of growth. At the most basic level, there is organic growth that stems from geographical expansion or existing product sales growth. As the CIO at a global technology supplier explains, "We work closely with the facilities planning folks on their LRP, or long-range planning, that comprehends growth in terms of current locations and green-field sites."
This supplier recently announced a new site in China, for example, and IT was involved in the planning activities. "We design our WAN architecture around the LRP: Where the hubs are, where the data centers are or will be, etc." Other forms of growth include company acquisitions to expand sales of current products and services, acquisitions to move into new product service arenas, and the creation of entirely new products for customers.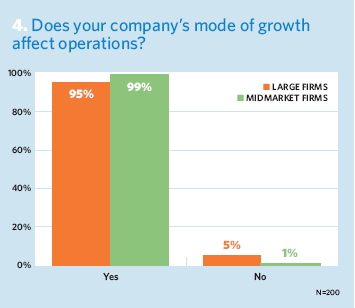 Hitting the Accelerator
In just about every vertical market, our research reveals examples of IT helping to grow the business. Indeed, growth is a factor for most responding companies (see Figure 4).
In the health care industry, for example, IT has enabled lots of business goals. The award-winning CIO of a diagnostics company cites three instances of such efforts at his company. The first was deploying electronic ordering and lab-testing capabilities in client offices. "Ease of ordering and inquiry by clients was a huge satisfier and a great selling point," he notes.
Next, the company leveraged cumulative patient data to give physicians patient histories for comparison purposes. In the third instance, this diagnostics firm used IT to deliver client-specific data to sales representatives on handhelds, which provided "up-to-the-minute data on the client during sales calls," the CIO adds. For this company, technology has provided a growth platform by satisfying physicians' and clients' needs.
The CIO at a regional nonprofit hospital chain also says that IT has helped expand the customer base by "creating a new Web portal enabling easier access to data, which in turn brought in more customers." By extending the hospitals' reach into patients' day-to-day world, health awareness increased, and the customer base expanded as patients passed the word along to friends. By becoming the first stop in patients' medical research, the hospital has created relationships of trust.
At a midmarket travel and hospitality company, a CIO pushed for more process standardization, and that effort has sometimes made "the difference between success and failure," he says. By improving business processes, IT assists the growth process.
The CIO at a midmarket manufacturer speaks proudly of IT's role in "building new plants and installing all-new systems for green-field operations, integrating Web systems with back-end manufacturing, and using information [through data warehousing] to drive revenue growth via knowledge."
In many cases, growth comes alongside global expansion. And CIOs are leading the charge; indeed, they operate further along the global learning curve than most other C-level executives in projecting a company's presence internationally. The CIO at a global advertising agency explains that as the company's client base expanded internationally, IT played a major role in "creating collaboration systems for global clients and contributing to managing large-scale digital content movement and workflow."
At a global wealth management company, the CIO says that IT has contributed to enterprise growth in a basic way: Through technology re-engineering, the IT department has freed "hundreds of millions of dollars for reinvestment."
He goes on to note one of the most important intersections of IT and growth: those places where IT gets in the way of company growth. This CIO says he has moved out of the "business limiting" mode and into the "revenue maximizing" role. He aggressively prunes legacy systems to eliminate those that limit growth. Moreover, having the data to prove the wisdom of this approach frees up all kinds of resources. It's a powerful, fast-moving consensus builder.
The Internet is perhaps the biggest change driving IT's transition from a cost to be avoided to a growth accelerator. The CIO at a global hospitality company notes that his firm captures about 17% of its reservations through the Internet. "It is [more than] a $4-billion channel for us," he says. The managing director at a consultancy specializing in midmarket retailers recalls how a "brick-and-mortar business I was working with launched a product suite for the online customer. Over the next 18 months, [more than] 30% of their revenues came from online sales."
Even in the public sector, IT is expected to help create organizational growth; in some cases, it has responsibility for such growth. The head of application development at a regional authority says, "Believe it or not, every unit is charged to find revenue opportunities. IT has a revenue branch."
At a construction services firm in London, the CIO says that effective IT systems play a role in the number of engineering contracts the firm is awarded. And the CIO at a high-tech manufacturer notes that his team has "influenced customers in a direction to do something they did not plan to do," creating capabilities that empowered the business to grow and scale. It "would not be able to do so" without IT, he says. At this firm, IT used an innovative product approach for a mission-critical application. With improved reliability and scalability, customers decided to accelerate their migration from a more mainstream platform. The customer became a reference account, and sales increased.
A Balancing Act
Increasingly IT is helping create new products and services. In some cases, technology departments inspire entirely new product lines. In the future, IT will have to move beyond enabling growth to accelerating and leading it.
Kirk G. Drummond, senior vice president of finance for food distribution giant Sysco Corp., was the company's CIO for five years before returning to finance. He believes the secret ingredient of the company's commercial success -- at $33 billion, Sysco is as large as its four largest competitors combined -- lies in its commitment to focus resources on assisting 400,000-plus customers grow their businesses.
As Guy Kawasaki notes in his book The Art of Innovation, companies need to move beyond tactical concerns to strategic "curve jumping" as their companies grow and an industry matures. Kawasaki uses the three phases of the ice-harvesting industry as an example, where each phase required companies to "jump the curve" or become displaced.
First, there was the ice-harvesting curve, where companies cut ice directly from ponds and delivered it to customers. Then came the ice factory curve, where successful companies took the lead and set up year-round ice factories. Finally, during the refrigerator curve, companies stopped harvesting ice and developed an entirely new technology to deliver the product.
These phases incapsulate the struggle to jump the curve and achieve strategic growth. Tactical growth in the ice-harvesting industry involved better saws, bigger horses and additional wagons. But strategic growth required re-thinking the entire process and manufacturing ice at the point of consumption rather than cutting it out of frozen streams and ponds. Many organizations are rapidly approaching the end of their ice-harvesting curve; IT can help them jump ahead to the next one.
But enabling growth also poses a host of challenges for IT, including how to balance these strategic and tactical concerns. The CIO at a media company says that uncertainty augments the difficulties of being strategic. "Since growth is unpredictable to some degree, every aspect of growth has a commodity component and a strategic component," he says. "We keep the costs down and continue to maintain agility; these are the easy decisions. The strategic decisions that will drive scale, language and cultural uptake are the more difficult ones."
The CIO of a financial services firm believes that growth creates a constant struggle between maintaining and growing. "The greatest challenge is balancing the need to add capacity to meet industry growth while adding new competitive features and products."
Average CIOs enable businesses to grow, above-average CIOs enable organizations to change, and exceptional CIOs balance simultaneous change and growth. A financial services CIO says that his greatest challenge is "facilitating innovation while supporting a large existing customer base in the context of a tightly integrated company."
Other respondents echo this challenge. The CIO at a health care service says that his main concern is maintaining double-digit growth while also delivering to customers. "We do a lot of voice-of-the-customer [research] and allocate our resources to develop the information that our clients -- physicians -- need to diagnose their patients. We have continually grown our business by being high quality [and by] delivering timely and accurate results every time. The challenge is determining what our clients really need that differentiates us from our competition."
The retired CIO of a retail credit service says that the biggest challenge for growing companies is how to manage expansion while minimizing the kinds of performance problems that are evident to customers. Companies must ensure that there is adequate staffing and careful planning and that "steps are taken to define available industrial-strength implementation plans."
Growth also requires adjustment to company changes that result from growth. The CIO at a midmarket manufacturer, which recently migrated its plant from a high-cost coastal area to a lower-cost rural area, is concerned with "replacing intellectual capital from insourcing and staff lost to corporate relocation."
Growth introduces other unique challenges for IT, including the difficulties of expanding into geographies where infrastructure lags and building out network capacity, which has proved especially difficult. The COO at a utility company adds that the greatest challenge "is that every growth initiative is dependent on a significant IT-enabling capability. Another major challenge is the integration of the various initiatives at the business process, data, technology and project management levels."
Growth Skill Sets
Now it's time for some truth telling. Yes, there are scads of examples of IT playing a key role in changing the business. Unfortunately, the formula for changing and growing a business simultaneously with IT has not been codified or documented. Growth may have captured the IT spotlight, but for the most part the industry hasn't systematized the practices that enable enterprise growth.
The early-stage understanding of IT-driven growth is perhaps most apparent in the human resources practices of IT organizations. When interviewing a candidate for a senior position in IT, do CIOs have a test for revenue-generating skills? Even the most socially challenged IT candidates would represent themselves as able to grow the business. Each CIO we talked to stressed the importance of having the right people: outside-the-box thinkers, team players and those strong on imagination, energy and enthusiasm. Nothing new or earthshaking there.
The difference we saw in the ability of various IT shops to grow their businesses correlates with the level of care and attention given to "curating" IT staff, which is often a weak point for midmarket enterprises [see "Can the Broken IT-HR Relationship Be Fixed?" and "Delivering Value on the Human Side of Technology," May and June 2006 issues].
If you want IT people to grow your business, you are going to have to grow your IT people. John Hofmeister of Shell knows this, and so should your CEO. If you don't cultivate your company's talent, the only alternative is to steal talent grown by someone else.
The CIO growth skill set does not just entail provisioning the basic technology components to support the business and cultivating staff who can grow the business. It also requires scouting for future growth inhibitors. Many respondents cite such future growth killers as compliance issues, privacy laws and cultural differences throughout the global arena.
Not So Organic Anymore
In Mavericks at Work: Why the Most Original Minds in Business Win, Bill Taylor and Polly LaBarre write: "In an economy defined by overcapacity, oversupply, and utter sensory overload -- an economy in which everyone already has more than enough of whatever it is you're selling -- the only way to stand out from the crowd is to stand for a truly distinctive set of ideas about where your company should be going."
A truly distinctive idea is for your entire IT shop to stand up and declare "We grow businesses here" An IT shop that fails to focus on its capacity to assist in growing the business is an IT shop with no hope of creating growth. Growth has to be manufactured.
Finally, there is a catch-22 to all this talk about growth. The key sources of growth -- via global expansion, emerging technologies, corporate restructuring and deregulation -- are also major sources of uncertainty. Any company that wants to benefit from growth must also be willing to accept a degree of uncertainty. Reveling in the unknown and celebrating chaos remain growth areas for many CIOs.
---
SURVEY METHODOLOGY: Researchers contacted 200 companies (100 large companies; 100 midmarket organizations) in 17 vertical markets: banking, construction, consumer electronics, education, entertainment, fashion, food, government, manufacturing, pharmaceutical, philanthropic, publishing, retail, services, technology and telecom.