Manage
Learn to apply best practices and optimize your operations.
Grocer Bags a Biometric System
Piggly Wiggly built its own payment system to slice transaction costs with a "digital" front end.
Rich Farrell walks into his neighborhood Piggly Wiggly grocery store in Mt. Pleasant, S.C., picks up a couple of bottles of red wine and heads to the checkout line. A sticker on the counter advises, somewhat enigmatically: "The finger is faster. Pay By Touch."

Download this free guide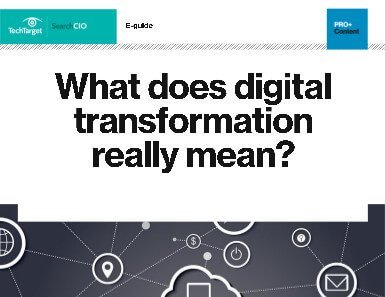 PDF: What does "digital transformation" really mean?
What exactly is digital transformation? You may hear the term often, but everyone seems to have a different definition. See how our experts define digitization, and how you can get started in this free guide.
Farrell does just that. When his $29 purchase flashes on the register, he punches in his phone number on the VeriFone credit authorization machine, selects to pay using his checking account and then presses a finger on his right hand onto a small screen. In a couple of seconds, a server in a data center in San Jose, Calif., verifies Farrell's identity, deducts the payment from his bank account and credits the purchase to his Piggly Wiggly loyalty program. Then Farrell walks away with his wine. No fumbling with a wallet, digging for cash, looking for a loyalty card or signing a credit card receipt.
"That's it," he says. "It's so easy and simple to do. You don't have to get another card. It actually eliminates something. You have an electronic wallet."
Farrell, vice president of information services at Piggly Wiggly Carolina Co., is what you might call an early adopter. In June 2004, Piggly Wiggly started testing the biometric system created by San Francisco-based Pay By Touch. Within six months, the biometric checking option was more popular with customers than credit cards -- which is good news for the company, since the transaction costs are about one-tenth as much.
In January, Piggly Wiggly, which does about $700 million a year in sales, announced that it would roll out the system to virtually all of its 115 stores in South Carolina and parts of Georgia by this summer.
Leading the Charge
The staid grocery business is rushing into the biometrics revolution. And while industry giants are studying the technology, a midsized regional chain with a funny name is one of the leaders in deployment. "There's some advantage to having a lot of capital to test technology," says Piggly Wiggly Chief Operating Officer David Schools. "But, on the other hand, we're more nimble. We can make something happen pretty fast."
The retail grocery business is a half-trillion dollar industry, second only to the housing sector in terms of consumer spending. But it's also a notoriously cutthroat business with razor thin profit margins (averaging less than 5%). Soaring fuel prices have made life even tougher lately, and the industry is desperate to shave costs wherever it can. Technology is helping.
"The grocers are looking to expedite the checkout process," says Robert Garf, a retail analyst at Boston-based research firm AMR Research Inc. "Consumers hate to wait in line. Pay By Touch and any biometric technology allow for quicker customer service and loyalty, and will add to the bottom line. The pushback that some industry organizations and privacy rights groups had isn't being expressed by the consumers. The consumers embrace it; it's safe, secure and makes the checkout process more convenient."
The New York-based International Biometric Group estimates that the revenue generated by the technology for vendors will jump from $1.8 billion this year to $2.7 billion next year, an increase of 50%.
"It's obviously a cutting-edge technology, but it's only a matter of time before you see this everywhere," says Robert Van Tuyl, vice president of technology at Pay By Touch. "The grocery industry is one of our beachheads. It can really take advantage of the lower cost of ACH [Automated Clearing House, or direct-to-bank technology]. Some of the small guys want to be in the forefront. There's such a clear return on investment."
Jon Payne, the vice president of IT at Wild Oats Markets Inc., a $1 billion organic grocery chain based in Boulder, Colo., notes that the sector has historically been slow to implement technology.
"Technology is the last great place in the grocery industry to get efficiencies," he says. "So far, it's not really bleeding-edge stuff. Mostly grocers are deploying what other industries already have. It was much more critical for other industries to do. Now it's the right time for the grocery industry."
The biggest paybacks, he says, will come from back-office systems. Whether customers will flock to new technologies such as biometrics is another question.
"Is the technology really ready?" he asks. "Will customers accept it? People are comfortable handing credit cards to clerks, but with fingerprints that raises a whole new set of concerns. But you won't know until you try it."
Farrell says Piggly Wiggly sees a good opportunity to pare expenses in exchange for $100,000 in software integration and around $2,000 per store in hardware installation.
"We pay a couple of million a year in credit card fees," he says. "If we're talking about a 5% reduction, we have to do that. A hundred thousand dollars is a hundred thousand dollars that we'd like to have in our back pocket, and it will drive an increase in our business and loyalty. We're just trying to get a jump. If we think it will save us a few bucks, we'll do it."
That might seem like small potatoes, but to understand how stiffly competitive the grocery business is, follow Farrell out into the Piggly Wiggly parking lot in Mt. Pleasant, an upscale community across the river from Charleston.
Across the street a new Publix Super Market (an $18 billion behemoth in the South) is being built, while a little way down the road Bi-Lo (which, with its corporate sibling, Bruno's, has 400 stores throughout the South and competes fiercely with Piggly Wiggly) is also opening a store. And around the corner is a Food Lion discount market.
And don't even mention Wal-Mart, which, of course, isn't too far away.
"You'll be able to stand in the middle of the road and throw a stone at all these stores," Farrell says.
Embracing Technology
A century ago, the grocery store was itself a cutting-edge innovation. If you wanted meat, you went to the butcher; if you wanted diary goods, there was the milkman. For dry goods, you went to the grocer and gave an order to a cashier who pulled the products off the shelves.
Then in 1916, in Memphis, Tenn., Clarence Saunders opened a revolutionary new kind of grocery: self-service. Customers walked into the store, selected their own items and took them to the counter to pay for them. The store was called Piggly Wiggly.
Eventually, the concept morphed into the full-service supermarket. Today Piggly Wiggly Corp. franchises more than 600 stores in 16 states. One of these franchises was opened in Charleston, S.C., in 1947 by a local grocer named Joseph T. Newton, Jr., who persuaded other grocers in the area to join him and created a centralized wholesale and distribution company. Eventually, Newton purchased the stores from the national franchise, creating Piggly Wiggly Carolina, which became the state's largest private company.
The Pig -- as locals call it because of the company's hammy, smiling mascot -- is a Charleston fixture. President Joseph T. "Buzzy" Newton III took over from his father in 1979, although today 70% of the company is owned by its employees. Newton lives in an antebellum mansion on the tip of Charleston looking over the harbor; two stone pigs flank the front steps. You see people walking around the streets of town wearing Piggly Wiggly T-shirts. "It feels like home," is the company's slogan.
Yet behind its folksy image, Piggly Wiggly is racing into the future. "Piggly Wiggly has always embraced technology," Farrell says.
Farrell came to the grocery business in 1993 after 24 years in marketing at IBM. "Technology was starting to make a big impact," he recalls. "The cost for storage was coming down and the power of processing was going up. We basically buy products and get them into our stores. That whole supply chain lends itself to computer service and using information. The amount of things being done in the industry from data synchronization to EDI [electronic data interchange] is a great boom. That's why we purposely picked 'information services' as the name instead of 'information systems.' We really do service the rest of the company and our customers."
The company has implemented supply tracking and warehouse management solutions to keep costs down. "It's been a huge savings for us," Farrell says. "The biggest impact of technology has been the ability to use front-end data to impact other portions of the business. You can see a lot of trends and make much more intelligent decisions."
Yet, like many IT managers, Farrell has to be picky about what technology he invests in. The company's stores, for example, still use 56 Kbps Internet connections, although Farrell would love to upgrade to asymmetrical digital subscriber line (ADSL) or cable.
"The cost is hard to justify," he admits.
Small Efficiencies Add Up
Other technology investments were no-brainers. In 2000, for example, Piggly Wiggly rolled out an electronic marketplace for its rewards program -- Pig's Favorite Customer, or PFC -- which is run by Greenbax Enterprises, a subsidiary of the company that was founded in 1950, making it one of the nation's oldest loyalty programs. The company switched from handing out stamps to giving shoppers an electronic account to collect and redeem points. This also created a database for tracking customer behavior.
"We have a very sophisticated rewards program, involving hundreds of merchants, catalog rewards, tickets to sporting events," Farrell says. "And that lets us know more about our customers. You can see how much they spend, where and on what."
Farrell remembers a meeting where one of his colleagues at Piggly Wiggly drove home just how important small efficiencies could be to the company's balance sheet. "One of our executives said that if we could save a plastic bag per customer, we could save hundreds of thousands of dollars," Farrell recalls. "I was flabbergasted. It's amazing the things you can save."
Last summer Piggly Wiggly decided to leap into the vanguard of biometrics and signed up to pilot the Pay By Touch system. Pay By Touch was founded in 2002 and later that year went live with the system in a Thriftway grocery store in the Seattle area. "We found people came to the store because of this -- lots of senior citizens felt more secure not carrying money to the store," Thriftway President Paul Kapioski told the Retail Fraud conference in London in February.
The company's subsidiary iPay handles the payments.
"We've been going hard for the retailers," Pay By Touch's Van Tuyl says. "There've been numerous battles over charge fees. Retailers don't have a lot of control. Consumers want to use credit cards. We give them a tool to create a payment shift. Merchants are all eager to lower the transaction costs. Not everyone will accept it, but if you shift 10-15% of the market, that's millions of dollars in savings."
Other payment vendors are also making a play for the grocery business. Lowes Foods is testing a similar checkout system sold by BioPay, based in Herndon, Va., in its North Carolina stores and plans to roll out the technology at more than 100 locations next year. (Pay By Touch and BioPay are suing each other over a patent dispute.) And Biometric Access Co., of Round Rock, Texas, has supplied Cincinnati-based Food 4 Less with a biometric check cashing system for stores in the Midwest.
The Piggly Wiggly pilot involved installing the system at four stores with little promotion, other than setting up sign-up kiosks where customers could scan a check, swipe their driver's license, press a digit to a screen and sign an authorization form to enroll in the program. When customers were asked how the company could improve the system, they suggested making it available at more locations.
The company discovered some unexpected benefits, such as a double-digit increase on spending per visit by people using biometric payments.
"They were visiting more often and spending more money on each visit," Farrell says. "Returned checks were far less frequent."
But the real appeal for Piggly Wiggly is trimming transaction costs. A fifth of the company's customers use either credit or debit cards to pay for their purchases -- and each time someone reaches for plastic, it costs Piggly Wiggly money.
"You have to keep whittling away at costs," Farrell says. "We're seeing fuel costs and health care costs increase. We don't have much control over those. Then there's the escalating cost of debit cards and credit cards, which has a significant impact on the bottom line. What are less-expensive transactions? How do you get people to use them?
"If we can capture 10% of our customers with the system, we can justify it," Farrell continues. "Twenty percent would be great. I call it piggy bank savings. A hundred thousand here, fifty thousand there. Pretty soon you'll have a million."
After paying for his wine, Farrell stops near a cookware giveaway promotion in the front of the Piggly Wiggly store and turns back toward the register to watch customers. "Look at that fellow," he says. "Watch what he has to do, reach in his wallet, pull out his card."
A shopper writing a check costs the company 18 cents to 25 cents. A debit card bites up to 40 cents. But if a customer whips out a credit card, Farrell really feels the pain.
"If a customer spends $100 on a credit card, we're spending $1.29 to process it," he says. "That's huge on the margins."
An ACH transaction, on the other hand, costs a little over a dime. Although the company doesn't go out of its way to mention it, it will also let customers use the Pay By Touch system with their credit cards, even though the transaction fees are even higher on using credit cards without swiping them.
"We're willing to increase our cost to serve customers," Farrell says. "We want to treat them as guests. We want to give them options. The payback is still in less than a year, even enrolling credit cards."
Walking to his car, Farrell looks at the receipt for his $29 purchase and does the math in his head.
"I just saved the company 38 cents," he says.
Michael Ybarra is a contributing writer for SearchCIO-Midmarket.com. Write to him at editor@ciodecisions.com.
Dig Deeper on Small-business IT strategy