Manage
Learn to apply best practices and optimize your operations.
Gentlemen, Start Your Wireless LANs
From NASCAR to Major League Baseball teams, midsized companies are embracing wireless LANs. Do maturing standards and greater bandwidth mean the technology is finally coming of age?
When the sky darkened over Charlotte, N.C., in May of 2003, NASCAR driver Jimmy Johnson took a chance. Rather than pull in for a scheduled pit stop, he stayed on the track, betting that an incoming rain storm would end the race early.

It wasn't a blind gamble. Johnson's Charlotte-based Hendrick Motorsports Inc. team, a $64 million NASCAR racing venture, had a satellite connection to near real-time weather information, and his pit crew knew a severe storm was on the way. Thanks to a portable wireless LAN that Hendrick sets up on race day, everyone with a laptop on each of Hendrick's four teams can access data and e-mail or instant message each other, giving them an edge over the competition.

Hendrick is a wireless pioneer. It's been using various iterations of wireless LAN technology for more than five years, moving from one standard to the next, seeking out higher bandwidth and escaping the interference caused by others following its lead.

The technology has come into its own over the last two years, and Hendrick has been reaping the rewards. When the checkered flag was raised after only 276 of the scheduled 400 laps that rainy day, Johnson's bet paid off and he found himself in the winner's circle. "Wireless is critical," says Hendrick CIO Chris Newsome, who worked closely with Scott Maxim, director of track support, to plan the system. "Our engineers couldn't do their job every weekend without wireless."

Early adopters like these famed racers are beginning to bump wireless LANs toward mainstream use. Today, only 15% of businesses worldwide have them, but that figure should jump to 50% by 2009, when total spending will reach $13 billion from today's $2.45 billion, says Chris Collins, a senior director with Redwood City, Calif.-based Dell'Oro Group Inc. A survey of midsized companies by IDC of Framingham, Mass., found that nearly one-quarter of respondents will likely invest in mobile and wireless technology this year.

The business case is getting easier, particularly in some areas with highly mobile workers. In hospitals, wireless LANs and handheld devices help physicians and nurses give better care faster, with instant access to patient records and data. When warehouse workers scan inventory, the data can now travel instantly to a central server. With dropping price points and users clamoring for mobility in conference rooms, some midmarket CIOs have added wireless LAN access points in office environments.

The increased bandwidth of the latest protocols and the centralized management capabilities now available mean wireless LANs have become a low-cost way for businesses to untether their employees and better meld technology with work process across a host of environments. Yet it is that same ease of use, plus the broad availability of inexpensive wireless access points, that may pose the largest threat to businesses. With the most expensive enterprise access points priced at $800 and consumer grade products coming in at under $50, according to William Terrell, senior analyst with the Burton Group, do-it-yourself wireless LANs among users may represent the greatest security risk.

Nonetheless, as certain industries anchor usage and others enter the fray, the message is clear: Wireless LANs have come of age.

The Early Years

The maturation has been a long time coming. Wireless technology has been around for decades in parts of the supply chain where businesses used dedicated devices for tracking inventory and parts. The lack of standards threatened to keep it a marginal technology.

Then, in 1999, the Institute of Electrical and Electronics Engineers (IEEE), the reputable standards body, released the 802.11b standard wireless protocol. The protocol, and its backing by the IEEE, opened the floodgates for wireless LAN technology, at least in the consumer mindset. Wireless LAN cards became common in laptops and personal digital assistants (PDA). Hotels, airports and coffee shops installed publicly accessible hot spots, giving laptop-toting executives with downtime access to the Internet. This untethered connectivity became known as "Wi-Fi," after the Wi-Fi Alliance, an organization that tests for interoperability among products. (Today, Wi-Fi is synonymous with wireless LAN.)

Businesses also toyed with wireless LANs to help them run operations in new and creative ways. A year after IEEE released 802.11b, Hendrick deployed wireless LAN networks among its pit crews. Hendrick has reaped the benefits of each new version -- from 802.11b, which soon became congested, to a proprietary Motorola wireless network that turned out to be too slow, to the 802.11a standard, which operates in the far less trafficked 5 GHz spectrum and touts 54 Mbps throughput. Today, those standards enable Hendrick to use access points from both Cisco Systems Inc. and Proxim Corp., as well as laptops from major vendors.

IEEE's landmark 802.11b release beckoned to other users as well. Three years ago, employees at $200 million Kohler, Wis.-based food manufacturer Johnsonville Sausage LLC were tracking inventory in the warehouse using handheld scanners. But the devices uploaded the information to a central database in batches, such that employees didn't always have the most current information. Employees went to retrieve inventory from a location only to find it had been moved. "There were errors on orders. Employees wasted time going to empty locations," CIO Ron Gilson recalls. "We were not able to react to changes in the business in a timely way."

And so Johnsonville brought in a wireless LAN -- at the time, a cutting-edge technology. "We took a leap of faith," Gilson says. Now when an employee scans a piece of inventory, the data travels over the wireless LAN and updates the database instantly. "If we went back to the batch scanners, I'd have a mutiny on my hands," he says.

The latest wireless standard to be approved, 802.11g, in June 2003, dramatically boosted wireless LAN throughput to 54 Mbps. This increased speed helped sway $500 million Deaconess Health System Inc. in Evansville, Ind., to deploy a wireless LAN.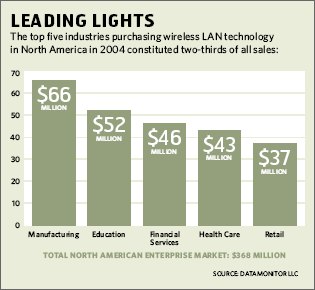 Two years ago, Deaconess CIO Mike Neeley was looking for ways to help doctors do their jobs better. The hospital hoped to improve doctor-patient interactions and make its 275 physicians more efficient as they moved throughout the hospital, meeting with patients and reviewing X-rays, magnetic resonance imaging (MRI) scans and charts. The thought of being able to pull down patient records on the spot using a handheld device connected via a wireless LAN was "really exciting," says Dr. Greg Hindahl, associate director of family practice and residency.
The problem, though, was that X-rays and MRIs are massive files, and an 802.11b wireless LAN transmitting data at 11 Mbps or slower couldn't handle them well. But 802.11g removed this barrier, prompting the hospital to give wireless a try. Now the hospital has access points on all five floors. Physicians carry tablet-sized devices when making rounds. They can also connect to the Internet, allowing them, for example, to obtain a disabled parking permit from a state department of motor vehicles for a patient. "It saves us time, and it saves our patients time," Dr. Hindahl says.
A Tough Case for the Office
While successful wireless LAN projects aren't difficult to find, the technology hasn't hit the mainstream yet. Part of the problem is that wireless proponents have struggled to make a compelling business case for the technology in the office environment. CIOs are still hedging their bets.
Wireless LANs rarely replace a hard-wired network, except in those cases where wiring is cost-prohibitive, such as in older structures, where it is difficult to run cable. Otherwise, adding a wireless LAN to an existing network is hard to cost-justify, even though office workers may want it, says Ken Dulaney, vice president of mobile computing at Stamford-Conn.-based research firm Gartner Inc.
For example, although the $128 million Houston Astros Baseball Club teamed with Time Warner Cable to deploy a wireless network in its stadium, giving fans access to the Internet and food service vendors the ability to transmit orders from the stands, it didn't consider deploying one at its office. The office, on a separate network from the stadium, is in a new facility that's laden with data ports. "There is not enough value to warrant the [wireless] infrastructure required," CIO Brad Bourland says.
Smaller projects can be an easier sell. Johnsonville's Gilson says he added wireless to his offices after seeing success in the warehouse, but there are only two wireless LAN access points in the company's 14,000-square-foot office. Employees are encouraged to stay connected to the wired network when at their desks because the access points can be easily overloaded. But they can use wireless in meeting rooms. "It's convenient and not a huge investment," Gilson says.
Hendrick Motorsports just spent $10,000 adding wireless to its corporate campus, which has 15 buildings on 78 acres, including engine and chassis shops, as well as office space. Many of the buildings are older, making it expensive to install additional cable, and many of its 300 PC users are engineers who move about the campus. Thus, the investment made sense. "It gives them the flexibility to pull up information without fumbling around for a network jack that is hot," says Matt Cochran, Hendrick's network manager.
Next Up: Adding Voice to Your Wireless LAN
Wireless phone calls are nothing new. Cell phones have been around for decades. Now another flavor of mobile calling -- wireless LAN voice systems that move Voice over IP (VoIP) calls over a company's Wi-Fi network -- is poised to hit the mainstream. A new standard is nearing ratification, and as both Internet telephony and Wi-Fi become more common, businesses are starting to see the value of mixing the two.

In $500 million Deaconess Health System Inc.'s hospital in Evansville, Ind., nurses and physicians are on the move. Nurses page doctors when they need them, but nurses are rarely at their stations long enough to receive the physician's return call. Thus the call goes into voicemail, and a game of phone tag begins. With Deaconess' wireless VoIP system, nurses can take the phones with them and receive calls wherever they are.

But voice over wireless LAN presents some challenges. Wi-Fi is a shared medium, which means that data from multiple users queues up to be transmitted. With many users on the network, voice traffic may line up behind data traffic, resulting in delayed transmissions. When that happens, voice quality plummets and calls can be cut off. Some companies, such as Spectralink Corp., have taken proprietary approaches to wireless voice that give calls priority, thereby increasing the call quality. A new standard under consideration, 802.11e, also takes up the issue.

Hendrick Motorsports Inc. is currently exploring wireless VoIP for use at the racetrack and on its Charlotte, N.C., campus. On campus, engineers rely on voice communications as much as they do on tools like e-mail and instant messaging. As they move between the car shops and office space, they use their cell phones, which increases their wireless bills. Wireless VoIP would curb those bills.

Hendrick is also working on securing the required quality of service on its satellite link so it can extend VoIP to the track on race day. That way, engineers at the track or in the office could reach each other by dialing a four-digit extension.

--J.R.
Handling Security a Top Concern
Cost and the business case are hardly the only criteria for making wireless a go/no-go decision. The most worrisome concern is often: Will my network be secure?
Security has been a hotly debated issue since late 2000, when Jesse Walker, a security analyst at Intel Corp., published a paper noting vulnerabilities with the encryption protocol Wired Equivalent Privacy (WEP) that was included in the wireless LAN standard. A slew of other researchers and institutions echoed his findings. These flaws kept many businesses away from wireless LANs, even as the IEEE and the Wi-Fi Alliance pushed for better security solutions.
Prior to bringing in a wireless LAN system, Deaconess CIO Neeley also worried about security issues. "Our biggest security concern was how easy it was to drive up and sit out in the parking lot and glean information [from the wireless network]," he says.
Eventually, Neeley was satisfied with the Wi-Fi Protected Access (WPA) encryption for its network, which is included in the 802.11i security standard ratified in July of 2004. The encryption, developed by IEEE, is more complex than WEP and has since been upgraded to Advanced Encryption Standard (AES). The standard also includes new encryption protocols, such as the Temporal Key Integrity Protocol (TKIP), which helps to further decrease the chances of someone using encryption keys they've sniffed off the airwaves.
Today's wireless LANs are also compatible with the 802.1x authentication method, allowing companies to use a myriad of authentication schemes to secure their networks. Hendrick, for example, uses Extensible Authentication Protocol (EAP). A Cisco server authenticates users on the network. Deaconess uses Lightweight Extensible Authentication Protocol (LEAP), a proprietary Cisco approach to authenticating media access control (MAC) addresses. It denies access to any unapproved device that tries to get on the network.
The biggest security threat from wireless LANs may have little to do with over-the-air encryption, says Craig Mathias, principal with Ashland, Mass.-based advisory firm Farpoint Group. Employees used to the convenience of their home wireless networks may bring an access point into work and plug it in, creating a so-called "rogue" access point. All access points come with the security settings turned off, meaning these rogue access points can allow anyone to log on to the corporate network. "You can have a wireless security problem without even having a wireless network," Mathias says.
Networks that scan your airwaves for unapproved devices and block their access have thus become an important asset. Deaconess uses a monitoring system from AirDefense Inc., one of a number of vendors in the RF monitoring space. Besides scanning the airwaves for intruders, attacks and unauthorized access points, such systems can help with configuring access points for optimum performance. "With those three security features, we feel like we have it buttoned down pretty good," CIO Neeley says.
The Evolution Continues
As wireless LAN technology matures, it's becoming easier to manage -- and is fostering a broad range of uses beyond mobility. Switched wireless LAN systems enable centralized management of many access points. A user's location can be tracked by identifying which access point is receiving a signal and triangulating that signal with other access points -- an application gaining use in museums, for example, with visitor handsets that dynamically describe exhibits as the visitor walks past. Voice and video over wireless are also making headway.
Then there's the convergence of cellular and Wi-Fi networks. "With better design, wireless LAN becomes part of a business' overall layout, not something separate," says Gartner's Dulaney.
A raft of new standards is changing the ways in which wireless can be used. For instance, 802.11n increases the throughput of wireless LANs with multiple radios for sending and receiving data by using an approach called multiple input, multiple output (MIMO). Meshed networks that relay information from access point to access point before it hits the wired network allow for greater flexibility in the deployment of a wireless LAN. Another standard on the horizon aims at allowing roaming from access point to access point at high speeds, so people on trains and in cars can use Wi-Fi. Phones that allow roaming between cell networks and Wi-Fi networks have just hit the market.
As the technology speeds along, midmarket CIOs surely will find more ways to use wireless LANs to improve their businesses. Hendrick is working with Cisco to find ways to transmit engine data and other information directly from cars to its wireless LAN network and pit crew. The goal is to ride real-time data, traveling at super speeds over a wireless LAN, past the competition en route to victory.
Dig Deeper on Small-business infrastructure and operations