Manage
Learn to apply best practices and optimize your operations.
Frozen Assets: IT Helps Firm Reduce Costs, Improve Efficiencies
National Frozen Foods may have to contend with Mother Nature for its vegetables, but it turns to IT for what it can control: demand and workforce scheduling.
It's harvest season at National Frozen Foods Corp., and vegetables are everywhere at the company's processing plant in Chehalis, Wash.
Under an overcast late-summer sky, a truck rumbles up to the plant and dumps a pile of corn that was picked just hours ago. Diesel-powered shovels scoop up the crop and pour it into a chute that feeds the corn onto a conveyor belt, where the husky ears begin an hourlong journey through the bowels of the sprawling factory.

Download this free guide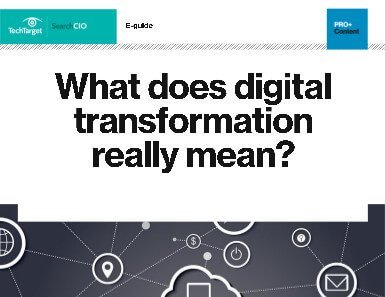 PDF: What does "digital transformation" really mean?
What exactly is digital transformation? You may hear the term often, but everyone seems to have a different definition. See how our experts define digitization, and how you can get started in this free guide.
By submitting your personal information, you agree that TechTarget and its partners may contact you regarding relevant content, products and special offers.
You also agree that your personal information may be transferred and processed in the United States, and that you have read and agree to the Terms of Use and the Privacy Policy.
Inside there's thunderous noise and an overpoweringly sweet smell as the leafy, green ears bounce into a series of husking and cutting and blanching machines, emerging as perfectly manicured yellow cobs or shiny kernels. A hundred and fifty ears a minute race through this automated gauntlet, and workers in hard hats and rain gear hose down machines and prod at produce to keep the vegetables moving. On the other side of the building, quarter-sized slugs of carrots spin in a cylinder, and vats of bubbling orange froth overflow. Water sloshes across the floor.
Eventually, all conveyor belts lead to freezers where each kernel or carrot slice is blasted with arctic air until it is colder than zero degrees. The yellow and orange ice cubes are funneled into dishwasher-sized boxes called "totes," which are slapped with bar-code labels, then trucked across town and stacked in a cold-storage facility the size of six football fields.
On the loading dock, John Meersman, the company's director of IT, dodges speeding forklifts driven by operators in ski hats and parkas and slips into a cavernous warehouse. "I hate going in here," says Meersman, his breath forming clouds in the cold air.
The company's business is slicing, freezing and packaging vegetables. Meersman's job is to use technology to reduce costs and improve efficiencies. After bringing the almost century-old company into the digital age with e-mail and enterprise resource planning (ERP) software, Meersman and his five-person team have begun deploying advanced solutions to better manage the organization's two most vital assets: its employees and its frozen food. Using a time-and-attendance system, National Frozen Foods can now automatically schedule its seasonal workforce, which balloons from 600 full-time employees to 1,700 during the fall harvest. A bar-code inventory system allows the company to seamlessly track each box of produce as it moves through the warehousing and distribution system. And a beta demand-forecasting product helps select the right mix of vegetables to plant a year ahead of harvest time. All of which, Meersman says, makes for increased productivity and improved employee and customer satisfaction.
While you might take frozen carrots for granted, it's a multibillion-dollar industry defined by fierce competition, razor-thin margins and logistical challenges. "The frozen-food section is the most cutthroat section in the entire store," says Dale Hagemeyer, an analyst at Gartner Inc. in Stamford, Conn. "What's tricky about the frozen section is capacity. There's only so much space. And it's much more expensive to haul frozen stuff. Logistically, it's hard to get it all right."
Thus, saving a penny per pound is crucial to National's bottom line. "Reducing cost is always on our minds," says Meersman. "The game is watching costs and looking for efficiencies."
A Cool Beginning
In 1912, William McCaffray Sr. founded the National Fruit Canning Co., which eventually became National Frozen Foods Corp. In 1928 the company started freezing strawberries and later expanded into vegetables. In 1958 the company became one of the first to use a freezing tunnel, which is still the basic technology employed to process the product.
Today, frozen food is a $67-billion industry, about a third of which is retail and the rest institutional. The frozen vegetables segment totals $2.8 billion, according to the American Frozen Food Institute in McLean, Va. National Frozen Foods, which has annual revenue of roughly $120 million, is one of the largest privately owned players in the business. The company has three processing plants in Washington and Oregon, all of which are located within four hours of the farms that grow National's vegetables.
Each fall the company selects its product mix -- what kind of corn, how much and so forth -- for the next year and sells the seed to its growers for spring planting. In the summer and fall, the company reaps the harvest and almost immediately freezes it, which puts 300 million pounds of corn, carrots and green beans into cold storage for the rest of the year. As orders come in, the company ships vegetables in bulk or packages them as private-label brands for retail clients or institutional food vendors that sell to restaurants and other food service providers. National also exports to Europe and Asia. "We have one shot at our inventory during the year," says President Richard Grader. "There are things you can do to prepare -- prepping the ground right, having good growers, having good processing -- but Mother Nature dictates what the product will be. And we have to deal with it for the rest of the year. The guy that makes money in this business knows how to deal with that inventory."
John Meersman, who worked in the medical and hotel fields, arrived at the company in 1991. At the time, the IT department consisted of an old Wang running a homegrown system that kept track of crops and an IBM AS/400 running a manufacturing resource planning system called Prism.
Meersman and his team introduced e-mail, then the Adage ERP system from Alpharetta, Ga.-based Infor Global Solutions. Recently they upgraded it. "Technology wasn't considered an important part of the business model," Meersman says. "The company had been in business for almost 100 years, so it was doing something right. But ... to go on for the next 100 years, you have to keep up with changing technology."
Between 1986 and 1999, National Frozen Foods was run by President Stephen J. McCaffray, the third generation of the family to lead the company. McCaffray invested in technology, both for expanding and renovating production facilities and for computerizing back-office functions at corporate headquarters, a modest second-floor suite in an office building across the street from Lake Union in Seattle.
In 1999, Grader, a veteran salesman at the company, took over when McCaffray retired. (In 2002, McCaffray was inducted into the Frozen Food Hall of Fame.) Grader put even greater emphasis on utilizing technology. "We've done a complete 180," says Grader, who has been at the company for 18 years. "We used to pay less attention to technology, and we had whatever minimal system we had to have. Now we look to IT to solve problems."
No More Hand Counting
At the National Frozen Foods warehouse, there's a constant whirl of motion as forklift drivers push pallets into cold storage or pull others out and load them onto trucks. Radio transponders track every move, updating inventory in real time. "We used to hand-tally everything," says assistant cold storage manager Mark Fletcher. "It was just piles and piles of paper."
Inventory control is one major area where National Frozen Foods uses technology to make operations more efficient. When frozen vegetables are dumped into a tote at the plant, the container is slapped with a bar-code label that enables tracking of the lot through the entire distribution system. The company partnered with Seattle-based Coolearth Software to create a customized version of the Whistle bar-code inventory system. Most inventory systems are either self-contained, which minimizes downtime but prevents sharing data with headquarters, or centralized, which allows real-time communication with the corporate office but exposes systems to telecom interruptions that can bring the entire processing line to a halt.
National's inventory system communicates with corporate servers, but in the event of a network outage the production line will keep rolling and computers will update inventory tracking when the system comes back up.
"The capability to stand alone is important," Meersman says. "The biggest fear is that the network goes down. The machines are running; you crate it, slap a label on it and get it out of there. Every two minutes, totes are popping out. You need a system that reports back to the server. But if the network goes down, you still want the label on the tote. If the server isn't there, it's no big deal since each PC is like a mini-server that holds the information until a connection to the corporate server can be made."
Meersman notes that radio frequency identification (RFID) is on the company's horizon but that there are issues with RFID tags withstanding a frozen-food environment.
National has also invested in technology to manage workflow. The company is using Kronos' Workforce Central Suite, a time-and-attendance system to automate seasonal hiring and employee preferences. Previously, scheduling was a manual process involving paper, spreadsheets and a time clock.
"Workloads change daily," Meersman says. "That's a big challenge. You can say, 'I need 20 people,' but you need the right people: the people who ride together and like to work the same shifts. Before, the person who had all that scheduling knowledge couldn't take a vacation. HR used to do this in their heads. Now they can take vacations."
Predicting Markets Despite Mother Nature
Meersman drives from the plant to company headquarters in Seattle with a trunk full of freshly picked produce. At the office, Meersman plops a box of corn on the reception desk. From all corners of the office, employees flock to the area.
"What kind of corn is it?" everyone asks. "Not all corn is the same," Meersman explains. "There's regular jubilee. There's sweet. Everyone's taste is different." Figuring out what kind of corn customers want is a challenge that National is always working on, since the company selects the seed variety that its farmers will plant a year ahead of harvest.
It's a daunting task. Gartner's Hagemeyer says that in the more predictable consumer goods sector, for example, demand forecasting typically achieves only 60% accuracy. National's planning is even more complicated because its distribution channel includes both retail and institutional clients. Retailers have extensive customer databases to mine, but food service providers, which might hold onetime events such as a convention with 35,000 people, have far less consumer data to work with.
For example, food service provider Sysco Corp., based in Houston, doesn't have scanner data, says Hagemeyer. "You don't get a point of sale that creates a baseline volume. You have to take a demand signal, or you have to assume history will repeat itself. That's like buying the mutual fund that was hot in 2000."
And demand forecasting software also has to account for changes due to sales and promotions -- a data marriage that Hagemeyer says few companies actually achieve. "The golden goose is connecting demand creation and forecasting," he says.
National Frozen Foods has been trying to do just that. The company recently deployed Infor's Demand Planning product suite, which enables collaborative planning by tracking each customer's ordering history and identifying statistical patterns, demand swings and past sales. The software is tightly integrated with the company's ERP system.
In the past, the company manually forecasted the quantity and mix of vegetables to plant. But now it's testing a more sophisticated demand optimization process, using a beta version of a business intelligence (BI) product from San Francisco-based startup SignalDemand Inc.
"With Mother Nature controlling most of what happens to our product, we really need a strong tool for demand forecasting," Grader says.
SignalDemand enterprise software helps manufacturers improve margins by optimizing demand and supply simultaneously. The software uses a manufacturer's past transaction data along with certain market data to measure the response to changes in price and competitor behavior as well as to recommend optimal prices and production mix and quantities. "Once you squeeze the last quarter of an eighth of a cent out of cost, you start looking at other ways technology can assist you in creating a good product," Meersman says.
And this is the path of the future at National Frozen Foods, where projects such as portals, dashboards and BI await Meersman and his team. "We've upgraded our ERP; now we can go play," says Meersman. "Once you get the foundation laid, you can build walls and add a roof. Now we can run off and do all these other initiatives. I've got five years of projects lined up. That's really where we need to get to. That's where you get all the benefits."
Dig Deeper on Small-business infrastructure and operations