Evaluate
Weigh the pros and cons of technologies, products and projects you are considering.
Thank you for completing our survey!
CIO exclusive guide for project and portfolio management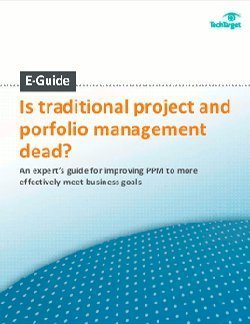 Exclusive Download: Expert's Guide to PPM
Thanks for participating in our survey regarding your previous, ongoing, and upcoming PPM initiatives. Not only do your responses help our editorial team create content that addresses both your current concerns – such as the aspects of project management your organization should, and shouldn't, track – and future plans – including whether to upgrade your current PPM software or consider cloud-based options, but your participation qualifies you for exclusive access to this guide.
Only available to those who have taken the time to thoughtfully complete the survey, the editors at SearchCIO.com have compiled an executive cheat sheet for all things PPM related. Download this reference guide now, and be sure that invaluable advice on the following topics is readily available at your fingertips:
* A CIO's story: PPM process experiences and tips
* PPM lessons learned aren't limited to postmortems
* Keys for creative project management
* BPM modeling is the key to solid workflow automation
Dig Deeper on IT project management and portfolio management