Manage
Learn to apply best practices and optimize your operations.
Enterprise Content Management: Corralling Content
To rein in the unstructured data beast, do you need the infrastructure approach found in enterprise content management?
Valuable information often roams wild in a midmarket company. Enterprise content management software can tame the data beast.
As a midmarket real estate company that owns and manages more than 500 shopping centers throughout the U.S., Puerto Rico and Brazil, Developers Diversified Realty Corp. relies on a lot of documents to conduct its business. "A huge majority of our information comes from documents," says Lorraine McGlone, vice president of IT at the Beachwood, Ohio-based company. "Leases with tenants, agreements with lenders, closing information -- all of those are in documents."

Download this free guide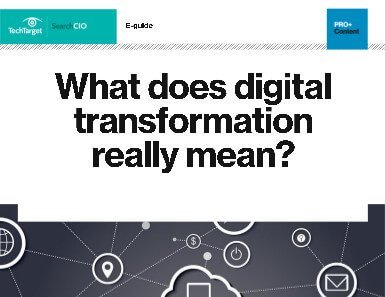 PDF: What does "digital transformation" really mean?
What exactly is digital transformation? You may hear the term often, but everyone seems to have a different definition. See how our experts define digitization, and how you can get started in this free guide.
To get a handle on the volume of material, McGlone didn't implement a standalone document management application aimed primarily at centralizing documents along functional lines. Instead, she turned to an enterprise content management (ECM) system from Open Text Corp., a platform for interdepartmental workflow, data reuse as well as document centralization and document management.
McGlone opted for ECM because she views the challenge of managing content as one that is best tackled at an infrastructural level rather than with an application approach. In essence the ECM system will provide the backbone on which Developers Diversified can build future business applications rather than simply a point solution for document management. "ECM is a strategic initiative for us," McGlone says. "The power for us will be reusing the content throughout the company."
The sheer amount of content streaming through midmarket firms is creating a need for managing it, and ECM is viewed as one way to do that. It's not only a question of facilitating content reuse and sharing among departments; effective content management has implications for compliance, legal discovery and cost savings. Those are big reasons why CM has morphed into ECM.
For many midmarket companies, ECM is especially important. "Typically in a midsized company, there's no control over content and documents," says Alan Pelz-Sharpe, a principal analyst with CMS Watch, an IT advisory firm based in Boston. "There's all this content just hanging around on shared drives all over the network." Maintaining such a storehouse of content is both expensive and inefficient; Pelz-Sharpe says it's not unusual for 90% of the unstructured content found on a network to be redundant or irrelevant. There's no way to weed out the junk without investing in some aspect of ECM.
What's in an ECM?
Over the past two years, there has been plenty of consolidation in the enterprise content management (ECM) space. Vendors including EMC Corp., IBM, Open Text Corp. and Oracle Corp. have acquired smaller companies in their efforts to add content management functionality to their existing products. According to Gartner's 2006 Magic Quadrant for enterprise content management, ECM suites from the leading vendors include the following functions:

Document management. To check documents in and out, provide version control, and security and library services for business documents.

Web content management. To manage Web-based content, automate content upgrades and support end-user interaction.

Records management. To archive data, automate retention and compliance policies, and ensure regulatory compliance.

Document imaging. To capture, transform and manage paper documents.

Document-centric collaboration. To share documents and support project teams.

Workflow. To support business processes, route content, assign work tasks and states, and create audit trails.

-- M.S.
What Is ECM?
Ask a dozen analysts and vendors to define ECM, and you'll likely get a dozen different answers. About the only thing they agree on is that content refers to all the unstructured information that resides outside a database's rows and columns.
One reason for the discrepancy is the fragmented nature of the industry. There are dozens of CM vendors, some of which have staked out a niche for managing only certain kinds of content -- say, rich media or Web content. Others aim to be platform players by providing a suite of tools for email archiving, document management, business process management, digital asset management, records management and collaboration tools. (For more, see "What's in an ECM?," at right.)
"There's no one-size-fits-all ECM," says Rita Warren, a principal at consulting firm ZiaContent Inc. in Seattle. The Enterprise Content Management Association offers a concise definition on its Web site: "ECM is the technologies used to capture, manage, store, preserve, and deliver content and documents related to organizational processes."
Given such a broad definition, ECM covers a lot of territory. Content is the currency of every business process, and figuring out how best to manage it for maximum gain is daunting. While there's an application that addresses every aspect of content -- from creation to distribution to storage and, ultimately, destruction -- making the case for a total ECM package is a tough sell.
A few years ago, Allen Adler, vice president of creative services, and Anthony Trask, director of the project management office at $695-million game maker Ubisoft Entertainment, pitched an ECM system to executives as a way to corral the content within the growing company.
"The idea of ECM was too broad and difficult for the company to grasp, so we regrouped and proposed a CM project that just involves digital asset management," Trask says. Ubisoft recently implemented a system from Interwoven Inc. and has plans to expand its use beyond digital assets.
When You Need an ECM
While content is the lifeblood of nearly every organization, many midmarket companies lack the urgency to adopt a systematic enterprise content management (ECM) strategy. "Companies in the midmarket are more conservative in terms of their IT budgets, so they are looking for technology that addresses business-specific problems," says Whitney Tidmarsh, vice president of marketing, content management and archiving at EMC Corp.

So does your organization need an infrastructure approach to enable enterprise content management? Or can a content management point solution suffice? You might want to take the infrastructural route if any of the following scenarios factor prominently in your organization:
If you have industry-specific or regulatory compliance issues. ECM can help if your organization wants to get a handle on where content is, how to associate that content with records and retention policies, and how to access the content quickly if needed.



If there are money-making processes in which content plays a huge role. In a bank, for example, the loan application process is content-rich: title reports, credit reports, W-2s, tax returns. And if placed in a system, all that content may speed the application process.



If your organization needs to support interaction both internally and externally on a project or team basis. Providing a secure environment for collaboration is critical. A content management infrastructure may enable an engineering firm to, say, review specs and swap inventory reports with a supplier.
In the end, there's no standard recipe or return for ECM; what your organization gets out of ECM depends on your starting point and the kind of problem you want to solve.

-- M.S.
Because few midmarket organizations can afford to rip out legacy systems and go with a single ECM platform, an incremental approach is often the most practical. "An ECM suite for most midsized companies is probably too expensive," Warren says. Most of the costs are incurred because of the resources necessary for software implementation, not the cost of the software itself, she adds. Companies can spend from $2 to $10 on professional services for each $1 they spend on software. So organizations that spend $100,000 on a moderately priced ECM package can expect to spend considerably more to get the software up and running.
And even if cost weren't a deal breaker, complexity is another barrier. With isolated pockets of content located throughout an organization, and legacy interfaces in place for end users to access that content, few organizations have implemented soup-to-nuts ECM products from a single vendor. "I don't know of any vendors that have customers that have implemented CM across the enterprise," says Jim Murphy, a research director at AMR Research in Boston.
Indeed, traditional content management systems have tended to be confined to a single department or function. "CM is moving from a siloed or departmentalized setup in which legal, HR, and accounts payable had their own content in their own separate systems," says Andy Moore, publisher of KMWorld magazine. Now different systems may remain, but content facilitated by an infrastructural approach to ECM can flow as prescribed.
Forrester Research Inc. predicts that the market for ECM software will top $3.9 billion in 2008, growing at a compound annual rate of 19%, faster than the overall software market. Large vendors such as EMC Corp., IBM, Open Text Corp. and Oracle Corp. are hungry to carve out a big slice of that revenue pie, and they've been snapping up smaller, niche players (such as Documentum, FileNet, Hummingbird and Stellent, respectively) to better position themselves as one-stop ECM providers. Microsoft is also considered an ECM force with its SharePoint Server 2007 platform. There are also plenty of upstarts in the game. Alfresco Software Inc. and Nuxeo are open source ECM providers; Docubase Systems Inc., Hyland Software Inc., Laserfiche and Perceptive Software Inc. specifically target the midmarket.
An Ad Hoc Approach
Fueling most of the growth, Forrester says, are compliance requirements, governance issues and business process efficiency needs, particularly among $1 billion-plus organizations.
Content is as much a business liability as it is an asset. Just as the market for email archive technology is propelled by litigation concerns (see "The Evidence Is in the Email," February 2007 issue), so, too, with ECM. Organizations need to manage content regardless of who created it, what form it's in, how it's used and where it is stored. Think of ECM as an insurance policy in the event of litigation or a visit from a regulator.
But many in the industry see a key difference between archiving systems and ECM systems. While both are deployed to fireproof organizations against legal headaches, ECM has a second justification. "Organizations that deploy ECM to respond to legal discovery can get additional value because ECM can help employees get information easier or carry out business processes more efficiently," Moore says.
Helping employees get information more easily was what prompted Tom Kerwin to take an ad hoc approach rather than buying an ECM suite. At Memorial Health System, a 476-bed hospital in Colorado Springs, Colo., with 14 local outpatient clinics, CIO Kerwin deployed various content management products and technologies to make patient records and clinical reports available electronically throughout the system. In 2000, Memorial Health "had a lot of best-of-breed systems, and we had to find a way to tie them together," Kerwin says.
That integration was achieved with SeeBeyond, an enterprise application interface from Sun. To make the data accessible, Kerwin deployed IBM's WebSphere portal server, which acts as a central repository for all the transactional data stored in a DB2 database. Kerwin opted for IBM's Content Manager to image documents. "All these technologies work together to provide ECM," Kerwin says. "We got them one at a time and evolved our strategy." All told, Kerwin says Memorial Health spent about $1.1 million on its content management systems.
Developers Diversified's McGlone took a more deliberate approach to ECM. When she arrived at the company in 2003, there was no systematic way to share, reuse or organize the content stored in different types of documents, such as leases. "At a minimum, we wanted to image the documents and put them online," she says.
Working with business managers, she created a strategic plan in which she identified document-based content that could be broken down into components for reuse. End users chimed in about their workflow and search requirements, which led McGlone to select the Open Text platform in November 2004. Since then, Developers Diversified has incrementally scanned content into the system, beginning with tenant-related documents. "We didn't have the time or energy to put everything in the system at once," she says. "The tenant documents are used by the most employees -- leasing people, property managers, accounting people."
Currently, Developers Diversified uses its Open Text system primarily to facilitate the flow of deal-related content that spans the legal, leasing and billing departments. Documents are scanned into a central repository; then pieces of content, such as individual lease clauses and specific property information, are tagged, allowing employees from multiple departments to pull the relevant content they need.
"We started the whole process by looking at the paper and how content flowed through the company," McGlone says. "If you don't look at ECM in a holistic way, you'll end up with a point solution that can't grow with you."
McGlone plans to integrate content from paper documents with accounts payable content and in the Oracle EnterpriseOne ERP system. One of McGlone's goals is to eliminate the dozens of filing cabinets currently used to store invoices for so-called common-area charges: that is, fees for things like parking facilities that are split among shopping center tenants.
By integrating leasing information with invoice data, Developers Diversified aims to eliminate much of the paper shuffling involved in the payment approval process and collect payments faster.
Returns on Investment
"The biggest challenge when implementing an ECM project is defining business goals," says ZiaContent's Warren. Pinpointing cost savings can be elusive, so instead she recommends that companies tie projects to money-making opportunities.
But "very few companies come up with an ROI or even specific benefits -- things like revenue increases associated with getting to market faster or boosting sales by offering personalized content."
Still, linking projects to specific benefits is also one way to limit the size of projects so they don't quickly spiral out of control. At MoneyGram International, a $1.1-billion payment and financial services company based in Minneapolis, the initial driver for deploying a Web content management system from Stellent (now Oracle) a year ago was to take IT out of the content maintenance business. "We needed to put ownership of content into the hands of the business units," says Jerry Aber, manager of systems development.
MoneyGram has operations in 170 countries, and marketing departments now update and maintain their own regional sites by pulling marketing content from a centralized repository and editing and publishing it locally. "The ROI for us was to free up IT to do core development work rather than maintain content," Aber says.
Similar to McGlone's approach, Aber says MoneyGram's initial Web content management project is part of an overall ECM infrastructure strategy. In February 2007, MoneyGram extended the Stellent interface to integrate with existing document management systems.
Another project in the works will integrate the Stellent system with the Oracle accounts receivable and general ledger systems, allowing employees to retrieve imaged versions of legal contracts and invoices and route them for approval. "We'll eliminate the interoffice routing and hard copies, taking weeks off the approval process and ultimately shrink our time to market," Aber says.
MoneyGram has an additional CM project: integrating the Stellent interface with an existing business process management system from Savvion Inc. to create a salesforce automation tool. All told, Aber says, MoneyGram will spend less than $2 million for all its CM projects.
Is the investment worth it? Aber thinks so. Like other midmarket companies forging ahead with ECM, MoneyGram expects to reap efficiency gains as it lays down the infrastructure to hone business processes throughout the organization. "We're putting content into the hands of the business units, where it can best be used to improve service and market new products," Aber says.
Megan Santosus, a former senior editor at CIO Decisions, is now a features editor for SearchDataCenter.com. Write to her at msantosus@techtarget.com.
Dig Deeper on Small-business infrastructure and operations