Manage
Learn to apply best practices and optimize your operations.
Employee Turnover Isn't a Surprise in Peace Corps -- It's Mandatory
The Peace Corps sends even its best IT employees packing when their time is up. Mandated turnover means a steady stream of new faces and ideas for the venerable institution.
Chances are these execs will be gone in five years or less. The Peace Corps' limit on staff tenure makes managing turnover an art form.
Ed Anderson's office screams "short-timer."
The white walls are spare. There's a huge poster of the Kingdom of Lesotho -- a gift from his secretary -- and his daughters' crayon drawings of butterflies mounted with tape. After all, there is no time to focus on how the place looks. Anderson, CIO of the U.S. Peace Corps, will almost certainly leave his job less than two years from now.

Download this free guide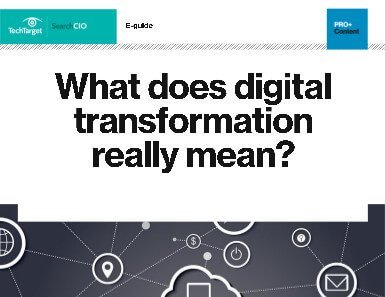 PDF: What does "digital transformation" really mean?
What exactly is digital transformation? You may hear the term often, but everyone seems to have a different definition. See how our experts define digitization, and how you can get started in this free guide.

Many of Anderson's staff of 146 are planning their exits. This spring, the expert in charge of upgrading the organization's intranet is scheduled to leave. At the end of the year, out goes one of his specialists in application systems development. Anderson's top lieutenants have a little more time on the clock. His head of operations has an employment contract that lasts until the fall of next year with an option to renew for another 30 months; and his director of application systems isn't due to leave until the spring of 2009.

Of course, turnover has always been part of IT. According to the U.S. Department of Labor's Bureau of Labor Statistics, between 2000 and 2005, the information industry hired one-fourth to one-third of its workforce each year.

But at the Peace Corps, employee turnover has a twist: Here Anderson has the curse and the blessing of knowing when everyone on his staff is likely to quit the agency. That's because, according to the 1965 Peace Corps Act, almost every agency employee -- even Anderson -- must leave after five years. Many leave after three or four, often for other international aid organizations, including the State Department's U.S. Agency for International Development (USAID) and various nonprofits. Some switch jobs internally more often than that.

It is all laid out in an ominous chart that Anderson whips out for visitors. On the left side are the names of everyone in IT. On the right, color-coded lines show how long each person has worked for "the Corps," as staff members call it, whether they are on their first or their second "tour" -- a 30-month appointment -- and how long until the law says they must leave.

Around the Peace Corps building, this law is known as "the five-year rule." It was designed to constantly infuse the agency with fresh people and ideas, and Anderson says that it does. In fact, a significant percentage of his staff are former volunteers who can testify firsthand to the staff's needs in the field. (Their field service does not count as part of the five-year rule as an IT worker.)

@pb

A Three-Year IT Plan

Over the next three years, the Peace Corps' top IT projects will focus on collaboration and infrastructure.

2007: Create better systems for volunteer management and collaboration; improve telecom infrastructure

2008: Begin data warehousing and document management; initiate next phase of collaboration; enhance mobile computing

2009: Optimize certain IT infrastructure through a new computing model

Touring With the Corps

If his staffers feel the strain of achieving Anderson's three-year plans as they and their colleagues openly interview for their next jobs, Anderson remains unfazed. After all, having worked in senior IT or business management roles for Iridium Satellite LLC, Sodexho and Accenture, he has seen a lot.

"Turnover is what we do. For us, it's almost planned termination or planned leaving," he declares. Anderson figures he's better off knowing about employee departures in advance. "If you wait until the jobs are ready to be filled, you're always reacting. And staff management is not something you can do reactively."

On the hiring side, the Corps has no shortage of applicants, which Anderson attributes to its unique status in the federal government. It was founded in 1961 under President John F. Kennedy as an independent federal agency with a mission to use American volunteers to help willing countries improve their basic infrastructure. As an independent agency, it is supposed to be able to pursue its mission without regard for changes in political climate.

In its early years, the Corps focused on teaching children and improving agricultural methods and access to clean water. Today, the agency's volunteers also try to improve AIDS awareness, IT infrastructure and local business development. It now has more than 7,700 volunteers serving in 73 countries.

Even though IT employees in the Washington, D.C., office aren't on the front lines, many like the idea that they support those who are. Anderson notes that he found the mission attractive enough to leave the private sector, where at times his annual bonus exceeded his current annual salary.

Others are drawn to the Corps as well. For one recent senior position, Anderson counted 100 résumés. Of those, 57 made the first cut, seven were invited to interviews, and only two -- both senior executives from private industry -- emerged as finalists.

@pb

A CIO on the Clock

With the clock ticking on his own appointment from the moment he arrived at the Peace Corps, Anderson had to move fast to get things done. He didn't even have five years to play with: Like all Peace Corps employees, he signed on for a tour of 30 months, which can be renewed at the pleasure of his director. A few agency staff deemed indispensable can renew their contract for a third tour and, rarely, for additional stints of one year at a time. Anderson is due to leave in October 2008.

Before Anderson's arrival at the Peace Corps in fall 2003, the agency had gone through five CIOs in seven years. Many of Anderson's predecessors focused on a few important projects. Certainly, these projects were crucial. Anderson's immediate predecessor, for instance, put in systems that allowed the Peace Corps to formally close its books for the first time in three decades.

But as the agency's short-stay CIOs focused on specific tasks, overall IT strategy suffered. When Anderson arrived, Peace Corps Director Gaddi Vasquez told Anderson his dream was to have one "integrated" Peace Corps.

That was a tall order: The Corps had 70 field offices, which could communicate with headquarters -- some more easily than others, depending on local infrastructure -- but not one another. "No one had ever envisioned them talking to each other," Anderson says. Of course, they could send email and attachments over the public Internet; but they had no secure network for sharing sensitive information, such as medical information about volunteers or safety and security policies.

Another challenge: On arrival, Anderson counted 93 IT projects under way. Some were four years old, some four days old. Many had been ordered up by staff who had since quit, and it was no longer clear why these projects were important. Anderson was appalled. "There were no start dates, no end dates and no business champions," he says.

So he made the rounds of the agency, inquiring about who wanted which projects and why. After analyzing the answers he received, he whacked the list down to 20 items. Then he set up a system for prioritizing projects.

Before, "there were no processes for IT," Anderson says. "It was really an order-taker mentality." Now a review committee considers every proposed project in light of its cost and impact and the agency's goals. If the project is approved, the IT team recommends the best technical solution.

Anderson also pushed for small but important changes like insisting that everyone use an alphanumeric naming system for shared files; now it's easier for authorized staff to find information in agency databases. He expects that his investment in processes will lay the foundation that future hires can build on. "This is a marathon, not a sprint," Anderson says. "We have to build solutions that outlive us all."

@pb

A Revolving Door

Last year, SkillSoft, a Nashua N.H.-based seller of training software, surveyed 2,800 workers in the U.K., including about 300 IT employees. Among the findings: 90% of the IT managers surveyed are looking for another job.

IT workers are "always looking out there to see what else is in the marketplace," says Dennis Brown, SkillSoft's co-founder and senior director of market development.

So CIOs face a constant struggle to replace departing personnel. Midmarket CIOs are especially challenged because of their smaller staffs; in midsized companies, each employee wears many hats and is more difficult to replace.

A State of Denial

Karen Rubenstrunk, a senior client partner at executive search firm Korn/Ferry International, says she recently attended a conference where CIOs discussed these issues. "It's as if they're in a state of denial," she says. "They understand it's an issue. But they don't really face it" by doing succession planning to pass on knowledge to new hires.

Most CIOs try to make sure that staffers with specialized technical expertise pass on these skills. But they usually overlook the importance of transferring what Rubenstrunk calls "tribal knowledge." For instance, who must give the unofficial nod before a project can go forward? Which meetings can be safely skipped?

The best companies make their new hires effective in their jobs within two months, Rubenstrunk says. But in reality, "I've seen a lot of people who still don't know their way around after six to eight months." Overall, companies "have not spent enough time adding some structure around the transfer of knowledge," she adds.

Formal Mentoring

One of the problems is that few companies formally reward IT executives for mentoring or setting up systems to institutionalize individuals' knowledge and pass it on. This is especially true of midmarket companies, which have less money to invest in formal training programs.

Some CIOs use the annual review process to ensure that employees are mentoring. But if all those reviews are due at the same time, odds are the CIO doesn't have time to discuss these issues in depth. "If I'm always under the gun and I have to do [performance reviews for] all 25 people at the same time, in reality, how can I do my absolute best?" Rubenstrunk asks.

CIOs and their staff may benefit from staggered performance evaluations throughout the year. If your company clusters reviews at the end of the year, here's an alternative: Have quarterly discussions -- not reviews -- with your staff about how well they are learning and teaching their jobs.

"Any one of those little things just adds that much more to your ability to understand what a person knows or doesn't know and what they should know," Rubenstrunk says.

-- J.I.R.



Input From the Front Lines

Ron Campbell, director of the agency's HIV/AIDS initiatives, is glad Anderson signed on. Four years ago, when Campbell was country director for Tanzania, he had a roomful of Macintosh desktops that ran several different operating systems. They couldn't read one another's Microsoft Word documents. Campbell stopped using an Internet connection because it took 20 minutes to load a single website. And just one person among a staff of 30 could do computer troubleshooting.

When Campbell tried to email documents to USAID or the U.S. Embassy, "half the time they couldn't open the blasted file" because it had been created on an out-of-date Mac, he says. "I was really limping along out there."

Just before Anderson arrived, the agency standardized on Wintel PCs. Under Anderson, the agency upgraded from a 31-bit Amdahl mainframe to a Unix environment. Now Anderson is working on installing a virtual private network to make it easier for staffers around the world to communicate securely with one another, not just headquarters.

Campbell thinks enforced turnover made these changes happen faster. Because the agency is constantly hiring and because some of the hires at headquarters have previously served as Peace Corps volunteers overseas, headquarters has "a fresh and constant connection with the field," he says. About 15% of the Corps' domestic IT staff and 2% of its overseas staff are former volunteers who have some expertise in technology. Some hold technical college degrees; some volunteered in a technical area for the Corps; and some held IT positions before applying to the Corps' IT staff.

These former volunteers arrive with firsthand experience about how to improve IT in the field. This also means that few people on staff have been around long enough to be bored. "We've avoided some of the pitfalls of a mature bureaucracy," Campbell says.

The programmers in the trenches agree. Duncan Hays, an application systems development expert, is one of the select few Peace Corps employees who have managed to exceed the mandated tenure limit. He has been at the agency nine years. After serving two tours, he was chosen to serve a third. When that expired, he achieved "expert" status because of his knowledge of systems, which means that, if invited, he can renew his contract one year at a time.

During his tenure, Hays has seen the agency buy and jettison its Amdahl mainframe and adopt Microsoft's .NET. With the five-year rule, "the modernization happens much more rapidly," Hays says. In comparison, Hays' friend works for a state government agency that "had a mainframe and had a crew of old mainframe programmers that you couldn't get rid of," he says. "They weren't going to change their ways. There's nothing you could do. They were just stuck.

"Whereas here you get new managers that have new ideas and things get promoted," he says. The challenge is passing good ideas on to the next generation: "How do we capture and bank the knowledge base that we have created?" Campbell asks. (See "A Revolving Door," above.)

@pb

Knowledge Transfer

Ram Murthy has spent a lot of time puzzling over that question. As director of application systems, he oversees a staff of 17. Last year, almost all his most senior workers left the Corps when their tours were up.

The mass exodus sharpened Murthy's awareness of how important it is to plan for personnel transitions. After he filled the vacancies, he reorganized his staff to better cope with turnover. "Especially when people get around to their second tour, I try to make them more mentors rather than directly be the task producers," he explains.

Mentors like Hays don't drop their current projects -- but they don't take on new ones, either. Murthy's hope is that they can spend more time coaching, "trying to dissipate knowledge" before they go.

Currently, it takes Murthy three to four months to get new hires up to speed, partly because his group "is still maturing in our documentation practices," he says. Next year, he plans to install better information access tools so that the group can treat all information like source code, checking it in and out of a structured directory. "That should eliminate some of the problems for new people when they come on board," Murthy says.

At the same time, he and his staff are developing and documenting procedures for everything they do, including change management, software releases and quality control. "If I can turn it into a boot camp," Murthy muses, new hires might become productive in a mere month.

For Murthy, the five-year rule makes staff development critical. He uses training to meet the evolving needs of the agency and to retain workers who might otherwise be tempted to job-hop before their time is up. But he also does it for the sake of his workers. "I want to get them to a place that when they're ready to leave the Peace Corps, their skills are marketable," he says.

If Murthy can help the Peace Corps earn a reputation as a good place to get training, that will make it easier to recruit staff. (And yes, the five-year rule can be a deterrent; Murthy remembers two candidates who politely thanked him and walked out of interviews after learning about the rule.)

In fact, the place does have the aura of a university where all workers are expected to "graduate" into their next lives. "Things are more open here," says Hays. "It's just assumed that everybody's leaving."

@pb

Moving On

Playing the part of dean, Anderson even inquired about whether he could help slot his departing employees into other agencies. This being his first government job, he didn't realize that such arrangements are against the rules. But there is some comfort for departing staff: By law, when someone who has worked for the Peace Corps is qualified for a job at a federal agency, he must be given hiring preference over any other candidates.

Meanwhile, as might be expected, headhunters are calling. Karen Rubenstrunk, a senior client partner at executive search firm Korn/Ferry International, confesses she contacted Anderson a few weeks before we did. She knows him well; they both sit on a committee at American University's Kogod School of Business. She's disappointed, though not surprised, that Anderson is "committed to staying there for his five years," she says. Will Rubenstrunk keep after Anderson anyway? "Oh yeah," she says. "As soon as he's within a year of his five years, he's going to be a prime candidate."

Anderson swears he won't leave the Corps early because he wants to help tackle AIDS and malaria; malaria alone kills 3,000 people every day in Africa. "How do you watch 3,000 people a day die and not figure out a way to do things about it?" he asks.

The Peace Corps is an independent federal agency but still subject to all federal rules and regulations, including those surrounding hiring and firing. That means Anderson can't handpick his successor. But hopefully by the time he answers a headhunter's call, he will have passed on what he knows to his remaining lieutenants.

After that, moving won't be hard; all he'll have to do is untape his daughters' butterfly pictures from the wall.

Joan Indiana Rigdon was a contributing writer for CIO Decisions. To comment on this story, email editor@ciodecisions.com.
Dig Deeper on Small-business IT strategy