Manage
Learn to apply best practices and optimize your operations.
Editor's Letter: Time for IT Leaders to Stand and Deliver
I've always had something of a crush on big iron. Maybe it's because my first technology beat in the early 1990s centered on VAX 6000s, AS/400s and Unix workstations. I really loved trooping around data centers, stepping over piles of tangled cabling while interviewing IT managers. They always talked their heads off when so comfortably at home in their element, perhaps lulled by the roar of those old HVAC systems.

Then client/server computing and open systems came along in the mid-1990s, and data centers were suddenly uncool. Various industry blowhards predicted when the last data center lights would flicker out. Well, ha. Guess again.

Download this free guide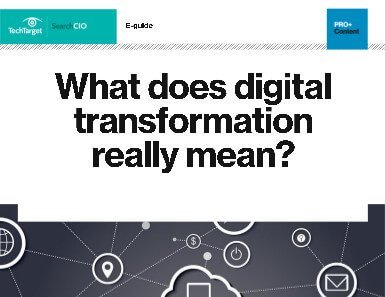 PDF: What does "digital transformation" really mean?
What exactly is digital transformation? You may hear the term often, but everyone seems to have a different definition. See how our experts define digitization, and how you can get started in this free guide.
By submitting your personal information, you agree that TechTarget and its partners may contact you regarding relevant content, products and special offers.
You also agree that your personal information may be transferred and processed in the United States, and that you have read and agree to the Terms of Use and the Privacy Policy.
Data centers today are, in fact, strategic assets in everything from enabling e-commerce to keeping the business growing. In this month's CIO Habitat survey results, 74% of 126 executives rated the "state of the data center" as getting better all the time. The majority (76%) have already made the call about whether to build their own or outsource portions of their data center capabilities.
While no one is tracking precise numbers, analysts all agree that data center outsourcing deals are multiplying like crazy in the midmarket. Some are the simpler rent-your-data center-type hosting arrangements, while others expand to include what vendors euphemistically call "managed services." These involve handing over the care and feeding of your key applications to a service provider.
Our cover story this month (Data Center Crossroads) explores how and why several midmarket companies chose various hosting and outsourcing arrangements. And in one searingly honest account of a managed-service contract gone wrong (Meet the Terminator), you'll see how the $750-million Blount Inc. fired its vendor and regained control of its software destiny. "We live in a touchy-feely world where you get a lot of people singing 'Kumbaya' about being partners with your vendors, so a lot of CIOs don't say anything when there's a problem," Blount's vice president of information services told me. "Well, I have a simple rule: I pay you for a service, and I expect one to be delivered."
That stand-and-deliver demand should be echoed from IT leaders across the midmarket. You may not realize what an increasingly influential group you are with vendors, especially as your companies surge toward the $1-billion revenue mark. As I write this, we've closed the nominations process for our first CIO Decisions Midmarket Leadership Awards, ending up with more than 160 executives to consider. When we announce the winners at our CIO Decisions Conference (June 5-8 in Carlsbad, Calif.), they will certainly reflect the midmarket's great diversity. What they will have in common is how thoroughly they've proved the business value of IT.
What we've tried to prove with the success of CIO Decisions over the past year -- this issue marks our first anniversary, in fact -- is that midsized companies and their IT leaders deserve this industry's attention. I've taken to calling you "the Fortune 50,000" when talking with vendors about the impact of this market. That usually gets an appreciative laugh. But I'm serious. Your companies shouldn't be lumped in with small and midsized businesses or with much larger enterprises. Your growth rates, technology sophistication and business complexity all demand respect. Your vendors need to get that and recognize just how much you stand and deliver.
Dig Deeper on Small-business IT strategy