Manage
Learn to apply best practices and optimize your operations.
Editor's letter: IT leaders motivating change
Beating at the heart of every CIO's job is change, and if the heart of your job really is about change, I contend that the soul must be -- or ought to be -- about motivation.
Beating at the heart of every CIO's job is change -- a constant pulsing force, predictable only in its sheer relentlessness. Some IT people embrace it and feed off its energy. Many others curl into a mental ball of anxiety and pray for deliverance. But if the heart of your job really is about change, I contend that the soul must be -- or ought to be -- about motivation.

Download this free guide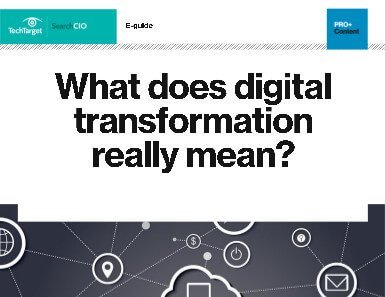 PDF: What does "digital transformation" really mean?
What exactly is digital transformation? You may hear the term often, but everyone seems to have a different definition. See how our experts define digitization, and how you can get started in this free guide.
Derived from the Latin word "motivus" ("a moving cause"), motivation is a singularly powerful force in changing human behavior. As any IT leader will tell you, merely "managing" people isn't very satisfying. But inspiring those around you and persuading them to actually embrace change? Now that's a profoundly good time.
If you're with me so far, you'll want to turn next to Joan Rigdon's "Are Your Employees Deflated?," which delivers a message about nurturing a sense of purpose among the often-overworked IT staffs at midsized companies.
Especially inspiring is the approach of CIO Kevin Stack to rebuilding IT motivation at Jo-Ann Stores Inc. To counteract morale slippage, this CIO launched several changes to crack open communication and get ideas flowing. He invited programmers into business strategy meetings to learn how product placement in the craft stores directly influenced sales and profits. That exposure changed the way his technologists view their own work. "Having a clearer understanding of the impact they have is a big motivator," Stack explains.
Finding the best ways to infuse an IT staff with business understanding is a classic conundrum for CIOs, in fact. When we surveyed our readers this fall, we were surprised to learn that nearly half our 394 respondents couldn't name their company's top business goals. (No wonder IT-business alignment concerns are the perennial No. 1 on every CIO survey.) We also asked readers about the most important business factors driving IT strategy in the coming year. Tied for first place were "security/risk management" and "growth."
High-growth companies and the hair-on-fire way they approach IT always make for entertaining reading, as Linda Tucci's story ("In Step With Growth") certainly bears out. The story about how Ugg boots hit the big time on the Oprah show -- and then flooded the manufacturer with dangerously sudden growth -- is a cautionary tale about IT strategy rising to the occasion of business demand. Throughout this issue, you'll see many threads of change, growth and leadership pulling through our stories. They're in Tom Kaneshige's case study on resort housekeeping provider MasterCorp ("The Master Asset"), and Michael Ybarra's look at how midmarket companies figure out whether to outsource a call center ("1-800-Outsource-Me").
Finally, in keeping with the spirit of motivating change, you'll see a new editorial director at the top of this page in our January 2007 issue. Editor in Chief Anne McCrory, who co-founded this magazine with me in April 2005, is stepping into the well-deserved role at the top of our masthead. Anne is an award-winning editor and journalist, equipped with an MBA and a talent for running great IT publications. I'll stay involved with the magazine (how could I not?) as the founding editor. I'll also be making a transition from editor to entrepreneur, as I launch my own business in IT executive event services. I'll be spending even more of my time talking to CIOs for a living, so I know our paths will cross again.
So here's to embracing change -- the greatest motivator of all.
Dig Deeper on Small-business IT strategy