Manage
Learn to apply best practices and optimize your operations.
Editor's Letter: IT Credibility on Trial
Credibility, like integrity, is really quite personal. It's the power to elicit belief in others, to instill an abiding trust that you'll do what you say. So it amazes and perplexes me that CIOs -- and the rest of the IT profession along with them -- still struggle with a credibility problem.

Download this free guide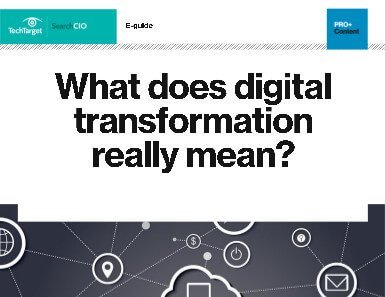 PDF: What does "digital transformation" really mean?
What exactly is digital transformation? You may hear the term often, but everyone seems to have a different definition. See how our experts define digitization, and how you can get started in this free guide.
By submitting your personal information, you agree that TechTarget and its partners may contact you regarding relevant content, products and special offers.
You also agree that your personal information may be transferred and processed in the United States, and that you have read and agree to the Terms of Use and the Privacy Policy.
You'd think we were talking about salesmen or politicians here, not the kind of forthright, straight-talking IT people I meet all the time. Yet the fact that you'd rarely mistake an IT executive for a sales guy or a politician might actually be part of the problem. CIOs who can't sell their ideas or successfully navigate organizational politics don't last long.
"Lack of credibility is a systemic problem in IT," says Thornton May, whose original research on IT leadership can be found in our CIO Habitat report. "You know what the No. 1 contributor to CIO credibility is? How much did your predecessor suck?"
Thornton's observation cracked up a crowd of IT executives last month at UCLA's IS Associates May Forum, where the ideas exchanged about IT credibility had more to do with psychology than technology.
"The answer is in the relationships you have with the rest of the business," says Gregg Farris, vice president of IT for $750 million Oceaneering International Inc. in Houston. He's created an internal PR program within his 60-person IT department to encourage more staff outreach to the rest of the company. "Sales and operations people thrive on human contact," Farris notes, "while IT people communicate and operate via email."
Throughout this issue, you'll find a strong current of credibility moving through our stories and opinion columns. Building credibility, in fact, is a major theme of our "To Boldly Go" story, which details how a number of midmarket CIOs who switched companies and industries came up to speed in their new environments. "A long time ago a boss told me you shouldn't be in the office more than two-thirds of the time," says Mike Taylor, CIO of Seattle's Todd Pacific Shipyards. "You should be walking around talking to users."
Taylor's arrival at his new job was particularly harrowing, landing as it did on the night an old ERP system went belly-up. He spent his first month on a rescue mission, recovering databases. "Having the system fail on my first night here and being able to fix things gave me credibility with management," he says. "It turned a liability into an asset."
For Tracy Austin, CIO of Mandalay Resort Group in Las Vegas, establishing credibility meant setting up a cross-training program of "shadowing opportunities" to follow employees in various departments. "I'd go hang out in the pit with people dealing the cards, trying to understand their jobs," she says. "If people see you get out from behind your desk and roll up your sleeves and try to understand their world, that goes a long way."
The true test for IT credibility, however, resides with the CEO. See how our ERP Journey columnist Les Johnson passed that test in his latest executive diary installment. "We will spend more money on this project than the company has ever spent on any one thing," he writes. "In case I had forgotten, we were reminded of this fact by our owner during a recent manager's meeting. After he slowly quoted our budgeted cost, the room got real quiet, and stayed that way as he milked the moment. He eventually broke the silence, saying, 'But you and your team have done a great job. My hat's off to you.'"
Now that's credibility.
Dig Deeper on Small-business IT strategy