Manage
Learn to apply best practices and optimize your operations.
ERP and Inventory and Workforce Management Tools Help Bag Market Share
Midsized supermarkets are feeling the squeeze from an explosion of channels that now sell food. To combat mounting competition, they're using ERP as well as inventory and workforce management technologies.
At online grocer FreshDirect LLC, technology doesn't support the business strategy; it is the business strategy.

Focus On: Retail Grocery

Top business challenge: To compete with multiplying grocery channels while keeping costs low.
---
Solution: To supply higher-quality offerings and achieve efficiencies in areas such as inventory management and order fulfillment.
---
How IT can help: By deploying ERP, inventory management systems and Web-based workforce management systems.

Founded in 1999, the $240-million company processes 6,000 online orders a day out of a single warehouse in Queens. Time-strapped New Yorkers don't have to traverse the busy aisles of a traditional store; they can order Skippy and Tide online, along with made-to-order items like prepared meals; some 50 blends of fresh-roasted coffee; and kosher or organic meat, all packaged and delivered the next day to their specifications.
The Wal-Mart Effect
FreshDirect exemplifies how smaller grocers are shifting their strategies to compete in the $500-billon retail grocery industry. Over the past decade, an explosion of grocery channels -- from wholesale clubs to high-end organic stores -- has captured an increasing portion of grocery business.
Wal-Mart has taken a significant bite. According to market research firm Retail Forward, in 2005 some 20% of consumers did their primary grocery shopping at Wal-Mart, up from 4% in 1999. "The Wal-Mart effect on the marketplace has forced supermarket operators out of the center," says Frank Dipasquale, senior vice president at the National Grocers Association. To differentiate themselves from low-cost powerhouses and larger high-end rivals, midmarket grocers are choosing formats that offer "a niche in which to compete," Dipasquale says.
That means providing more prepared-food offerings as well as better service and products. But in a business with margins of 1.46%, stepping up product and service quality without breaking the bank is no small task. So midsized groceries have turned to various technologies, including enterprise resource planning (ERP) systems to bring efficiency to operations; inventory management systems to get a handle on ordering; and business intelligence tools to provide customer-specific service. And to manage its high-turnover workforce, retail grocers have turned to Web-based technologies to automate payroll and benefits.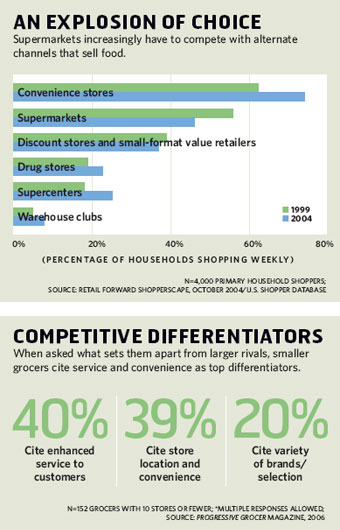 Keeping Inventory Fresh
At FreshDirect's warehouse, technology drives operations. FreshDirect operates more like "Dell's assembly line" than a grocery store, says CIO Kelly McGowan. Using SAP's R/3 ERP system, the company processes orders through its website, then parcels out portions of an order -- for fresh salmon, strawberries and rye bread, for example -- to their respective departments. Items are prepared and shrink-wrapped, then bar-coded and scanned so they can be combined with other parts of a customer's order on the assembly line.
This system of breaking up portions of an order, then prioritizing item preparation according to when orders need to be delivered and where they are in the department's queue of tasks, means that operations handle volume efficiently, says McGowan. "We're not like a Peapod, where someone is just walking through aisles and shopping for your individual order. We've changed the whole process."
R/3 also tracks FreshDirect's 10,000 product SKUs in real time, so systems know if an item is about to sell out; and R/3 can further indicate how customers want items prepared. "SAP allows us to use a lot of just-in-time techniques to fulfill your order," says McGowan. "If you order salmon, [the slices] stay on the whole fish until your order comes in." And a made-to-order model enables FreshDirect to control costs by minimizing inventory. "We've cut a huge amount of time out of the supply chain because we don't have to stock as much as a normal store," says McGowan.
Since it opened its doors in 2002, $200-million Sprouts Farmers Market based in Phoenix has specialized in the "farmer's market niche," touting high-quality food at affordable prices. Sprouts' 19 locations use an open store design, with low aisles and farm-fresh and organic products located in bins at the center of stores. A strong emphasis on customer service has made the core technology challenge one of ensuring that "what's on the shelf satisfies the demand," says Doug Sanders, senior VP and COO.
So Sprouts uses Retalix Ltd.'s Category Analyzer, an inventory management application that provides its ordering managers with information on which products are selling and which need to be ordered, as well as Retalix HQ, which feeds current product pricing and other information to cash registers and handhelds. Now managers can forecast what Sprouts anticipates selling so vendors "can get us the items we need," says Sanders. By the end of next year, Sanders hopes to make inventory information available to suppliers through Sprouts' Web-based portal. That way, Sprouts ordering managers and suppliers can coordinate product ordering online. In the meantime, managers can access some inventory and pricing data through the portal.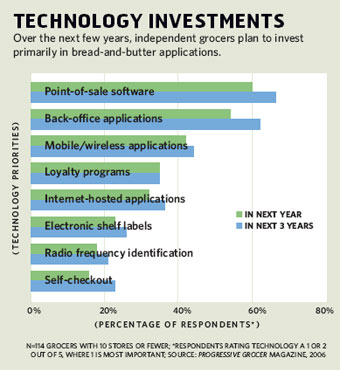 Managing Information
Better information does more than create operational efficiency; it also helps improve customer service. At FreshDirect, business intelligence is central to that goal, says McGowan. For example, in 2006, when batches of California spinach were discovered to contain the E. coli virus, FreshDirect's systems could alert customers who had ordered the affected crop and reassure those who had ordered spinach from unaffected regions. And soon the company plans to provide customer-specific screen views to reflect customer tastes; a vegetarian customer, for example, shouldn't have to view the virtual meat aisle, but he should see recipes that call for the products he buys, says McGowan.
At Sprouts, centralized data and Web-based initiatives are also helping with thorny workforce issues. According to the industry research group Food Marketing Institute, in 2006 average turnover for the labor-intensive grocery industry was 42%, so companies are turning to technology to stay on top of hiring, payroll and benefits.
Over the past eight months, Sprouts has begun deploying workforce management technologies from Unicru/Kronos Inc. to automate payroll entry and manage information for its 1,500 employees. And because this employee time and attendance data is centralized, it streamlines the process of transferring employees between Sprouts' 19 stores, says Sanders. Ultimately, employees will be able to choose benefits online and view paycheck information and vacation time.
Online capabilities also help with hiring. If an applicant applies online for a deli manager position at a store with no openings, the website makes his information available to other locations with open positions. All these online tools increase staff access to information, enabling Sprouts to hire and retain a "better-quality employee," says Sanders.
At Scarborough, Maine-based Hannaford Bros. Co., deploying Lawson Software's Web-based payroll and benefits system has helped lower costs and minimize turnover for its 25,000-strong workforce. "We had people on the books who were still receiving medical coverage weeks after they had been terminated," says Jon Doody, team leader of HR and payroll at Hannaford. Paycheck errors had to be fixed retroactively. Now managers at its 158 stores no longer have to fax changes to the payroll department; they can enter this data online, which allows Hannaford to save $125,000 annually by streamlining administrative tasks and reducing paper. Since payroll administrators devote less time to data entry, their position has become "more strategic," says Doody. That has increased payroll employees' job satisfaction and, combined with Lawson's self-service options that allow all employees to enroll in benefits online, has helped reduce Hannaford's turnover from 59% to 47%.
For these retail groceries, upcoming IT projects aim to build on gained efficiency. FreshDirect is trying to find software that can provide its 400 delivery people with information on the most effective routes around the city. That's a tall order for any technology, notes McGowan, since it has to make sense of New York's myriad logistical challenges, including whether it makes more sense for delivery people to park two blocks from an apartment building and walk.
And at Sprouts, Sanders hopes to move even more information online, providing vendors with immediate access to the company's inventory needs and employees with scheduling and payroll information.
But, says Sanders, with its plans to expand from 19 stores to 50 locations by 2010, Sprouts has chosen a path of incremental technology improvements so it can concentrate on growth. "The focus right now is fundamentals: getting solid ordering and receiving and inventory controls in place. Then you can do all the other fun stuff."
Lauren Horwitz, former managing editor, production, for CIO Decisions, is now managing editor for TechTarget's Data Center Media Group. Write to her at [email protected].
Dig Deeper on Small-business infrastructure and operations