Manage
Learn to apply best practices and optimize your operations.
ERP Systems, BI Tools Help Chemical Manufacturers Face Global Issues
To combat soaring energy costs and global competition, chemical manufacturers are turning to ERP integrations and BI tools.
Over the past several years, chemical manufacturers have faced an increasingly challenging operating environment. Single-digit profit margins -- by one estimate, about 8% -- have become only more difficult to sustain as two market forces place additional pressure on the bottom line.

Chemical Manufacturing

Top business challenge: Contend with an increasingly global marketplace and rising raw-material costs
---
Solution: Grow by acquisition or specialization; eliminate redundancy; monitor costs
---
How IT can help: Deploy ERP systems; use data warehousing and mobile technologies

First, chemical producers now spend far more on raw materials -- particularly for natural gas and oil, whose prices have doubled and nearly tripled, respectively, since 2003 -- to run their plants and to produce and ship products. This augments an already hefty burden; manufacturers typically shell out some 50% to 60% of each sale on raw materials. Second, U.S. manufacturers now operate in increasingly global terrain, confronting price competition from producers in Europe and Asia. By 2002, more than 70 years of interrupted trade surpluses in U.S. chemical production had reversed to become a deficit; in 2004, the most recent year for which figures are available, U.S. industry recorded a trade deficit of $3.6 billion.
To stay competitive, midmarket manufacturers are expanding by acquisition in search of economies of scale or by focusing on the "specialty" portions of their business: those compounds that set them apart from competitors. And to squeeze out costs and generate growth, these firms are turning to IT, particularly through enterprise resource planning (ERP) implementations. Meanwhile, firms with more advanced ERP implementations are using them as a platform for additional analytical tools, such as business intelligence. The IT goals: to help managers set prices, monitor costs, keep inventory lean and improve process efficiency.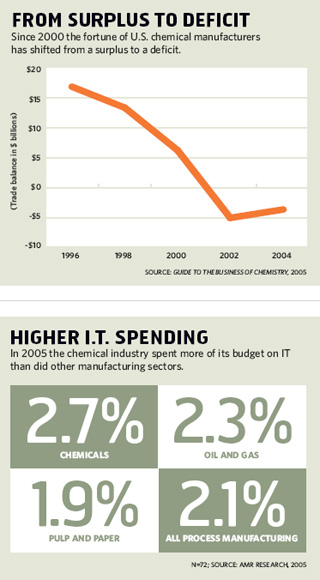 Essential ERP
Minneapolis-based Hawkins Inc. has 14 sites in the Midwest and produces chemicals ranging from water-treatment compounds to food ingredients and adhesives. Achieving greater efficiency in reporting financials and improving business processes were chief goals in Hawkins' move to Oracle's EnterpriseOne software; the two-year implementation will wrap up this October. "If we're going to grow, we have to automate so we can spend time doing other things -- planning and growing the business rather than the day-to-day accounting for products," says Jim Tegelhutter, director of information systems at the $143-million firm. With EnterpriseOne, Hawkins can shave as much as two days off sending out customer invoices, and it can get a more accurate picture of costs and future materials needs, he says.
Much of the caustic soda Hawkins buys to produce its water-treatment chemicals, for example, is delivered via barge on the Mississippi River, and shipments shut down during the winter season. The new ERP system will help the company anticipate its needs, as well as its customers' needs, for caustic until shipments resume in April, Tegelhutter says.
Arch Chemicals Inc. is a $1.3-billion company looking to ERP to give it visibility into its acquisitions in Europe, Latin America and Asia. Its seven units produce water-treatment chemicals, wood preservatives and fine-furniture coatings, among other products. Currently, Arch is deploying a single global instance of SAP, says Al Schmidt, vice president and CIO; thus far, businesses that account for 60% of Arch's revenue have been migrated over to R/3. Next up are three U.K. locations. "SAP will improve visibility into operations and allow [these sites] to set up a service-center model to handle back-office functions and improve efficiency and service. It's a major point of focus," Schmidt says.
With its range of products, including chemicals used to make diapers as well as furniture upholstery and roofing materials, Omnova Solutions Inc. inherited many homegrown systems through a series of acquisitions. Like Arch, the $810-million global manufacturer in Fairlawn, Ohio, needed to integrate disparate locations and eliminate legacy applications. Two years ago, the firm launched an SAP R/3 implementation in concert with a business process improvement initiative using Lean Six Sigma methodology. "We can't control the price of oil or other materials, but we can make our processes more efficient and cost-effective by simplifying and eliminating redundancy," says Doug Wenger, senior vice president and CIO. The initiative has been key in helping Omnova trim sales, general and administrative (SG&A) costs from 19% of sales in 2004 to 15% last year.
The firm's BI project, using SAP's Business Warehouse module, also helped reduce SG&A costs and cut time out of Omnova's planning cycles. "We can provide management with up-to-date information on orders, forecasts and materials. The BI project has reduced our planning and budgeting cycle by a factor of more than two," says Wenger.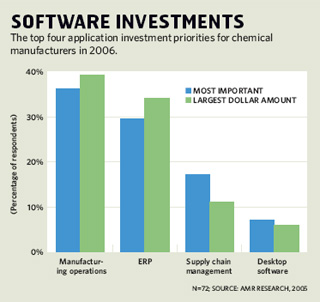 Disciplining Data
But reducing costs is just part of enhancing the bottom line; revenue creation is the other. And chemical companies are using IT to gain insight about optimal pricing, product selection and customer behavior. "[Chemical manufacturers] are very dependent on pricing, so it's important to get these prices right," says Frank Kochendoerfer, director of the chemicals industry business unit at SAP AG.
Arch has embarked on a data warehousing project using Microsoft SQL Server that will help product managers view the profitability of particular products and set prices accordingly. "We try to build pictures of not only the profitability of individual customers, but then also to understand the products that they're buying through individual SKUs," says Schmidt. "That provides business managers the information they need to set prices, understand who their profitable customers are and optimize profits by adjusting the mix of what they are selling. It's an important management tool in this era of rising raw-material and transportation costs."
Using Cognos, Hawkins also has a data warehousing project on tap. "Right now, the emphasis is getting capability from the financial perspective: 'Tell me profitability on this customer or this product that includes all our overhead.' So it's still a summary-type information tool," says Tegelhutter.
Omnova ultimately plans to link customer activity on its Web site with data from R/3 so that, for example, the company can better manage manufacturing cycles based on the samples customers order from the site. "We believe we can better predict and plan for our customer orders by analyzing all aspects of the sales cycle, including quoting, sampling and other key steps," says Wenger. "Our vision is to have all this integrated as our customer needs evolve."
In addition to adding on applications like data analytics, chemical companies are extending their ERP systems into the field. At Hawkins, ERP data sent out to wireless Intermec handhelds, for example, has enabled its salespeople, who also deliver water-treatment chemicals, to access customer data easily. "They can look at customers' history, find out what they bought last; they can do some analysis. All that stuff was either manual or in their head prior to this implementation," says Tegelhutter.
As manufacturers move to the latter phases of their ERP implementations, they're able to build on the foundation they have laid. But as Omnova's Wenger says, "You need to have a solid, world-class infrastructure first."
Lauren Horwitz, former managing editor, production, for CIO Decisions, is now managing editor for TechTarget's Data Center Media Group. Write to her at lhorwitz@techtarget.com.
Dig Deeper on Small-business infrastructure and operations