Manage
Learn to apply best practices and optimize your operations.
Dolby Laboratories CIO, Exec. Discuss How to Prioritize IT Projects
At a unit of Dolby Laboratories, the CIO and president discuss how they are managing double-digit growth and competing IT requests.
Dolby Laboratories
REVENUE: $328 million
IT CHIEF: Mina Millett, CIO
BUSINESS COLLEAGUE: Ed Schummer, president of subsidiary Via Licensing Corp.
WORKING TOGETHER Nine years
IT/BUSINESS CHALLENGE: Manage double-digit growth, deploy an ERP system and build a custom application
UPSHOT: Prioritize IT projects based on strength of the business case

Download this free guide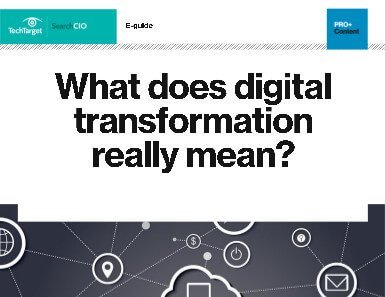 PDF: What does "digital transformation" really mean?
What exactly is digital transformation? You may hear the term often, but everyone seems to have a different definition. See how our experts define digitization, and how you can get started in this free guide.
By submitting your personal information, you agree that TechTarget and its partners may contact you regarding relevant content, products and special offers.
You also agree that your personal information may be transferred and processed in the United States, and that you have read and agree to the Terms of Use and the Privacy Policy.
Engineer Ray Dolby founded Dolby Laboratories Inc. in 1965, and before long the company changed the way the world listened to music and experienced movies. If you've ever played a cassette tape, heard a train roar in a cinema or had your walls shaken by your neighbor's home-theater system, then you've experienced Dolby's technology.
The company's first breakthrough was a new form of audio compression called noise reduction, which eliminated much of the background hiss in tape recording. It soon became the standard for the recording and film industries.
Today, San Francisco-based Dolby employs more than 800 people. The company went public in 2005 and is experiencing double-digit annual growth, fueled by the worldwide boom in digital media and consumer electronics.
Dolby's business is split between two divisions: professional, which makes and leases audio equipment for the film and music industries; and consumer, which licenses audio technology to electronics makers and software developers. In addition, in 2002, Dolby created a wholly owned subsidiary called Via Licensing that seeks to leverage the company's intellectual property expertise (three-quarters of parent Dolby's revenue comes from international royalties). The new business processes licensing transactions for third parties, but it also competes with Dolby's other units for finite IT resources.
Dolby CIO Mina Millett is responsible for an IT organization that serves both Dolby and Via. Deploying a new enterprise resource planning (ERP) system, managing growth at both units and establishing a key business application for the startup have driven her agenda. Creating and administering the so-called patent pools for non-Dolby technologies such as the IEEE 802.11 wireless standard meant that the IT department had to create a Web-based application for patent holders that links up with Dolby's legacy system to process licensing transactions.
Meeting those challenges are Millett and Via President Ed Schummer.
What's the biggest challenge you face today?
Ed Schummer: The biggest challenge Dolby faces as a company is the proliferation of business models that are required to stay in the licensing-oriented business we're in. I run a small subsidiary of Dolby called Via Licensing Corp., which has an even more specialized model. Dolby is mostly outlicensing -- licensing our technology to others. Via is involved in administering patent pools. You receive funds from licensees all over the world and have to distribute royalties all over the world. It's a transactional challenge. Every license has a withholding tax, which is different from country to country. You have to keep track of who has what tax credit in which country. We don't have an army of accountants. We have to rely on systems. That's where Mina comes in, providing us with the infrastructure.
Mina Millett: My biggest challenge is being able to keep up with the growth. We are working on a 10-phase, three-year PeopleSoft ERP deployment plan. So far, we've done eight phases; fixed assets and supply chain management are the last two phases we haven't kicked off yet. We came off a very old manufacturing green-screen system. We've been doing a bunch of Sarbanes-Oxley compliance work at the same time.
The users are settling in and trying to learn the PeopleSoft features. We tried to keep PeopleSoft as vanilla as possible to keep up with the patches. We assumed that everyone could print an invoice. We highlighted the Dolby-unique aspects. We kept our custom preprocessor -- the application that runs the transaction before it plugs the data into the ERP system -- in front of PeopleSoft. That's moved from FoxPro to VB6, and it's being upgraded to VB.NET.
Each set of licensing terms we handle is different, and so the back-end applications are customized. For Via we're putting a secure extranet phase on the back-end system. It's a copy of Dolby's internal system.
Schummer: When I started here 28 years ago, everything was totally manual. We got a handwritten piece of paper from a licensee at the end of the quarter, and they sent us a check. To go to an environment where you can do your transactions online is dramatic. The growth of our business depends on this. The current volume of business would have been impossible without these sorts of technology backdrops.
How closely do the business and IT sides work together?
Millett: Business analysts in the user departments prioritize the IT workload. We used to get a million requests, and we couldn't figure what was important. I deal with each department head around budget time. I print up everything that's in the queue, even suggestions that don't have a business case. It's an annual check. We talk about priorities. I also ask colleagues, "What are you thinking about that's not on our radar screen? What should we be thinking of?"
Schummer: In the consumer division [where Schummer worked previously], I had a general manager who was the interface with IT. With Via it's a battle trying to get enough attention relative to Dolby, trying to get IT resources. As long as we represent a small portion of the overall income, I have to wave the flag and try to get attention. Dolby has been growing at 15%, 18%, 20% a year. Via's growing 100% a year. We could grow 100% for the next three years.
That raises some questions: Do we continue to rely on resources inside Dolby, or do we try to build our own? When do we say, "There's enough transactional differences that we need our own infrastructure"? Can our current technology setup handle those requirements? The world of licensing is changing on a daily basis. Do we have the technology and infrastructure to actually execute on that? It seems more and more frequently, we have to check back and see if [Dolby's IT] can do it.
Millett: Any business project has to be driven by the business. We just have to figure out how to do it with the resources we have. Every now and then, we get a business case, and I think, "Why would we do it this way?" And I'll talk to [the business sponsors]. We can't be successful unless someone inside the business is excited about it. We won't get anywhere on our own.
How do you measure success? Is an ROI metric important?
Millett: It's good to have people define success before you even start. On every business case, we say, "How do we know this is successful when we're done?" We have a scoring sheet [to evaluate projects]. Is this a project for your group? Is this a worldwide requirement? Sarbanes-Oxley? We audit it 60 days after the fact.
ROI ends up being so much funny money. The calculation isn't worth doing. Soft measures are more important: Is this strategic? Will this help grow the business? Will it make life simpler for us? If you have a good ROI template, I'd love to see it.
Schummer: We manage the [Via] business by our own profit-and-loss statement. The administrative fee [we collect on patents] is our income, typically 10% of the royalty. We're contributing $8 million in profitability to the bottom line of Dolby.
But at Via, the numbers don't begin to tell the whole story. We're talking to the world's largest corporations to administer patents for them. The new opportunities are patent pools and open standards that Dolby has nothing to do with. It has to do with the reputation that Dolby has built up. We have to be trustworthy, like a bank. Companies come to us with their most trusted asset: their intellectual property.
How complex is the licensing business?
Schummer: A [consumer] product could have one Dolby technology or seven or eight. Plus the number of processors results in a royalty number. It's a complicated calculation on each product. Imagine thousands of products, each with a slightly different mix of patents. And everyone reports their numbers in a different way.
What have you done to mitigate complexity?
Millett: One of our largest licensees is going live in April with a new system called ELF, which stands for Enhanced Licensing Financials. It's online royalty reporting. We're starting with our top eight licensees. Those top eight are a significant piece of our revenue pie. Hopefully, this makes their lives simpler. We used to send a spreadsheet that was fairly complicated. We almost needed the engineering department to figure it out. Now they report the information in an easier way. We have a product database, which we didn't really use before. Now licensees just have to tell us what the model number is and how many products they shipped, and ELF does the rest.
Online reporting is going to be a huge win for us. But it also gives us an extra challenge with our Web sites connecting all the way back into our financial system. It didn't used to have to be a 24/7 system. Now it does. We have to re-architect our system. I don't know when someone somewhere in the world will log on.
What's your most exciting project on the horizon?
Schummer: We're trying to build a scalable engine to handle the variety of patent transactions that is expandable in any direction, vertical or horizontal. We're trying to build the infrastructure so we can take this engine out of the entertainment-related sphere we're operating in now. We want to become the patent pool engine that is the mother of all patent pool engines.
Millett: In figuring out [how to design the engine for] this pool, you walk into a room with a blank sheet of paper. For a particular pool, what do you think the standards are? What standards would cover the majority of new pools?
There will always be exceptions, but if we can reduce the number of exceptions, that would be great. With Dolby it's actually easier because the consumer division controls the licensing terms. There are finite permutations. With Via, terms are reinvented every time.
Schummer: At Via we're an administrator. The patent owners control our lives; they're very protective of their intellectual property. It's a little bit like herding cats.
What's your biggest worry?
Millett: The biggest worry I have is resources. Via is one of many customers that IT has.
Schummer: We're not the biggest, but hopefully someday ... [Knocks on the wooden conference table.]
Millett: It's difficult across the company to get everyone to agree on what are the most important projects. I get a lot of requests to stop and "Do my thing right now," and we can't do that. Last year, IT had 170 projects. The IT department is 52 people, including the help desk and the network group. We have maybe 30 developers.
Trying to figure out how to divvy up the resources is a challenge. Each business unit can tell you what its most important challenge is, but it's very difficult for us to get everybody in the corporation to agree what the most important projects across the board are.
So we've put together something called the Business Infrastructure Steering Committee. But the way it really works is that everyone still comes in and fights for themselves. In the face of no decision or a fuzzy decision, it falls to IT to decide what's important. If it's really important, we'll figure out how to do it. I don't want to derail things.
Schummer: My worry is resources. If the one guy in IT who knows about Via security gets hit by a truck, we're up a creek. Via has 17 full-time positions, heading to 50. It's a chicken-and-egg thing. If we get the [patent] pools, we'll need more infrastructure. If we get the infrastructure, we'll get the pools.
Millett: We don't want to be an anchor holding Via back. We like to be able to support it at the clip it needs, at the speed at which pools come onboard. Outsourcing isn't a good option. The Web-based patent pool interface is a customized application; you need our licensing accountants to figure out how the [revenue] recognition is going to work. It's a lot of internal work on top of that engine. There's lots of development going on. It's not a standalone app I can give to a third party and say, "Make the changes."
Michael Ybarra is a contributing writer for SearchCIO-Midmarket.com. To comment on this story, email editor@ciodecisions.com.
Dig Deeper on Small-business IT strategy