Manage
Learn to apply best practices and optimize your operations.
Demand for transaction data drives consumer-packaged goods industry
Supply-chain data helps the consumer-packaged goods industry move beyond "one size fits all."
Thermos LLC is a consumer-goods company that, like many others, counts Wal-Mart Stores Inc. as a customer. But complying with the widely publicized Wal-Mart supply-chain mandate for radio frequency identification tags (RFID) is not where its executives are spending most of their time.
Rather, it's in supplying the world's largest company with varying products depending on the profile of a particular store.
"Wal-Mart doesn't want its vendors to view [the retailer] simply as one customer," explained Alex Huang, who until May was COO of Thermos USA in Rolling Meadows, Ill. Instead, he said, Wal-Mart categorizes its stores by "traits," which vary by seasonality, regional demographics and other factors. Typical traits among the more-than-200 that Huang estimates Wal-Mart has include "back to school" or "NASCAR."
"Based on a [Wal-Mart store's] current trait, we develop products and make suggestions on how to fill the shelves with our products," he said.
Consumer-packaged goods sector digs into transaction data
As you rip into that new bag of "lite" potato chips, do you feel like part of a revolution?
Probably not. More likely you had a twinge of guilt about succumbing to a snack attack instead of a nice healthy apple.
But the consumer-packaged goods (CPG) industry finds you fascinating, because you have just shone a light on a consumer-buying pattern. You have also just handed over a valuable bit of transactional data -- something they crave even more than you do those salty chips.
The collection of transaction data may not seem exciting. But if you're a CPG manufacturer, there's nothing short of a revolution going on, and data is what it's all about.
"As soon as you see customers buying lite potato chips, don't just look at stocking more lite potato chips," said the CIO of one CPG company. "Examine your entire product line. Maybe [it's time to] develop 'lite' cookies, 'lite' crackers, etc., in advance of market consumption."
At a recent meeting of the Retail Industry Leaders Association's Technology Leaders Council, a CPG company's IT executives testified to the extraordinary value of knowing what sells and where it sells. "It makes a big difference to know that the orange flavor is hanging around, and the lime sells as soon as it hits the store," said one CIO. "It used to take a week for us to know that. Now, we can adjust the shelf displays immediately."
Today's 'manufacturer'
For years, product manufacturers were busy creating toys or shoes or soup, then shipping those products to distribution centers to be trucked off to retail stores. Some items sold, some didn't. This approach looks positively quaint in 2005.
Today, many manufacturers look more like global sourcing agents. Many readily identifiable national brands like athletic shoes are owned by companies that don't actually make them, but contract out to factories across the globe to produce those goods to exact specifications. The "manufacturer" has become a designer, a distributor, a marketer and a lifestyle proponent. Its ability to communicate effectively with partners is absolutely essential to the business.
The movement of data within CPG companies and throughout their supply chains is thus the key to blazing corporate growth. Successful retailers send transaction data to manufacturers, and manufacturers send sales data back to retailers.
The result is a bright light shone on consumer-buying patterns and on ways to grow the business. Manufacturers can meet consumer needs before even the consumer is aware of them.
CPG firms are staring at another potential torrent of data -- that proffered by the usage of radio frequency identification. RFID promises to provide unprecedented visibility into the supply chain. Case shipments tagged with RFID chips can be found and moved to the right location quickly. But information about those thousands of shipments could clog data warehouses, flooding data pipelines with low-impact, high-volume junk.
Airing their dirty laundry
The data works only if it's clean. Does your company have one definition of "customer" or several? Does everyone at your company define "sold" the same way? If so, you're well on your way to boosting sales by trading information with others. If not -- and most consumer-goods companies will tell you that their internal data definitions are all over the map -- you may have terabytes of junk.
Transactional data must be relevant, correct and useful. To that end, retailers and manufacturers are working in a number of forums to ensure that data definitions match. This isn't as simple as it sounds, given that their own houses are rarely in order. But the work can reap huge benefits.
Wal-Mart's Retail Link is the most famous example of a structured data exchange between a retailer and its suppliers. Buy lite chips at a Wal-Mart store, and manufacturers will know that you and your friends are shunning the greasy fried ones. Both Wal-Mart and its suppliers are working from common definitions of products, unit sizes and prices -- a model many companies are beginning to follow.
It's a brave new world for CPG, as companies move beyond a focus on just squeezing more costs out of the supply chain. Retailers and manufacturers must redirect their attention to the consumer, and using accurate transaction data is emerging as the best guide along the way.
Cathy Hotka, a former CIO, is principal of Cathy Hotka Associates, a retail consultancy.
It's a daunting task. And just one of many facing consumer-packaged goods (CPG) firms in an era of specialization and micromarkets, where one size most decidedly no longer fits all.
Increasingly, in this land of shampoo and granola bars, coffee mugs and duct tape, that pressure to innovate, once the province of marketing and product-development gurus, is now intimately linked to IT and a CPG company's supply-chain capabilities. In a survey last summer of 166 IT executives at CPG firms, 71% of them with revenue of less than $1 billion, the top-ranking area for application investment was speeding time to market for new products.
"What used to be the mass market is no more," said Stan Elbaum, an analyst at research firm Aberdeen Group in Boston. "Instead, we have shares of micromarkets." For example, Quaker Oats recently introduced varieties of its cereals aimed at various health-related market segments, such as adults with high blood pressure.
"Continuing to develop innovative products is our No. 1 pressure," sais Gene Obrock, vice president of operations at $189 million Henkel Consumer Adhesives Inc., the maker of the Duck Tape brand of duct tape. "But you need to know how to make them cost-effectively, and what other products you can shift resources from."
Focus on: Consumer-packaged goods
Top business challenge: Respond more quickly to rapid shifts in consumer buying patterns, competitive market pressures and increasing costs.
Solution: ERP or supply chain management software that integrates warehousing systems, cuts order processing time or improves forecasting.
How technology can help: By supplying more accurate, actionable information about customer buying patterns.
Focus on the back end
Thermos, a privately held firm with annual revenue estimated at $160 million, makes a wide array of temperature-controlled beverage containers, lunch boxes and even desktop organizers, sold under its own name. When it comes to IT, the company hasn't embarked on any major forecasting projects. "Forecasting is human-driven," Huang said. "We employ several analysts just to study Wal-Mart traits."
Rather, the IT group has focused on integrating the applications involved in order processing to cut cycle times. In 2003, the company shifted from a crazy quilt of business applications to Oracle Corp.'s E-Business Suite, procured on a utility basis. Thermos says that in its Mississippi warehouse, overall productivity rose 15% in the first year with Oracle.
"Wal-Mart and Target require their vendors to ship within 48 hours of order receipt," Huang said. "We can now ship within 24 hours."
Like Thermos, Avon, Ohio-based Henkel, feels "big pressure" from big retailers to tailor its products by region and demographics, Obrock said. "The retailers all want to be different. As that [desire for differentiation] gets pushed back into our environment, we need the ability to react."
For example, Henkel knows its weather-stripping products sell in the South only during certain parts of the year, but remain big sellers in the Northeast even in the dog days of summer. Moreover, Obrock said, "a product packaged a certain way may sell great in the Northeast, but not in California. And when you start changing packaging, that level of complexity can stymie a supply chain."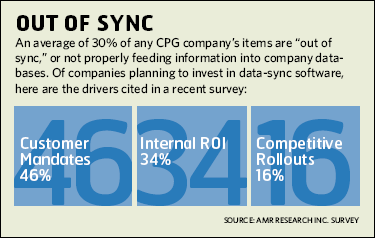 Henkel runs Optiant Inc.'s supply-chain suite, which ports information from the CPG company's Oracle database and JD Edwards ERP system into graphical "maps." These make it relatively easy to view predicted results based on demand and inventory. "Most companies don't have the tools to identify where they've got their inventory tied up with enough granularity," Obrock said. "You need to know your cost drivers not from averaging, but from each specific task in the supply chain. If you just take all your costs, ball them up and average them, you don't have enough information."
John Baschab, principal of Impact Innovations Group, a Dallas-based consultancy, believes that companies that focus on the supply chain rather than forecasting have made the right choice. A veteran of CPG and retail, Baschab said, "In most categories, it gets so there are so many variables that [forecasting] doesn't justify the expense. ... You can accurately forecast demand for something like canned corn, but in most categories it makes more sense to improve [your] ability to react to shifts in demand."
Food chain indeed
With market share ebbing as a success factor in the CPG space and commodity costs rising, some experts are advising CPG companies to abandon thin-margin product lines and focus instead on higher-profit offerings. Hatfield Quality Meats in Hatfield, Pa., isn't quite ready to drop low-margin products, but CIO Bob Hardner is using data to "move up the food chain" and maximize revenue from the high end.
Owned by Clemens Family Corp., Hatfield supplies grocery stores and other channels in the mid-Atlantic region, earning revenues of more than $427 million last year. In 2004, Hardner's team began using OutlookSoft Corp.'s Everest software to generate reports, plans and forecasts using data from Hatfield's ERP system. One of the multifaceted tool's big payoffs, according to Hardner, is that Hatfield "can now run [profit and loss] reports by product lines and retailers. It lets us segment customers and move up the value chain." The company can now keep an eye on where and when it's selling both commodity and higher value-add products and then pump resources into the latter.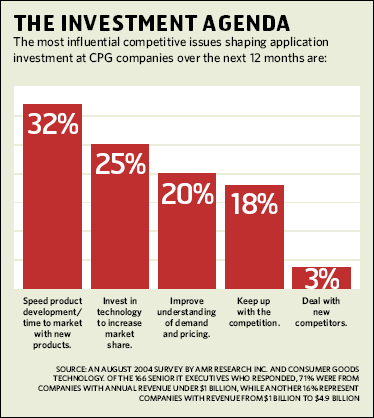 Historically, midmarket CPG firms have been viewed as IT wallflowers, with the amount they spend on IT creeping down to 2.5% of revenue in 2004, a decrease of 0.3% from the previous year, according to AMR Research Inc. in Boston. But the ever-increasing pressure from fickle consumers has forced the industry to use IT both to get products to market faster and to react quickly to their performance. "Unlike other industries, we can't complain about not having enough data," Thermos' Huang said. "Our challenge is for our people and our systems to use that data better."
The days when CPG firms waited three to six months or longer to see if a new product would catch on are no more. "Today, if you don't win in the first six weeks," said analyst Elbaum, "a competitor will."
Dig Deeper on Small-business infrastructure and operations