Manage
Learn to apply best practices and optimize your operations.
Custom Enterprise Application Helps Legal Firm Tackle Workflow Process
Two project failures led legal services firm Hobart West Group to develop a custom application -- in seven months. Meet the CIO and business EVP who led the way.
The Hobart West Group Inc.
Revenue: $170 million (est.; company is private)
CIO: Ruth Harenchar
Business Colleague: Karen Bright, EVP
Working Together: Nine months
IT/Business Challenge: Unite workflow and centralize information among 70 offices and position firm for growth
Upshot: Built custom enterprise application in seven months using a partner for development

When Ruth Harenchar arrived at legal services and staffing firm Hobart West Group in April 2005, an ambitious agenda awaited her. Among four projects on deck at the Florham Park, N.J., company was the development of a completely custom enterprise application. Nothing less than the growth of the business was riding on that project.

Download this free guide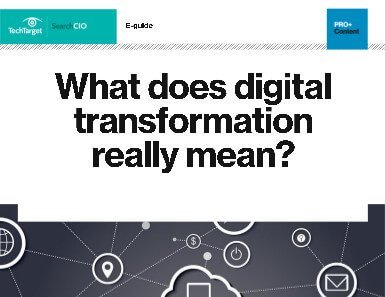 PDF: What does "digital transformation" really mean?
What exactly is digital transformation? You may hear the term often, but everyone seems to have a different definition. See how our experts define digitization, and how you can get started in this free guide.
By submitting your personal information, you agree that TechTarget and its partners may contact you regarding relevant content, products and special offers.
You also agree that your personal information may be transferred and processed in the United States, and that you have read and agree to the Terms of Use and the Privacy Policy.
Hobart West's 70 offices operated independently of one another when it came to IT. Each had its own database, its own staff and its own way of doing things. So if an attorney in Los Angeles wanted to arrange for a deposition in New York, staff in L.A. would contact Hobart West's New York office, explain the order and coordinate the work by phone. Both offices would track the client and the work; documents would often be mailed physically; and when it came time for billing, there was much to sort out. The new application would replace all that with a central database, electronic document storage and business rules governing everything from workflow to billing rates.
Karen Bright, executive vice president of special projects, joined Hobart West when it acquired her company in 1998. From the sidelines, she had seen two attempts at creating a centralized application fail; after the second effort was scuttled, the firm partnered with a software development firm, Washington, D.C.-based Digital Focus, to build the application from scratch. Using a rapid application development methodology that involved iterations every two weeks (18 in total), a team of about a dozen Digital Focus and Hobart West engineers and subject experts pounded out the requirements and code in seven months. Now the firm has a resource that, executives say, will save on labor costs and create competitive advantage as well as a foundation for growing into new markets and services.
Directing this project from opposite coasts (Harenchar is based in New Jersey; Bright in San Francisco), these two executives met recently at the Hobart West offices in Chicago and discussed their work.
What was the history of this project?
Karen Bright: We attempted to get a new system back in '99. And at that time, we had developers on staff that we tried to use, and it was a total flop. Then, at the end of 2003, we made a decision to try to modify an existing product from Thomson Elite; because it worked in the legal field, we thought it might be a good fit for our business. That project was a failure because there were too many changes that needed to be made. It became obvious that it was a very costly process for us to go in that direction.
How did you choose Digital Focus as a partner?
Bright: Hobart West had purchased Esquire Deposition Services [a legal services company] in March 2001. And at that time, we had hired Digital Focus to tell us a lot of things that technology would bring to our industry. [We have] a common board member, and so we kept in touch. We brought them in in the fall of '04, to evaluate what we were doing with Elite. It was becoming obvious to me that what we would come out with would not be what we needed on an ultimate go-forward basis and that we might be making more problems for ourselves than if we just went through development.
What were you looking for a system to do at that point?
Bright: [To] actually do our whole workflow process [and] establish [a centralized] database. We have an amazing amount of information about every law firm in the United States and their individual wants, needs and service requirements; unfortunately [that information] lived on desktops and in people's heads. So we wanted to put all that into a database and be able to have a workflow process that grew from that database, with obviously certain logic applied, and be able to perform our workflow with less labor: [for example], scheduling of jobs and court reporters on those jobs, then through our whole interaction with [our client].
[The new application] not only tracks but monitors and processes the flow itself. For instance, there are all kinds of special rates for different corporate clients depending on the level of business that they give us. And all of those things are stored and, automatically through the system, sent to billing. It's really going to revolutionize our entire business.
What was your experience with the iterative development process?
Bright: Although it's been intense, we knew every two weeks what we had to get done in order to reach the end, and that has been extraordinarily valuable to us.
Ruth Harenchar: From the time the work started, we have not changed our application rollout dates. I've never had that happen before in my career.
Bright: Part of that, though, is really due to how fast people like Ruth -- how fast anyone that I needed at any particular time -- jumped in to react to what I was saying. For instance, on Monday of this week I really felt like we were hitting some things that might delay us as much as a week. A week's important to us, by the way, right now. I called Ruth; she happened to call our CEO that night, and we had a meeting the next day. We adjusted within 24 hours and were back on schedule. The process enables that.
Can you talk about the business support -- such as Karen's role -- for the project?
Harenchar: She has been one of the key people in terms of translating the actual work process requirements for the Digital Focus people to be able to do the application development. I also want to very much compliment Hobart West; when they decided to take this on as a custom application development project, executive management put enough resources onto it. People like Karen and others spent weeks at a time at the Digital Focus offices. That's a big sacrifice for a business to make.
You mention cost savings from labor. What about cost?
Bright: We were working on a fixed price, which was extraordinarily valuable for our company. I only had so much money to spend, and I knew what I had to spend in each iteration. And we have had to make some hard decisions. But we knew to make the decisions, and we knew it soon enough that we could look at the overall application quickly and know where we were going in the end.
How did you get to know each other?
Harenchar: The first time we had a chance to spend some significant time together was in early June, when we were going to be looking at some long-term strategic needs beyond the first iteration of this particular system. And we were able to spend a couple of days, minute by minute. We ate all of our meals together. We were in the Digital Focus offices in [Washington], D.C., so that we could also continue to work on the requirements for one of the specific iterations that they were working on.
But what started what Karen and I view as an exceptional rapport in our working relationship was that my questions were all about what the business is doing, where it's going. Let's face it, most of the time the technology people don't ask business questions. And afterwards, at one point in time we were talking on the phone, and she said, "You know, you really do get it." [Laughs.]
Bright: And she did.
Harenchar: But she in turn is a very astute person herself in terms of how to try and use technology. So now we have this easy flip-flop. Sometimes she asks me a technology question or asks me to try to explain something so she can figure out the [technology] part of it; sometimes I ask her a business question. Sometimes we're in a more traditional role where I'm asking her questions, trying to make sure the new program is doing what it's supposed to be doing. But we can flip-flop back and forth, and that is what you ideally are looking for in this type of situation so that you come out with a system that is truly best suited to what the company is trying to achieve.
You also look for common human denominators. I spent 10 years living in Texas; she's a native. You find ways to try and build some rapport even outside of being able to talk about the business.
How does working on opposite coasts affect the way you work together?
Bright: We do have set talks with our various groups, where they're scheduled and we know that we're going to do them every week. But I never fail to pick up my phone immediately if I know that it's Ruth calling me, and she always does the same. In fact, if she's on her phone, I can call her cell and I know she's going to pick up during the conversation.
What's the biggest thing you've learned from each other?
Bright: One of the primary things that I have learned from Ruth is that she has an incredible ability to break things down to their lowest common denominator. And to quickly define which part of [a project] we can tackle first and get something done, and then quickly define the steps that get us there.
Harenchar: I had always worked for big companies before, so this is the smallest company that I've worked for. What I've learned from Karen is an entrepreneurial mind-set. The way her mind works and thinks about strategy -- it has been a very different experience, and I really like it.
Anne McCrory is editorial director of CIO Decisions and the CIO Decisions conference. Write to her at amccrory@ciodecisions.com.
Dig Deeper on Small-business IT strategy