Manage
Learn to apply best practices and optimize your operations.
Can the Broken Relationship Between IT and HR Leaders Be Fixed?
How can CIOs take the lead in fixing their broken relationship with HR departments?
One of the wisest CIOs I know identifies three people with whom you must have a great relationship: your boss's assistant, the person in charge of facilities and the head of human resources.
But if you had to kick two of the three off the island, the smart choice would be to retain your head of HR. Great CIOs know that aggressively managing and cultivating their HR leaders is critical to success. Every high-performance IT organization I've encountered has a liaison who negotiates effectively between the two departments.
In theory, IT and HR should be closely allied so that HR can demonstrate the most innovative, highest payback of IT deployments. In theory, IT people should be the most precisely measured and compensated and best-optimized resources in the enterprise.
But as our data in this month's CIO Habitat report shows, the reality falls far short of the theory. We surveyed more than 150 IT thought leaders and found a curious mix of antagonistic, even fearful portrayals of the IT/HR relationship by senior IT executives.
As the CIO at one Southern company notes grimly, "You have to play the game with HR. You will not win. In the end, they will always get even."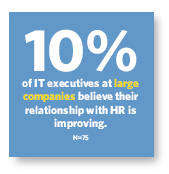 Fear and Loathing of the HR Suite
Our data shows that the IT/HR relationship at large companies lies somewhere beyond tragic and short of toxic. The situation at midmarket firms is somewhat better, but not great (see data boxes 1 and 2). More than one-third of large-company respondents say that the relationship between IT and HR is worsening (38%), while only 15% of those at midsized companies say that the situation is going downhill.
Interestingly, the IT/HR relationship is one of the least discussed "uglies" in the economy today -- possibly because people are actually afraid of HR. As the CIO at a Midwestern manufacturer explains, managers often believe that if they get on the wrong side of HR, "their careers could be in trouble really quickly." At one large company, several IT executives documented how HR was "responsible for driving fear into the organization." Particularly in large organizations, there is some animosity between "the man" (i.e., high-level executives) and employees. HR works for the man and has been known to use intimidation to achieve what management wants.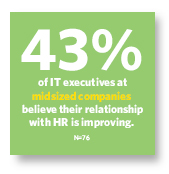 And while everyone agrees that people make organizations work, not vice versa, managing the performance of IT people is rarely a priority for HR departments. The CTO at an auto company notes that HR policy tends to support "other parts of the enterprise." The IT workforce is not a large piece of the organizational pie, so it's easy to overlook.
Notably, our research indicates that work satisfaction among IT professionals is higher at midmarket companies. We asked how much of the workday is devoted to activities that IT employees find gratifying -- an issue to which HR should pay close attention. Among respondents, 78% of the workday is devoted to meaningful work at midmarket firms, compared with only 43% at large firms.
Process Thinking Versus People "Skilling"
So what are the underlying causes of this IT/HR dysfunction? The No. 1 issue is HR's lack of understanding about what IT does. HR professionals assigned to IT often lack a technical understanding of the discipline or an awareness of the demands of a 24/7 production environment.
The CIO at one midmarket services organization explains that HR has a hard time keeping up with IT. "The screening and selection process of technical associates is difficult," he notes.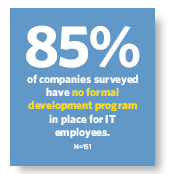 Add rapid technological change and the skills required to support complex technologies, and the role becomes even more difficult for an HR person to grasp. "Layer onto this technical profile [the need for] business acumen for selected roles, and it becomes almost impossible for a nontechnical HR person to effectively recruit the right candidates without heavy involvement by the hiring manager," this CIO concludes. The chief architect at a health care company concurs. "HR professionals do not understand the vagaries of the IT profession," he says.
"In my organization, we have fairly low expectations of our HR organization," says the executive in charge of new technology at a utility company. "We primarily use them for initial recruiting of new employees, assisting with employee performance issues, and providing HR policies and guidelines and general soft-skills training."
A second cause of this great divide is the relative incompatibility between methodical, process-oriented thinkers and the more reactive, touchy-feely types who populate the HR suite. The former CEO at a company providing IT services to midmarket CIOs gives his perspective: "I have discovered one of the great truths about IT effectiveness. It's directly correlated to a company's process effectiveness," he says. "HR people in general are not process thinkers. Most tend to be on the reactive end versus the proactive end of the spectrum."
The CIO at a Midwestern manufacturer views "HR practices existing on a continuum ranging from tactical/administrative/transactional [i.e., hire/fire/pay/provide benefits] to higher-order, strategic activities [i.e., mentoring, measuring performance, developing knowledge management practices]. Many HR groups haven't migrated to the more strategic zone."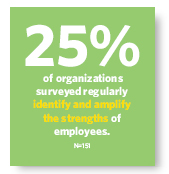 The majority of Habitat respondents have no official development program in place for IT employees (see data box 3) or official policy to amplify employee strengths (see data box 4). And less than 5% of surveyed companies measure the ROI of their human-capital development programs for IT. High-performance organizations work around the blind spots of HR in one of several ways:
They create their own shadow HR organization (which can be financially and politically costly if discovered).
They relegate HR to the low-value "blocking and tackling" activities of human-capital management.
They communicate what the end-to-end process should look like, how it will be measured and what role the HR professional must play in ensuring that the process operates effectively.
Creating New Models for Talent Management
Despite the historical standoff between IT and HR, the horizon is not all dark clouds. At one nonprofit corporation that provides services to government, the CEO recently declared IT talent a core competency within the firm, and the organization has focused significant resources on optimizing IT potential. At another company, the CIO collected leading-edge ideas from other organizations and now works hand in hand with HR to define multiple IT career paths (i.e., technical, managerial and analytical).
Thankfully, the notion of building competency models and alternate IT career paths is taking hold within both large and midsized high-performing companies. As one consumer products company CIO is pleased to report, "We have materially influenced the company's definition of career development frameworks through the competency models we have built," he says. "We did not get this proactively from HR."
Indeed, it may be better for IT to grab the reins and bring HR along for the ride. IT human resources embodies the characteristics of the future "workscape": rapid change, global and remote project management, intense "skilling," and fast-paced, cross-functional deployments. IT is the perfect laboratory for a new mode of managing HR processes that will ultimately be rolled out to the entire enterprise.
Rescuing HR From the IT Backwaters
IT executives universally agree that the lack of process automation in the HR department is appalling. As the divisional CEO at a construction company observes, "The HR department doesn't like to be told how to do things. But many HR processes are labor-intensive and lend themselves to automation. If only HR would let IT sit at the HR strategic planning table."
And the CIO at a mid-Atlantic insurance company laments: "We use the same old tools: people and paper, [though] we have moved some forms online." The health care industry is infamous for being behind the technology curve. The CIO at one provider corroborates: "Web tools are in use to enhance the company-wide awareness of job openings and their requirements and to enable employee referrals," he says. "Most other functions are still amazingly free of any technology and, in many cases, equally free of standard processes." The head of shared services at a global manufacturer says his company "hasn't used any great technologies to transform the IT hiring process. We tend to post positions internally for five days, then externally on our own Web site. If there's no action, we'll go to job boards, look at networking environments and then, finally, retain search firms for executive positions."
This executive adds that more candidates now use the Web to investigate a company before they apply and to research comparable salaries before they negotiate a salary. "In some ways, they're outstripping our ability to respond because they have a lot of information at their fingertips," he notes. Yet while the world of work has changed, the processes whereby HR manages employees have not. "We need a means to measure our IT staffing requirements. Our crude spreadsheets that try to predict staffing levels based on users/servers/phones/etc. are just not sufficient," says the direct report of a CIO at a specialized government contractor. "We need an automated, reproducible way of identifying the people that we need -- some sort of applicant screening that produces reliable results," he adds.
Such tools are available. The CIO at a media company explains that "firings and resignations are handled very swiftly with a mixture of manual and scripted processes. As for hiring, we use Ceridian's tools (Web site, résumé tracking, etc.), and we're satisfied, if not delirious, with them. Monster.com and other such services have not proven much help to us."
Managing the Human Supply Chain
It is difficult to find a company that doesn't get poor marks for its performance management, especially for formalizing employee goals and performance reviews. A service company CEO believes that technology is perfectly suited to this purpose: "This stuff is so conducive to huge improvements through good pieces of technology. The disconnect is that HR does not think of using technology for improving the performance management process."
This CEO attributes such technology aversion to a deep reluctance on the part of HR execs to treat talent more like a resource than a material. HR doesn't like to treat people as entities stuffed with skills that require categorization.
But as one supply chain executive put it, "We're going to categorize them. We're going to figure out how to optimize our use of those resources in the same way we optimize use of memory chips, etc."
The natural next step toward world-class IT resource management is bringing sophisticated information management tools to bear. The CIO at an energy company points out that business intelligence tools, for example, "enable better performance tracking," making it easier to identify the best and worst employees and to use that data to make staffing decisions.
The former CIO at an office supply company wonders why organizations tolerate such a disorganized approach to handling their greatest asset. "Organizations have a lot of people. Wouldn't you think they would want to know an awful lot more about them in a systematic, actionable way?"
A New Kind of HR Must Emerge
The foundational principles of the HR profession came into being more than half a century ago, as laid out in The Organization Man by William Whyte. But the world of the 1950s no longer exists: The global economy has ushered in competitive pressures and logistical challenges; the Chinese are now the global economy's most fervent entrepreneurs; and Republicans have generated large budget deficits. Indeed, the world has changed.
It is time for a new, switched-on form of technology-enabled human capital management. Access to talent and application of talent will soon become the competitive high ground. And who will prevail is not a matter of size. Large enterprises are actually at a significant disadvantage in the talent wars to come. Who will prevail also isn't determined by money (i.e., by companies wealthy enough to afford the right talent).
Who prevails will be determined by organizational smartness. Are you smart enough to create an environment in which the next generation of highly skilled, top-performing IT people want to work? What can and should you do to get IT and HR on the same page?
SURVEY METHODOLOGY: We surveyed 151 thought leaders and practitioners on the state of the relationship between IT and human resources departments. The sample comprised large enterprises (51%) and midsized companies (49%). Among respondents, 10% work for companies located in Asia, 10% for companies in Europe, and 80% for firms in North America. Researchers followed up with some respondents by e-mail.
Thornton May is a respected futurist, adviser and educator whose insights on IT strategy have appeared in Harvard Business Review, The Wall Street Journal, BusinessWeek and numerous computer industry publications. To comment on this story, email editor@ciodecisions.com.