Manage
Learn to apply best practices and optimize your operations.
CIOs On Stage: How to Join the Conference Speaker Circuit
Breaking into the conference speaker circuit can boost your career and enhance your company's image. Veteranstage-masters share tactics and advice on how to travel your own road to fame.
The first time he gave a speech, Rich Hoffman bombed.
"It was my first big public speech, before 150 or 200 people," Hoffman recalls. He was then CIO of Hyundai Motor Co. and speaking at the behest of a major vendor. So he dove in and sang the praises of its technology offerings. He soon realized he wasn't connecting, but he toughed it out.

Download this free guide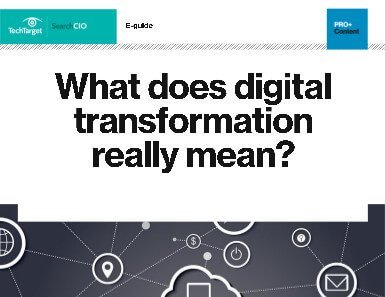 PDF: What does "digital transformation" really mean?
What exactly is digital transformation? You may hear the term often, but everyone seems to have a different definition. See how our experts define digitization, and how you can get started in this free guide.
"Afterward, I asked how it went," Hoffman says. The vendor rep hemmed and hawed. "I said, 'Please be honest with me.' He said, 'You just went right over the crowd's head. You gave a technical presentation to a nontechnical crowd.'"
Oops.
But Hoffman learned from the experience and kept going. Now, a quarter-century later, he's become CEO of Hyundai's spun-off IT services company, Hyundai Information Services North America in Irvine, Calif. He is a sought after speaker who routinely presents to audiences of 500 or more at IT and business conferences.
You may have heard him or another familiar IT executive. They seem to be part of an elite group, always on the speaker circuit. You may have admired their ideas and composure. Or you may have wondered how in the world they got up there in the first place -- and when they're sitting back down.
Either way, if you've always thought you could do as good a job or better, pull up a chair. The speaker circuit isn't as exclusive as you might think; there is opportunity for the midmarket CIO. With some preparation, practice and connection with the right people, you too could find yourself on stage. "
CIOs with a story to tell are prized by conference organizers because they're relatively rare. A silver tongue is not a trait associated with those who select IT as a career, says Lenny Heymann, vice president and general manager of Interop, a brand of large networking-oriented conferences and exhibitions put on by San Francisco-based Media Live International Inc. The size of your enterprise also carries cachet.
"The honest answer is that people in my business all go after the Fortune 500," Heymann says. But since Fortune 500 CIOs "are very tough to get to," their well-spoken brethren from midsized companies can gain entree. "And I think midtier CIOs might very well have a deeper look into the organization" borne of greater hands-on involvement in operations, he adds.
As with Hoffman, the road to the dais often begins with IT vendors. It did for Dick Hudson, the former CIO of $750 million Global Marine Inc. in Houston, back in 1983. "They asked me do a testimonial and flew me out to California," says Hudson, now a disaster-planning consultant in Richmond, Va. "I spoke to a roomful [of prospects]." Hudson, who is described as a funny, engaging speaker by many who've heard him, was a smash hit. "After that I did a few of those testimonials each year," he says, "and I guess people [in the audience] recommended me to other organizations."
Even a natural like Hudson started with small groups and worked his way up to the big stage. Public speaking is, after all, one of the most anxiety-producing activities known to man. The closest thing to universal advice from experienced CIOs and public-speaking experts is to start with small groups and work your way up.
"I started when I was consultant at Grant Thornton, giving marketing seminars to prospects," says Bob Dutile, former CIO of KeyCorp bank who now runs a consultancy in Cleveland. "They were small groups at first, and that was key to building [my] confidence and experience." Dutile's audiences grew gradually. "I spoke at a couple of industry symposiums, and then in 1995 or 1996, spoke at a big one -- a DCI enterprise architecture conference."
Early on, Dutile honed his skills at a Toastmasters International club, where attendees prepare presentations for each other and get feedback. Several seasoned CIO speakers highly recommend the organization.
Tips for Joining the Speaker Circuit
IT conferences covet CIOs who are ready, willing and able to speak. "The title is very, very powerful," says Lenny Heymann, vice president and general manager of Interop. Heymann and others offer these tips for getting noticed by organizers:
Think ahead. Shows are organized at least six months in advance.
Gain clearance from your corporate communications group before pitching ideas to conference organizers. Heymann says many CIOs have fascinating stories to tell but are muzzled internally. This may be your edge -- the bigger the enterprise, the bigger the bureaucracy.
Get your act together. Organizers will be impressed if you have developed your presentation skills.
Fill out conference feedback and magazine reader surveys, and agree to be contacted.
Respond to conferences' calls for papers.
Introduce yourself to speakers, sponsors and organizers at events you attend.
Agree to serve as a vendor reference customer and to be quoted in press releases.
Offer to do a webcast, which can be taped in advance so you're under less pressure.
Network at professional development events.
-- S.U.
Creating a New Comfort Zone
Don't overlook the office as a place to launch your career either. "I recommend that people put together a lunchtime program and just initiate it at their company," says Fern Reiss, CEO of Expertizing.com, a Newton, Mass., coaching and consulting firm.
CIO speakers agree that the surest way to hone your skills is practice (although a little coaching goes a long way, too; see "Tips for Joining the Speaker Circuit" at right).
"I was really bad at first," confesses Kathy Brittain White, former CIO of Dublin, Ohio-based Cardinal Health Inc. She has since founded outsourcing firm Rural Sourcing Inc. in Durham, N.C. "I tried to memorize everything and recall every word. That made me uncomfortable. And audiences know whether you feel comfortable or not." How did she get past the early stumbling block? "The only way is to do it hundreds of times," White says. "I'm now way less nervous and more spontaneous."
Regarding discomfort, keep in mind this insightful comment from Michael T. Motley's Overcoming Your Fear of Public Speaking: "Most speakers with stage fright view speeches as performances. They view the speaker's role as that of satisfying an audience of 'critics' set on evaluating the speaker's behaviors." But an alternative view -- one taken by many low-anxiety speakers -- is that a speech is not a performance, but a communication encounter, Motley adds. The speaker's role is to share ideas with an audience that is more interested in hearing what the speaker has to say "than analyzing or criticizing the performance."
Cynics have been known to grumble that some prominent speaker CIOs would be well advised to do a little less conference-hopping and a little more store-minding. But those with a high profile point out that their companies benefit as much as they do.
Tim Buckley, CIO of financial services firm The Vanguard Group Inc., presents regularly at conferences, and the PR staff at his Valley Forge, Pa., company actively promotes him. "We see my speaking as a way to bring attention to Vanguard as a thought leader and IT innovator," Buckley says.
He and others point out that a high profile is an outstanding recruitment tool. "People want to work for someone who's known as a leader in the field," Hyundai's Hoffman says.
And there's little question that CIOs themselves benefit from the publicity that speaking brings. "The CIOs who are doing the best jobs as perceived by their CEOs are those with great communication skills," White says. "Today, a CIO needs to be persuasive when speaking in 'lay-business' language, and you get that [ability through public speaking]."
Hoffman mentions a case in which a new Hyundai CEO was cornered by a political rival of Hoffman's, who proceeded to badmouth the then-CIO. But the CEO came to his defense, saying "I'm no IT guy, but I know Hoffman is sought after by conferences and magazines. He's no dummy." Hoffman's high profile had impressed a new boss who hardly knew him.
The major drawback to public speaking involves the commodity most precious to all senior executives: time. There's no getting around it -- even CIOs who fly in, present their speech and fly home will lose at least a day.
In midmarket firms with hands-on CIOs, that can cause resentment among staffers left to pick up the slack. There may also be a snowball effect as executives are flooded with media requests. That aside, however, CIO speakers are adamant that the benefits outweigh the drawbacks. "They're always looking for speakers at these conferences," says CEO White. "If you want to do it, go and do it."
Steve Ulfelder was a senior features writer at CIO Decisions. To comment on this story, email editor@ciodecisions.com.
Dig Deeper on Small-business IT strategy