Manage
Learn to apply best practices and optimize your operations.
Business Mentor: Don't Avoid Face-to-Face Communication
Your team doesn't have to be distant. Stay close with face-to-face communication.
Sometimes there is no substitute for personal, face-to-face communication. With email and instant messaging technology, it's easy to limit our personal contact with others. I find myself even sending an email to a co-worker who sits 20 feet away from me -- a distance that invariably seems much greater when I am comfortably seated at my desk on an emailing roll.

Download this free guide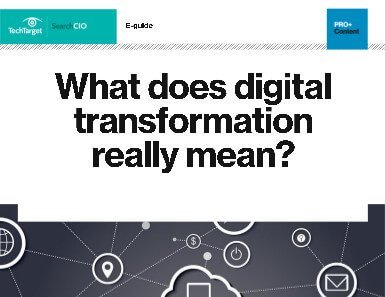 PDF: What does "digital transformation" really mean?
What exactly is digital transformation? You may hear the term often, but everyone seems to have a different definition. See how our experts define digitization, and how you can get started in this free guide.
Just this week, I was reminded that relying on remote communication can slow down and sometimes hinder our objectives. A few weeks ago, we were asked to change how our financial analysts access data. This was a fairly benign request that should have been relatively simple to implement. All we had to do was change the access rules so that analysts could pull their data from tables that did not reside in the transactional production database. I assigned the task to a database administrator (via our help desk system) and went on with my life.
Two weeks later, one of the analysts forwarded me an email string that detailed the fits, starts and frustrations associated with implementing this request. As I read the email chain, it seemed that all attempts to figure out a way to change the access rules were being done via email and voicemail; my database administration group and the analysts were emailing past one another. Two weeks had elapsed, and still no one had devised a solution that allowed the analysts to do their jobs while changing their access to production data.
With some effort, I got out of my chair and walked down the hall into the lead analyst's office. I asked him to follow me, and we walked over to the database administration group. Together, we mapped out on a whiteboard what needed to be done. Ten minutes later, we had agreed on an approach. Fifteen minutes after that we had tested the solution, and everything worked just as we needed it to. Making the effort to use personal contact did the trick. By meeting face to face and collaborating together with a visual map, both sides eliminated the possibility for misunderstanding.
This is not to say that I am a Luddite. I can email and instant message with the best of them. But remote contact doesn't always allow me to form the types of relationships or have the kind of contact that I need to be a successful IT leader.
In the book Leadership and Self-Deception, the Arbinger Institute proposes that the scope of a job is much broader than what a job description might list. In order to do our job well, we need to delight, wow or overdeliver to the following constituents:
Our IT customers. We do our job by successfully delivering to customers on our mission.
Our IT team. We do our job by supporting team members and helping them grow.
Our bosses. We do our job by holding ourselves accountable to the above responsibilities and by how we communicate initiative status and results.
I can't delight these people if I spend the bulk of my time in my office composing email and avoiding human contact. I need to focus a good portion of my attention on developing credible, effective relationships with my customers, team and boss. When it comes to relationship building, I have found that there is no substitute for face-to-face communication. Of course, building these relationships will not compensate for lousy performance; but without effective relationships, I might not get the credit I deserve for a job well done.
Niel Nickolaisen is CIO and vice president of strategic planning at Headwaters Inc. in South Jordan, Utah. Write to him at editor@searchcio-midmarket.com.
Dig Deeper on Small-business infrastructure and operations