Manage
Learn to apply best practices and optimize your operations.
Bundled Services Lead to New IT Challenges for Telecoms
Remember when phone and cable companies offered one service? Telecoms now face a new-age challenge: delivering new technologies through multiple channels.
At SureWest Communications, bracing for change in a fiercely competitive market is the name of the game. Now the once-traditional telephone company offers a "quadruple play" of bundled services -- Voice over Internet Protocol (VoIP) landline and wireless phone, as well as high-speed Internet and digital TV -- to its 230,000 subscribers.
Focus On: Telecom
Top business challenge: To expand customer base by keeping pace with ever-evolving telecom services and converging channels of delivery.
---
Solution: To diversify and enhance product lines through bundled services and better network capabilities.
---
How IT can help: By integrating CRM, billing and activation systems; by offering Web-based self-service; and by improving network speed and reliability.


And like many telecoms, Roseville, Calif.-based SureWest has invested heavily in shoring up its network. Since 2002 the company has spent roughly $200 million on fiber optic lines to improve network capacity and better accommodate IP-based services as well as bundled packages. "The capacity requirements are very high, and bundled services only magnify these requirements," CIO Tim Dotson says.

As the $218 million telecom expands further into these offerings, it's using tight back-end system integration between the company's ordering, activation and other workflow systems to enable better, faster service. "We have to be very nimble and be able to make adjustments," Dotson says. "As we expand further into IP-based services, our systems have to be able to evolve."

For all telecom providers, the challenge is how to keep pace with the changes that these new services require. Whether the conduit for bundled services is fiber, coaxial cable or dish, says Rob Stoddard, senior vice president for communications at the National Cable & Telecommunications Association (NCTA), the challenge is the same: Telecom providers once offered "one product to one kind of customer." Now their task is to offer multiple services to several kinds of customers.

@pb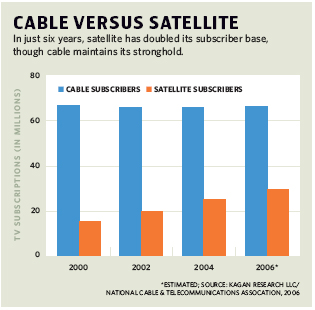 Opening the Floodgates

You can trace the current dynamics of the telecom industry to the passage of the Telecommunications Act of 1996. With the act, single-service cable, phone and direct broadcast satellite (DBS) providers were set loose to enter into competition with one another. Cable providers could now offer phone service; local and long-distance operators could enter each other's markets; and DBS providers could establish a footprint in video. "It became apparent," says Paul Shryock, VP of IT at Toledo, Ohio-based Buckeye Cablevision Inc., "that they would play in our yard, and we would play in theirs."

What a difference an act makes. Today, service providers are scrambling for customer share even in their traditional markets. Fifteen years ago, cable commanded 95% of the multichannel TV market; today it holds 68%. Conversely, satellite providers have grown from 4 million subscribers in 1996 to more than 29 million today, according to the NCTA. And for midmarket telecom providers, the specter of the giants looms large: together, Comcast and Time Warner serve 57% of cable subscribers.

Consumers' increasing demand for bundled services -- which offer convenience and potential cost savings -- has made competition in the $923-billion telecom industry only more cutthroat. Consider the narrowing gap between cable and phone providers in Internet services, which research firm Knowledge Networks Inc. says is the greatest driver for bundling: Cable modems lead (51%), but DSL modem subscribers reached 45% last year, according to the 2007 Telecommunications Market Review and Forecast from theTelecommunications Industry Association. The stakes for capturing customer share are high: According to Yankee Research Group Inc., bundling two or more services reduces customer churn by about 25%.

@pb

Tighter Integration

As bundled services gather steam -- consumers' adoption of them has trebled since 2004 -- the major challenge for providers has been to consolidate previously separate telephone, video or Internet access lines of business.

P. Andrew MacDowell, VP of IT and central support at $1.1-billion cable provider Insight Communications in Louisville, Ky., says tying bundled services into one billing system is vexing for any provider. "You bill differently for these services. You charge by minutes for telephone; you bill by subscription package for cable." Bundled services can strain systems' accuracy in charging for different packages and in integrating new products. In 2006, when Insight introduced VoIP to its markets in Illinois, Indiana, Kentucky and Ohio, MacDowell's IT team had to reconfigure the company's Convergys billing system to accommodate the rates and taxes for IP-based voice services.

For all telecoms -- but particularly for midmarket providers, which tend to have fewer resources -- bundled services make back-end system integration paramount. At midmarket cable provider Buckeye Cablevision, which has 150,000 subscribers, Shryock has wrestled with the limitations of the company's RR Enterprises Ltd. billing system. Making changes to customer accounts -- say, allowing an installer to add a cable modem to a customer's account from a BlackBerry -- is difficult because the billing software doesn't have an open application programming interface.

Instead of making account changes themselves, installers have to call in changes to the billing department, which slows down transaction times and invites errors. So Buckeye is shopping around for middleware to integrate its billing application with mobile devices. "It could be months, it could be years," Shryock says with frustration.

At SureWest, rolling out IP-based services would be a back-office nightmare without serious workflow automation. But tight integration between the company's homegrown Genesys customer relationship management (CRM) system and its activation and billing applications allows one system to pass an order to the next phase of activation. After Genesys receives an order from a call center or the Web, "our system turns on the various devices -- which fiber pairs need to be activated for bundled services, whether a voice[mail] box needs to be configured -- many companies do these steps manually," Dotson says. Seamless task handoffs minimize installation times and reduce the number of errors along the way. Dotson estimates that all this integration allows SureWest to save $1 million annually.

Consolidating billing systems is an ongoing project at $400 million General Communication Inc. (GCI) in Anchorage, Alaska. Until 2005, VP of IT Jim Dunlap used four billing applications to support GCI's quadruple play of offerings. Disparate systems couldn't consolidate charges on one bill, let alone evolve with new services. "Our goal was to get away from separate lines of business," says Dunlap, and adopt a model "that supported our bundling strategy."

In 2002, GCI's 110-person IT department embarked on a three-year project to consolidate all services onto one billing software platform: Comverse Inc. It was a mammoth effort that entailed building GCI's product catalog from scratch. And GCI isn't finished. So far, it has consolidated landline and wireless phone as well as Internet services on Comverse. GCI won't transfer its cable service, however, until 2008.

@pb

The Cable Box War

If bundled services don't present enough of a challenge, cable operators now face a looming deadline to deploy CableCards. The cards fit into cable boxes or digital cable-ready (DCR) TVs and will now carry the security information that has historically resided in cable boxes to prevent piracy.

In 1996, in an effort to facilitate consumers' adoption of digital services and, ultimately, render cable boxes unnecessary to cable programming, Congress required operators to remove this security information from cable boxes and allow that information to reside in CableCards.

After much opposition from the industry and two deadline delays, operators must now ditch noncompliant boxes and deploy compliant ones by July 2007 -- a costly prospect: The National Cable & Telecommunications Association estimates that deploying new boxes could cost an additional $90 per box. And some DCR models already bypass cable boxes, which cuts into the $2.5 billion a year the industry makes in leasing fees, according to Kagan Research LLC. All told, deploying CableCards to consumers could cost the cable industry $470 million.

The Burden of Being Smaller

For cable operators, the deadline might be less of an albatross if CableCard technology could sustain the shift. But the software is still buggy, and different cards work differently. "The FCC Federal Communications Commission assumes that low-cost, effective devices will be in the marketplace, but we're just not seeing it," says Matthew Polka, president of the American Cable Association, an industry advocacy group in Pittsburgh.

Paul Shryock, VP of IT at midmarket Buckeye Cablevision in Toledo, Ohio, says immature CableCard technology means smaller operators will have to thrash out compatibility issues on their own dime. If there's a problem during cable installation, the TV is often the culprit, Shryock says. "But I'm the guy standing in the living room."

And that's just one of the burdens operators have to shoulder. "Our billing systems weren't designed to accommodate these cards," says P. Andrew MacDowell, VP of IT and central support at Insight Communications in Louisville, Ky. MacDowell's team has to get cracking to reconfigure Insight's Convergys billing system to recognize these cards by the July deadline. So what's the time frame for reconfiguring Convergys?

"We have to test these cards in different variations," he says, so Insight is shooting for early spring. "But really, that's the million-dollar question."

--L.H.

Flexibility on the Front Lines

Bringing greater flexibility to installers and service representatives is a big part of improving customer service on the front lines. Armed with laptops that run workforce management software from Mobile Data Solutions Inc. (MDSI), SureWest's 75 installers can access their schedules and customer accounts and also update inventory systems. If an installer discovers that a modem is defunct and takes a replacement from his truck, MDSI sends an automatic message to replenish stock. Installers can also send labor expenses to the billing system.

While Dunlap says GCI's consolidation onto Comverse has been "pretty seamless," the vagaries of installer dispatch still reflect the old way of doing business. GCI's Kenan workforce management system schedules telephone and Internet installations, but it isn't integrated with the scheduling application GCI uses for its cable line of business. As a result, GCI might send one installer to activate cable and another to activate phone services to the same home, Dunlap says. GCI hopes to eliminate these kinds of inefficiencies as IT moves greater functionality to installers' mobile devices.

Offering new services also means taking a hard look at customer-facing processes. When Insight launched VoIP, the company restructured the way it routs technical support calls at its 12 call centers so that customer service representatives trained in video services weren't troubleshooting technical VoIP problems. The routing system now sends calls to reps based on their product training as well as the complexity of the problem. Sending calls to the right reps enables faster, better customer service, MacDowell says.

But greater front-line efficiency has its downsides. SureWest installers may try to adjust an account they've just set up, only to find the order has already been processed. The goal, says Dotson, is to balance the efficiency of automation with added flexibility in making real-time changes.

@pb

Capacity: The Sky's the Limit

As all telecom providers are learning, the key to market share is the robustness of the network.

Since 1996 the cable industry has spent some $110 billion upgrading its network infrastructure; and over the next several years, telephone carriers like AT&T and Verizon plan to spend billions more to lay fiber optic lines and increase network capacity.

Now satellite providers -- whose competitiveness has suffered from the data latency issues inherent in sending a satellite signal out to space -- are making network reliability priority No. 1. At $800-million Hughes Network Systems LLC in Germantown, Md., CIO Prasad Margasahayam says that as his company sets its sights on growth, "we have to make sure that the network is always up and running."

This year Hughes will launch its new Spaceway 3 satellite. While the company currently uses satellites that operates on the Ku band of the spectrum, Spaceway 3 transmits on the less crowded Ka band.

And since Spaceway 3 can transmit data directly rather than routing it through a network operations center, data can make fewer stops along the way. That means Hughes can increase transmission speed 10 times over that provided by current satellites and improve uptime.

Spaceway 3 isn't just a product offering; it's also a strategic differentiator from cable and telephone providers. A more robust network means that the company can target the 15 million rural households that cable and telephone providers won't serve because of the high costs associated with running lines to areas with low home density.

But in a world of bundled services, competitive advantage isn't a constant. Since 2003, $326 million Alaska Communications Systems Group in Anchorage, Alaska, a provider of landline and wireless phone as well as Internet services, has been reselling Dish Network video services from EchoStar Communications Corp.

"It's not a large part of our business, but bundled services are," says Anand Vadapalli, SVP of network and information technology. "As we increase in high-speed wireless data, that will position us to offer data and video, and we expect that to increase over time."

--L.H.

The Next Frontier

And that's where business process management (BPM) comes in. Currently, SureWest installers arrive at homes with blank cable boxes, which allows for lots of flexibility in scheduling; a box isn't configured with account information until it's installed. But with BPM, which Dotson plans to implement this year, IT could identify instances when sending signals over the network to activate a device would take longer than just configuring a box ahead of time.

Another initiative is enhancing customer self-service features on the Web so subscribers can pay bills online and upgrade packages. SureWest's customers can now order interactive gaming services online. GCI's Dunlap also plans to implement additional electronic bill-paying features; soon business customers will be able to "slice and dice" their bill and break down their minutes of long-distance calls.

Telecom providers' new offerings are meeting the needs of consumers for greater network capacity and more product options and self-service. But IP-based services also introduce uncharted territory for IT. "This business used to be about counting ports and switches," Dunlap says. Now providers have to sort out how to manage services that involve dynamic, nonphysical inventory, he says. "How do you manage an IP address as an inventory number so a customer can use his laptop for long-distance calls?"

And more important, new modes of service delivery -- providing video on a cell phone or on-demand TV programming -- mean that authenticating users, devices and levels of service is the next frontier, says Dunlap. Some of the challenge is technical, Insight's MacDowell notes, but much of the burden involves building business logic into systems to enable customers to establish controls "so kids aren't ordering a million pay channels," he says.

"When you think about how far IP will go, and the infrastructure that it requires to make those services happen, that's what keeps me up at night," Dunlap says.

Lauren Horwitz, former managing editor, production, for CIO Decisions, is now managing editor for TechTarget's Data Center Media Group. Write to her at [email protected].
Dig Deeper on Small-business infrastructure and operations