Problem solve
Get help with specific problems with your technologies, process and projects.
At Law Firms, Content Management Is King
As e-discovery permeates the industry, CIOs bear the burden of proof. Content management and SANs store the evidence.
Two recent lawsuits have rattled the legal services industry and turned law firm CIOs into VIPs.
In both suits, rulings on electronic data discovery, known as EDD or e-discovery, essentially decided the cases. The message to CIOs at law firms: Step up your technology efforts concerning e-discovery, or your corporate clients will lose cases -- and you will lose clients and stature.

Download this free guide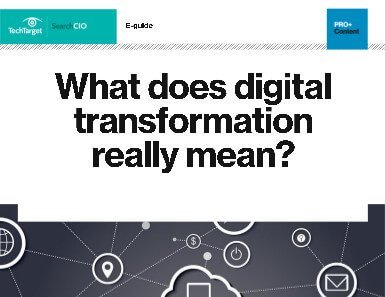 PDF: What does "digital transformation" really mean?
What exactly is digital transformation? You may hear the term often, but everyone seems to have a different definition. See how our experts define digitization, and how you can get started in this free guide.
By submitting your personal information, you agree that TechTarget and its partners may contact you regarding relevant content, products and special offers.
You also agree that your personal information may be transferred and processed in the United States, and that you have read and agree to the Terms of Use and the Privacy Policy.
E-discovery is the modern digital version of the discovery phase of any legal proceeding, in which witnesses are interviewed, physical evidence such as weapons are examined and documents are pored through. Previously these documents were housed in cardboard boxes; today, the majority are digital.
Focus On: Legal Services
Top Business Challenge: To keep pace with the fast-changing field of e-discovery (EDD) while continuing to manage an explosion of digital content
---
Solution: Software and services that handle hard copy, EDD and e-mail
---
How IT Can Help: By ensuring that client information is easy to locate and retrieve
In the eyes of the law, electronic discovery is no different from any other form of discovery; preventing the opposing legal team from seeing a relevant document is a violation, regardless of document form. The problem is one of scale. "One major issue is sheer volume," says William Gregory, CIO at Hogan & Hartson LLP, a Washington, D.C.-based law firm with $550 million-plus in annual revenues and more than 1,000 lawyers. "We're putting up SANs [storage area networks] to handle the volume of information. We're talking terabytes, and ... we're not alone."
The industry rule of thumb on data holds that each person involved in a lawsuit may have as much as 2 gigabytes of relevant documents. Multiply that by the number of individuals involved in typical corporate cases, and the storage-and-retrieval needs boggle the mind.
Whether they're working for individuals or alongside corporate legal departments, law firms are charged with identifying all the data that may be pertinent to the case. They use this information to build their own argument, and they must make it available to their opponent.
As two recent bellwether cases made clear, the failure to do so carries a harsh penalty. In the first, a Florida jury ordered Morgan Stanley to pay investor and Revlon Inc. Chairman Ronald Perelman a stunning $1.45 billion, more than half of which constituted punitive damages. The jury sided with Perelman, agreeing that Morgan Stanley defrauded him when he sold camping-gear maker the Coleman Company Inc. to the former Sunbeam Corp. in 1998. The judge essentially told the jury that Morgan Stanley's failure to produce e-mail records, and the firm's lies about its efforts to do so, was proof that the bank defrauded Perelman.
"Morgan Stanley just got nailed, and it was largely because they didn't fulfill their electronic discovery obligations," says George J. Socha Jr., principal of Socha Consulting LLC in St. Paul, Minn., who advises firms on digital discovery. In partnership with Thomas Gelbmann of Gelbmann & Associates, also in St. Paul, Socha produces the annual Socha-Gelbmann Electronic Discovery Survey, which is closely watched in the legal community.

The Need for Content Management
The Morgan Stanley case echoed an issue that was raised in Zubulake v. UBS Warburg, a 2004 case in which the judge made clear that "attorneys have to pay more attention to electronic discovery concerns," Socha says. The judge said the plaintiffs "were entitled to an adverse inference because the defendant didn't do a good enough job of digging through information," he adds.
At first glance, it may appear that e-discovery is a more serious issue for corporate legal departments than for law firms and their CIOs, but that's not the case. "In a law firm, in addition to addressing the technology issues of the firm itself, [CIOs] also have a potential new job: assisting subject-matter experts and lawyers to help clients with discovery," says Randolph Kahn, an attorney and the president of Kahn Consulting Inc. in Highland Park, Ill., and the author of Information Nation Warrior.
The challenge for law firm CIOs is to make it easier to store and manage digital content. Many use outside e-discovery service providers, including Kroll Ontrack Inc., Renew Data Corp. and Daticon Inc. The advantage of outsourcing is that the providers specialize in the exacting forensic requirements that make electronic evidence so tricky in court.
For many CIOs, e-mail alone demands a separate product or service; "E-mail is a pretty challenging area for content management in and of itself," says Hogan & Hartson's Gregory, because of its sheer quantity and the complexity of its trail. His firm, which runs Windows Server 2003, uses Enterprise Archive Solution from ZANTAZ Inc. "It brings us single-instance storage of e-mail with uniform archiving and purging rules," he says. "That's important because you're always trying to minimize the propagation of e-mail."
For overall document management, Hogan & Hartson uses Sunnyvale, Calif.-based Interwoven Inc.'s WorkSite 8.0. "It lets us profile each document in detail," Gregory says. "We have a set of metadata in an SQL Server database, so we can impose security rules and tag [documents] by author, retention schedule and so on."
On the Move
Electronic discovery is today's headline grabber, but it's not the only factor driving IT at legal services firms.
At Preti Flaherty Beliveau Pachios & Haley LLP, a law firm headquartered in Portland, Maine, business growth, coupled with attorneys' demands for mobility, underscored the need for a better document management system. "Several years ago, as we added five offices in multiple states, we saw our cases getting larger and our attorneys needing to be in more places," says IT Director Wayne Lyle. Like most law firms, Preti Flaherty is a Microsoft shop, with Windows 2003 servers, XP on the desktop and heavy reliance on the Office suite. The firm now has more than 150 employees in Maine, New Hampshire and Massachusetts.
Preti Flaherty's response was a scanning and content management system. Scanning chores are handled by Nashua, N.H.-based eCopy Inc.'s ScanStation Open Platform, which links digital copiers to document workflow applications; the law firm selected Interwoven Inc.'s WorkSite application for document management. "ECopy lets us [scan] a huge quantity of paper documents ... efficiently," Lyle says. "Interwoven gives us the structure we need to manage a [case] without tying it to any particular person or office."
According to Lyle, quantifying the gains from the Interwoven/eCopy system isn't easy, because many of the benefits are soft, though still significant. For example, he points to "tremendous time savings for attorneys operating outside the office, who can now look at documents in court or at home. Those are real quality-of-life issues." He adds that Preti Flaherty has seen "strong operational savings from an 80% to 90% reduction in faxing."
Between electronic discovery and increased demands for mobility, the law firm CIO's plate is full these days. Gelbmann says the near future will bring a focus on integration and consolidation. "We're seeing a much larger emphasis on the full integration of content management," he says. "Traditionally, law firms have had document management and records management, but that was primarily paper. It's now all one big issue."
Dig Deeper on Small-business IT strategy