Manage
Learn to apply best practices and optimize your operations.
As the World Turns: CIOs and Their ERP System Dramas
Implementing an ERP system is a kind of soap opera, with characters and crises galore. But Habitat respondents say it's worth the drama.
Enterprise resource planning (ERP) systems are the soap operas of the IT industry. They evoke the entire spectrum of human emotion, from longing and love to greed and betrayal. Like soap opera plot lines, ERP issues are constantly being recycled. These complex business systems and the people that sell, deploy and support them are major characters in the IT leadership drama.
The story here is not about ERP vendors, which would likely be told as a tragicomedy or courtroom drama. Our perspective and analysis comes from the decision maker. For this month's CIO Habitat, we interviewed 136 executives (57% midmarket firms; 43% large enterprises) on a range of ERP issues. We wanted to know what drove organizations to choose an ERP system in the first place. How were decisions about project scope and vendor partners made? What was the experience like during implementation and aftermath?
Every senior IT manager seems to have an ERP war story. Veterans display their membership in this club like a red badge of courage, recounting tales of heroics and struggles. "I have found that system integrators do not have the client's interest in mind unless there is an unlimited budget," says the CIO of a utility company. "They do a great job in the initial phases, but once it gets to crunch time, they are more concerned about contract terms, changes in scope and [profit] margins."
Implementing an ERP system "took 10 years off my life," swears the IT chief at a software company. "At this company alone, I have been part of an ERP rollout four times," adds the weary CIO at one multinational manufacturer. Still, a CIO at a retailer believes that "ERP is a painful journey, but a destination worth reaching."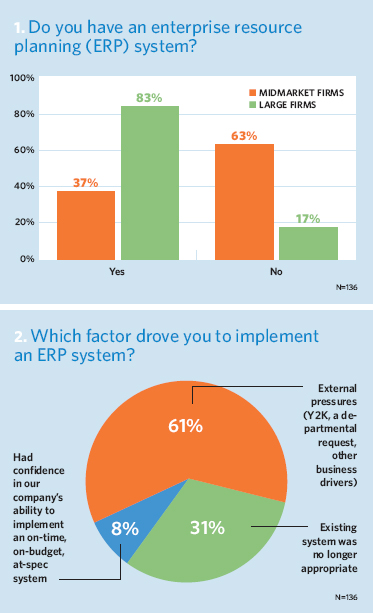 Who Drove This Decision? (Don't Ask Me!)
Surprisingly, few CIO respondents were employed at their company when the initial decision about an ERP system was made. Only 5% were onboard when the project got the green light. But 83% of large-company CIOs and 37% of midmarket CIOs work in companies with ERP systems that are up and running (see Figure 1). These numbers presented an odd juxtaposition until we spoke with the CIO of a successful regional bank, who describes ERP systems as the "third rail" of IT.
This CIO cites compelling research from the Feld Group (now EDS) that shows a recurring pattern in companies willing to risk an ERP project. In a moment of desperation, executives make decisions about products and implementation. But once the vendor cashes its check, the incumbent CIO grabs the third rail and gets electrocuted. His successor -- and often his successor's successor -- suffers a similarly tragic fate. Only after two or three well-meaning CIOs leave the company in career body bags does the ERP system get deployed.
That's why so many midmarket CIOs are only now (and quite reluctantly) considering moving forward with an ERP implementation. "Being in the position of an IT executive having to sell the idea of an ERP system to an organization is the kiss of death," warns the CIO at a specialty chemicals firm.
Our data also indicates that ERP decisions are often forced on senior IT executives; for the majority of respondents, external pressures factored prominently in the decision to implement ERP (see Figure 2). Only 8% made the decision primarily because of their confidence in deploying a new system. One CIO at a growing lifestyle retailer who is in this minority says, "The drivers were really related to the confidence we had that the integration is solid."
Of course, some respondents took on ERP projects because legacy systems forced their hand. As a senior executive at a specialty finance company says, "Our prior systems were not integrated. We were faced with adding a large number of point solutions or going with an ERP solution," he explains. "Some of our prior systems were being discontinued, so we had a migration issue no matter what."
And the CIO at a midmarket life sciences company recalls a similar experience. "The legacy application was functionally inadequate for the business and would have had to have been replaced in roughly the same time frame," he says.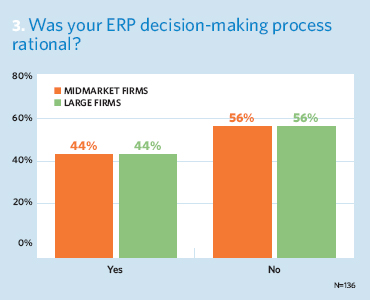 External Pressures, Internal Failures
As mentioned, the majority of CIOs in our survey (61%) responded to strong external pressures to implement ERP. At one midmarket utility, the CIO cites a not-uncommon experience. "The accounting department was the driving force behind our ERP solution more than 10 years ago. We were using homegrown accounting, general ledger, accounts payable, receivable, HR and payroll systems," he says. "Accounting wanted to add asset management and a few other functions, and HR wanted an online employee-tracking system, so we decided that an ERP system would best fill the bill."
While 44% of respondents view their company's decision-making process to implement ERP as rational, 56% say there was significant room for improvement (see Figure 3). "The decision was based on the prior experience with that solution by a few key users," says the CIO at a midsized entertainment company.
Another midmarket CIO was aghast to learn that "someone had decided to buy the product in 2001" but failed to implement it for three years. "It gets worse," he adds. "The annual maintenance was still being paid on the shelfware."
The CIO at one financial institution who was brought in to fix a failed ERP initiative doesn't mince words. "The level of effort was underestimated," he says. "The required time frame was understated. The degree of re-engineering [to] be accomplished during implementation was overstated. Once the sale was done, the vendor could have care[d] less about our success."
And another CIO warns, "When things go bad, you might end up in court." He recently served as the CIO expert witness for the defense in a $250-million lawsuit brought by a multibillion-dollar Phoenix retailer against a major consulting firm accused of "nondelivery" of an ERP system.
Conversely, the CIO at one midmarket services organization is proud of how his company made the decision. "Our management strategy, in part to mitigate the diversity of the enterprise, was to have a single application that accommodated as many of the enterprise's requirements as possible," he says. "After a full requirements definition, RFP [request-for-proposal] submission, and reference interview process for four semifinalist packages, we selected one vendor as the best -- nearly the only -- solution that could handle everything." This company used a rational, transparent decision-making process and is reasonably pleased with the results.
By now the reader should recognize that it's not ERP systems per se that present the stumbling block; the trouble arises from the internal state of the enterprise, the way IT is conducted and how decisions are made. The ERP project ends up being a kind of IT CAT scan, revealing everything that is broken or out of alignment.
So getting full value from an ERP investment requires the organization to examine what's out of alignment and fundamentally change how it works. The question is one of readiness: Is your company braced for this level of change?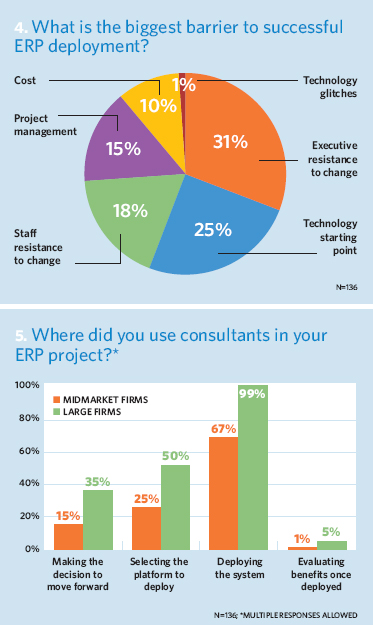 Climbing Over the Barriers to Success
ERP software could and should be considered one of the marvels of the modern world. It is massively complex, but it works. Only 1% of our respondents view the underlying technology as a barrier to success (see Figure 4). More than two-thirds view the human side of the ERP journey as the most difficult, from the snafus in project management to the passive resistance of executives and outright rebellion of lower-level staff. "People will cause delays that cost companies huge amounts of consulting dollars because they don't want to change," says the CIO at a brokerage house.
"Technology is never the problem," says Stuart Robbins, former CIO at Santa Clara, Calif.-based Jamcracker, an on-demand software provider. "Organizational/human issues are always the problem." But getting executives to change their behavior is agonizingly difficult. As a CIO at a utility describes it, "The biggest hassle has actually been cultural. [Employees say], 'This is not as good as the system I gave up.'"
Securing reliable and appropriately priced external resources is another barrier to success. Virtually all large companies employ consultants in ERP implementation, and more than two-thirds of midsized companies do so (see Figure 5). But many respondents cite consultant competence as a serious obstacle in ERP success.
After years of working with system integrators, one CIO has virtually ceased using external providers. "We think this is a core competency and have built that capability internally," he notes. "We then utilize the software vendor or a third-party consultant to configure/deploy the package software. We manage the project, the integration, the testing and the change management."
The CIO at a government contractor agrees. "We hired one group for the beginning phase and because they did so poorly, we chose a different implementer to help with the next phase. [When] they did poorly, we decided to do the next phase -- the lion's share -- ourselves."
The CIO at a brokerage firm also notes that most of the projects he's been involved with "did not deliver a return as quickly as planned." But ultimately, he adds, the company received benefits through the business process transformation it underwent. "If you can use the ERP [system] to deliver a streamlined process and provide visibility to the complete process, it becomes just another tool to enable the improved process," he says. (See "Slogging Through the ERP Journey," below, for more on the benefits of ERP.)
Organizations often spend way too much time worrying about which vendor to select and way too little on how they will manage the myriad behavioral changes an ERP system requires. We suggest modeling the postdeployment work environment such that the end point is known, or at least clearly envisioned. This technique -- termed "bringing the future to the present" by Moshe Rubinstein, author of The Minding Organization -- would eliminate a lot of the angst of the latter stages of most ERP projects.
For the 21st-century midmarket CIO, the ERP decision poses a paradox set forth by 14th-century philosopher Jean Buridan. He posited that an entirely rational ass placed between two equal stacks of hay will starve since it cannot decide which to eat. Many IT executives end up similarly stuck between the pain of the status quo and the agonies of moving to an ERP system.
The secret that veterans of the ERP journey learn is that the bottom-line benefits of these systems come from improving business processes and involving the right people, not from a software package. Modern-day soap operas perpetuate an endless cycle because the characters never learn from their mistakes. The one absolute truth with ERP is that you have to get off your burro and make something happen.
SURVEY METHODOLOGY: Researchers contacted 136 companies (57% midmarket firms; 43% large firms) in 17 vertical markets: banking, construction, consumer electronics, education, entertainment, fashion, food, government, insurance, manufacturing, pharmaceuticals, philanthropy, publishing, retail, services, technology and telecom. Researchers followed up with some respondents by email.
Thornton May is a respected futurist, adviser and educator whose insights on IT strategy have appeared in Harvard Business Review, The Wall Street Journal, BusinessWeek and numerous computer industry publications. To comment on this story, email editor@ciodecisions.com.
Dig Deeper on Small-business infrastructure and operations