Manage
Learn to apply best practices and optimize your operations.
5 Technologies to Watch, Career Moves, Leadership Tips and More
From five technologies to watch to one pivotal leadership imperative, here's how CIOs can get IT -- and their careers -- ready for takeoff in the new year.
Five, four, three, two, one -- and the ball drops to usher in the new year. Just be sure that the sound it makes isn't your career going thud. Next year will be chock full of opportunities and pitfalls, so the power CIO will need much more than technology know-how in his toolkit. Of course, you will need to consider some IT initiatives -- and avoid others. But there are also people issues, sourcing strategies and efforts like strengthening your ties with business colleagues on the horizon. So read on for your marching orders. Besides the five technologies to watch, we bring you four managerial mandates, three reality checks, two career moves and, finally, one leadership imperative: Get back to business.

5 Technologies to Watch

Virtual Servers

When it comes to computing efficiency, IT virtualization has been called a megatrend and one of the best ways to increase server utilization.

Virtualization pools the resources of different machines so that computing power shifts to the areas experiencing highest demand. Virtualization technology enables this capability among multiple machines or among partitions of one machine, which can run different operating systems at the same time. By increasing server utilization rates, virtualization allows fewer machines to do more work.

Download this free guide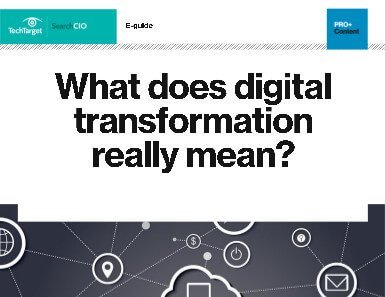 PDF: What does "digital transformation" really mean?
What exactly is digital transformation? You may hear the term often, but everyone seems to have a different definition. See how our experts define digitization, and how you can get started in this free guide.
Virtualization may be just the technology for midmarket CIOs hoping to stop server sprawl. Brad Nickel, data center operations manager at $1.3-billion JetBlue Airways, is designing a 10,000-square-foot data center to replace two 2,000-square-foot data centers. He's using virtualization software (and blade servers) to consolidate 75 single-application servers into five. The move will save the airline about $20,000 a year in rent, utilities and other efficiencies.
Another indication that virtualization is hot: the vendors that are lining up to offer it. Intruding on market leader VMware Inc.'s turf is Microsoft, with its Virtual Server and virtualization capabilities in the upcoming Longhorn. IBM, Hewlett-Packard Co., Cisco, BMC Software and several startups are also launching or acquiring technology in the virtualization space, while a new version of the open source Xen debuts next year. Intel and AMD are even working on it at the chip level. Stay tuned.
5 Technologies to Watch (cont.)
Business Intelligence
Emerging from an extended period of cost cutting and efficiency seeking, IT departments are increasingly asked to contribute to the top line. Identifying new revenue opportunities often involves analyzing customer data, which in turn means business intelligence (BI).
BI typically encompasses a data warehouse as well as data-scrubbing and analytic software. In analytics, Business Objects, Cognos and Microsoft are the Big Three vendors, according to Bill Hostmann, analyst at Gartner Inc. in Stamford, Conn. But for most midmarket companies, the applications in use are inconsistent and primitive. "Excel is still the dominant BI tool in companies [with] under 5,000 employees," Hostmann says.
So in 2006, you'll want to merge all those line-of-business BI projects with a true enterprise-grade tool. But if your results are like those of Burt's Bees Inc., be prepared to hire help.
In 2005 the $100-million maker of personal-care products in Durham, N.C., recognized that senior managers and sales reps had trouble analyzing point-of-sale (POS) data. So Ted Hein, director of information services, and his team implemented a Business Objects system that analyzes data in so many ways that the company must now hire more data analysts.
"We went from an information desert to an overabundance," Hein says. "Now we need to build out [our] analytical capabilities." Other firms may soon follow suit. AMR Research Inc. in Boston says BI accounted for $5.8 billion in sales in 2005 and estimates it will grow by nearly 9% next year.
Video over IP
Once you've committed to a converged network with voice over Internet Protocol (VoIP), it's a short hop to video over IP. And businesses have already learned that videoconferencing over IP can trim training budgets and travel time for staff and also enable new types of collaboration such as telemedicine. So in 2006, you'll want to stay on top of the "other" VoIP.
According to Wainhouse Research LLC, a Duxbury, Mass., research firm that specializes in visual collaboration and rich media communications markets, the camera and voice-access device needed to run an "executive" videoconferencing system -- one that's suitable for individuals or small groups but not a full-blown system -- can be had for less than $2,000.
Wainhouse predicts the enterprise IP videoconferencing market will increase 15% in 2006, from $660 million in 2005 to $757 million in 2006.
Naturally, those IP gains come at the expense of traditional ISDN teleconferencing. According to Wainhouse analyst Andrew W. Davis, most videoconferencing hardware includes both IP and ISDN ports, and "50% or 60% of the deployments today are IP-based." Wainhouse estimates ISDN's share of videoconferencing will slip to 30% in 2006.
Naturally, the quality of the image depends on bandwidth. While 128 KBps is sufficient to view someone's face, you'll need 256 KBps for top-quality conference-room images, says Irwin Lazar, an analyst at the Burton Group, a Midvale, Utah-based research firm. "You get what you pay for," says Lazar.
Despite falling hardware prices, Lazar says that in 2006, midmarket enterprises seeking to avoid investments in a fast-changing technology may want to stick with services such as WebEx and Macromedia's Breeze, which enable videoconferencing with virtually no hardware expense.
5 Technologies to Watch (cont.)
Storage Area Networks
Too many times, industry observers have forecast the year of the storage area network (SAN). And once again, for 2006 the media is waving the SAN banner in the midmarket. Ah, we detect some skepticism. But consider why SANs' time has come: Digital data keeps growing, and SAN prices keep coming down.
The runaway growth of digital information continues to drive the SAN market -- and mow down the competition. Steve Duplessie, a senior analyst at Milford, Mass.-based research firm Enterprise Strategy Group, says that traditional direct-attached storage is "hard, expensive and just plain dumb" given its cost and complexity.
A SAN, on the other hand, is a high-speed network that routes data to storage devices according to customized rules. This setup overcomes geographic limitations (the devices can be located anywhere) and offers other benefits. For example, a SAN that funnels backup to a remote site can satisfy one requirement of a disaster recovery plan.
Today, prices are reasonable. Vendors such as QLogic offer basic SAN infrastructures -- essentially starter kits -- for less than $5,000, and fully redundant configurations start at roughly $7,000. "That is the kind of price point that will jump-start a market," Duplessie says.
In addition, SANs that use IP networks rather than older Fibre Channel technology make deployment easier.
All this evidence points to growing adoption among enterprises with limited IT resources. William Gregory, CIO at Hogan & Hartson LLP, a Washington, D.C.-based law firm with annual revenues of more than $550 million and 1,000-plus lawyers, is now on board. "We're putting up SANs to handle the volume of information," he says. "We're talking terabytes, and I know from talking with my peers that we're not alone."
Web Services
Web services are poised to make a midmarket splash next year, but not necessarily as an underpinning for a true service-oriented architecture (SOA). AMR Research Inc. analyst Eric Austvold predicts SOAs will remain the purview of "ultrasophisticated IT organizations" in 2006.
For more mainstream IT shops, Web services are the way to integrate newer technology with legacy systems. That will be the case at American Community Mutual Insurance Co. of Livonia, Mich. Lynn Phillips, CIO at the $370-million insurer, says, "We've always been mostly mainframe-based; we're making the move to more of a mid-tier-based [structure], and a lot of Web services connections need to be developed."
Yet SOA adoption is on the rise. In a September 2005 AMR Research survey, 33% of 134 U.S. companies with more than 1,000 employees say they plan to deploy SOA in 2006. Yet to date, only 21% of respondents say they have deployed SOA. Seven out of 10 are using Web services in those deployments.
4 Managerial Mandates
Reward Thy Staff
"We've done well on turnover, but next year we think that'll be a tougher challenge," says Gertrude Van Horn, CIO at Jo-Ann Stores Inc., a $1.81-billion crafts and fabrics retailer based in Hudson, Ohio. "We have some great business analysts, and we've already seen [a] demand increase for people like that."
She articulates a common concern among IT executives as 2006 draws near: Fewer computer science grads, combined with a retiring baby boom generation and a growth in demand for skilled IT workers, will soon equal staffing pain [see "Talent Crisis Redux," CIO Decisions, July 2005]. Keeping your staff happy -- with new projects and quality-of-life-enhancing efforts -- should top your priority list for the new year.
In 2006, IT labor in select areas will become a seller's market. Leading this pack will be business analysts: IT staff who are well versed in the business and fill a hybrid role. Other specialties expected to be in high demand, and thus pricier, are business continuity; data security; data warehousing; wireless; open source software; Web services; and business intelligence, according to Robert Half Technology in Menlo Park, Calif., and Forrester Research Inc. in Cambridge, Mass. (System administrators, database administrators, help desk, programmer/analysts and Web designers -- all highly prized in the late 1990s -- didn't make this year's list.)
"In 2006, businesses will be asking, 'What can we do to grow our business?'" says Melissa Maffettone, manager of Robert Half Technology's Fort Lauderdale, Fla., office. In its fall IT hiring index, the firm reports a steady increase in hiring over the past five quarters. Midmarket enterprises, Maffettone says, are looking for technology skills, but also communication skills and business knowledge.
Whether or not you are hiring, don't take for granted the talent already on staff. Instead, work proactively and creatively to hang on to strong performers. Loosening up the purse strings may be necessary, but it may not be enough. Many IT workers place a premium on work/life balance, so consider offering telecommuting, flextime and other nontraditional benefits.
Employee-recognition programs and continuing education can also keep workers from bolting. That's important in winning the talent war, since it's cheaper to retain top workers than to hire new ones.
Manage Security
Chances are, you aren't just your organization's CIO. You're also the chief information security officer (CISO) or the chief security officer, in charge of physical as well as network and data security. In 2006 you'll need to stay on top of new threats, which are expected to be more of the same and then some.
"In 2006 the midmarket has to look out for more sophisticated attacks," says Jon Oltsik, an analyst at Milford, Mass.-based Enterprise Strategy Group. "We'll see more application-layer attacks and more blended threats, things that require a defense in depth."
E-mail will remain the delivery mechanism of choice, though instant messaging, voice mail networks and cell phones (which are evolving as a prime corporate interface tool for both voice and data) will continue to grow as hacker targets. Experts also say that the era of wunderkind hackers is all but over, as the trend away from vandalism to attacks for extortion or identity theft will continue.
Thus, brace yourself for more of the attacks that were effective in 2005, such as narrowly targeted phishing e-mails that appear to originate from your organization (and frequently succeed because of trusting users). The goals of these attacks may be to steal personal information and raid users' bank accounts and credit lines. Attackers may also probe for confidential company information for extortion purposes or to sell to competitors, creating the potential for a catastrophic loss.
Asked what measures midmarket IT groups should focus on in 2006, Oltsik advises them to be "resolute about scanning networks and penetration testing." He also thinks businesses need to get past their fear of outsourcing security to third parties [see "Security Outsourcing Grabs Hold," CIO Decisions, September 2005]. "There are a lot of good security firms out there, and you've got to be willing to use them, because [threats] are getting so complex," he says.
Merv Tarde, CIO at $700-million Interstate Batteries in Dallas, recently found himself newly responsible for physical security. And in New York City, W.P. Carey & Co., a $225-million real estate investment firm, has taken the concept a step further: "We believe there's a natural aggregation of themes and skills around compliance, infosec, business continuity, internal controls [i.e., audits] and risk management," says Mykolas Rambus, CIO at W.P. Carey. "So we've rolled them all into one discipline."
4 Managerial Mandates (cont.)
Engage in Strategic Sourcing, Offshore and On
Midmarket CIOs and their small staffs spend most of the day -- 80% by some estimates -- dealing with infrastructure issues and putting out technology fires. But smart CIOs are turning to a plethora of sourcing options to cut costs, gain flexibility within their IT departments and, most important, free up time for business-related technology concerns.
"Strategic sourcing will indeed be a mandate in 2006 if it already isn't," says George Danforth of Tatum Partners in Greenville, S.C, a provider of temporary CIO-level services. "The thinking has evolved to be, outsource everything that is seen to be a commodity but keep in-house that which sets you apart in the marketplace."
There's a buffet of choices for CIOs feasting on sourcing options. Channel partners continue to court the midmarket with an ever-increasing portfolio of services. Services companies are also primed to offer midmarket firms outsourcing arrangements that meet budgetary and business needs.
"The traditional boundaries and general framework around outsourcing decisions have been redefined and are now relevant for even small-to-midsized companies," Danforth says. "It is no longer a strategic decision [only] for those employed at large companies."
Gartner Inc. has aggregated these techniques in a new operational model it calls multisourcing, by which "internally and externally delivered services are blended seamlessly, governed closely and evaluated continuously." Gartner researchers Linda Cohen and Allie Young describe the model in Multisourcing: Moving Beyond Outsourcing to Achieve Growth and Agility.
Two main roadblocks hinder adoption of a pervasive sourcing strategy among midmarket companies. Some CIOs are still anti-outsourcing. President John Sullivan of Majestic Insurance Co. in San Francisco, which handles $100 million in workers' compensation premiums annually, fired his top IT guy a couple of years ago, partly because "he didn't want to [outsource]. It was just his philosophy," Sullivan says.
And CIOs who have embraced outsourcing and other sourcing options often face a major challenge: managerial chaos. Thus, the need for a strategy to manage sourcing contracts and relationships becomes clear. Harold William, a vice president at Western Computer Services Inc. in Sandy, Utah, learned that the hard way. "I wanted a quick-strike approach," he says of his first outsourcing experience.
"But my organization fell into some of the basic gotchas."
Spend Wisely
In 2006, your budget will probably get a bump. But with some potentially new priorities -- more customer-facing applications, a renewed focus on disaster recovery, staff retention -- prudence is the name of the game. That's why spending wisely continues to be a managerial mandate.
IT spending at businesses with 500 to 5,000 employees is projected to grow by 6% in 2006, the same percentage increase as in 2005, according to Forrester Research Inc. But Forrester predicts new investments, including customer-facing applications, will grow 10% to 12%.
Yet budgets rarely tell the whole story, Forrester's Andrew Bartels says. Historically, projections have understated actual spending, he says. "CIOs offer conservative plans, but then they spend up to or above their budgets."
Nonetheless, 2006 won't be a free-for-all. "The U.S. economy's been surprisingly strong despite stresses like [Hurricane] Katrina and high energy prices," says Bartels, "but there's a lot of uncertainty that could affect overall business spending."
Disaster recovery efforts from this fall's hurricane season reordered IT priorities for many companies, in some cases with budget implications. "I was just pulling my proposed budget together when we got hit by Katrina and Rita," says Tom Fluker, vice president of information systems at $291-million Cornell Companies Inc., a Houston-based firm that provides correctional and treatment services in prisons and halfway houses. "They were a pretty plain reminder that we need to pay more attention to disaster recovery."
Though only a few years old, Cornell's existing disaster-recovery plan was based on assumptions that are no longer tenable. For example, a three- or four-day lack of e-mail had been deemed acceptable. "Obviously we need to rethink that," Fluker says. "And the solution is simple: money."
Overall, Cornell is looking at a flat 2006 IT budget of between $8.5 million and $9 million, with more money allocated to some areas (staffing and applications to take advantage of IP telephony) and less to others (hardware and network infrastructure), simply because the company "is in good shape" on the latter fronts, Fluker says.
Another school of thought is that level funding in a growth climate causes IT to lose ground. Gartner Inc. expects IT budgets to rise in dollars but decline as a percentage of revenue, representing a net loss. That makes conservatism not just a recommendation but a requirement.
Whichever direction your budget is headed in, next year you may want to formalize the way you track IT projects, especially in relation to their contribution to the business. Midmarket CIOs are embracing practices such as portfolio management in an effort to better understand and explain technology's effect on the bottom line. It's an approach that any cost-conscious executive team will appreciate.
3 Reality Checks
Offshoring Still Not a Midmarket Word
Two years ago, it seemed that unless half your application development staff was in Bangalore, you were giving money away. Offshore outsourcing was the talk of the town for both business processes like call centers and classic corporate IT functions.
In 2005 the chatter about offshoring grew muffled. But that doesn't mean that companies stopped using the practice. In fact, overseas outsourcing is growing faster than ever; the Indian IT outsourcing industry projects that offshoring in India will continue to grow in the range of 30% in 2006. You just hear less about the use of the practice because businesses have grown wary of a negative PR backlash.
Regardless, IT offshoring is still an option employed largely by the biggest companies, not midmarket firms. According to Peter Bendor-Samuel, CEO of the Everest Group, a Dallas-based outsourcing consultancy, the initial costs and economies of scale required to justify offshore IT outsourcing render it a palatable option "for the Fortune 50, though we see it dropping down to the Fortune 100 in 2006."
That upswing has been documented elsewhere. In a September 2005 survey of 420 U.S. companies of all sizes, AMR Research Inc. found that while 17% of respondents used offshore outsourcing to perform infrastructure management in 2005, 30% plan to do so next year. And while 20% used offshore outsourcing for application development in 2005, 34% plan to do so in 2006.
Even if offshoring is beyond the reach of many midsized companies, there are lessons to be learned from the experiences of larger firms. Managing contracts and relationships is time-consuming but nonetheless essential to making a partnership work; miscommunication can eat away at precious savings.
And offshoring isn't always a fit. Consider the now-legendary move by Dell Inc. to bring some of its voice-based customer service operations back to North America from Southeast Asia after receiving criticism about service quality.
In a June 2005 survey of 210 senior IT execs at Global 1000 firms and 242 executives at outsourcing service providers, Chicago-based management consulting firm DiamondCluster International Inc. found that satisfaction with offshoring providers has decreased from 79% in 2004 to 62% this year. While many factors contribute to a U.S. company's perception of its provider, the best fit requires ample due diligence.
3 Reality Checks (cont.)
Open Source: Not a Bad Bet
The code is free. But is it worth it? As with so much in life, it depends.
Open source software, though less costly than commercial packages, is rarely plug-and-play. It contains hidden costs in the form of maintenance and development. And it requires technical expertise to implement. For many midsized companies, that's a requirement -- or a tradeoff -- that CIOs aren't always willing to make or that causes them to think seriously before they proceed.
At Aspen Technology Inc. in Cambridge, Mass., CIO Irwin Weiss estimates that an open source infrastructure management program saved his $333-million software company perhaps $1 million compared with a traditional packaged application. But he attributes that success to a heroic, bordering-on-obsessed programmer who single-handedly implemented the software enterprise-wide. The $700-million construction company Rudolph and Sletten had the opposite experience. One of CIO Sam Lamonica's first moves was to dump an open source virtual private network he inherited; it failed in ugly fashion every single day.
"The biggest danger companies face is believing the hype, swallowing it whole," says Laura DiDio, an analyst at Yankee Group Research Inc. in Boston. "Open source is software, subject to all the same economic principles and economic vagaries as any software." In other words, it's not a silver bullet.
Make no mistake: Properly implemented, the right applications in the right organizations can save midmarket businesses a ton of money.
"Are some open source applications technologically viable for mainstream uses? Yes," DiDio says. "Can they save money and deliver quick ROI? Potentially. However, whether a company manages to lower TCO [total cost of ownership] and achieve fast ROI depends on its IT organization's attention to basics: testing, planning, configuration, management and support."
Hence the reality check. Midmarket enterprises want to swim in the open source pool to enjoy cost savings, but they must proceed with caution. CIOs should look around to see whether open source has quietly infiltrated their business already (you might be surprised). Further, CIOs need to know just how much open source expertise they'll need to have on staff for viable projects.
If you're ready to give open source a shot, start small, monitor the project closely and be realistic about savings goals. IT groups that fail to heed this advice may find that what they thought was an open source cannonball is actually a belly flop.
Thumbs Up on CRM
The idea of leveraging technology to better tend to key customers -- as well as increase sales and profits -- requires no reality check. But the software at the epicenter of this effort, customer relationship management (CRM), has long been viewed as the bane of an IT executive's existence. Think clunky, kludgy, ignored by users.
But today, CRM has fresh appeal for midmarket CIOs, thanks largely to the hosted software delivery method. Open source versions are also attracting interest, because they are easier and cheaper to deploy.
Hosted CRM works because it doesn't require companies to rejigger all their business processes and commit to expensive, long-term implementations (which are prone to failure). According to AMR Research Inc., sales of hosted CRM grew a whopping 105% in 2004, with the best-known hosted-CRM vendor, Salesforce.com, growing sales by 97%. But firms that don't mind getting their hands dirty can turn to open source CRM from such vendors as SugarCRM. The customization available with this option can drive more value from the investment.
Perhaps most important, CRM has evolved from being merely an application to become a state of mind. The concept, and capability, of making customer data available to staff at all customer touch points -- from sales to customer service to billing -- is now intrinsic to business.
The crafts and fabrics retailer Jo-Ann Stores Inc. has embraced this mind-set. "We've targeted customer loyalty as an area where we might be a little deficient," says CIO Gertrude Van Horn. Yet rather than viewing this as a job for a monolithic CRM application, she is looking for incremental improvements in all Jo-Ann Stores' existing applications. "It's all about understanding our customers and our up-selling and cross-selling opportunities better, and that's not necessarily all about CRM."
Whether you use CRM software or not, if you don't have visibility into your customers, you'll fall behind peers that do. So with easier and more affordable CRM options, consider if one of them can help your business.
2 Great Career Moves
Get Into the Business
The Demands for IT-business alignment will continue to grow in 2006, so today's CIO must develop greater business acumen. And that means getting out of your cubicle and finding out more about business operations.
CIOs may complain that there isn't enough time in the day to do anything besides manage IT operations. But "operational effectiveness only accounts for 15% of profitability in most companies," says Jon Piot, CEO of Impact Innovations Group LP, a Dallas consulting and services firm. Which means you'll need to do a lot more to contribute to your company's upside.
Busting out of your technology cage will require a significant and sustained effort. To begin with, you need to ensure that your direct reports can handle day-to-day responsibilities.
Next, Impact Innovations suggests that you arrange a grand tour of your company's functional groups, business lines and key satellite offices. "This is where you develop meaningful relationships with other executives at your peer level," Piot says. Spend a few days in marketing, and be sure to take the vice presidents to lunch or to the golf course. Ditto manufacturing, distribution and the COO. Think of yourself as a politician on a fact-finding mission. But focus on substance as well as appearances. "Then you can see the issues across the company that you can help solve," Piot says.
The goal is to identify tangible, well-supported ideas that you can offer fellow executives. "If you can say, 'If I could do an ERP or a BI [project], I could improve your production by [x] %,' that's how you start to get IT viewed as an enabler, a competitive weapon," says Scott Holland, a senior business adviser with the Hackett Group, an Atlanta-based research firm.
Network With Your Business Execs
Most CIOs hate schmoozing, especially outside IT circles. But for the sake of your career, the success of projects and the opportunity to drive your company's business through IT, you'll need to enter waters that are uncharted for most technology execs. "In 16 years of recruiting, I've seen that the most successful people are those who've stepped out of their functional comfort zone," says Andy Wihtol, founder of Andrew Associates executive search in Lake Oswego, Ore., and vice president for membership at the Society for Information Management (SIM), the professional association.
If nothing else, engaging business colleagues can make all the difference when it comes to project funding. Lynn Phillips, CIO at $370-million American Community Mutual Insurance Co., says that networking with business executives helped him secure approval for a major service-oriented architecture (SOA) initiative. "When we originally proposed SOA, it was seen as an IT architecture improvement and it was nixed," Phillips says. Then he networked with business colleagues. "When we went back and [got other company officers to] see it as a contributor to product delivery, that's when we got it funded."
So how to get started? For Wihtol's clients, "to push to the next level, many of them latched on to a [business] person for guidance, and some even hired a career coach," he says. And when it comes to staff, start early. "At SIM we're urging [IT groups] to hire not just for technology skills but for the best and brightest overall," he says. "Sure, sometimes you'll need to hire a person with limited client-facing skills just to get the job done. But in general, if you think about communication and business and soft skills, you'll be better off in the long run."
1 Leadership Imperative
Get Back to Business
After all the compliance work, cost cutting, data center consolidation and effort to wrest the last drop of efficiency from IT systems, what is the No. 1 imperative for IT leaders in 2006?
Getting back to business, that's what.
The focus for IT leaders in midsized companies is shifting from the cost-saving mantra of the past few years to business-facing initiatives geared toward increasing capabilities and sales. Gartner Inc., for example, says IT spending in the U.S. will increase 5.5% in 2006, with major outlays on mobile devices and a renewed focus on applications. Forrester Research Inc. predicts a 6% increase overall, with growth of 10% to 12% in customer-facing applications.
But for many CIOs, back to business means more than spending. "After three years of cost cutting and making do, there is [a] growing realization that IT has become central to our ability to sell and service our customers and to differentiate ourselves from our competitors," says Mike Hugos, CIO of Network Services Co, a Chicago-area distribution firm. "Getting back to business for me means building consensus within the senior management team and the business units to do the IT projects we need to improve our supply chain service offerings."
Refocusing on "core business goals" is what CIO Rich De Brino plans to do at Compass Health, a behavioral health nonprofit based in Everett, Wash. "Let's make sure the business is healthy, profitable and stable in 2006 -- and to hell with the regulators," he says.
Cliff Bell, CIO at $87-million Phoenix Technologies, has a long to-do list. "We have a backlog of projects to drive revenue, increase productivity, etc. ... that we postponed to ensure SOX [Sarbanes-Oxley] compliance," Bell says. "We are spending a lot more time to improve channel systems, sales forecasting, lead generation and fulfillment systems."
In 2005, regulatory mandates such as SOX and the Health Insurance Portability and Accountability Act "usurped important resources and preciously scarce talent" at $750-million Oceaneering International Inc. in Houston, says IT Vice President Gregg Farris. But all eyes have been focused on the business "more than ever," Farris says. "Oceaneering has been running flat-out, pushing every employee and every piece of equipment to their max just to keep up with demand," he says. "To top things off, we've been implementing a new worldwide [system], which not only increases each staffer's work, it screws with their systems familiarity and ability to get their jobs done efficiently."
For Keystone Automotive in Pomona, Calif., getting back to business means renewed outreach from IT to business units at the $558-million auto parts distributor. "We need to enable the business to increase sales, provide optimum customer service and accelerate growth," says CIO Jesus Arriaga.
To that end, Arriaga and his team have developed an IT partner program that assigns staffers as liaisons to Keystone's most significant business units. There's also a field program portion for the general managers and locations scattered across the U.S. "We're calling it the C.A.R program, for 'customer action representative,'" Arriaga explains. "I took the auto concept here to develop a catchy phrase."
But if you're stumped and can't think of how to make 2006 better than 2005, here's a place to start: "Identify one high-impact initiative that will move your business forward," recommends Niel Nickolaisen, vice president of strategic planning at Headwaters Inc. in South Jordan, Utah, and our Business Mentor columnist (see "Business Mentor Seeing the Real Forest for the Trees"). "Say to yourself, 'In 2006, we get this done, no matter what.'"
Now that's a leadership imperative.
Steve Ulfelder was a senior features writer at CIO Decisions. To comment on this story, email editor@ciodecisions.com.
Dig Deeper on Small-business IT strategy