Web 2.0 tools of the trade
As Web 2.0 technologies become more popular, IT professionals are answering questions from business units on how it can be used. This chapter excerpt from Paul Gillin's new book, "The New Influencers," offers the basics of Web 2.0 tools.
"We need to be using Web 2.0. I'm not sure how, but we should." Sound familiar? As Web 2.0 tools become more widely used and marketed, more business people are turning to IT professionals to come up with ways to implement them.
In his recent book, The New Influencers, Paul Gillin describes how ordinary people are using Web 2.0 technologies to shape market perceptions and how business marketers can work productively with these new opinion makers. Here is a chapter excerpt of his book, which defines Web 2.0 tools -- a worthwhile resource to pass on to your business colleagues so they can better understand what Web 2.0 is all about.

Download this free guide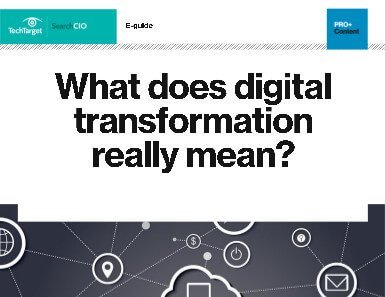 PDF: What does "digital transformation" really mean?
What exactly is digital transformation? You may hear the term often, but everyone seems to have a different definition. See how our experts define digitization, and how you can get started in this free guide.

By submitting your personal information, you agree that TechTarget and its partners may contact you regarding relevant content, products and special offers.

You also agree that your personal information may be transferred and processed in the United States, and that you have read and agree to the Terms of Use and the Privacy Policy.

The New Influencers: Tools of the trade

As a business marketer, you don't necessarily need to be a player in social media, but you should be aware of what's being said about you.

There are several high-end products and services that monitor online chatter and give subscribers reports of varying levels of sophistication. Among the providers are Nielsen BuzzMetrics with BrandPulse, Cymfony's Orchestra, Nstein with Ntelligent Enterprise Search and Factiva with a suite of tracking products. Services can run from a few hundred to several thousand dollars per month. They're mainly used by professional marketing firms and large corporations.

Fortunately, you don't have to spend a lot of money -- or any money, in fact -- to listen to the conversation. There are many free services that alert you when something is going on in the blogosphere that you need to know about.

Google Alerts are a powerful way to monitor what the media is saying about any topic. The free service essentially performs regular searches on topics that you specify and sends you an email when new results pop up. The news alert feature is particularly useful. Type in your company name, product name, your name or anything else and you will be automatically notified when that term appears in a new article in Google News's directory of more than 4,500 news sources. This service is a huge time-saver. You should have alerts set up for all the companies and brands that are important to you.

It's also worth spending fifteen minutes to familiarize yourself with the advanced search features of the engine of your choice. They can save you hours of time over the course of a year. For example, the "linkdomain:" command in Yahoo's search engine will give you a list of all links to any page or domain that you specify. The "allinanchor:" command will show what keywords people are using to link to you. Amazon.com's A9 search engine lets you customize your results page to include all kinds of categories, such as blogs, news, government documents and about 300 other sources.

Searching blogs


Searching blogs is a little trickier. Because blogs are updated so frequently, new entries may not make it into the major search engines for days. Blog-specific search engines work by monitoring syndication streams called RSS feeds that most bloggers used to tell the world when their site has been updated. These search engines can grab new content less than an hour after it has been published, making them the best way to keep tabs on the blogosphere. The downside is that they are less effective at filtering results than specialized search engine like Google or Ask. That means that you have to do more work on the back end.

Popular RSS-based search engines include Technorati, IceRocket, Feedster and BlogPulse. Opinmind.com, for example, classifies search results by bias. It analyzes the tone of various blog posts and displays a meter showing whether opinion is running in favor of or against the topic being searched. Talk Digger combines the results of multiple blog search engines and ranks the results by link popularity.

Technorati's Top 100 Blogs list is also a pretty good roundup of the most influential bloggers according to how many links they have from other bloggers. However, you can search for any blog at Technorati and find out where it ranks in the 2 million or so blogs that the service includes in its rankings.

IceRocket and BlogPulse have some interesting and helpful twists on the search theme. Both can track conversations over time and display the trend in graphical format, showing how many people were talking about the topic on any given day. This is useful for monitoring buzz, particularly when you're caught up in a blog swarm or active conversation. It's also an important early indicator of whether a topic is gathering steam. You should check in regularly on your company and product names.

Podcasts are a different world. Searching them is difficult because the content is so hard to index. However, two remarkable search engines -- Podscope.com and Podzinger.com -- do a pretty fine job. Enter a search term and you're taken to a list of podcasts that mention that term. What's more, you can click on a control button and listen to the exact segment in the program where the searched-for term is spoken. There are many directories of podcasts. Among the best are Podcast Alley (owned by PodShow Network), Podcasting News, Podcast.net and iPodder.org.

Comments and trackbacks -- Comments are an important indicator of a blog's popularity. Popular bloggers tend to log a lot of comments, both because they're well-read and because commenters seek to drive traffic back to their own sites. The volume of comments can also give you an idea of how popular a topic is as well as who's talking about it.

A trackback, as defined by Wikipedia.org is "a mechanism for communication between blogs: if a blogger writes a new entry commenting on, or referring to, an entry found at another blog, and both blogging tools support the TrackBack protocol, then the commenting blogger can notify the other blog with a "TrackBack ping"; the receiving blog will typically display summaries of, and links to, all the commenting entries below the original entry. This allows for conversations spanning several blogs that readers can easily follow."

What's all this about RSS?


RSS is a basically a personal news wire service. People who create content can use RSS to automatically notify the world when they have added information to their blog or Web site. Every blog or podcast service supports RSS. RSS is critical to blogging because it's timely.

People subscribe to RSS feeds by setting up software that periodically goes to specified sites to ask if there's anything new to report. If a site has been recently updated, the RSS reader grabs the latest content and delivers it back to the subscriber. That information can be displayed in an email message, a Web page, a specialized reader or any one of a number of other formats. RSS feeds can even be delivered to a cell phone. The information consumer chooses to subscribe to an RSS feed, which means they can also choose to unsubscribe whenever they want. As a result, RSS feeds cut through the piles of spam and junk mail that clutter most inboxes.

And what the heck is tagging?


Tags are newer and even less understood than RSS, but they are just as powerful. Tagging is a free-form way to classify information, a form of information that techies call metadata. People attach tags to information they've found on the Web as a way of organizing and finding it later. Tags are most often applied to frequently changing information, which makes them ideally suited for social media.

Lots of bloggers and Web publishers use tags today as a way to self-classify their information. If I write an article on Volvos, for example, I might tag it "Volvo, car, sedan, European, 4WD, snow, safety, vehicle, upscale" and any other words that might remind me of Volvos.

Think of tags as the Dewey Decimal System for the Internet. Only the Dewey system was limited by the fact that a book could only be in one place at one time. Tags, in contrast, can be used to "shelve" something in a lot of different places at once. So a travelogue about Italy, for example, can be found by searching on Rome, Fiat, Chianti, pasta or villas.

Tags can also give you valuable insight into your own product and company because they're a small window on how others see you. They can help you spot opportunity. Tags are also a good way to find images, podcasts, video and other hard-to-search-for items on the Web. Many people who produce multimedia content attach bundles of tags to make it easy to find.

Aggregation engines


This catch-all category covers link blogs, topical blogs and community news sites, basically sites whose purpose is to drive viewers elsewhere. This may sound prosaic, but these sites are probably the most important arbiters of influence in social media. BoingBoing.net, Metafilter, Waxy.org, ScienceBlogs and Fark.com are all forms of link blogs. Some may publish only a single sentence with a link to something else while others may go into detail. All essentially to offer a hand-picked guide to what the authors think is best, most important or strangest in the blogosphere.

The blogosphere is a constantly changing ecosystem and leaders come and go. While you should have your own roster of A-list loggers, it's worth checking back from time to time to be sure a new voice hasn't entered the conversation unexpectedly.

Paul Gillin is a writer, blogger, podcaster and marketing consultant who specializes in information technology and social media. He has nearly 25 years' experience as a technology journalist, including positions as editor-in-chief of TechTarget and Computerworld. He blogs at www.paulgillin.com. Gillin's book can be purchased on Amazon.com.
Dig Deeper on Small-business infrastructure and operations