Share this item with your network: BACKGROUND IMAGE: iSTOCK/GETTY IMAGES
New BPM process and strategy prioritize data-driven outcomes

iSTOCK/GETTY IMAGES
Get started
Bring yourself up to speed with our introductory content.
The CIO secret to strong leadership: Be willing to go to extremes
In this SearchCIO New Books Q&A, author Tina Nunno explains why CIOs need to be willing to go to extremes and even embrace 'the dark side.'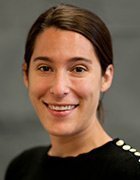 By
In The Wolf in CIO's Clothing: A Machiavellian Strategy for Successful IT Leadership, Gartner analyst Tina Nunno argues that CIOs have a lot to learn from the author of The Prince. In the first installment of SearchCIO's New Books interview, Nunno explains why today's CIOs need to "think like animals," specifically the gray wolf, if they want to give their companies a competitive advantage through technology.
Here Nunno goes a step further. She argues that strong leadership also is defined by the willingness to be ruthless when circumstances require it. Manipulation, secrecy -- these "dark side" tactics are fair game in the battle to use technology for competitive advantage.
Said Nunno: "The objective in using many of these techniques really isn't self-interest; it's not personal gain. It's being able to create positive change for the entire organization."
When exactly should CIOs use these 'dark side' tactics?
Tina Nunno: The most appropriate time for leaders to consider going to the dark side is when the light side hasn't worked. A lot of us are fortunate enough to work in organizations that, culturally, are on the 'light side.' People, by and large, are honest, open and transparent; they respond to reason, and they want to do the right thing for the organization, as well as for their teams. Unfortunately, not all organizations are like that. Some organizations become dysfunctional. People might have good intentions, but for a variety of reasons, they don't respond to being rational. They're not necessarily trying to do the right thing. They might, in fact, be under threat and feel as though they have to focus on self-preservation rather than the good of the company or the good of the community.
When the organization has turned to the dark side, or if the CIO is simply dealing with a stakeholder who is on the dark side, light-side tactics don't work. As a result, in order for CIOs to be successful, they frequently have to consider the possibility of using much more dark-side techniques because they will result often in a better outcome.
You provide the example of a woman CIO who is undermined by a business colleague who wrongly blamed IT systems going down for his shortcomings.
Nunno: This CIO realized she could go to the light side in dealing with a stakeholder, but in doing so she might look defensive. So, what she decided to do was to simply run a report of the number of times that the systems in question had been down in the course of a year.
One of the most important dynamics that is rarely talked about in terms of building leadership strengths is that you need to go to the extremes.
The report showed the systems in question had been down for a total of 3 minutes for the entire year. The CIO showed that data to the CEO and to the other stakeholders who had been told that IT was to blame for the situation.
One could argue this is quite a dark technique. She didn't do it in the presence of that stakeholder; she essentially did the Machiavellian equivalent of throwing that stakeholder under the bus. We could argue this CIO did not do the right thing, but Machiavelli was nothing if not pragmatic. The technique was absolutely effective. The [stakeholders] learned that by attempting to go to the dark side, they failed in dealing with the CIO. The [stakeholders] learned the CIO was a formidable predator, and that the cost of crossing the CIO was extraordinarily high.
One of the most important dynamics that is rarely talked about in terms of building leadership strengths is that you need to go to the extremes. People need to know you're capable of it. If they don't believe you're capable of taking them down, then they're more likely to attack you. We may not like that this is a reality, but as I said, Machiavelli was nothing if not pragmatic. And as a result, he advocated doing the pragmatic thing when it was absolutely necessary.
Let's take a look at the darkest tactic of the dark side. For a CIO, what does 'warfare' mean?
Nunno: The concept behind warfare is this: CIOs need to learn how to use power, and they need to learn how to manipulate in places where power doesn't work. Warfare is essentially taking both power and manipulation and multiplying it against one another exponentially to expand the effect across the entire organization. The mathematical steamroller example [described in part one of this interview] is a case of warfare. The CIO needed to get multiple stakeholders on board at the same time and get them to cooperate. That's what warfare is all about: leading in large numbers and scaling the effects.
When should CIOs pull out the warfare card?
Nunno: I've dealt with several CIOs recently, and I talk about this in the book, where they wanted to create change quickly within the organization. So, they went to the CEO and they asked for control over all of the IT budget, which had previously been disbursed in more decentralized organizations; they asked for control over all of the IT staff that had previously been disbursed, and the ability to essentially dictate IT to the rest of the organization. This is the equivalent of staging a coup. This is declaring a war on the entire enterprise. And, as you might imagine, the entrenched powers are likely to resist in large numbers. This "all or nothing" strategy is an interesting one. When it works, it's really expedient: You're exerting power against the entire organization with tremendous speed. The problem is, it's all or nothing. When it doesn't work, you've got nothing.
And the fallout from something like that?
Nunno: If the tactic fails, frequently it results in a complete and total power drain.
I encourage CIOs to think about the fact that sometimes the most expedient methods of warfare are the most dangerous. They can sometimes create a lot of collateral damage and resentment. Even when they work, you have to contend with tremendous collateral damage.
Let us know what you think of the story; email Nicole Laskowski, senior news writer, or follow her on Twitter at @TT_Nicole.
Dig Deeper on Leadership and strategic planning