chris - Fotolia
News
Stay informed about the latest enterprise technology news and product updates.
Tech execs sound off on 2018 enterprise IT trends
Eight tech execs dissect the big enterprise IT trends in 2018. Get their takes on AI, microservices, edge computing, IT metrics and customer service in the IoT age.
What do tech vendors see happening in enterprise IT in 2018? Cloud will continue to dominate the horizon. But CIOs need to be cautious in balancing buzzword optimism with real business returns. Expect microservices to grow in importance, artificial intelligence to demonstrate practical value and security to become part of software quality.

Download this free guide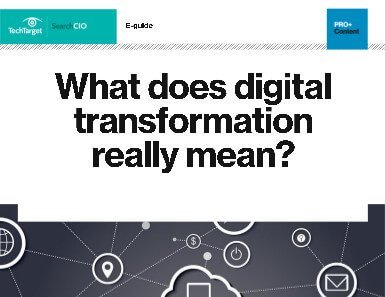 PDF: What does "digital transformation" really mean?
What exactly is digital transformation? You may hear the term often, but everyone seems to have a different definition. See how our experts define digitization, and how you can get started in this free guide.
Enterprise IT trends: AI everywhere
AI will guide us through the trees
"Despite the hype, AI has demonstrated value in industries across the board -- from agriculture to biotech to manufacturing. AI is just beginning to ingest data to power services and offerings, in turn providing information necessary for better decision-making.
"AI's success will continue in 2018, specifically in a new area: troubleshooting. Expect to see an impact on troubleshooting for operators, data centers and so on as AI helps individuals tackle the day-to-day issues, enabling them to focus on critical problems that AI itself can't help.
"In 2018, AI will guide and augment humans in solving hard problems as it further cements its value-add as a human cognitive partner, guiding us through the trees to make more impactful decisions."
-- ASH MUNSHI, former CTO at Yahoo and current CEO of Pepperdata Inc., a Hadoop analytics provider
"In 2018, companies will increasingly realize that, rather than being a vague cure for anything and everything, AI's value comes from its ability to solve practical, real-world business problems. In fact, AI will become less visible in many cases, as it is more tightly integrated into the applications that people use every day. Without even realizing it, they will find that AI enables them to be more productive and frees them to spend more time on strategic business initiatives rather than tedious tasks."
-- PETER WALLQVIST, VP of strategy at iManage, a document management service
"Across the enterprise, we currently lack large-scale use cases of machine learning and the much-anticipated benefits the technology is promised to bring. Instead, all use cases are in the research, testing and development phases, and are still a long way off from impacting the everyday running of businesses. Rather than sitting around and waiting for the AI 'miracle' to occur, businesses should use 2018 to focus on cleaning up their organization as it stands, paying attention to how operations across the board are delivering services. As part of this, organizations should consider where to invest next, whether it be the move to public cloud or future plans for enterprise resource planning.
"Whether you're a CIO with a top-level view or on the ground looking at operations from a process perspective, in 2018, businesses need to reflect on how many employees they have doing what, and whether or not it is the most valuable means of doing things, in terms of both time and resources.
"This year, when thinking about the future of artificial intelligence, businesses were quick to view it as the answer to their problems; however, in reality, it could be 12 months away, or it could be five years away, before organizations are able to fully capitalize on the technology."
-- NEIL KINSON, chief of staff at Redwood Software, a robotic process automation software provider
Enterprise IT trends: Microservices evolve
"If the past year or two saw the emergence of true standards at the microservices infrastructure layer, the coming year or two will be about the emergence of true standards at the microservices application layer.
"Early adopters of microservices ran into operational headaches as ordinary application developers wasted time understanding and debugging container-level problems directly in Kubernetes. The service mesh promises a 'L7' abstraction that's more appropriate for product engineering, and efforts like OpenTracing provide a unified view of the application across an entire microservices deployment. This return to L7 will allow dev teams to build and release independently (per the overall microservices vision), and also to focus more on business logic and less on infrastructure that should 'just work.'"
-- BEN SIGELMAN, co-founder and CEO of LightStep Inc., a performance management provider
Shift focus from cloud to microservices
"In 2018, technology companies are going to ditch the buzzword cloud in favor of the next big trend in IT: microservices. This is where companies will increasingly look to scale by essentially breaking up their IT and thinking smaller and using software-defined networking and network functions virtualization technologies. By doing the exact opposite of what enterprises have historically been doing up until the disruption of digital technology, we're going to see the concept of microservices take on a whole new life form, as enterprise ecosystems continue to grow. Enterprises should also take note fast: Moving to smaller applications makes it much easier to scale and decreases risk, while increasing efficiencies."
-- CRAIG WALKER, CEO of Dialpad Inc., an enterprise cloud phone system
Enterprise IT trends: Edge computing spreads
"In 2018, we will see edge computing become more prevalent as applications demand low latency, high throughput, compute and data-heavy operations. AI and machine learning act on huge data sets and consume massive computing power, but increasingly are needed for consumer and edge applications -- think voice assistants, self-driving cars and the like. Companies delivering AI and machine learning technology need to put compute power close to the edges of the internet where the tech is used.
"For example, a self-driving car may need to make a computation in real time to make navigation decisions. To do so, it must be able to access a server and complete the computation in milliseconds. This kind of latency requires a highly distributed edge computing architecture. In these environments, enterprise architects will find it helpful to use workload management capabilities and should explore emerging technologies from companies building highly distributed edge compute networks, which provide compute at the edge in distributed fashion, in some cases even by placing compute nodes at every cell tower."
-- KRIS BEEVERS, founder and CEO of NS1 Inc., a managed domain name system provider
"The emergence of smart technology and the internet of things (IoT) will continue to change the definition of a customer service representative. One of the benefits of connected devices and appliances is that they can report issues directly to the company, completely bypassing the need for consumers to contact the brand when there's an issue.
"The question then becomes, 'Who is the contact center agent?' In many cases, it is a repair person or someone in manufacturing who can fix the problem directly. We will see that it'll become increasingly challenging to define the front line of customer experience in the world of IoT. This will require companies to rethink how they train, staff and equip different departments across an organization. The role of customer service becomes the responsibility of employees beyond the traditional contact center agent."
-- TOM GOODMANSON, CEO of Calabrio Inc., a workforce optimization service
Enterprise IT trends: DevOps' new metrics
Rise of integrated metrics in DevOps
"Now that DevOps is more prevalent in organizations, CIOs are trying to gain greater visibility and context into the DevOps transformation journey itself and what that means for the business as a whole. CIOs are likely to be focusing on metrics and, most importantly, how to facilitate an integrated approach to accessing multiple data sources so that multiple stakeholders (technical and leadership alike) can drill down into the analytics and determine key performance indicators at various levels of the business.
"An integrated approach (seen through a single pane of glass) will allow CIOs to have a clear, at-a-glance understanding of the status of their software delivery and releases at any given point and accurately measure the impact DevOps is having across different business units and how to elevate the different states of knowledge appropriately. Plus, with the increasing threats to cybersecurity and increasing regulation on the horizon, an integrated approach to metrics will encourage CIOs to 'shift left' security efforts in the software delivery pipeline, making visibility into testing and compliance an integral part of the entire delivery process."
-- ANDERS WALLGREN, CTO at Electric Cloud Inc., a continuous delivery tools provider
Dig Deeper on Enterprise systems management